jan 11, 2011
sou fujimoto: forest, cloud, mountains exhibition
sou fujimoto 'forest, cloud, mountain' the watari museum of contemporary art, tokyo on now until january 16, 2011
'forest, cloud, mountain' exhibition by sou fujimoto at the watari museum of contemporary art, tokyo, japan image courtesy the watari museum of contemporary art
japanese architect sou fujimoto has put together an exhibition entitled, 'forest, cloud, mountain' at tokyo's watari museum of contemporary art. recognizing the complex role architects must play within today's modern society, the exhibited work explores the idea of the city by re-imagining its potential beyond what traditional architecture has thus far attributed it. the title, 'forest, cloud, mountain' is the three thematic concepts investigated through the exhibited installations:
'forest-like architecture may be something between artificial and natural; perhaps when we speak about a cloud-like architecture, we could imagine architecture made up of air and light rather than a wall. mountain-like architecture may dial up a new relationship between the human body and the building.' – sou fujimoto
exhibition view image courtesy the watari museum of contemporary art
created in a large enough scale for the viewers to walk around and discern, the exhibited projects range from an arrangement of transparent polycarbonate pieces to a growing stack of polyhedral objects stippled with tree-like interventions.
image courtesy the watari museum of contemporary art
a collection of sou fujimoto's most recent works:
'primitive future house' by sou fujimoto as seen at the 2010 venice architecture biennale for more images of the project, click here image © designboom
image © designboom
'OM house' by sou fujimoto to see our coverage of the project, click here image © iwan baan
physical model of 'tokyo apartments'
exterior view of 'tokyo apartments' by sou fujimoto image courtesy guen-k
'house before house' by sou fujimoto for the sumika housing project photo courtesy swych
photo courtesy claudia márques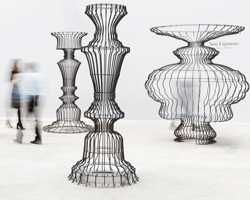 jun 14, 2017
jun 14, 2017
sep 23, 2016
sep 23, 2016
aug 01, 2016
aug 01, 2016