jun 14, 2016
sou fujimoto outfits multi-purpose venue for potato head hong kong
sou fujimoto outfits multi-purpose venue for potato head hong kong
in hong kong, japanese architect sou fujimoto has designed the interiors of a multi-purpose venue for indonesian chain 'potato head'. the space — which comprises a retail area, a restaurant, and a coffee shop — seeks to evoke a residential feel with clearly defined programs that flow into one another.

a pattern has been applied to the building's façade, echoing the city's traditional window frames
combining lightweight metallic fixtures with robust teak wood, 'potato head hong kong' is the second international outpost of the hospitality and lifestyle brand PTT family. externally, fujimoto has applied a pattern to the building's façade, echoing the city's traditional window frames. the motif creates a distinct and homogeneous façade that doesn't impose itself on the neighborhood. acting as a permeable membrane, the entrance opens up to the community — allowing the internal intervention to spill out onto the street.

the installation spills out onto the street
this gesture instills an inviting atmosphere, where locals are able to get coffee and shop for artisanal homeware while executives work in the lounge, and families dine at the restaurant. the entrance is marked with a coffee counter and a retail space where the architect's metal frames and boxes create a series of fluid spaces. fujimoto's stainless steel planters are suspended from the ceiling, establishing a 'floating forest' above an area of relaxed seating. here, indonesian furniture is mixed with mid-century and antique pieces, including marcel breur leather armchairs.

a retail space sells artisanal homeware
the restaurant, named 'kaum', features more than 700 hand-painted panels that line the ceilings and walls. made by families of indonesian craftsmen, the panels' black color is actually paint, while the yellow and orange hues are taken from stones. accessed via three 'secret' entrances, a music room behind the restaurant has been conceived as a hub for the city's record collectors and audiophiles.

stainless steel planters are suspended from the ceiling

indonesian furniture is mixed with mid-century and antique pieces

the restaurant, named 'kaum', features more than 700 hand-painted panels

the panels line the walls and ceiling of the eatery

the yellow and orange hues are taken from stones

the panels were made by families of indonesian craftsmen

the restaurant serves indonesian cuisine using traditional cooking methods

the venue is located in hong kong's sai ying pun neighborhood
Save
Save
Save
Save
Save
Save
Save
Save
sep 19, 2017
sep 19, 2017
sep 12, 2017
sep 12, 2017
sep 11, 2017
sep 11, 2017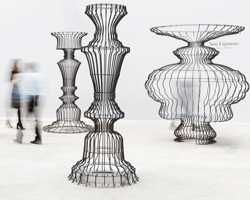 jun 14, 2017
jun 14, 2017
sep 23, 2016
sep 23, 2016
aug 01, 2016
aug 01, 2016