slated for completion in 2018, steven holl architects has been commissioned to expand the chinpaosan necropolis situated along the coast 40 minutes outside of taipei. the LEED platinum building will serve as a new arrival hall with a pavilion for 150,000 ashbox sites adding to the existing 10,000, in addition to a 21-room hotel, restaurant, ceremonial chapel, auditorium, two small museums, and an adjoining 5,000 seat amphitheater. altogether, the extension will be capable of hosting up to 1,000 people on ceremonial occasions as well as house 50 buddhist monks. 

the ocean pavilion is composed of spheres cast in white concrete sitting over a reflective sheet of water
image © hao chen (also first image)
the architects explored over 30 schemes to determine the best siting and strategy to house the new program. the solution lay in an ancient symbol present throughout the history of every religious creed and ideology, the circle. stemming from a watercolor painting of intersecting circles, the idea of formed spaces with similar properties and the resultant circulation between and through the nodes proved to be the most appropriate approach. circles soon revolved into spheres which made for an intriguing volumetric overlap throughout the procession of the structure. to give context to each sphere, a regular rectangular box juts out over the sloping landscape- a thin sheet of water veils the entire surface creating reflections of the sky above that seemingly float the spheres in the air and tie into the distant ocean's horizon.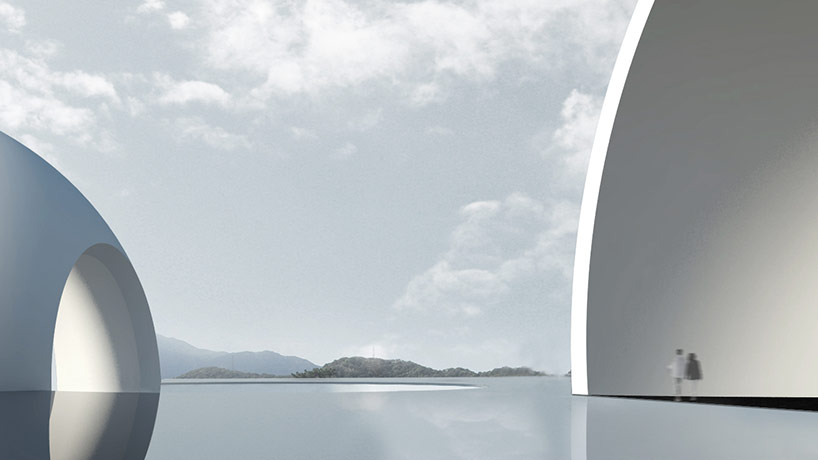 image © hao chen

the forms suggest pure geometries when reflected in the surrounding pools
image © hao chen
the hotel exhibits a juxtaposing nature to the oceanic pavilion which is composed of white concrete and black granite floors. the arrival space instead occupies the remainder of the lot and extruded four stories, partially embedded into the hillside, with spherical voids subtracted from the more traditional construction. the complex aims to exceed the highest energy-use benchmarks established by leed as well as local taiwanese regulations. the water over the oceanic pavilion serves the auxiliary purpose of cooling the matrix of pvc cells that sit a few inches under its surface, naturally cooling the system which increases efficiency by 20%. wind power is harnessed to additionally help power the entire building. additionally, a geothermal heat exchange system under the ground slab helps naturally maintain internal temperatures while rain water is collected to be used as grey water throughout.  

the hotel structure stretches over four stories inhabiting the extents of the site
image © hao chen

natural light is brought it at the intersection of the spheres
image © hao chen

image © hao chen

image © hao chen

image © hao chen

image © hao chen

aerial view of the complex
image © hao chen
Save
Save
Save
Save
Save
Save
Save
Save
Save
oct 12, 2017
oct 12, 2017
oct 09, 2017
oct 09, 2017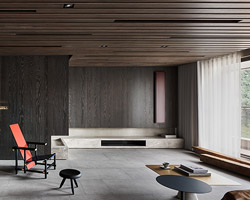 aug 17, 2017
aug 17, 2017
may 01, 2017
may 01, 2017
mar 23, 2017
mar 23, 2017
feb 14, 2017
feb 14, 2017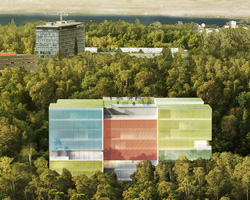 oct 31, 2017
oct 31, 2017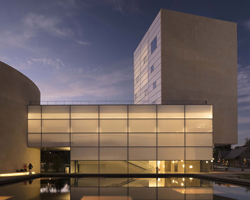 oct 09, 2017
oct 09, 2017
jan 25, 2017
jan 25, 2017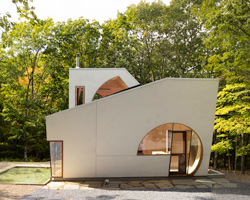 nov 02, 2016
nov 02, 2016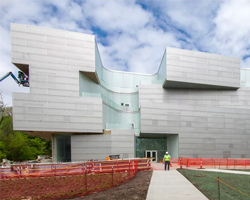 may 17, 2016
may 17, 2016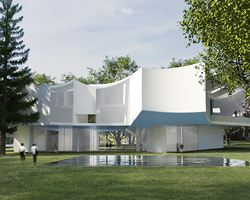 may 11, 2016
may 11, 2016