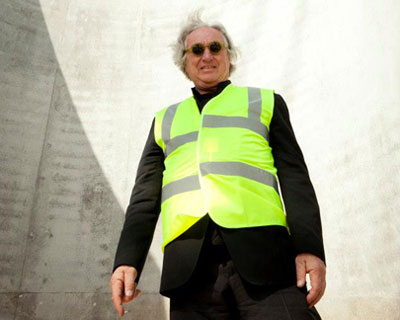 may 16, 2013
steven holl architects: glasgow school of art tops out
'glasgow school of art' by steven holl architects under constructionimage courtesy of steven holl architects
on may 7th, 2013 the new glasgow school of art designed by steven holl architects, in partnership with local firm JM architects and arup engineering, celebrated its topping out.
the firm won the bid to design the phase 1 building of the school in 2009–part of a larger campus masterplan development–situated opposite the original GSA designed by charles rennie mackintosh. holl has aimed to compliment the historic 1909 structure, forging a symbolic relationship between the two in which each heightens the integral qualities of the other.
interior view of the concrete structureimage courtesy of steven holl architects
the overall design works from the inside out, engaging the functional needs of the programs which it houses: art, design and architecture studios, project areas, lecture theater, seminar rooms, café, exhibition, and academic administrative spaces; all linked by an open network of stepped ramps. the 11,250 sqm volume seeks to play off elements of mackintosh's architecture in which he manipulated the building section to enhance qualities of light. holl has adopted this approach by integrating shafts ('driven voids of light') into his plan, the featured cylindrical volumes filtering sunlight through the depth of the building's core, providing direct connectivity to the outside world, while also providing vertical circulation throughout, thus eliminating the need for air conditioning.
the studio and workshop areas are at the core of the school. their positioning along the north façade has been determined not only to reflect their interdependent relationships, but to also emphasize their need for natural light, where north facing glazing has been installed to maximize illumination coming from that direction.the refectory, offices and administrative areas which don't require the same amount of brilliance are situated on the south façade, where access to sunlight can be balanced with the occupants needs, as well as thermal performance, through the application of shading.
image courtesy of steven holl architects
along the south elevation, in line at the same height of the mackintosh main studios, is a landscape loggia in the form of a machair (a low-lying grassy plain), a social core which opens up the school to the exterior and surrounding urban landscape. natural vegetation, with some stone work, routes water into a small water pond, which reflects dappled sunlight onto the ceiling inside.
the new glasgow school of art is set to open for the 2013 / 2014 academic year.
communal spaces / hallways of the new school image courtesy of steven holl architects
photos from an april 3rd, 2013 site visit by senior partner chris mcvoyimages courtesy of steven holl architects
'driven voids of light' are integrated into the structureimages courtesy of steven holl architects
left: steven holl at the glasgow school of art topping out ceremony, image © alan mcateerright: steven holl and chris mcvoy, at the topping out ceremony on may 7th, 2013
topping out ceremony on may 7th, 2013image courtesy of steven holl architects
general view of the construction siteimage courtesy
sketch indicating material distributionimage courtesy of steven holl architects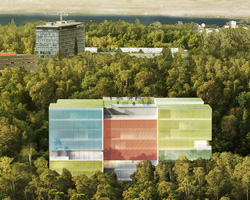 oct 31, 2017
oct 31, 2017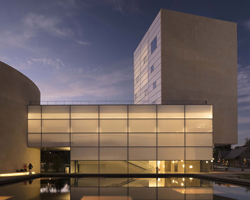 oct 09, 2017
oct 09, 2017
jan 25, 2017
jan 25, 2017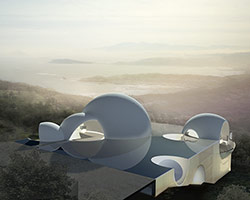 jan 22, 2017
jan 22, 2017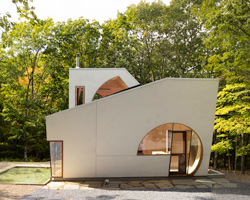 nov 02, 2016
nov 02, 2016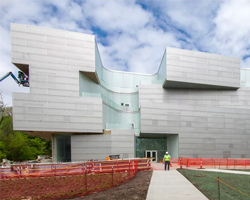 may 17, 2016
may 17, 2016