feb 27, 2009
steven holl architects wins master plan in shenzen '4 tower in 1' competition
'4 tower in 1' shenzen, china by steven holl architects
steven holl architects have been selected as the winning firm for their design of the master plan of the '4 tower in 1' competition. this competition was for an office tower complex located around the new shenzhen stock exchange headquarters in the developing commercial business district of shenzhen, china.
steven holl architects' design included four tropical skyscrapers as shade machines connected by a horizontal linking structure which links the four sites with the city streets and pedestrian traffic. this social bracket contains public programs such as art galleries, cinema and auditoriums, and a rooftop water garden.
roof garden ponds and plantings utilize storm water, collected from the four skyscrapers and greywater that has been recycled through a central ultraviolet filter system. a public route connects the subway into the social bracket, linking directly to all four towers.
circular building footprints maximize the interior space and open views while minimizing the exterior envelope. the optimized office floors are connected via double-height and triple-height social spaces on alternating sides of the towers. always oriented towards the sun, automatic solar tracking screens, made of perforated PV cells, rotate around the circumference of each building, in order to gather the maximum sunlight for producing PV energy – enough to cool the towers completely. the one-meter deep louvers block high-angle solar gain and bounce diffused natural light onto the ceilings deep into the floor plate.
'4 tower in 1' horizontal structure
'4 tower in 1' main entrance
'4 tower in 1' (detail)
model of '4 tower in 1'
feb 19, 2009
feb 19, 2009
feb 17, 2009
feb 17, 2009
jan 25, 2017
jan 25, 2017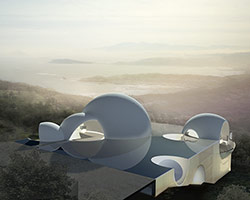 jan 22, 2017
jan 22, 2017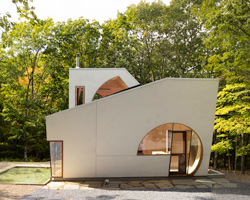 nov 02, 2016
nov 02, 2016