after two years of development and construction, steven holl architects has completed 'ex of in house', a private guest house and artist residence nestled among the forests of rhinebeck, new york. each elevation of the building is distinctive and geometrical depending on approach; these thought-out façades explore the language of space in hopes to foster a strong connection to the ecology of place.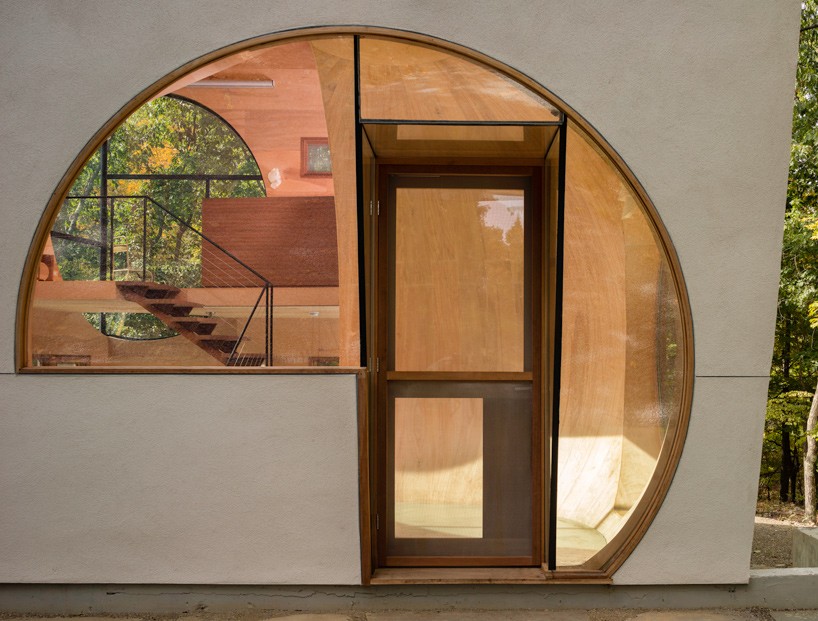 steven holl ex of in house: an orb of wood is carved out of the house volume at the entrance
all images © paul warchol
steven holl architects realized a home that integrates sustainable components, constructed from raw materials and in turn, serves as an alternative approach to modernist suburban residences. the project is defined by its geometry created from spherical spaces intersecting with tesseract trapezoids intended to activate the inner space. the geometry of the spherical intersections can be visualized upon entry; an orb of wood carved out of the house volume welcomes the entrant.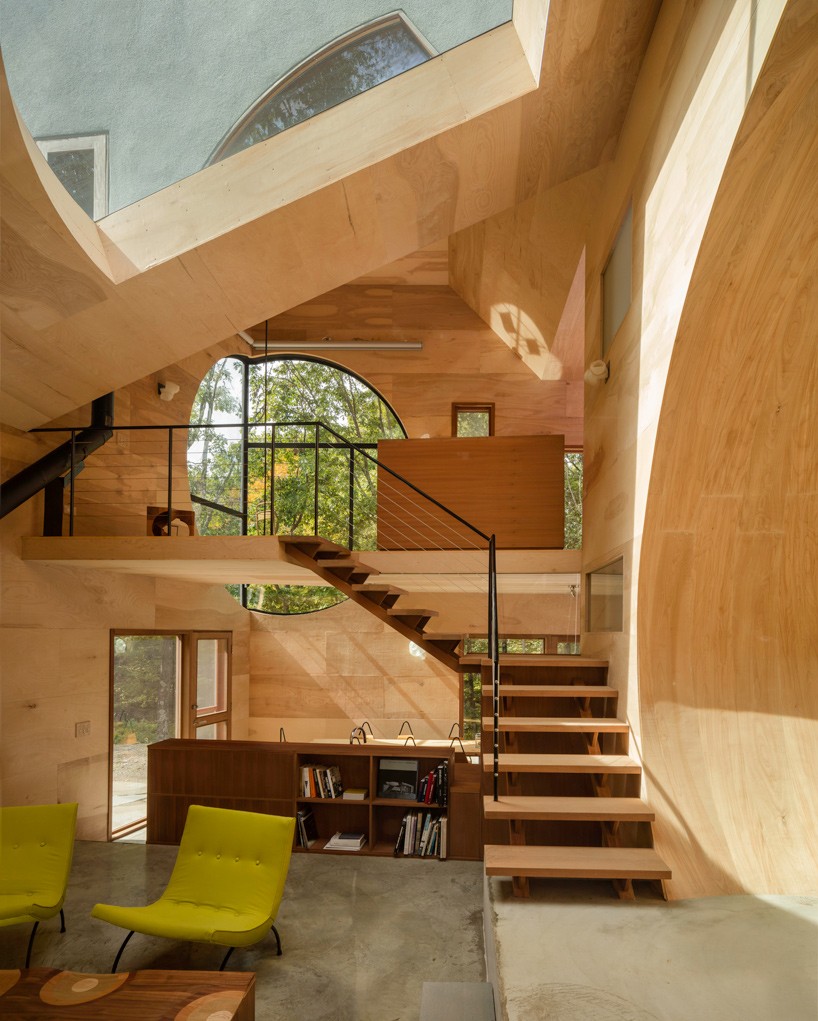 the house was made almost entirely from raw materials featuring solid mahogany window and door frames,
a mahogany stair and birch plywood walls
despite being located on twenty-eight acres of a forested reservation, the building occupies a compact site of 918 square feet. bedrooms are not distinguished by partitioning, but by the spatial overlapping of vertical elements. spaces are positioned around one main volume, open to the second level, with the kitchen placed in the center. the alteration in glass and wood which are locally sourced highlight the volumetric changes. instead of fossil fuel, the energy independent house is heated geothermally and is powered from photo-voltaic cells connected to a sonnen battery energy storage system.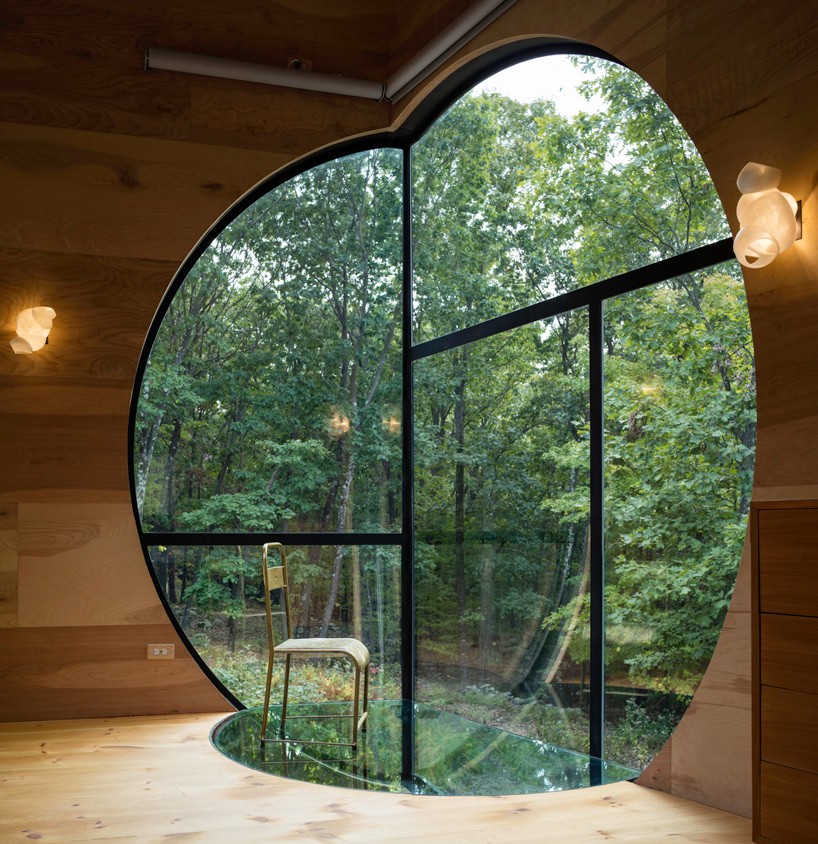 large circular windows seamlessly open out towards the forested surroundings
the interiors employ wooden interiors that provide a warm atmosphere and highlight the spherical intersection space, while respecting the surrounding nature that is constantly captured through the different circular windows lined with mahogany.
steven holl architects: seven point manifesto for explorations of 'in'
1. to study architecture freed from the purely objective.
2. from origins of architecture we explore 'in'.
3. 'in' : all space is sacred space.
4. the architecture of 'in' dominates space via space.
5. intrinsic "in" is an elemental force of sensual beauty.
6. 'in' is useless, but in the future will be used. purpose finds 'in'.
7. the thing containing is not the thing contained.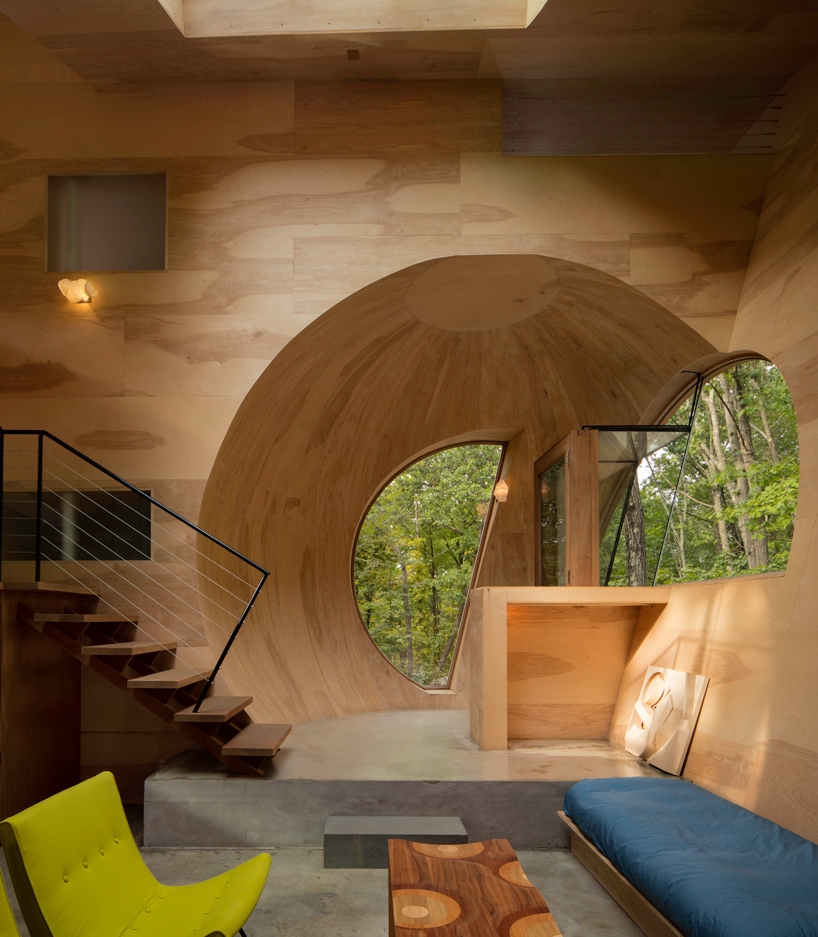 there are zero bedrooms, but the house can sleep five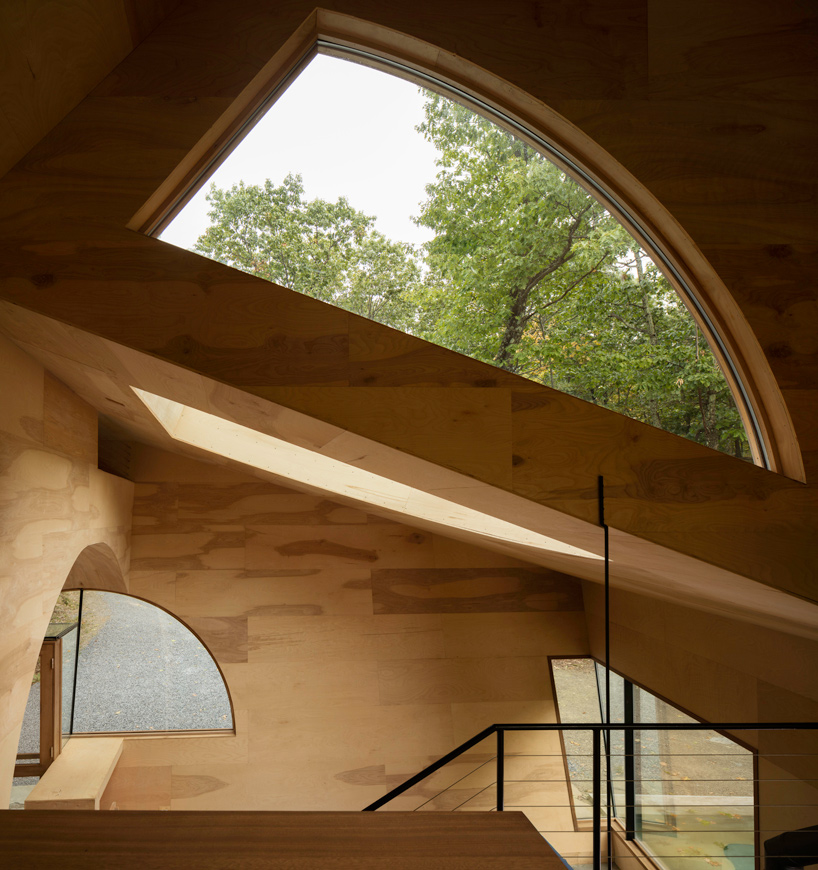 the shift in section of the house alters internal space with vertical dynamic spatial overlap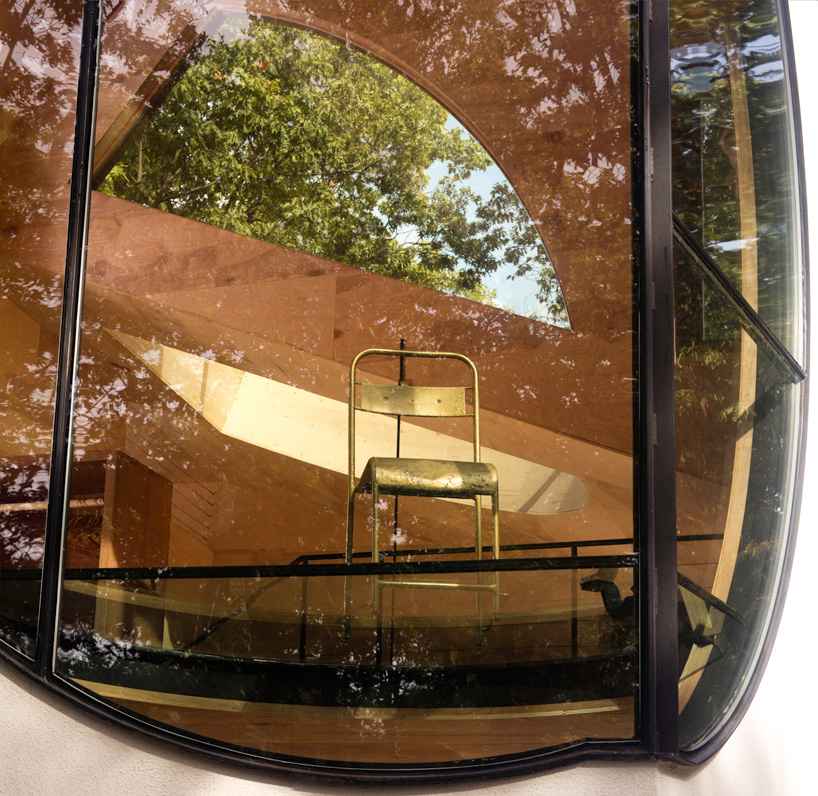 instead of fossil fuel, the house is heated geothermally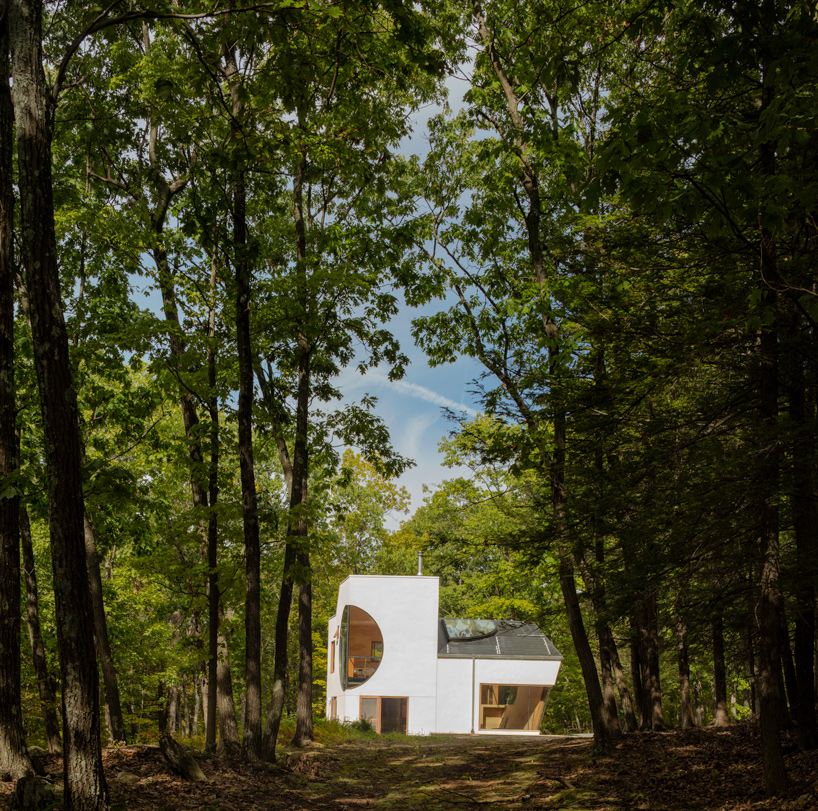 the site was joined into one natural preserved landscape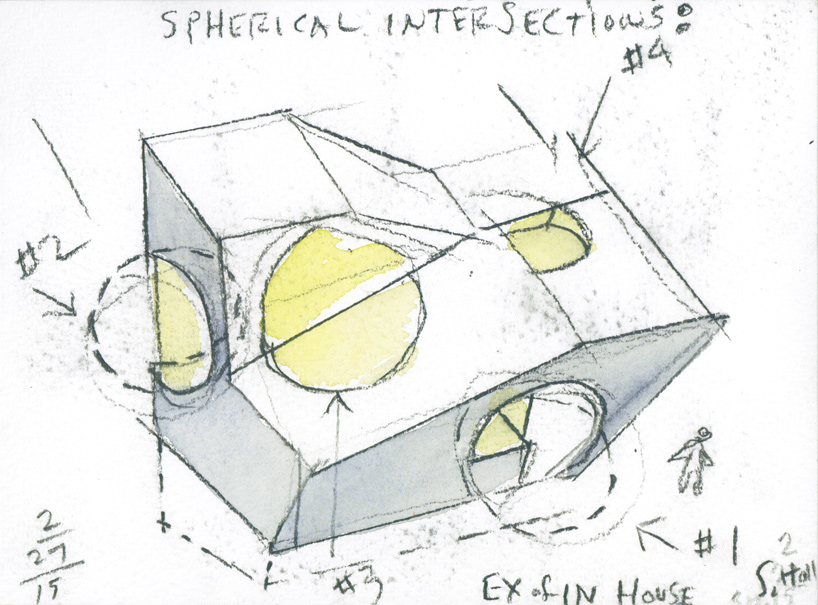 watercolor drawing of 'ex of in house' by steven holl

project info:
program: guest house / artist residence
site area: 28 acres
built area: 918 sq feet
materials: wood construction, CNC carved wood details, thin film solar panels, recycled glass exterior
architect: steven holl architects
steven holl (design architect)
dimitra tsachrelia (design architect, project architect)
yuliya savelyeva, ruoyu wei, michael haddy (project team)
structural engineer: robert silman associates
climate engineers: transsolar
contractor: jlp home improvement / javier gomez
Save
Save
Save
Save
Save
Save
Save
Save
Save
oct 19, 2017
oct 19, 2017
oct 17, 2017
oct 17, 2017
oct 13, 2017
oct 13, 2017
oct 11, 2017
oct 11, 2017
oct 10, 2017
oct 10, 2017
oct 09, 2017
oct 09, 2017
oct 19, 2017
oct 19, 2017
oct 19, 2017
oct 19, 2017
oct 19, 2017
oct 19, 2017
oct 18, 2017
oct 18, 2017
oct 18, 2017
oct 18, 2017
oct 17, 2017
oct 17, 2017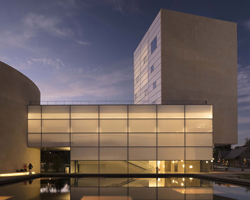 oct 09, 2017
oct 09, 2017
jan 25, 2017
jan 25, 2017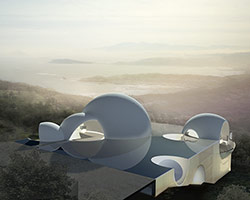 jan 22, 2017
jan 22, 2017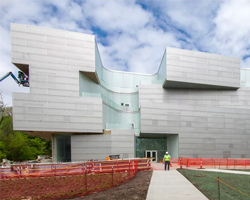 may 17, 2016
may 17, 2016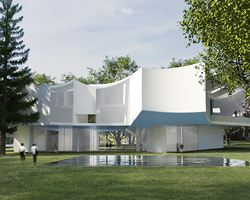 may 11, 2016
may 11, 2016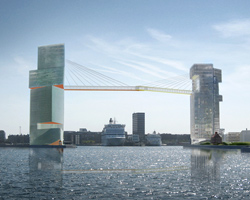 nov 13, 2015
nov 13, 2015