this temporary pavilion built for festival des architectures vives has been made using 2,000 pieces of laminated paper, which have been assembled without bolts or glue. named 'paper cloud', the project was designed by studio 3A — a collaborative practice that comprises japanese architect kazuya katagiri, mexican architect luis lopez resendez, and german architect marco budeus.

all images by studio A3
studio 3A's design was constructed in the french city of montpellier for the 2017 edition of festival des architectures vives — an annual program that seeks to initiate a reflection on architecture and its development within an existing urban context. the entire structure has been made from hundreds of paper rings, which have been slotted together to form a lightweight enclosure that changes its appearance throughout the course of each day.

the structure has been made using 2,000 pieces of laminated paper
the pavilion's white surfaces have been designed to reflect the coloration of the historic site, which changes from dawn to dusk with evolving light patterns and plays of shadow. the design seeks to engage visitors through its changing conditions, allowing guests to become a part of the installation.

the structure has been assembled without the need for bolts or glue
'this simply assembled monochromatic paper structure contrasts with the massiveness of the stone pavement and walls in the courtyard,' says studio 3A. 'however, once stepping inside the installation, this cloud-like structure merges with light and its existence seems to disappear like bubbles.'

the installation was completed for the 2017 edition of festival des architectures vives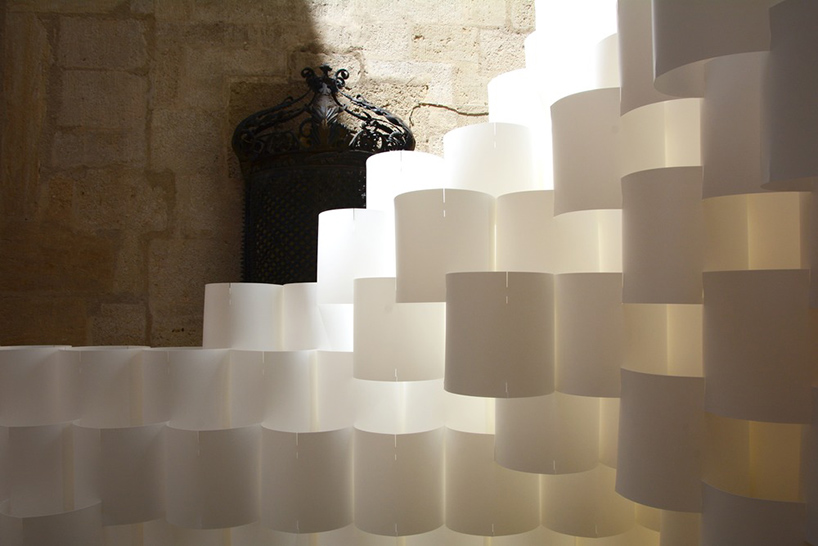 the entire structure has been made from hundreds of paper rings

the individual elements have been slotted together to form a lightweight enclosure

the paper cylinders change appearance throughout the course of the day

the pavilion's white surfaces have been designed to reflect the coloration of the historic site

evolving light patterns and plays of shadow directly effect the pavilion's aesthetic

the monochromatic paper structure contrasts the site's historic architecture

this year's festival des architectures vives ran from june 13-18, 2017
Save
Save
Save
Save
Save
Save
Save
Save
Save
Save
oct 26, 2017
oct 26, 2017
oct 25, 2017
oct 25, 2017
oct 11, 2017
oct 11, 2017
oct 03, 2017
oct 03, 2017
sep 30, 2017
sep 30, 2017
sep 29, 2017
sep 29, 2017
aug 06, 2017
aug 06, 2017
jul 24, 2016
jul 24, 2016
jul 21, 2016
jul 21, 2016
paper
(180 articles)
oct 15, 2017
oct 15, 2017
sep 27, 2017
sep 27, 2017
sep 20, 2017
sep 20, 2017
oct 23, 2017
oct 23, 2017
oct 20, 2017
oct 20, 2017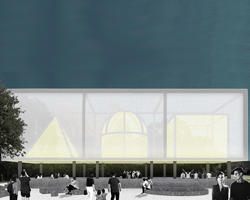 oct 20, 2017
oct 20, 2017