sep 04, 2012
studio arthur casas: casa HS
'casa HS' by studio arthur casas, são paulo, brazil image © fernando guerra
são paulo-based architecture practice studio arthur casas has sent us images of 'casa HS', a private residence built in the countryside one hour from são paulo city. the 1000 square meter house is separated into two volumes, one for the children and guests; and the other for the couple and the common spaces. situated on a golf course, open to the natural surroundings, the dichotomy between the two programs are generated in a horizontal plane for the visitors which is contrasted by a cube that hosts the parents.
landscaped with tall trees and bushes, the long facade is constructed out of perforated metal panels to provide privacy from the street level. these pieces can be opened to reveal the interior bedrooms. large glass sliding doors are integrated into the corridor of the space transforming the volume into a pavilion completely exposed to nature. the other levels of the building sit on a stone base which is terraced into the playing grounds.
image © fernando guerra
in order to not lose the domestic scale of the dwelling, the ground floor contains the living room, dining and kitchen with a home theater and master bedroom on the upper level. the patio creates the boundary between the pavilion and guesthouse which extends to the swimming pool. a retractable roof allows the sun and wind to permeate the residence with a vertical garden and water basin. the common area has a double height ceiling with six meter high glass doors which slide to the side integrating the space with the terrace and patio. beneath the house a private gym, sauna and technical areas form the base of the residence which are carved into the high inclination of the terrain.
landscaped entrance image © fernando guerra
perforated skin image © fernando guerra
main doorway image © fernando guerra
vertical garden and water basin image © fernando guerra
image © fernando guerra
swimming pool and view of golf course image © fernando guerra
master bedroom image © fernando guerra
master bedroom image © fernando guerra
stairway image © fernando guerra
living room image © fernando guerra
bedrooms image © fernando guerra
image © fernando guerra
floor plan / level 0 image © studio arthur casas
floor plan / level 1 image © studio arthur casas
floor plan / level -1 image © studio arthur casa
section image © studio arthur casa
section image © studio arthur casa

video © studio arthur casa
oct 11, 2017
oct 11, 2017
oct 10, 2017
oct 10, 2017
sep 26, 2017
sep 26, 2017
sep 20, 2017
sep 20, 2017
aug 20, 2017
aug 20, 2017
jul 11, 2017
jul 11, 2017
mar 04, 2016
mar 04, 2016
sep 11, 2015
sep 11, 2015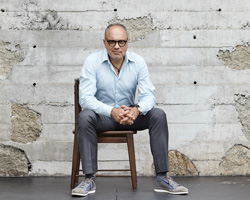 jun 18, 2015
jun 18, 2015