studio gang in windy toronto
marking its first project in canada, studio gang unveils its 'one delisle' tower in toronto, developed together with slate asset management. the tower is defined by its dynamic, folding facade which, as it grows upward, has up to sixteen sides. the distinctive form is the result of its design inspiration, the strandkorb basket chairs commonly seen on the blustery beaches of germany. these chairs can be folded and transformed to best adapt to the weather and shield beach-goers from the wind. the design team at studio gang translates this human-scale precedent onto its residential tower, so that outdoor terraces and patios can be enjoyed throughout toronto's windiest seasons.
designboom speaks with studio gang principal weston walker to learn more about how elements of these basket chairs were translated into its one delisle tower, and how high winds shaped the design.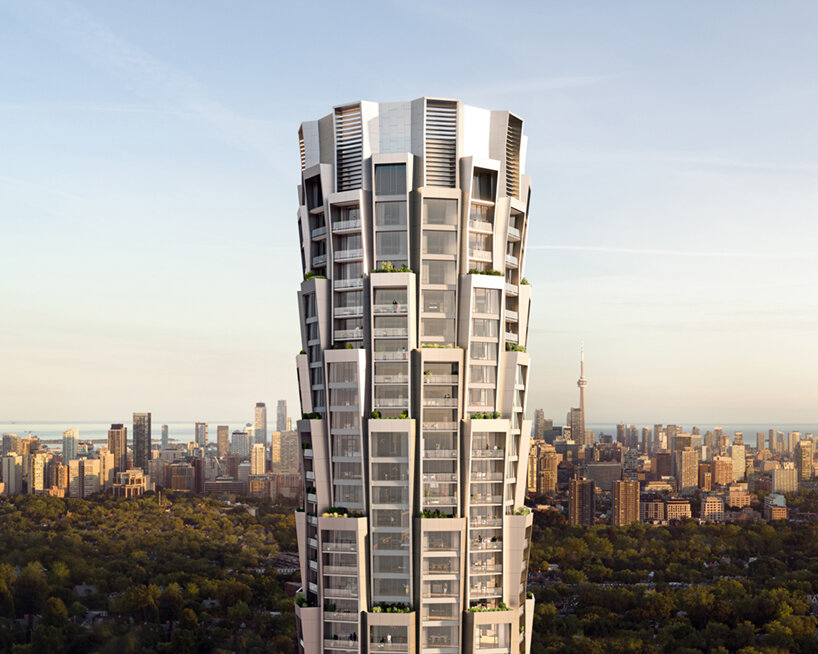 visualization by norm li
DB (designboom): what will be the experience of living in this tower compared to a conventional residential high rise?
WW (weston walker): I would describe it as more fluid between inside and outside, and more connected to the environment. we're focused on user-comfort and bringing an experience that's more connected to the outdoors. it's less hermetic and sealed away.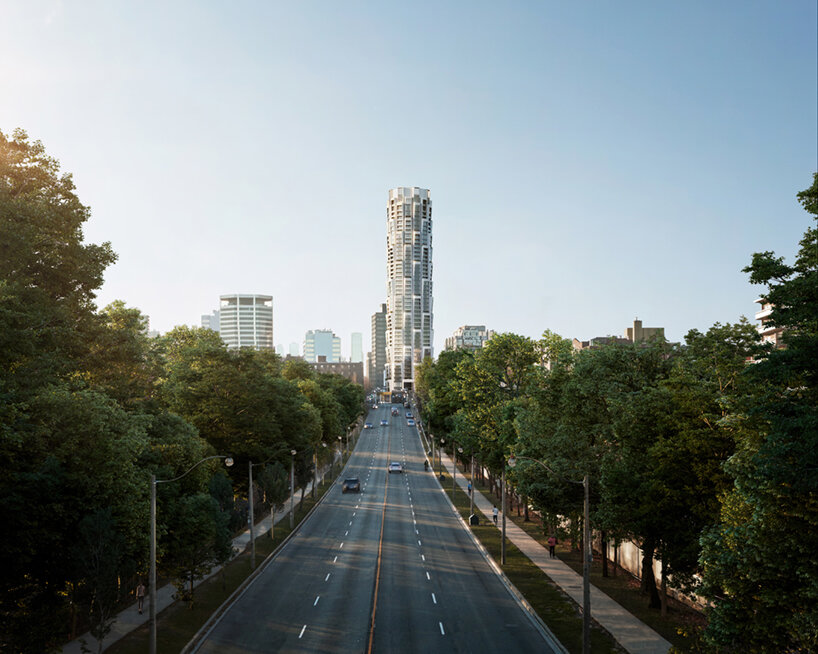 studio gang's 'one delisle' in toronto | visualization by norm li
DB: you explained that you took influence from the 'strandkorb' basket chairs in germany. can you describe the elements of the chair and how you translated it into a tower?
WW: the strandkorb is an object with a collection of components that can be adjusted for comfort and functionality. it has all sorts of features like foot rests, and a tray that holds your picnic and your drink. the most important feature for comfort is the large hood or shroud that can be adjusted in its rotation and its angle, to protect the body from cold wind.
in the beaches of northern europe this is really great, because it makes it possible to be outside enjoying the beach on a day that's maybe sunny, but also cold and windy. it shelters from cold moving air, and it makes it much more comfortable and possible to be outside for longer in those conditions.
translating that to a tower, it's similar thinking. by creating this architecture that shrouds or protects the tower's outdoor spaces, we're able to extend the usefulness of those spaces into the colder seasons and make it possible for people to enjoy a more indoor-outdoor lifestyle throughout the year.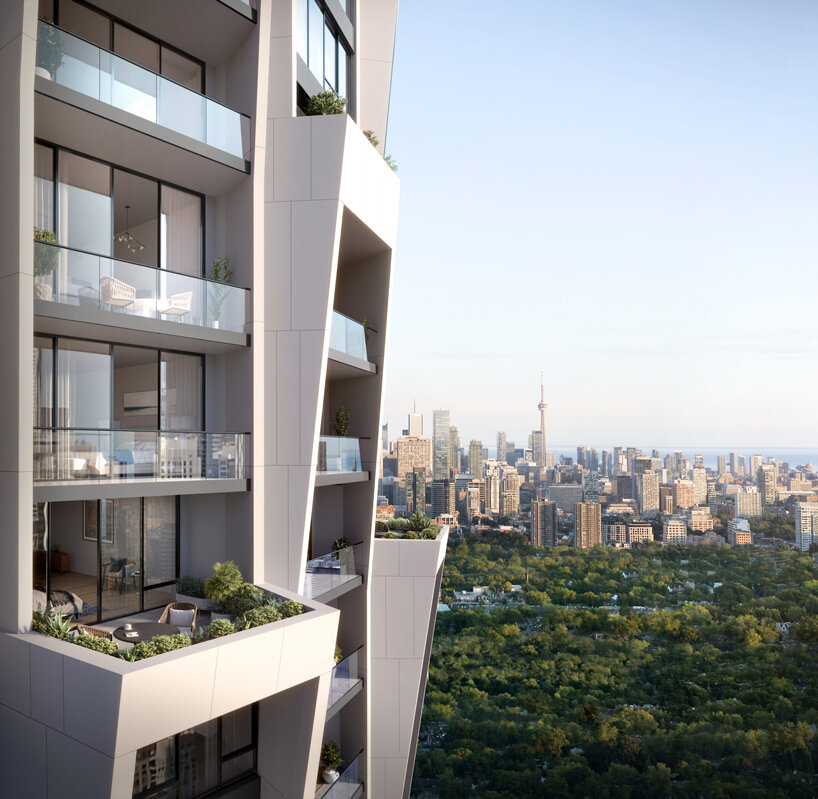 visualization by norm li
DB: how do you test the impact of wind on the spaces of such a large structure during the design process?
WW: windtunnel testing is probably the most important way to understand the tower's behavior in the wind. that's not just about comfort of the balconies, it's also about how the tower is designed when its lateral structure is really important. testing is an important part of the design process for many reasons. in terms of comfort, it's important to understand the movement of wind, both up on the tower and around its base.
one thing that's interesting with this tower design is that it has much more relief and texture — as opposed to a sheer facade of a pane of glass — which reduces the tendency of wind to downwash on the tower. so the wind is not hitting it and quickly swishing downwards, which means that the spaces around the tower at grade are also more comfortable.
the reason that this architectural approach makes a lot of sense for a city that's cold and windy like toronto is that it works at multiple scales, both for the building users up in the tower, and for the public realm around the base of the building. I think it's going to really improve on conditions that are compared to a more smooth design.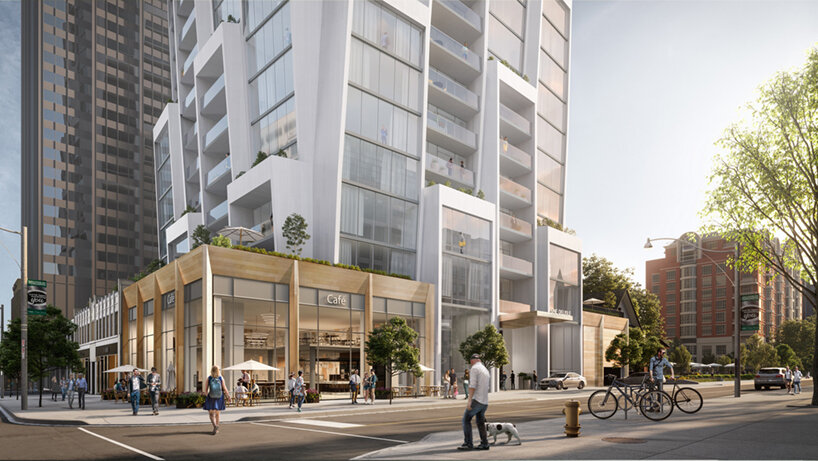 visualization by norm li
DB: what are what's the role of the physical model making in your studio versus digitally or parametrically generated design?
WW: we love all of these tools! we like to work back and forth between them, there's a lot of value in all these tools. we try to keep all of them present in our process and we try to keep current and look for innovation and new technologies. we also look backwards to the more simple tools that are still so powerful — these methods can inform each other. digital models give us speed and ability to analyze a lot of options quickly and to embed data and design constraints into the options that were making with scripting and things like that.
physical models give us the irreplaceable sense of scale. they help us understand the relationship between space and the body, and how spaces are reacting to materials in real time — there's no substitute for that. physical modeling has a directness that really benefits our process, and teaches us how things are put together. that activity is essential to our process, and we love doing it. we probably do physical models more than most, but we really work back and forth between high-tech and low-tech.

penthouse visualization by JORG
DB: what were some of the challenges your team faced during the design of the building?
WW: we talk a lot about the architecture of the facade and the outdoor spaces, but I think the tower is also really interesting in its urban design, and how it weaves together a complicated site. we're engaging multiple street frontages that are quite different in character. we're also engaging with other buildings, including one with a heritage component. we're connecting to a new park and managing different flows of pedestrians, cyclists, vehicles, and residents with retail spaces and a public realm.
this is all occurring below grade and above grade. that was a really big challenge of the design, the way the towers anchored in the city, and really happy with how it turned out.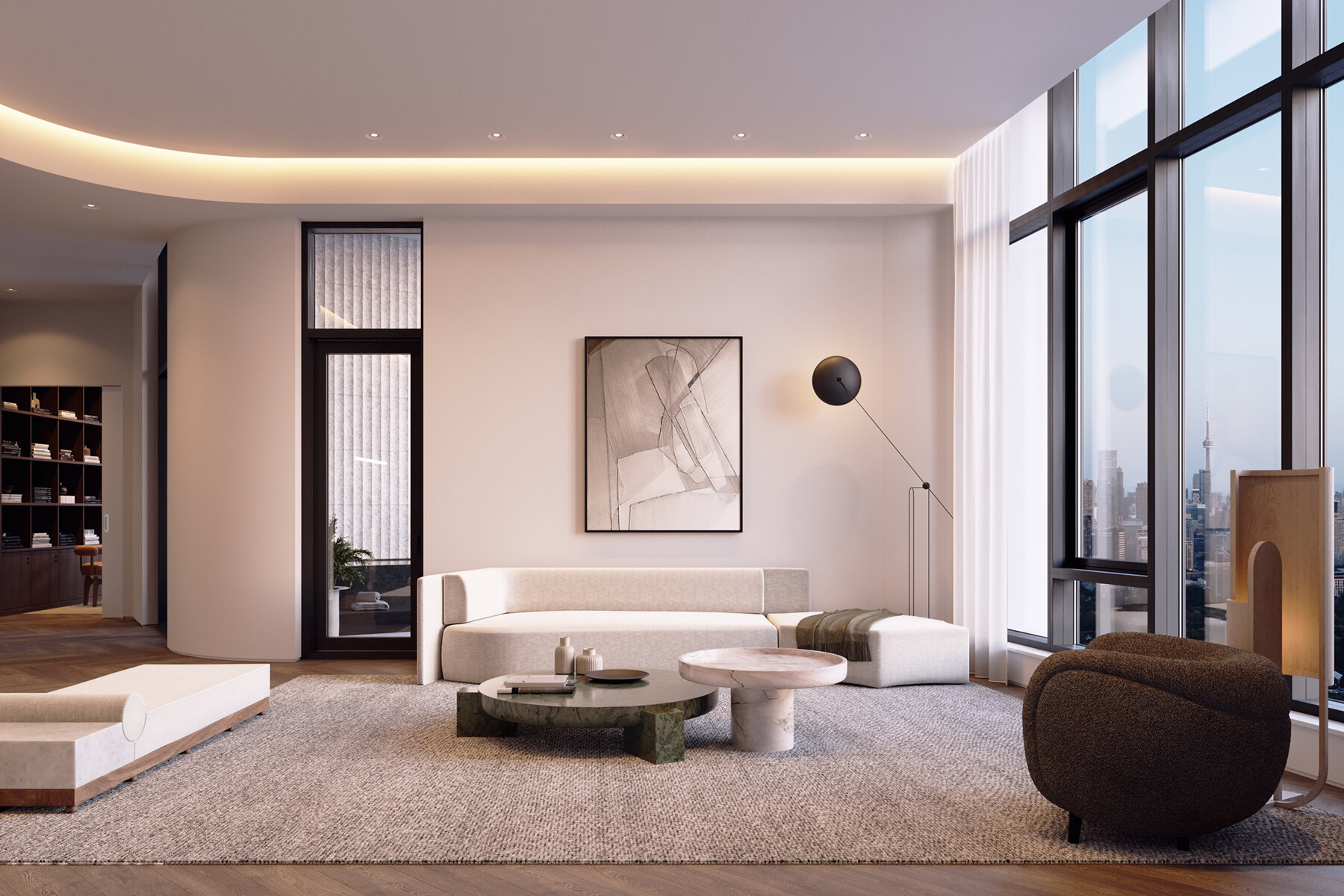 penthouse visualization by JORG
DB: is the context of toronto vital to the project, or do you think this is a building that could exist anywhere?
WW: this project is definitely for toronto. it's designed to engage with toronto's specific climate, ecology, culture, and its skyline. the strategies we developed in the architecture could benefit lots of projects — that's something that I really enjoy about designing towers. it's as much about the strategies, rules, and constraints as it is about the end result. the strategies can be recombined and improved and explored in different contexts in different places. that leads to a surprising result which is about that place.
the tall buildings of studio gang are related to each other, by shared interests and ideas that we develop, but they always express themselves uniquely, in a way that is coming out of their unique place.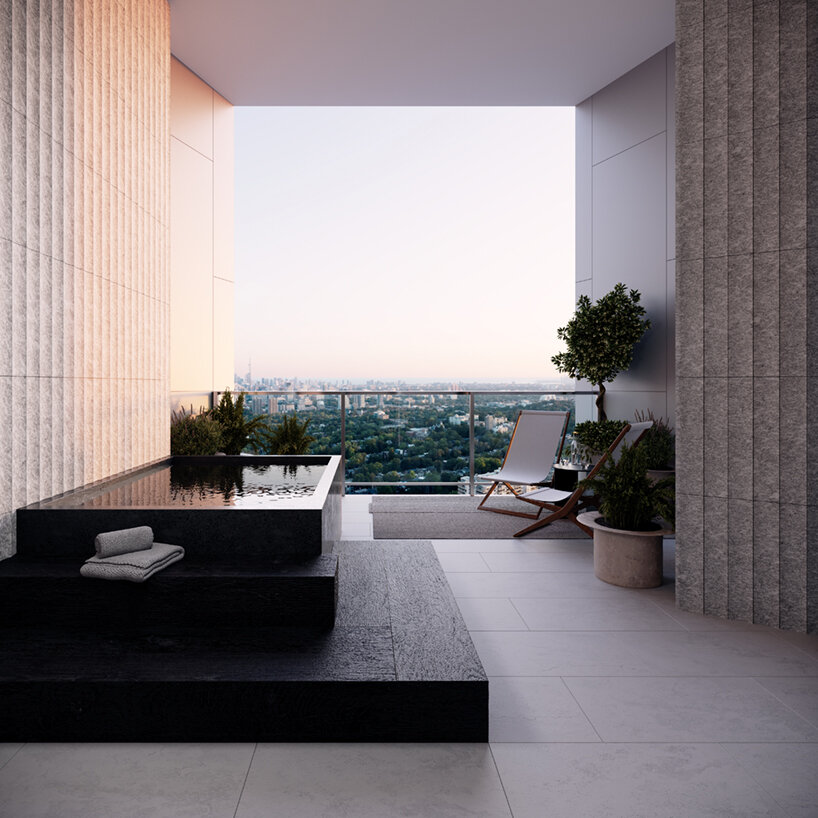 penthouse visualization by JORG
DB: how do you think the design of towers is evolving? do you have any predictions for the future of skyscraper architecture?
WW: I think there's a long trajectory of towers moving away from being isolated objects sitting on the ground plane, to becoming more connected and fluid in a lot of different ways — living or working spaces connecting to outdoor space, tower fluidly connecting to the ground, or the connecting to the sky and the skyline.
more specific to this moment, there are a lot of new materials and technologies that are starting to change what's what's possible for us to do. mass timber is really important right now in terms of decarbonization. low carbon, high strength concrete technologies are changing what we can do with that material while using less of it. also, new approaches to prefabrication and assembly. there are a lot of things that are changing right now, so it's a pretty exciting time to work on tall buildings.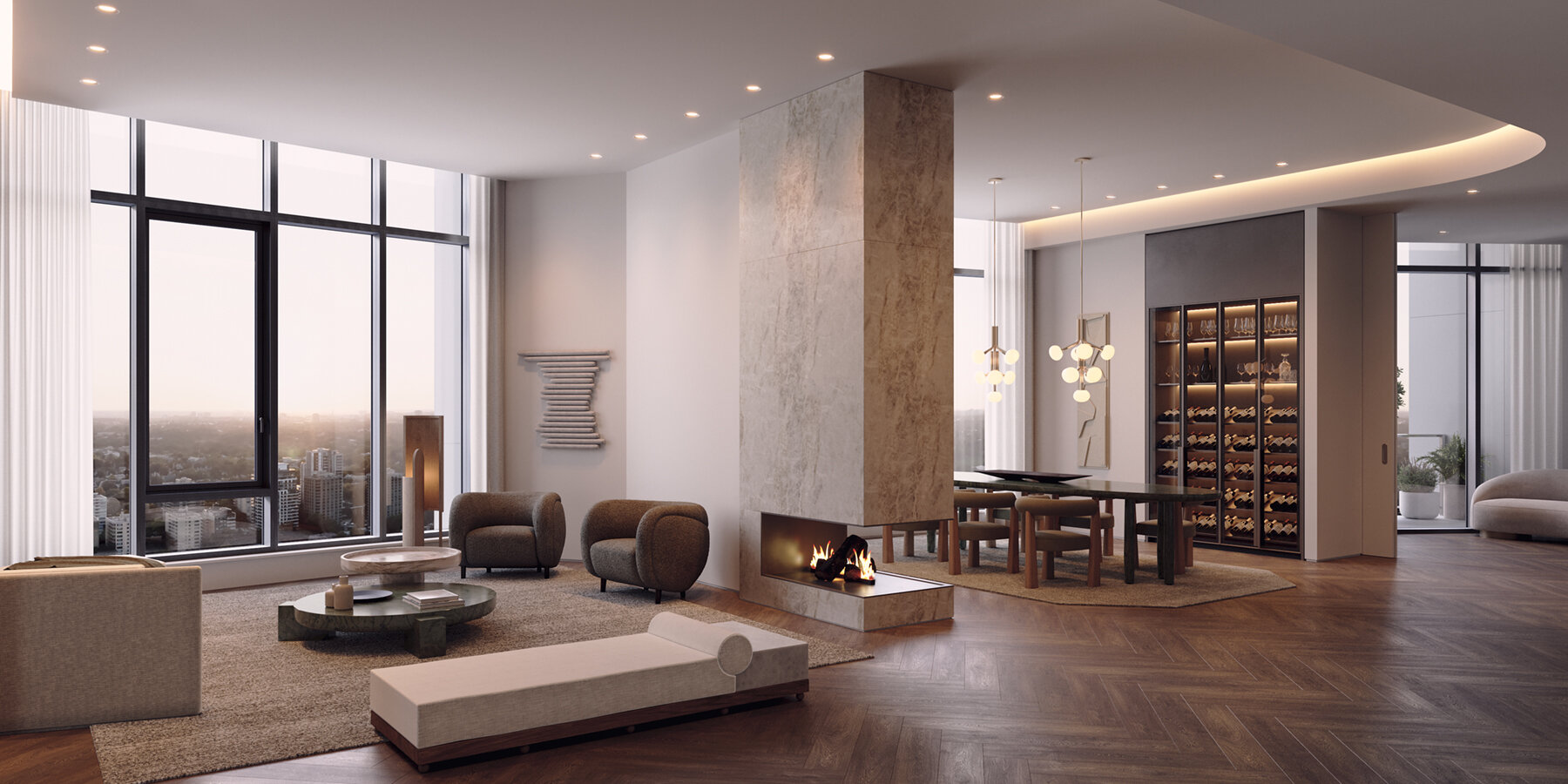 penthouse visualization by JORG
DB: are there any projects that you're working on right now that you're excited about?
WW: there definitely are. we're not just working on tall buildings, but also civic, public, and cultural buildings. one that's quite exciting is the US embassy in brasilia, brazil. we're also working on some projects in san jose that are a collection of buildings that explore new technologies, mass timber, and new structural approaches for office and living spaces. (read more about the westbank campus in san jose here) we are also working on a new enterprise research campus for the harvard allston land company in allston, massachusetts, which is a really exciting.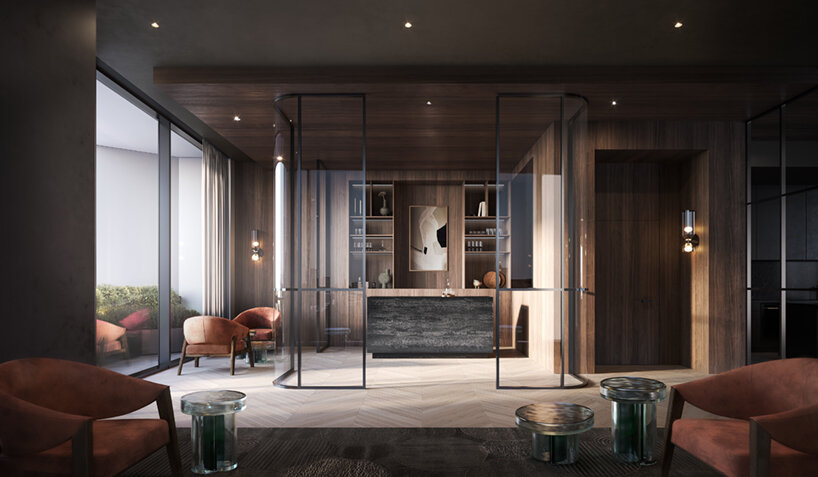 amenities visualization by norm li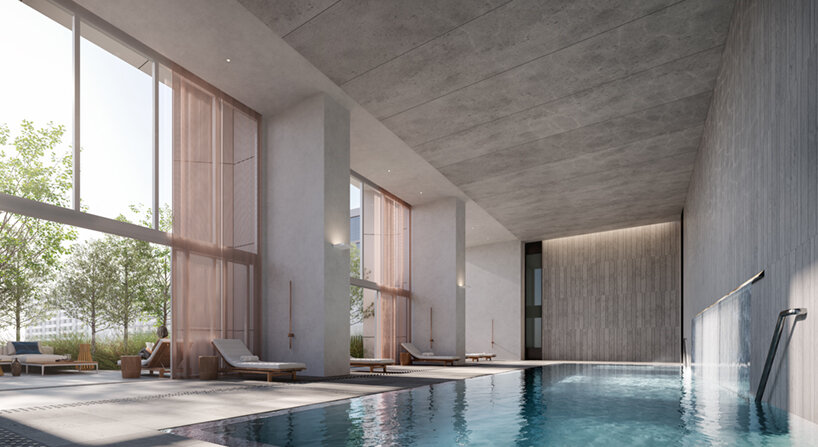 amenities visualization by norm li
project info:
project title: one delisle
architecture: studio gang
developer: slate asset management
location: toronto, canada
structural engineer: magnusson klemencic associates
architect of record: WZMH
landscape architect: janet rosenberg studio
a diverse digital database that acts as a valuable guide in gaining insight and information about a product directly from the manufacturer, and serves as a rich reference point in developing a project or scheme.
designboom will always be there for you
milan, new york, beijing, tokyo

,
since 1999