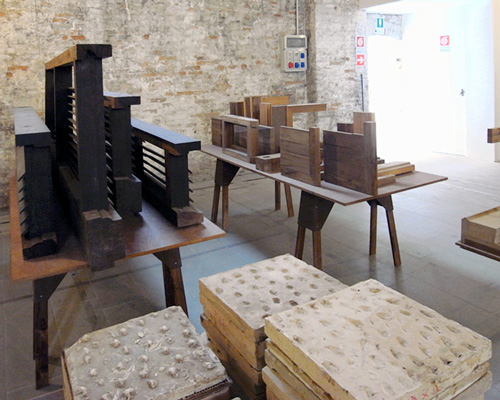 aug 31, 2010
studio mumbai architects at the venice architecture biennale 2010
'work-place' by studio mumbai architects at the 12th international architecture biennale image © designboom
studio mumbai architects' contribution to this year's international architecture biennale in venice, italy, transformed a large room in the old arsenale building into an environment created from an iterative process. 'work-place' offers a very intimate look into the practice's methods while exploring the notion and origins of creative ideas. on view is an array of large scale mock-ups, models, material studies, sketches and drawings. the exhibition takes a look at the process of learning through making, putting into practice architectural and material studies, traditional skills, local building techniques, and the ingenuity that arises from limited resources.
the hundred member firm, who specializes in working with natural and local materials, was specifically chosen to exhibit their work by the biennale's first female curator, japanese architect kazuyo sejima, for their sensitive approach and careful consideration of place and architecture.
this year, the international jury members of the biennale awarded studio mumbai architects a special mention, commending them 'for the immersive environment presented in their installation–an exceptional insight into the creative context of the atelier in which their work originates.'
full-scale model of a facade treatment image © designboom
founded by bijou jain, studio mumbai is a human infrastructure of skilled craftsmen and architects who design and build the work directly. gathered through time, this group shares an environment created from an iterative process, where ideas are explored through the production of large-scale mock-ups, models, material studies, sketches and drawings. here projects are developed through careful consideration of place and a practice that draws from traditional skills, local building techniques, materials, and an ingenuity arising from limited resources. the essence of their work lies in the relationship between land and architecture, it requires coming to terms with the presence of the environment through the succession of seasons.
inspired by real life conditions, they observe the complexity of relationships within each project without any assumption or prejudice. it is their attempt to remain intuitive, and look for a space to initiate a dialogue. it is through this practice that the matter being observed naturally reveals itself. the endeavor is to show the genuine possibility in creating buildings that emerge through a process of collective dialog, a face-to-face sharing of knowledge through imagination, intimacy, and modesty.
shelves offering artifacts from the atelier image © designboom
'our immediate environment is a space that we subconsciously create and inhabit. we can make this space very familiar, or we can expose ourselves to unfamiliar elements that provoke our response and re-evaluation. there are many sources of inspiration: one only has to observe closely. it is possible to have set ideas of what architecture should be, but first we need to understand why things are a certain way.' studio mumbai states.
full-scale furniture study image © designboom
the studio wants to use the indian landscape as a resource; to create spaces that are in tune with local climatic conditions, and with the available materials and technologies. relatively consensual in europe, this line of conduct is not so easy to follow in india. india had become an economic giant. this growth depended on speed of services and, as in china, speed has become a crucial parameter of the economy. the mega-city of mumbai, with its 15 million inhabitants, is at the heart of this movement. architects pay costly homage to the value of speed. everywhere, overhasty construction takes no account of the difficult climatic conditions. as a result, buildings and people are engaged in a vain combat against heat, the monsoon and urban asphyxia, in the absence of a sensible approach to the development of the city.
a number of models were on display image © designboom
'in this country they give you a week to finish a project; ten days later they are already building it. this is a slight exaggeration of course, but I realized straight away that a fine set of drawings is not enough to obtain the quality which I consider to be indispensable.' says bijoy jain.
he only works with clients who accept his conditions: giving the architect the time he needs, entrusting projects to a 'task force' of bricklayers, stonemasons or carpenters thathe heads himself. these craftsmen will produce an 'anonymous architecture'. they share a feeling for the material and the genius loci, forming sensory and physical links with the place. for bijoy jain, the construction process needs, in fact, to be deduced from the ecosystem.
model detail image © designboom
images © designboom
material studies image © designboom
image © designboom
image © designboom
exhibition view image © designboom
colour samples from previous projects images © designboom
tile samples image © designboom
stone samples and details images © designboom
image © designboom
bijoy jain from studio mumbai architects interviewed by hans ulrich obrist at the arsenale building to read more on hans ulrich obrist's exhibition, 'now interviews', click here
bijoy jain (born in mumbai in 1965) has studied architecture at washington university de st louis, USA and graduated in 1990. he worked with richard meier in los angeles, traveled, then returned to his native city where he founded studio mumbaii in 2005.
project team:bijoy jain, jeevaram suthar, samuel barclay, punamchand suthar, bhaskar raut, pandurang gharat, chanana ram, bhuraram, bhanwar lal, hkarta ram, bhaira ram, savai ram, michael anastassiades, kate dineen, samir raut
mar 19, 2019
mar 19, 2019
oct 04, 2016
oct 04, 2016
jul 25, 2016
jul 25, 2016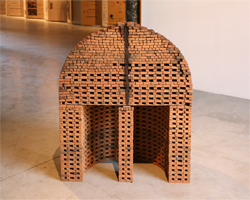 jul 03, 2016
jul 03, 2016
may 21, 2016
may 21, 2016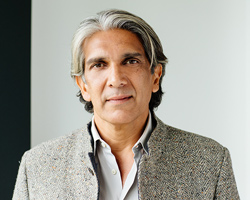 feb 08, 2016
feb 08, 2016
mar 20, 2013
mar 20, 2013
nov 22, 2010
nov 22, 2010
oct 02, 2010
oct 02, 2010
a diverse digital database that acts as a valuable guide in gaining insight and information about a product directly from the manufacturer, and serves as a rich reference point in developing a project or scheme.