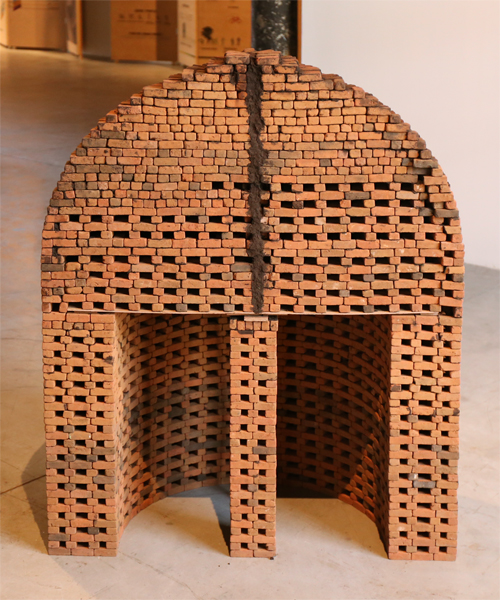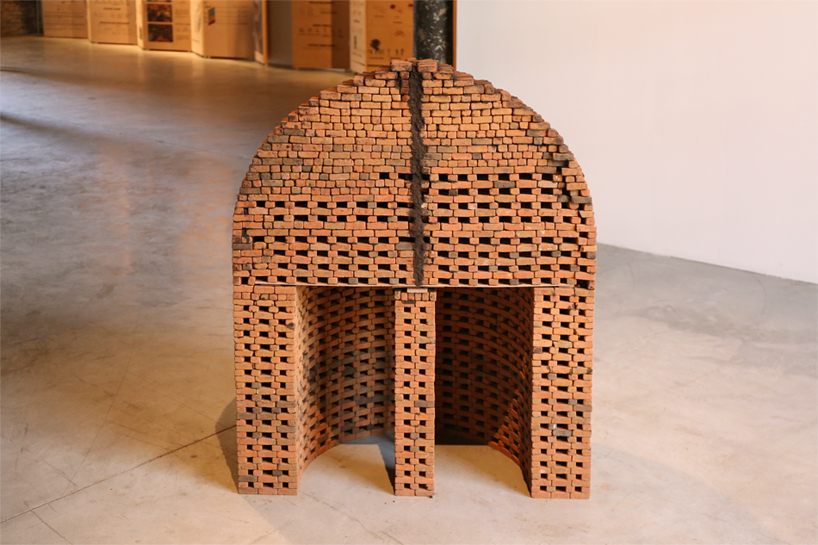 jul 03, 2016
studio mumbai seeks to improve quality of architecture at venice biennale with 'immediate landscapes'
studio mumbai seeks to improve quality of architecture at venice biennale with 'immediate landscapes'
image © designboom
venice architecture biennale 2016: the practice of studio mumbai is deeply rooted in testing materials and their possible applications in architecture. rather than being a conventional office filled with professionals sitting in front of computer screens, producing a set of building instructions in the form of plans and technical specifications, the firm is more something between a yard full of materials and handmade prototypes and full-scale design mock-ups where craftspeople and architects test ideas in an open workshop environment.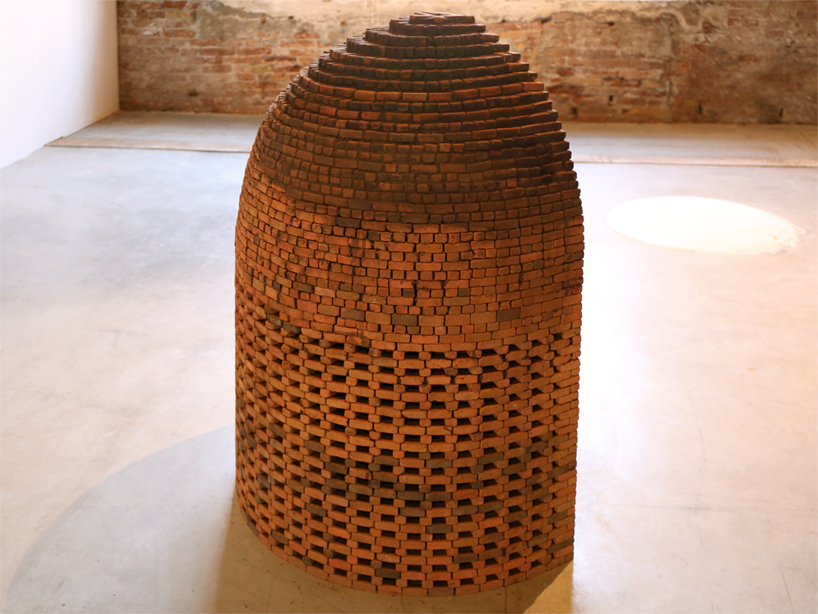 studio mumbai utilizes local knowledge and building techniques of india to construct their projects
image © designboom
the mumbai-based practice have managed to integrate local knowledge and skills successfully into their creative process, not as purely intellectual rhetoric, but as a way of life. this approach and sensitive attitude sees the studio focusing on a scarcity of means, only admissible in a low-cost, humanitarian context, making no distinction between houses for built for wealthy or clients of a certain elite. with the middle-class always looking to the elite, and the lower classes looking to the middle, it is this bottom-up approach that encourages the upper classes to embrace local crafts and skills as a sign of quality, rather than insisting on global technologies and building innovations, paving a way to a more democratization of quality in an efficient top-bottom method.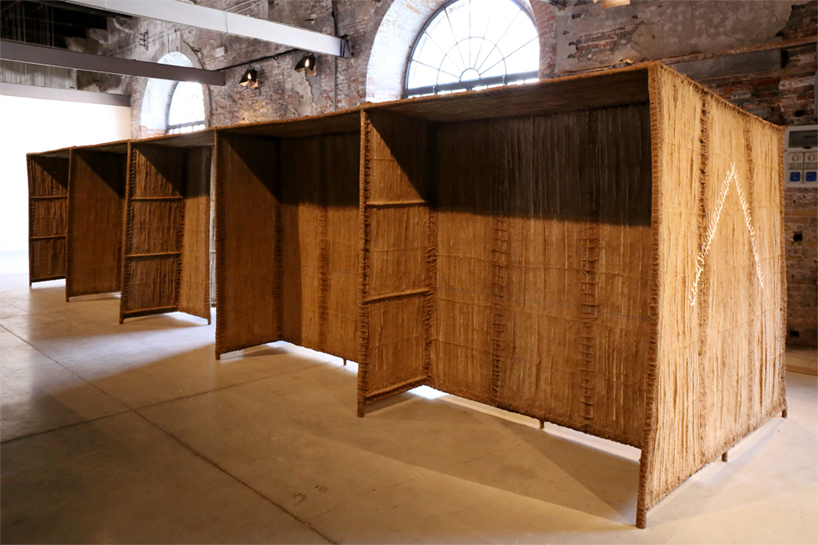 'immediate landscapes' explores low-cost, humanitarian building techniques
image © designboom
to demonstrate this, studio mumbai presents 'immediate landscapes' at the 15th international architecture exhibition: 'we live in overlays of varied landscape — natural and cultural. our notion of the world is formed through continual engagements with these landscapes. we would like to constantly traverse these landscapes physically and metaphorically to continually expand our world,' they say. through a continued research and documentation of these landscapes, they have discovered many phenomena that are discreetly present, but non-extant in the collective conscious.
'civilization is built on an aqueous foundation. a world that is in constant flux, a culture continually in an ebb and flow.' – bijoy jain, founder of studio mumbai
'immediate landscapes' is presented within the arsenale venue of the venice architecture biennale.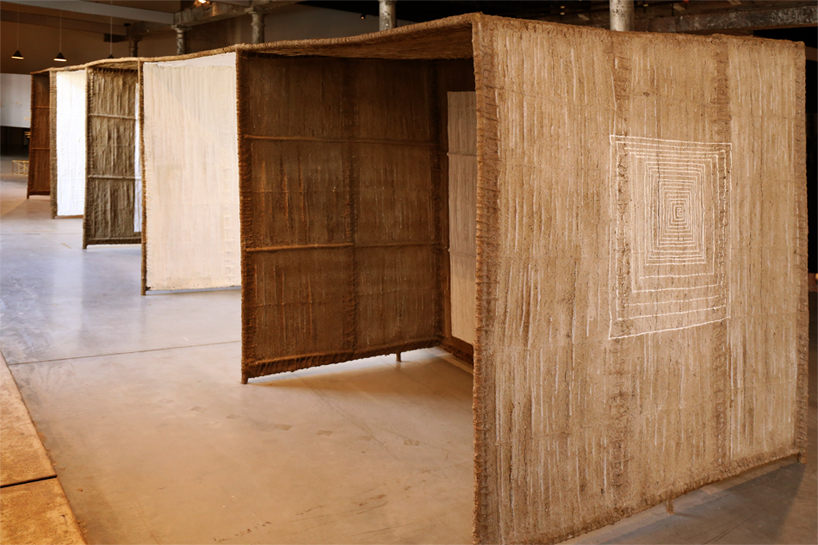 studio mumbai uses natural, local materials such as earth and fibre composites to construct their projects
image © designboom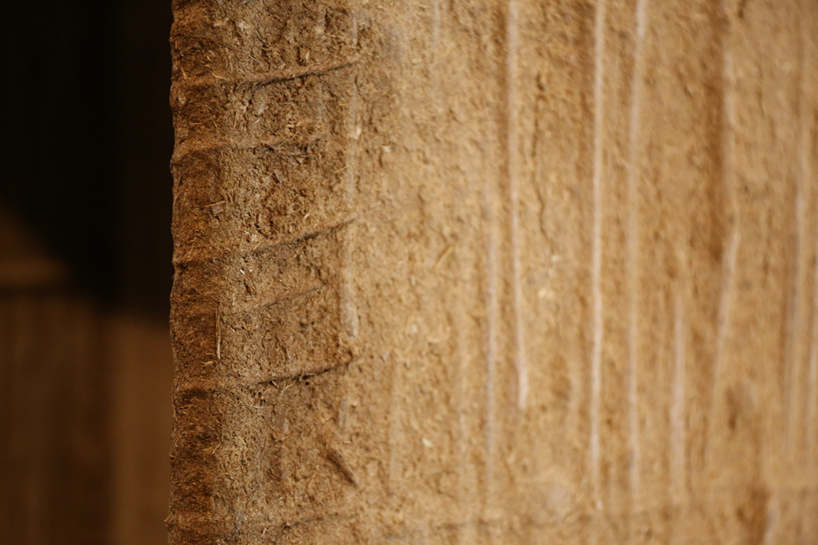 detail of the earth, fibre and wood construction
image © designboom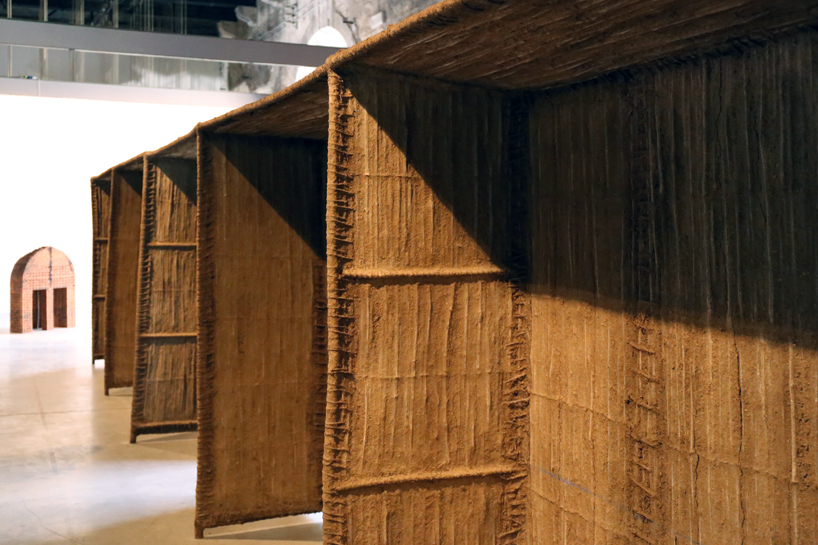 a bamboo frame structure is reinforced with mud
image © designboom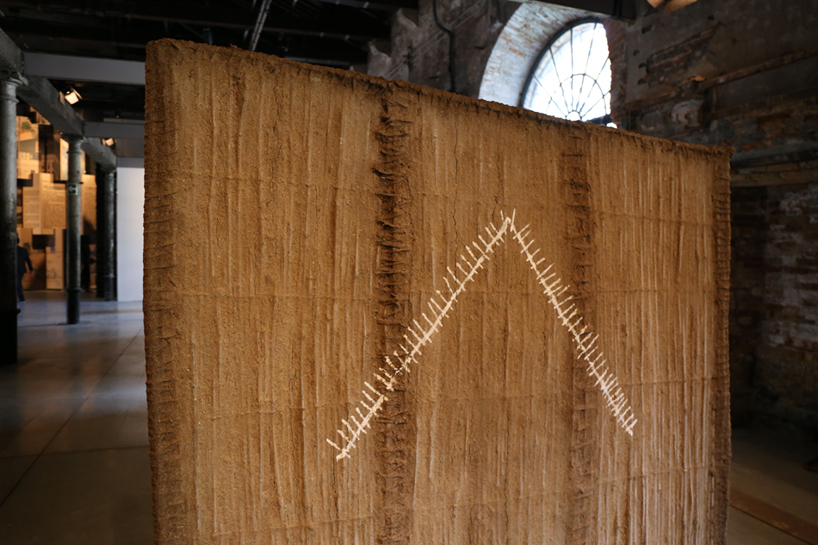 studio mumbai's 'immediate landscapes' at the arsenale venue of the 2016 venice architecture biennale
image © designboom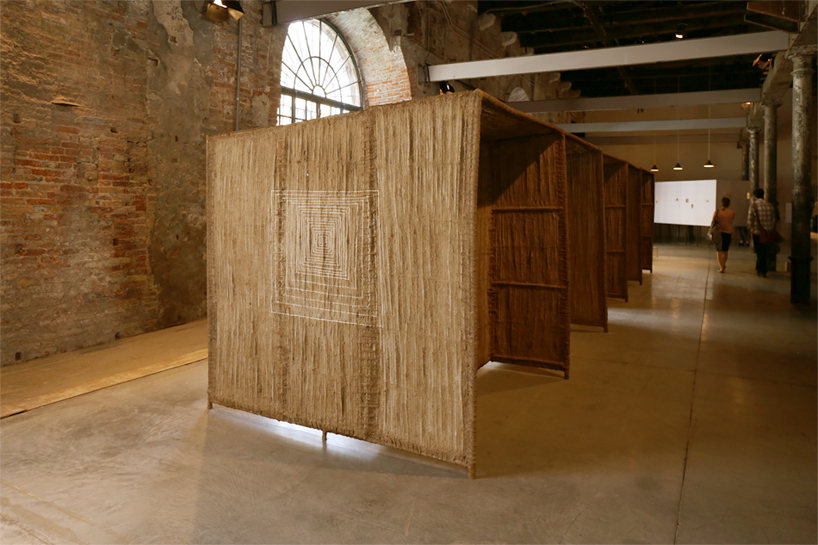 general exhibition view of studio mumbai's installation
image © designboom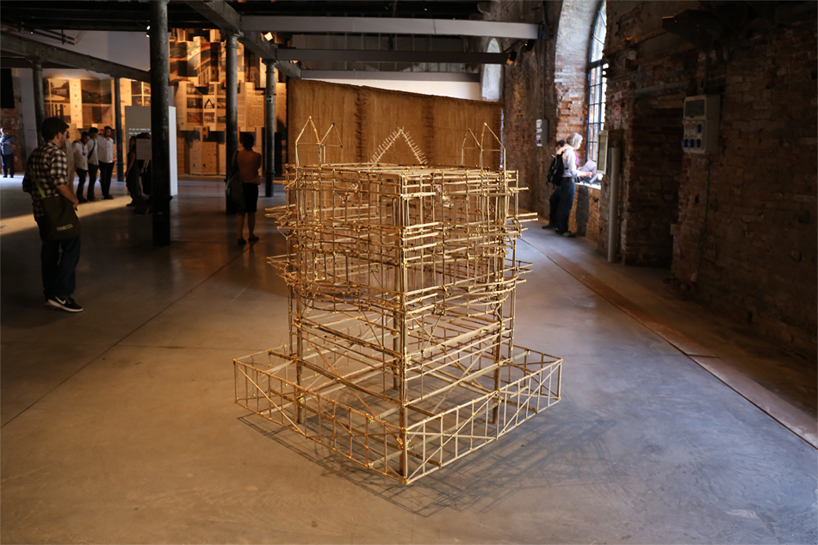 studio mumbai approaches their architecture practice with a top-down method
image © designboom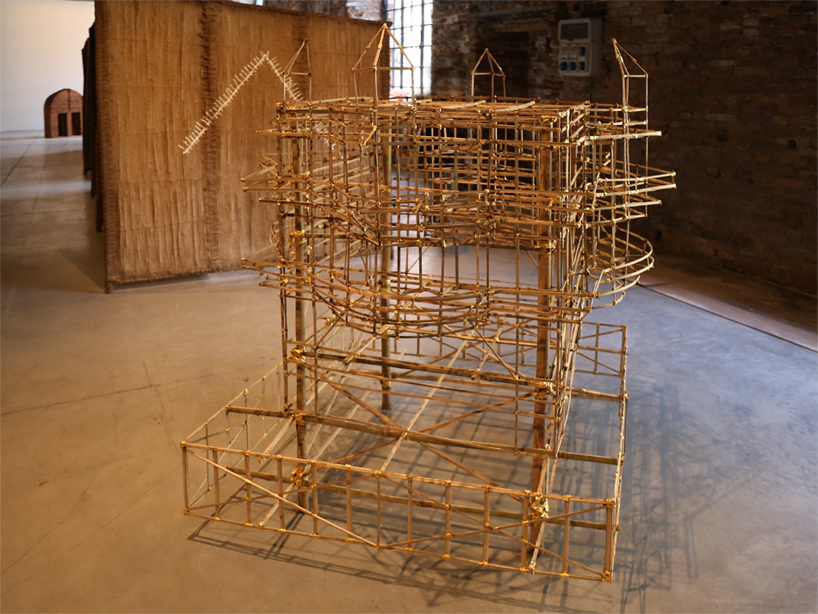 low-cost building materials and techniques are also used to realize structures for elite clients
image © designboom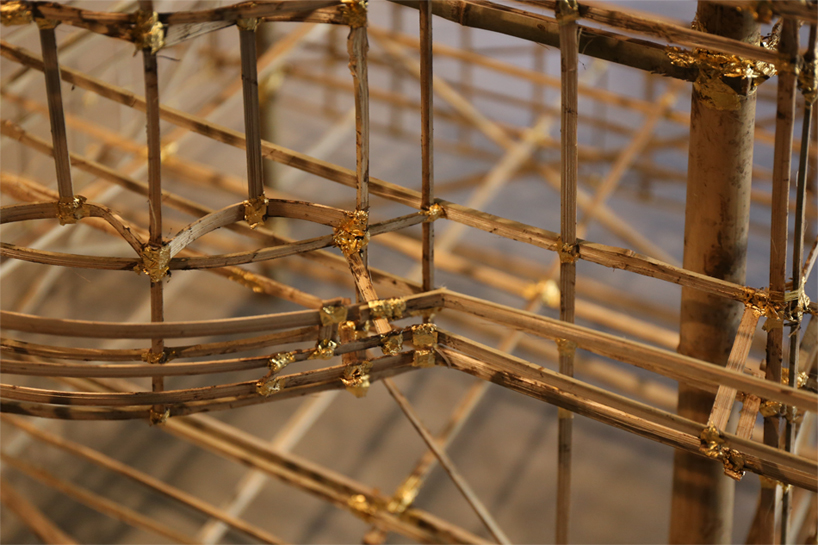 the mumbai-based practice delivers an efficient top-bottom building method
image © designboom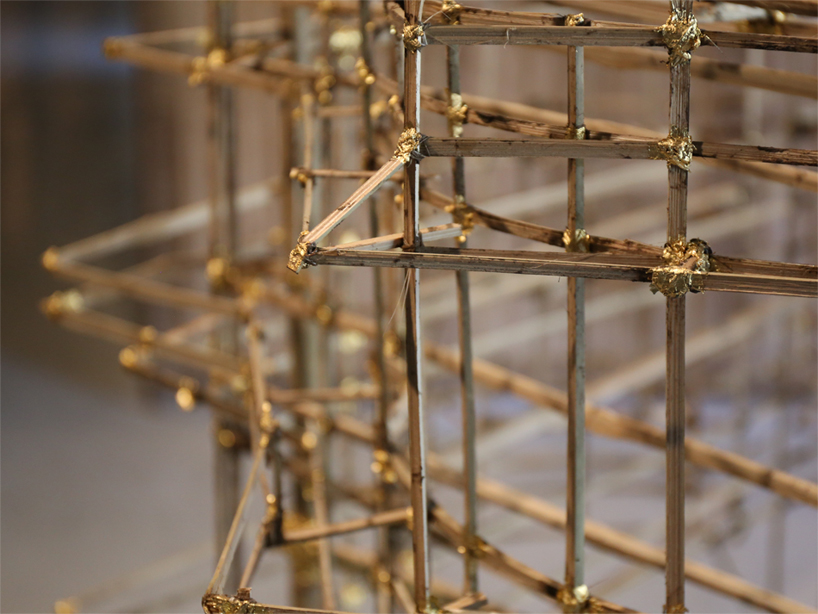 image © designboom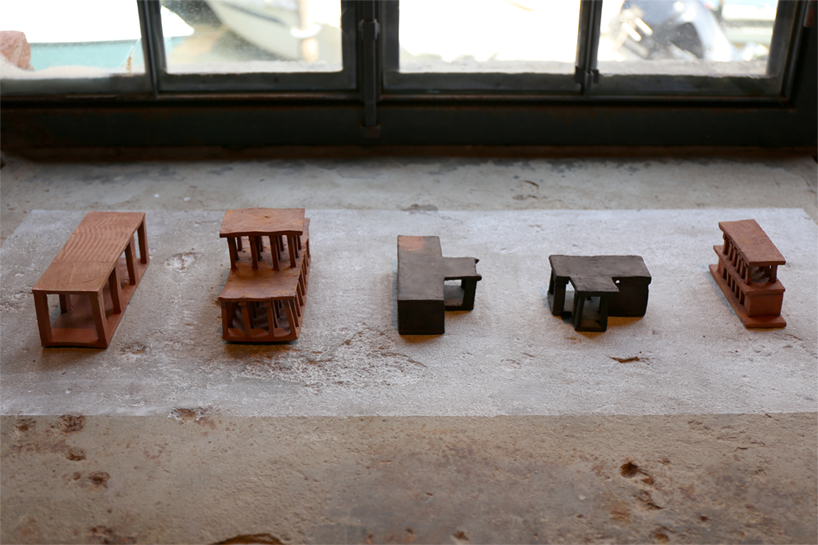 clay models of housing projects
image © designboom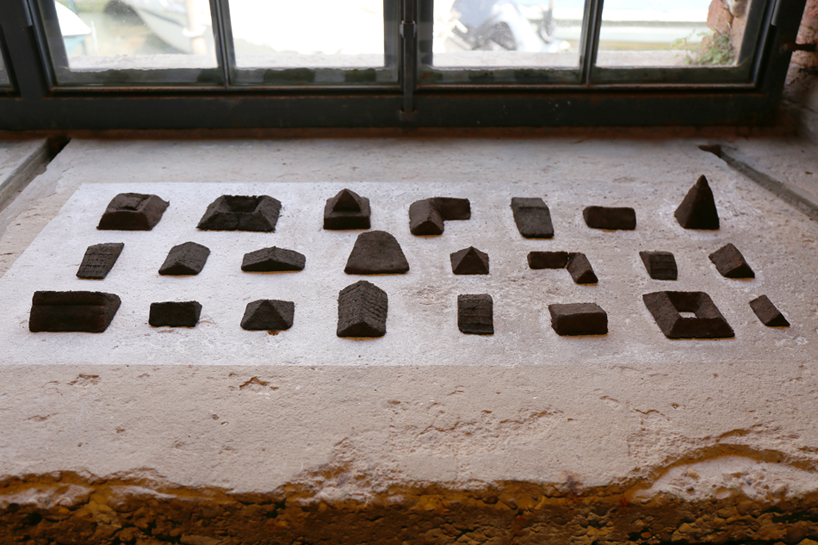 explorations in form
image © designboom
Save
Save
Save
Save
Save
Save
Save
Save
Save
Save
Save
oct 04, 2016
oct 04, 2016
jul 25, 2016
jul 25, 2016
may 21, 2016
may 21, 2016
jun 11, 2017
jun 11, 2017
oct 17, 2016
oct 17, 2016
aug 22, 2016
aug 22, 2016