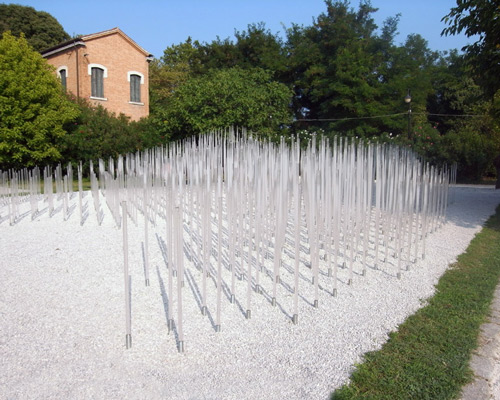 sep 10, 2010
studio pei zhu: yi garden at venice architecture biennale 2010
'yi garden' by pei zhu at the 12th international architecture biennale in venice, italy image © designboom
as a part of the chinese pavilion at this year's venice architecture biennale, studio pei zhu has designed and constructed an outdoor installation which aims to reinterpret, explore and expand on the traditional chinese garden and notions of space through contemporary and futuristic methods.
located in a courtyard outside of the old arsenale building, 'yi garden' is comprised of more than 1300 acrylic bars of varying heights, arranged in a grid system on the lawn. when viewed from afar, the sanded, luminous tips of the bars come together to create a cloud-like form that seems to float above the ground. the pavilion also creates loose spaces or zones which promote movement for those who physically enter and interact with the bars.
front view image © designboom
traditional chinese landscape, much like chinese painting and calligraphy, works in softness that is both tangible and conceptual. it often obscures the horizon by avoiding straight lines in paths and exclusively uses organic and geological forms. the character 'yi' literally translates to 'meaning, idea or desire' but its associations include both the concept that precedes actualization, the move from the concrete to the abstract, and invisible over visible structure. by using the language of modern materials and abstractions, the installation blurs the edges of form and space, creating tension between the indistinct and distinct, ultimately become a prop in the process of form-engaging rather than serve it's role as an object in itself.
acrylic bars arranged in a grid system image © designboom
varying heights and opacities of the pavilion image © designboom
detail image © designboom
image © designboom
image © designboom
pei zhu in front of 'yi garden' at the venice architecture biennale portrait © designboom
rendering image courtesy studio pei zhu
image courtesy studio pei zhu
diagrammatic drawing of the 'cloud' form image courtesy studio pei zhu
calligraphy one feature of chinese classical gardens is to ensure a spiritual flow behind the visible structures. there is a 'shi' (trend) behind the appearing relaxed and dispersed structures. it in general controls the routes, the structure and display of each site, which has some similarities as chinese calligraphy. there is also certain 'shi' that dominants the flow or stop of each strike when people do chinese calligraphy.
side elevation, lit image courtesy studio pei zhu
perspective, lit image courtesy studio pei zhu
vignette of 'cloud' form image courtesy studio pei zhu
clouds 'corridors, bridges, kiosks and pavilions are the main elements embodied in traditional chinese landscape gardening. these elements give people a relaxed and transparent feeling. normally the roof parts are connected to each other, which create diverse and hierarchical spaces.' – studio pei zhu
the acrylic bars lit up at night image courtesy studio pei zhu
interlaced thought 'our work is predominantly located in china and influenced by the chinese experience. this ancient civilization maintains an intense and powerful presence in the built environment and collective cultural scheme. our efforts are an attachment and detachment to this scheme that attempt to engage the chinese viewer in a dialogue about the shifts in their own cultural identity.
'vast cultural experiences determine the method of understanding and engaging the language of architecture. new buildings are built next to old buildings built in ancient spaces built at mythic happenings. in chinese philosophy art is not the final goal; art is a process to personal refinement and growth. our work reflects this immense cultural presence while using contemporary techniques and materials to rethink the cultural approach to architecture.
'currently there is a conflict between the modernization trend and the traditional course of life. this modernization progression has led to mass materialization that disconnects the spirit and self. the process of experiencing art through architecture can refine and inspire the human spirit, alleviating the physical invasion and restoring balance to the self. art is the immaterial content of space that stirs the heart and sparks humanity's dreams. instead of being too eager to occupy space, we need to return buildings to nature when they are not in use. the buildings melt into the context and reappear when they are needed. the challenge of foresight is in building projects that connect to the traditional identity while effectively gesturing towards this future utopia.' – studio pei zhu
sketch image courtesy studio pei zhu
project info:
artist / architect: pei zhu / studio pei zhu artistic consultants: fan di'an, wang mingxian, zhu xiaodi lighting artistic consultant: xiao lihe structure consultant: rory mcgowan construction consultant: zheng jianwei design team: he fan, liu wentian, heonju seo, kejun, geoffery hughes
feb 25, 2020
feb 25, 2020
aug 28, 2016
aug 28, 2016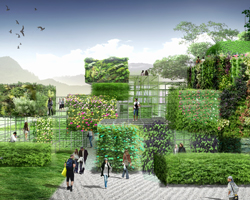 oct 27, 2015
oct 27, 2015
jul 02, 2015
jul 02, 2015
jun 30, 2015
jun 30, 2015
aug 05, 2014
aug 05, 2014
mar 20, 2013
mar 20, 2013
nov 22, 2010
nov 22, 2010
oct 02, 2010
oct 02, 2010
a diverse digital database that acts as a valuable guide in gaining insight and information about a product directly from the manufacturer, and serves as a rich reference point in developing a project or scheme.