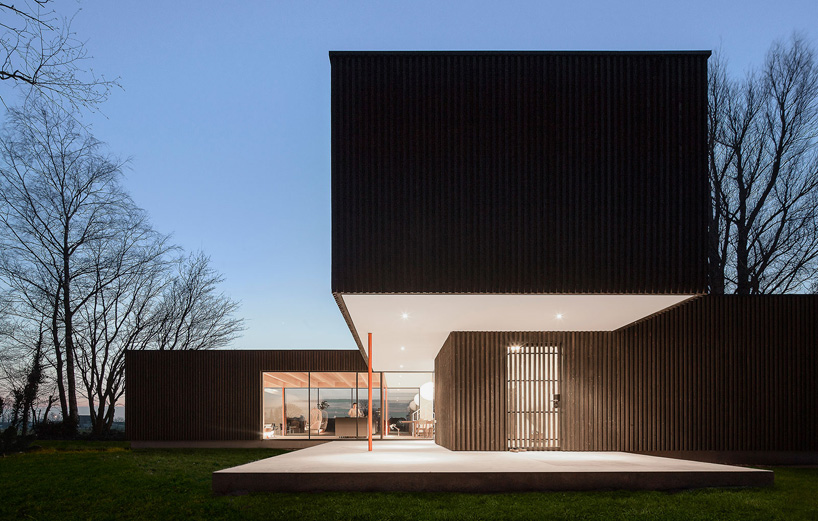 apr 22, 2015
studio puisto + bas van bolderen complete prefabricated huize looveld
studio puisto + bas van bolderen complete prefabricated huize looveld
image © marc goodwin
located in an eastern region of the netherlands, this two-storey home has been built to replace a historic farmhouse that had burnt down in an unexpected fire. designed by studio puisto and bas van bolderen architectuur, the scheme took only one and a half years to complete – from the beginning of the design process until its finalization.

the layout maximizes views of the surrounding landscape
image © marc goodwin
instead of replicating the form of the fallen structure, the client aspired for a contemporary home with internal programs organized in a linear sequence. this layout then evolved in order to maximize views of the surrounding landscape, while retaining some of the barn's original features such as double-height ceilings.

the wooden walls were CNC cut and prefabricated offsite
image © marc goodwin
as minimizing construction time was essential, the house was designed in close cooperation with the main contractor. the wooden wall elements were CNC cut and prefabricated in germany, before being transported to site and erected in less than a week. the wooden structure allowed for big cantilevers and openings, which frame views of the fields situated around the property.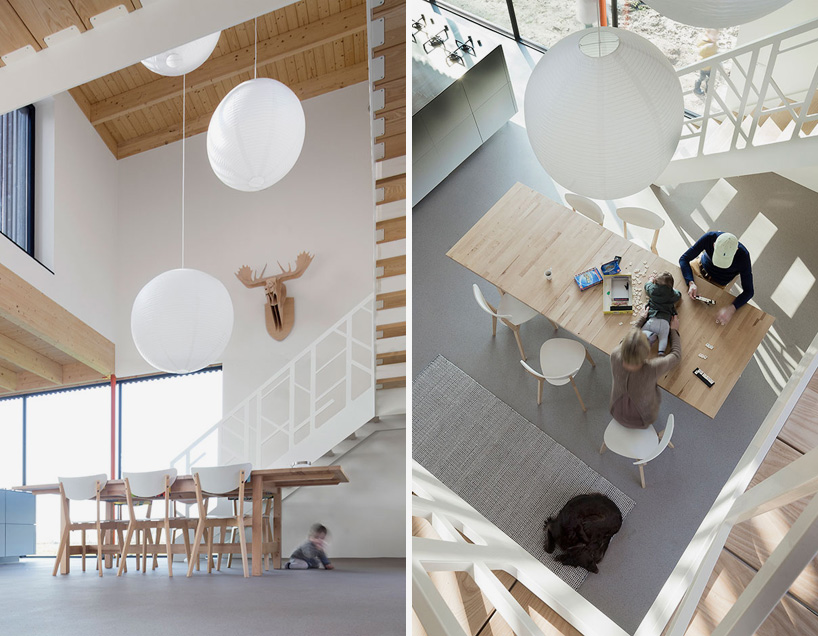 the design includes barn-like double-height spaces
image © marc goodwin
to comply with dutch building regulations the design team had to ensure that the residence appeared integrated with its surroundings. however, rather than blending the house with the existing built environment, dark stained vertical boards allow the home to fit into the surrounding natural backdrop.

an area of seating at the home's upper level
image © marc goodwin
from an environmental perspective, the house is designed to conserve as much energy as possible, and has high levels of insulation combined with an efficient heat recovery system. solar thermal collectors and a heat accumulating wood stove serve as additional energy sources, with the house only requiring an external heat source on the coldest winter days.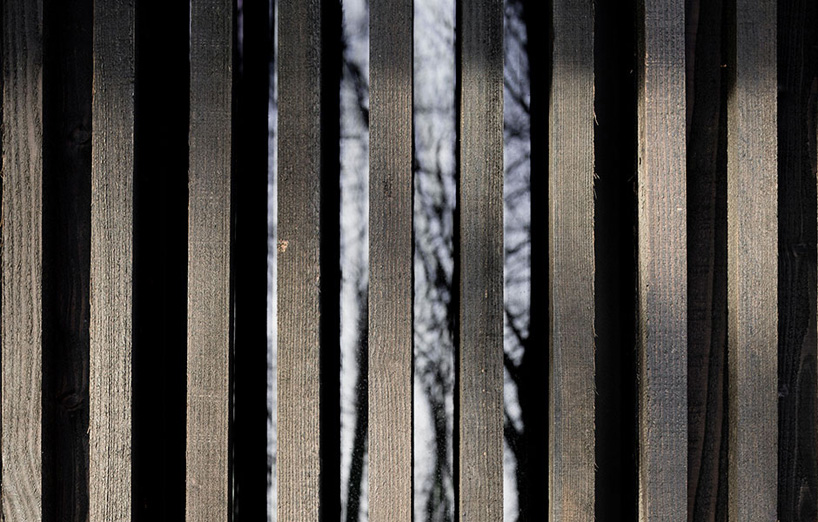 the property is clad with black timber
image © marc goodwin

an aperture set within the prefabricated façade
image © marc goodwin

the two-storey home had been built to replace a historic farmhouse
image © marc goodwin

timelapse video of huize looveld
video by jaap baarends fotografie
project info:
location: the netherlands
year: 2014
scale: 210 sqm
client: private
design: studio puisto architects and bas van bolderen architectuur
photography: marc goodwin
main contractor: villa nova
structural design: constabiel
HVAC and electrical: villa nova bouw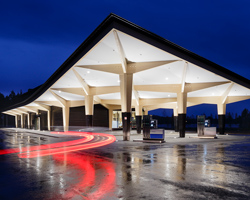 nov 24, 2016
nov 24, 2016
may 09, 2015
may 09, 2015