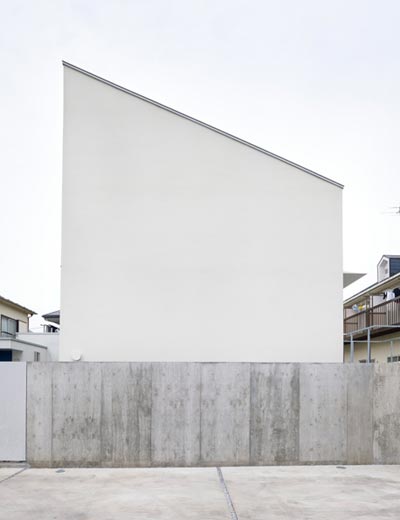 jan 02, 2013
suppose design office: house in fuchu, hiroshima
'house in fuchu' by suppose design officeall photos by toshiyuki yano / nacása & partners inc.
situated in hiroshima, japan is 'house in fuchu', a personal dwelling by suppose design office. from the street, at first glance, it appears as a white monolithic structure situated within a courtyard formed by surrounding homes – protected by a concrete wall which hides any openings – that is accessed via a ground level door, or staircase to the right which leads directly up to the residence.
a solid concrete barrier lines the exterior of the home, with a narrow pool situated between it and the dwelling along one side
the interior layout provides views through each level via an open staircase, giving the multilevel establishment a lofty feel. on the ground floor there is an open kitchen, dining and living area which is lit by wraparound windows which reach the height of the exterior wall, offering privacy from the street. along one side of  the panoramic fenestration is built-in bench seating, giving alternative areas in which individuals can gather and enjoy the natural light which floods through. wood lines the second and third floors which are the progressively more private areas of the home, with bathroom and sleeping areas located here.
the ground floor offers social spaces with an open living, kitchen and dining area and built-in bench seating
tucked between the solid barrier and the home itself is a narrow pool which runs the length of the living quarters, with stone yards lining the other walls which meet the base of the windows, making the dwelling feel as if it has been built into the ground. 
wraparound windows allow sunlight to filter through
general view of the ground floor
a surrounding rock garden which meets the base of the windows makes the home feel as if it is built into the ground
an open staircase gives the dwelling a lofty feel
interior by night
project info:
location: fuchu city,hiroshima japanprincipal use: personal housesite area: 156.04sqmbuilding area: 58.40sqmtotal floor area: 144.80sqmcompletion: september 2011design period: april 2007-december 2010construction period: december 2010-september 2011structure: steel structureproject team: makoto tanijiri(suppose design office)structural engineer: ohno japanphotographer: toshiyuki yano
aug 15, 2016
aug 15, 2016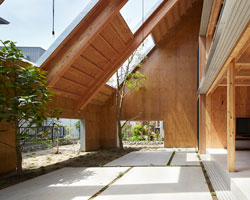 mar 20, 2016
mar 20, 2016
apr 23, 2013
apr 23, 2013