aug 12, 2011
suppose design office: house in tokushima
'house in tokushima' by suppose design office in itanogun, kitajimacho, tokushima, japan all images courtesy suppose design office image © toshiyuki yano
japanese practice suppose design office has sent us images of 'house in tokushima', a single storey private residence in itanogun, tokushima, japan. drawing from the shading effect caused by a collection of trees in a forest, the design translates this law of nature by creating a ceiling that filters in sunlight through gaps in the surface.
street elevation image © toshiyuki yano
pushed in from the street line to the south, the house sits low to the ground with a simple front facade. the centrally running core was left completely transparent along the length of the house, lending views directly through the residence to the other side of the plot. a flat roof generously extends over the house, which reads as a collection of boxes arranged closely on the ground floor.
view of living space from outside image © toshiyuki yano
individual programs that require a level of privacy – bedroom, tea room, atelier, washroom – are accommodated in separate box-like volumes which were then treated like trees within a forest. the roof extends from the rooms providing a shaded area over the interstitial space between. as a result, a network of gaps in the ceiling allows direct sunlight to enter the interior. though artificial and regularly shaped, inhabitants experience the trajectory of the day through natural means. the communal space situated in the centre benefits from a heightened sense of openness.
interior view image © toshiyuki yano
dining and kitchen image © toshiyuki yano
charred timber surface of the rooms image © toshiyuki yano
light coming through the gaps in the ceiling image © toshiyuki yano
image © toshiyuki yano
internal window from bedroom image © toshiyuki yano
floor plan / level 0
longitudinal section
project info:
principal use: single family hose main structure: timber construction (subset structure: steel) site area: 498.40 m2 building area: 234.468 m2 total floor area: 194.49 m2
project team: makoto tanijiri, masahiro hasimoto structural engineer: ohno japan
aug 15, 2016
aug 15, 2016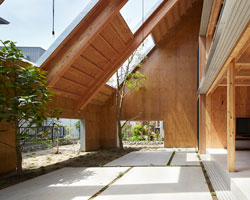 mar 20, 2016
mar 20, 2016
apr 23, 2013
apr 23, 2013
jan 02, 2013
jan 02, 2013
dec 27, 2012
dec 27, 2012
dec 04, 2012
dec 04, 2012