with tadao ando's first residential development in new york nearing completion, the team behind the project has released a new video that provides an intimate look at the development through a compilation of renderings and animation. the movie has been designed to showcase the trademark concrete exterior ando has designed for '152 elizabeth', and the exclusive residences contained behind its glass façade.

all images and video by the boundary and noë & associates
situated on a prominent corner plot in manhattan's nolita neighborhood, '152 elizabeth' contains a total of seven residences. conceived by tadao ando as 'an inner sanctuary', the building's acoustically enhanced façade system has been designed to ensure that residents have tranquil home environments despite the busy downtown location. the video, created by noë & associates and the boundary, also presents the project's interiors, crafted by gabellini sheppard associates.

the building contains a total of seven residences
developed by sumaida + khurana, in partnership with nahla capital, the scheme will incorporate a number of hallmarks associated with ando's brand of architecture: poured-in-place concrete, burnished metal, voluminous glass, and a living green wall. designed with art collectors in mind, '152 elizabeth' includes dehumidification systems in each home. the building also offers an automated garage with parking spaces available for purchase, a 24-hour doorman, and additional private storage. see designboom's previous coverage of the project here.

an acoustically enhanced façade ensures that residents have tranquil home environments

the project's interiors have been crafted by gabellini sheppard associates

the scheme will incorporate a number of hallmarks associated with ando's architecture

the development will include a monumental green wall

the building topped out in february 2017
Save
Save
Save
Save
Save
Save
Save
Save
Save
Save
Save
Save
Save
oct 30, 2017
oct 30, 2017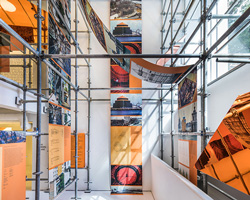 oct 27, 2017
oct 27, 2017
oct 22, 2017
oct 22, 2017
oct 21, 2017
oct 21, 2017
oct 19, 2017
oct 19, 2017
oct 17, 2017
oct 17, 2017
oct 30, 2017
oct 30, 2017
oct 30, 2017
oct 30, 2017
oct 30, 2017
oct 30, 2017
oct 17, 2017
oct 17, 2017
oct 15, 2017
oct 15, 2017
oct 08, 2017
oct 08, 2017
oct 09, 2017
oct 09, 2017
aug 02, 2017
aug 02, 2017
jun 30, 2017
jun 30, 2017