mar 23, 2009
ten arquitectos: clinton park, new york
'clinton park' by ten arquitectos image courtesy ten arquitectos
located at the western edge of midtown manhattan, is the clinton park mixed-use development designed by ten arquitectos. it will occupy more than half of a city block with 1.3 million square feet of commercial and residential programs.
the project fills a void in the urban fabric by integrating multiple commercial uses at the base and providing needed housing in the 27 floors above. the base building will include a 50,000 square-foot auto showroom fronting 11th avenue with 250,000 square feet of service floors below grade, a 30,000 square-foot horse stable for the nypd mounted police, a 7,500 square-foot neighborhood market, a 30,000 square-foot health club, and 200 parking spaces.
the residential form sitting atop this plinth creates more than 900 apartment units, including 20 percent inclusionary housing.
the overall massing of the project slopes up and away from clinton park, starting at 96 feet along 11th avenue and climbing up to 348 feet at the middle of the block; this height transition negotiates two very dissimilar urban scales: the flat, horizontal one of the park located to the west of 11th avenue and the vertical, windowless structure of the telephone switching tower to the east of the site.
securing light and air for a great majority of apartment units, the double loaded corridor shifts diagonally across the site in a unique orientation to the manhattan grid, reducing the building's mass adjacent to the neighboring buildings.
glass floors with roof terraces image courtesy ten arquitectos
each floor steps up from the one below, allowing for unobstructed views to the park and hudson river and providing private roof terraces with green roofs on every floor.
the building's mirrored structure introduces the creation of two garden terraces, a green feature among the city's urban grid. the gardens and the green roofs on each floor introduce a refreshing sense of proximity to nature into the otherwise massive structure.
'clinton park' by ten arquitectos image courtesy ten arquitectos a varied treatment of street walls and interior facades creates a solid exterior with smaller openings along the street edges of the building, while lighter facades skin the building where the form pulls away from the street. this language of interior and exterior makes reference to the historic court spaces of new york city housing.
'clinton park' by ten arquitectos image courtesy ten arquitectos
'clinton park' by ten arquitectos image courtesy ten arquitectos
horse stable in clinton park image courtesy ten arquitectos
on the ground floor, the design reconciles the complex program of the building by placing the dealership and horse stable on the two opposite spaces below the terraces.
'clinton park' by ten arquitectos image courtesy ten arquitectos
the design of the project capitalizes on the site's through-block condition and its spectacular views to clinton park and the hudson river.
'clinton park' at night image courtesy ten arquitectos
general info project title: clinton park location: new york, ny architect: ten arquitectos/enrique norten project team: enrique norten, john newcomb, tim dumbleton, david maestres, hale everets, mark dwyer, dieter schoellnberger, florian oberhueber, pedro hernandez, jeffrey goldberger, joyce chang, angela deriggi, yu-ju lin, jong seo lee, veronica kan, yi-ling teng, manta weihermann, enrique gomez, kavita ahuja, armando rodríguez, jose castañeda, giovanni sidari, shai turner, daisuke nagatomo, wook kang, masako saito, devin keyes, paola morales. year of design: 2006 year of construction: 2010 client: two trees management llc
jul 14, 2016
jul 14, 2016
oct 08, 2015
oct 08, 2015
jun 04, 2015
jun 04, 2015
jun 08, 2014
jun 08, 2014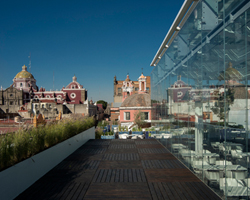 mar 12, 2013
mar 12, 2013
aug 17, 2011
aug 17, 2011