venice architecture biennale 2012: day two – live: curators vicky richardson and vanessa norwood sent ten architecture firms across the globe to research and explore universal issues in architecture presented at the british pavilion's 'venice takeaway' exhibition at the 13th international architecture exhibition, in venice. in response to their findings, the groups have proposed theoretical solutions to remind us that thinking about design is just as important as practicing it.
the participants: abberrant architecture; darryl chen; dRMM; forum for alternative belfast; elias redstone; ross anderson and anna gibb; smout allen and BLDGBLOG; and takero shimazaki/toh shimizaki architecture visited argentina, brazil, china, germany, japan, the netherlands, nigeria, russia, thailand and the USA to learn the design problems faced by the local culture and analyze their current solutions to apply them internationally. the issues presented in the exhibition are intended to extend beyond the biennale's functioning days into the future, to impact each designer and visitor alike.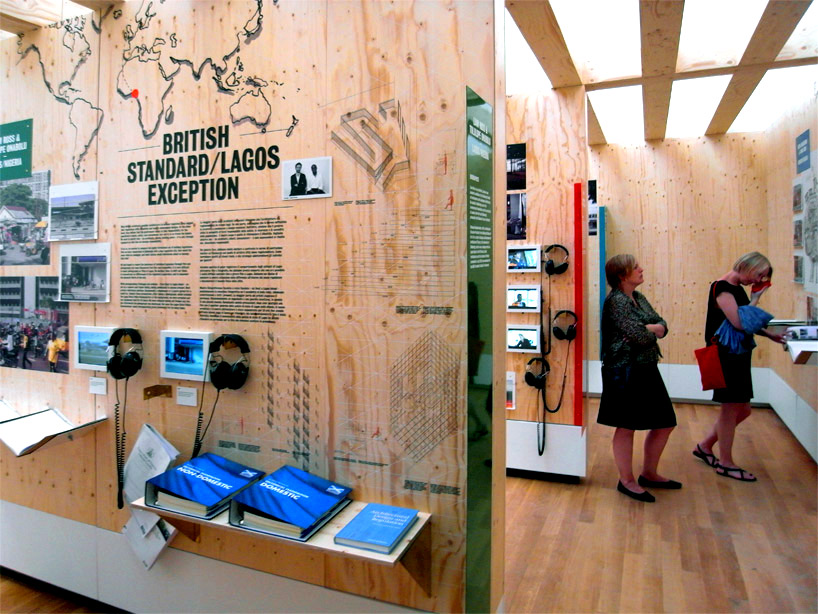 research emporiumimage © designboom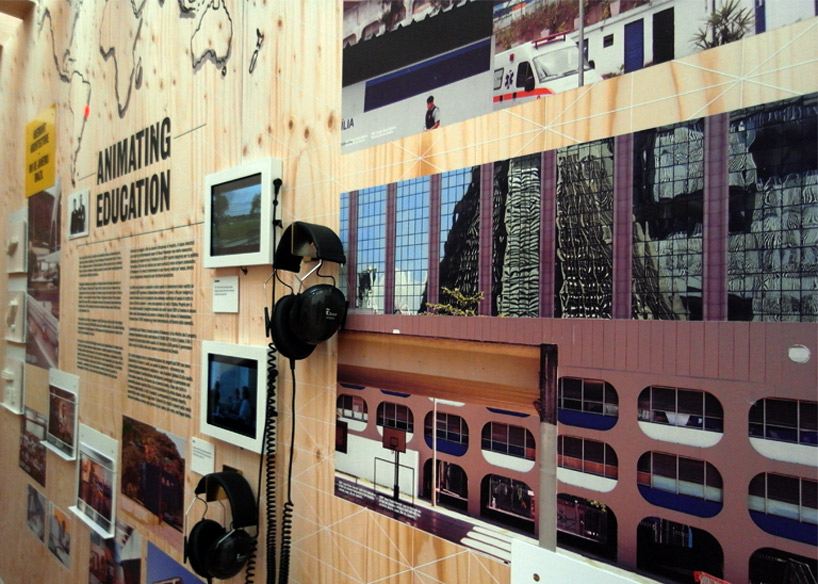 media wallimage © designboom
greeting the visitors, interior wooden partitions display a vast array of information from the research done around each location. the displays are presented using multiple sources of media in an interactive showcase that engages all the senses.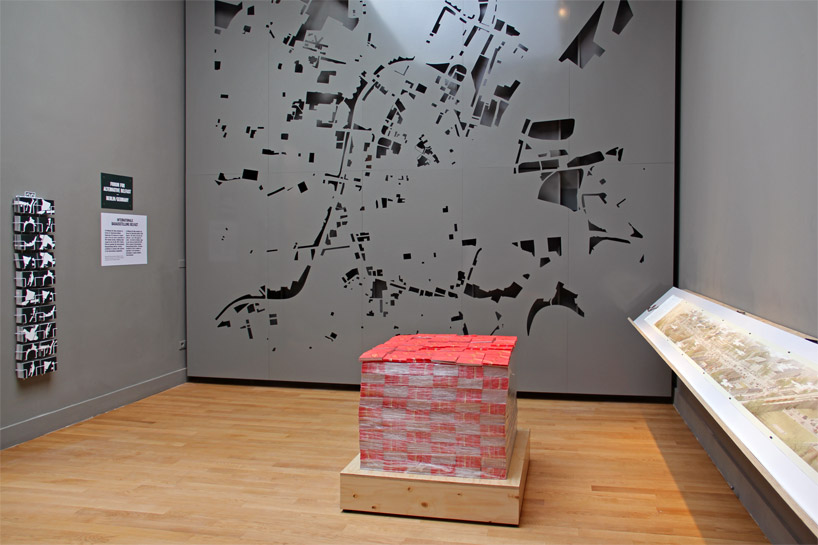 (left) 'forum for alternative belfast' (right) 'new [socialist] village'image © designboom
forum for alternative belfast: mark hackett and declan hill, directors of forum for alternative belfast (FAB), arrived in berlin with a question: 'braucht belfast eine internationale bauausstellung?' – 'does belfast need an international building exhibition?'
the internationale bauausstellung (IBA) was a far-sighted urban renewal project carried out in west berlin between 1979 and 1987. the programme consisted of neubau (newly constructed buildings), led by josef paul kleihues, and altbau (repairs and alterations to existing blocks), and hardt-waltherr hämer. IBA was realised over the course of a decade, often through ambitious international competitions that offered many young architects their first experience of building on a large scale. FAB hopes that lessons learned from the process and delivery of IBA 1987 can be applied to the re-stitching of belfast. the 'missing city map' found on the back wall of the space was published by FAB in 2010, illustrates 107 hectares of vacant land in the german capital's city centre — equivalent to the size of 265 football pitches — has become the basis of this initiative that FAB plans to complete by 2018.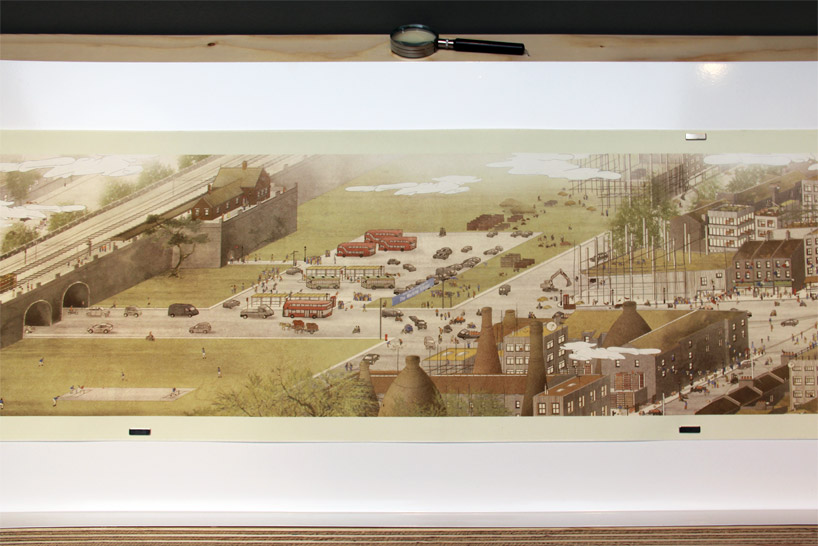 'new [socialist] village'image © designboom
darryl chen: darryl chen studied caochangdi, an atypical 'new socialist village' on beijing's fifth ring road with a thriving and diverse mixed-income community. amongst the city's singularly masterplanned mega-developments, caochangdi is an anomaly. in the space created by the chinese government's evolving planning laws, the village's growth is driven by the instincts of local peasants and the bohemian opportunism of artists who have established a set of unstated rules governing urban form.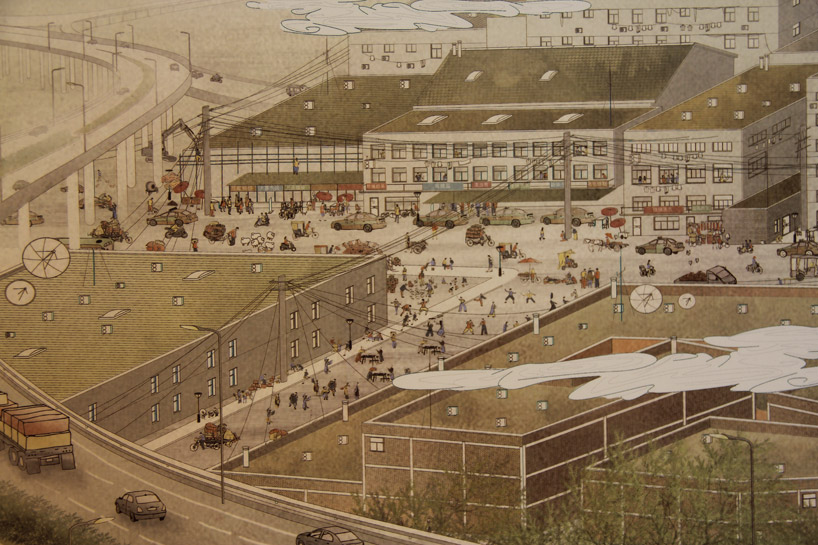 image © designboom
the localism act of 2011 provides the biggest opportunity in decades to rethink the role of planning. chen argues that the time has come to breathe new life into the idea of the village by eliminating townscape sentimentalism and recovering economic growth as the primary driver of urban form. chen's project questions the seemingly one-way importation of western ideas and expertise into china by asking, what can china teach the UK about planning?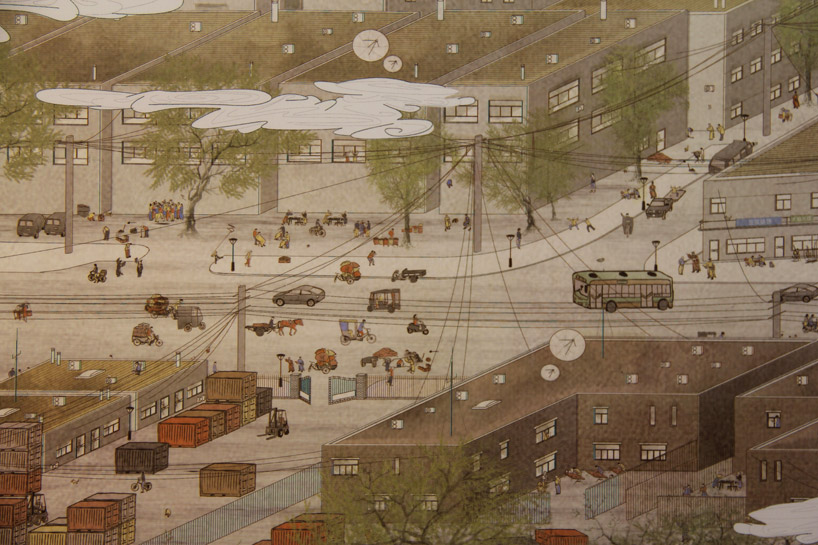 image © designboom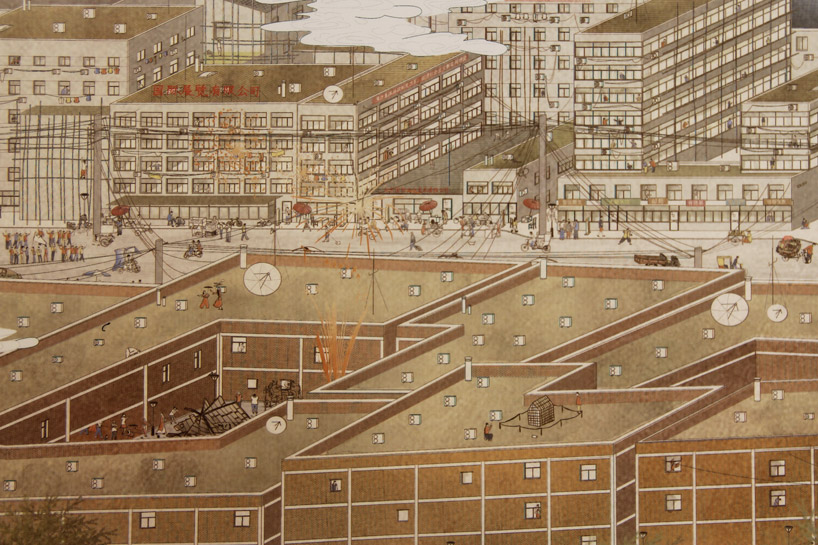 image © designboom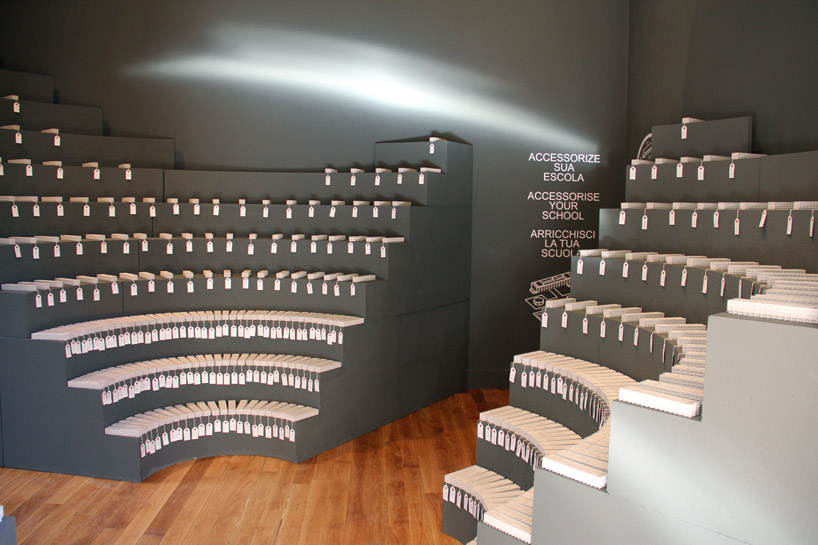 'animating education: learning from rio de janeiro'image © designboom
aberrant architecture: aberrant architecture investigated a radical and experimental school-building programme conceived by leonel brizola, darcy ribeiro and oscar niemeyer in brazil in the 1980s. the programme provided a series of high-quality standardised and prefabricated primary schools, known as CIEPs (integrated centres of public education), which were designed to support and enhance curricula. the school-building programme in rio stopped at 508 because the state governor failed in his bid for brazil's presidency.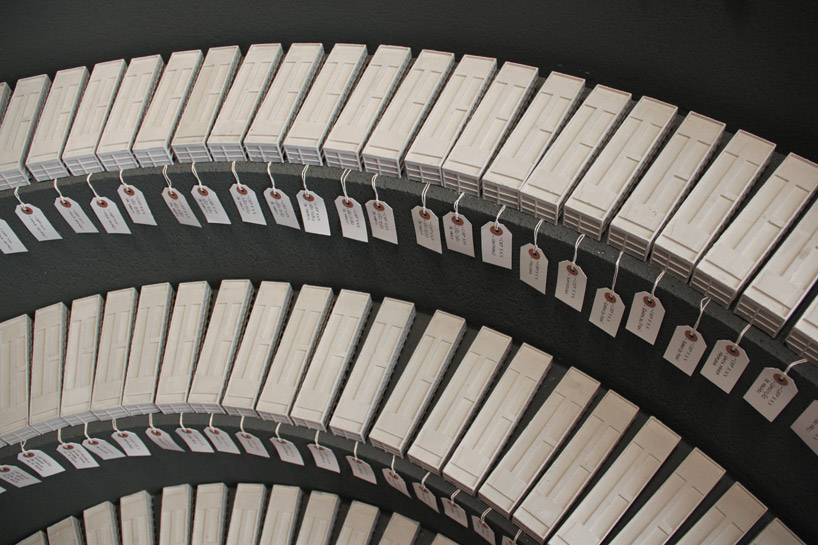 image © designboom
today this network of 508 CIEP covers the entire city and state of rio de janeiro. from towns and cities to favelas and beach resorts, wherever you find people, you'll find a CIEP. in a climate of austerity in the uk, with limited educational funds and a shortage of space for new primary schools, aberrant proposes that standardizing school design will not only reduce costs but also set a new global standard of high-quality schools accessible to any student.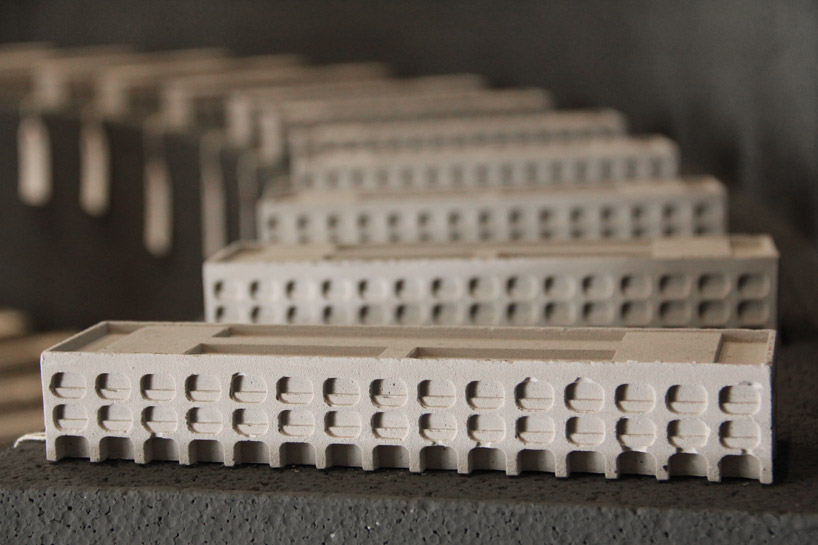 508 models of almost identical school buildings, constructed after a template of niemeyer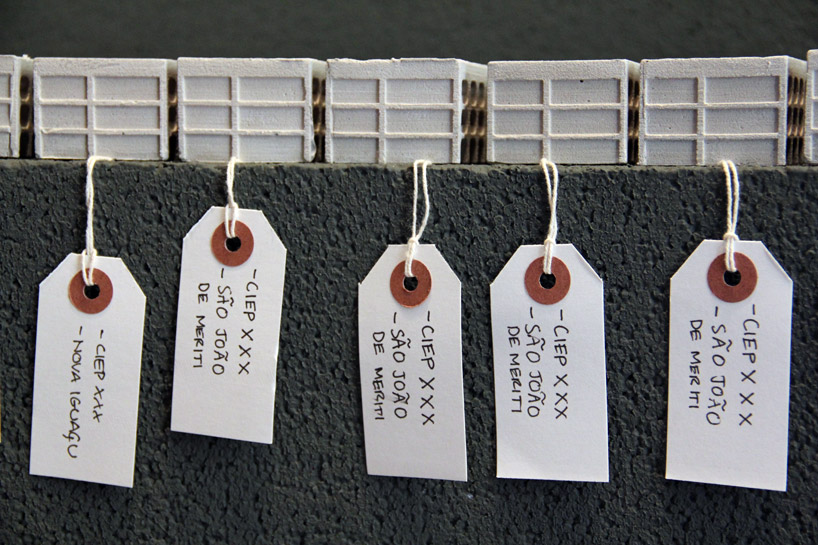 image © designboom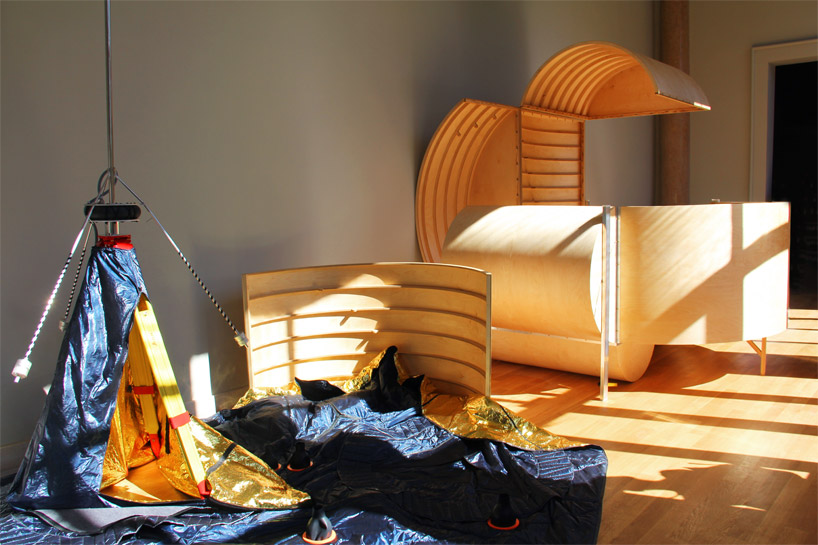 british exploratory land archive: a proposal & prototypeimage © designboom
smout allen and BLDGBLOG : having long admired the centre for land use interpretation (CLUI) in los angeles, smout allen (mark smout and laura allen) and geoff manaugh of BLDGBLOG saw 'venice takeaway' as an opportunity to investigate the organization and its context. founded in 1994, CLUI is a research and educational organization that aims to understand and record the nature of human interaction with the earth's surface. from its small base in culver city, CLUI publishes books, conducts public tours and offers information and research resources through its library, archive and website. as an outcome of their research, the studio of smout allen, along with manaugh, will launch the british exploratory land archive. bela will unite a variety of bodies and individuals to document a diverse range of sites, in the process centralizing scattered catalogues and becoming an internationally useful organization for recording land uses in the UK.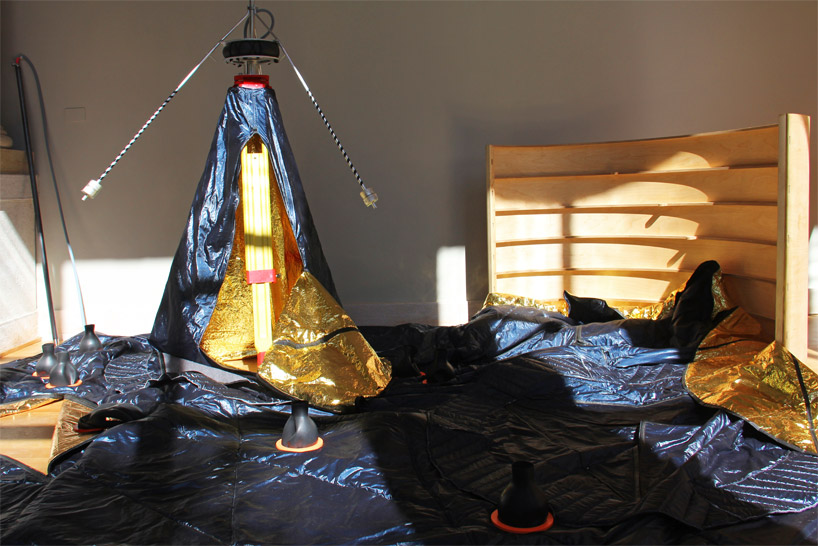 image © designboom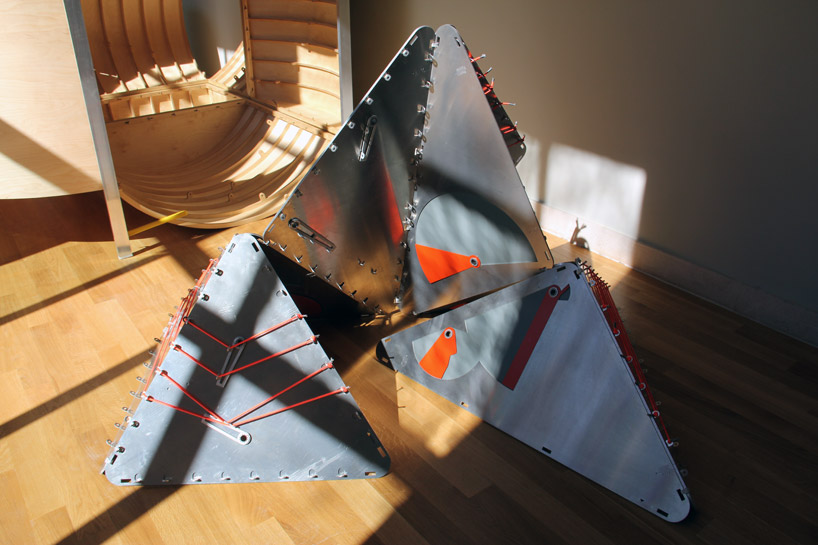 image © designboom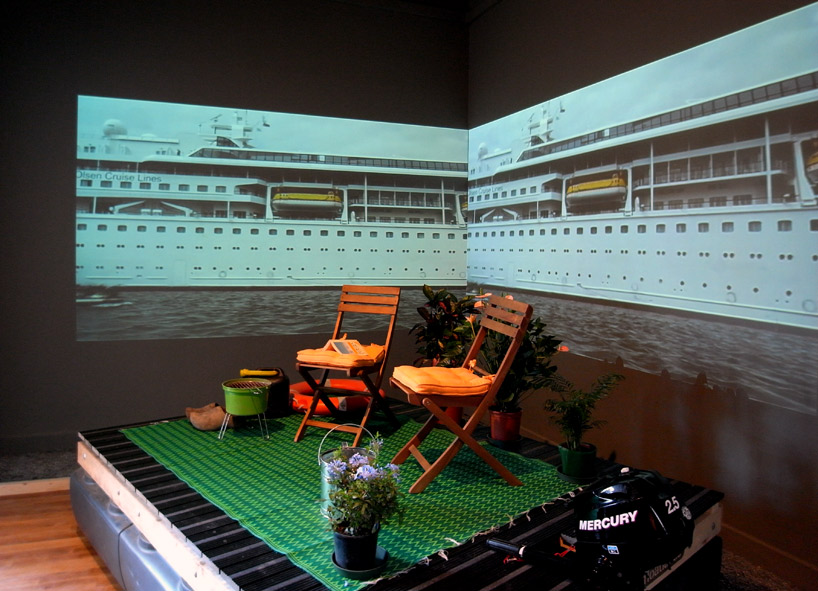 'the dutch way'image © designboom
dRMM: three adventurers of dRMM set forth on a mission to study ijburg, a small prototype floating community in the east of amsterdam that has thrived under an advanced culture of planning, design, procurement and construction. they travelled with the aim of understanding the realization of ijburg, extracting vital information and inspiration. the team went local for a week, gaining first-hand experience of life in the floating village. they examined the technology, policies and mechanisms behind the neighbourhood, and captured exchanges with residents, financiers, policymakers and architects.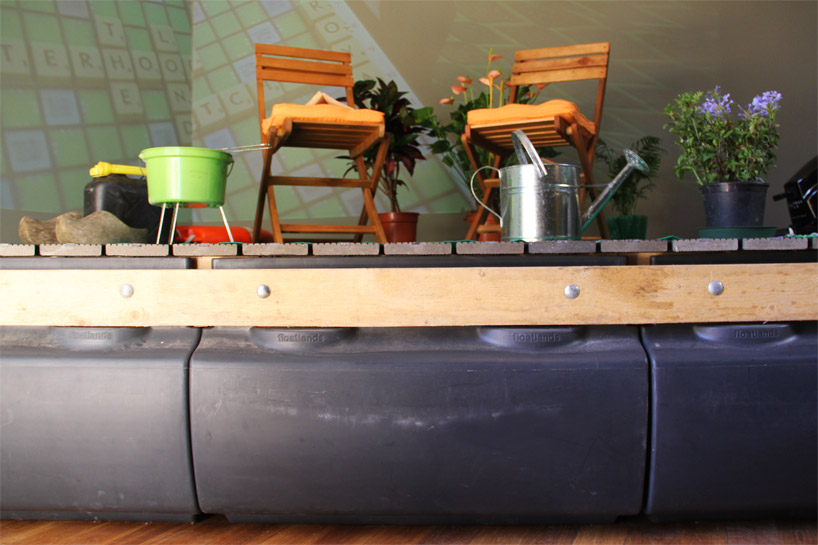 image © designboom
in the UK, the housing shortage is projected to worsen, with escalating land and property prices alienating young buyers. the dutch way hopes to address long-term flood strategies and housing need by proposing new floating neighbourhood 'incubators' to be tested in london's royal victoria dock. with this proposal, drmm presents a provocative case for increasing density in a city that has little space left to build by activating some of its most underused areas – its waterways.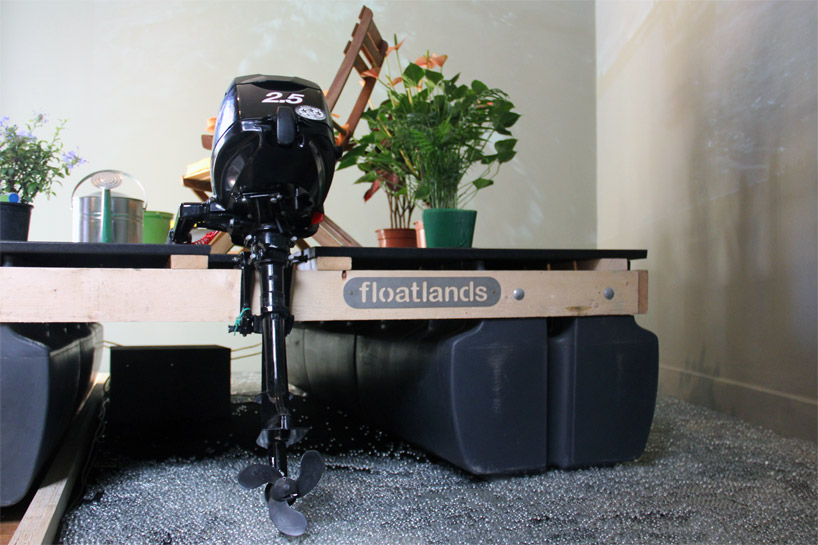 image © designboom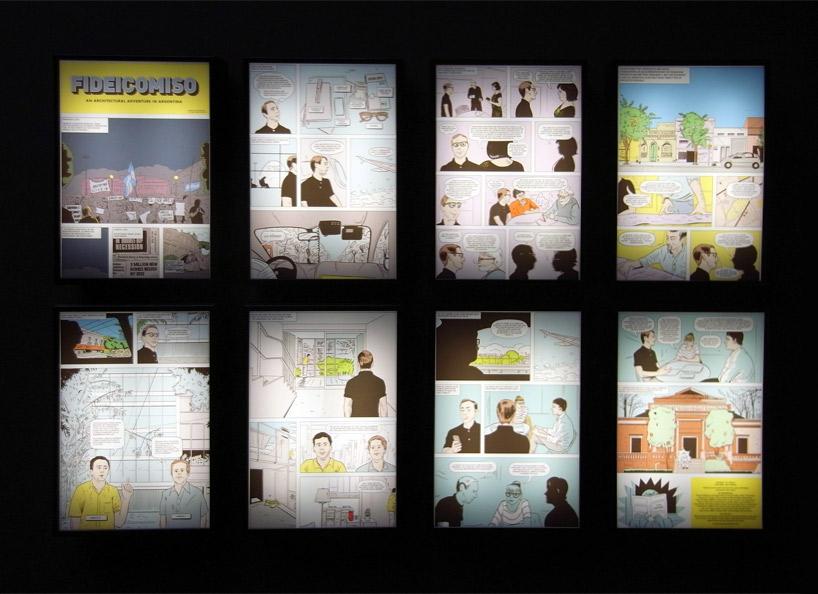 'fideicomiso!'image © designboom
elias redstone: elias redstone flew to argentina to investigate how and why architects were initiating and developing their own projects following an economic crisis. fideicomiso, one of the legal trusts that allow architects to function in this way, has come to represent a business model for architects to develop housing blocks with multiple investors, who are often future occupiers of the building. while in buenos aires redstone researched the reasons behind developing fideicomiso buildings and looked at the economic and planning conditions required to deliver the projects. he discovered that when plots and building codes are clarified and standardised, building projects are more likely to be guaranteed. some architects have waiting lists of clients who want to commission fideicomiso homes. inspired by what he found, redstone returned to the uk and approached architects and developers to discuss the feasibility of fideicomiso in britain.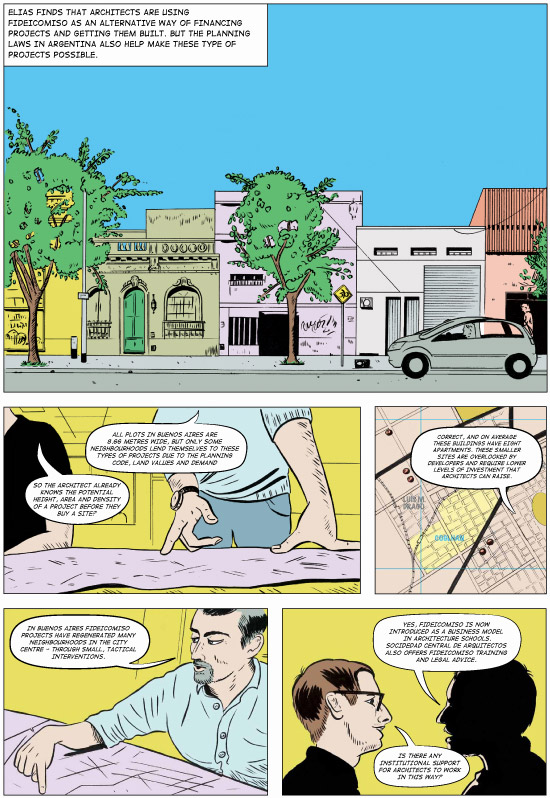 fideicomiso: an architectural adventure in argentina by elias redstone, marcia mihotichimage courtesy of the british council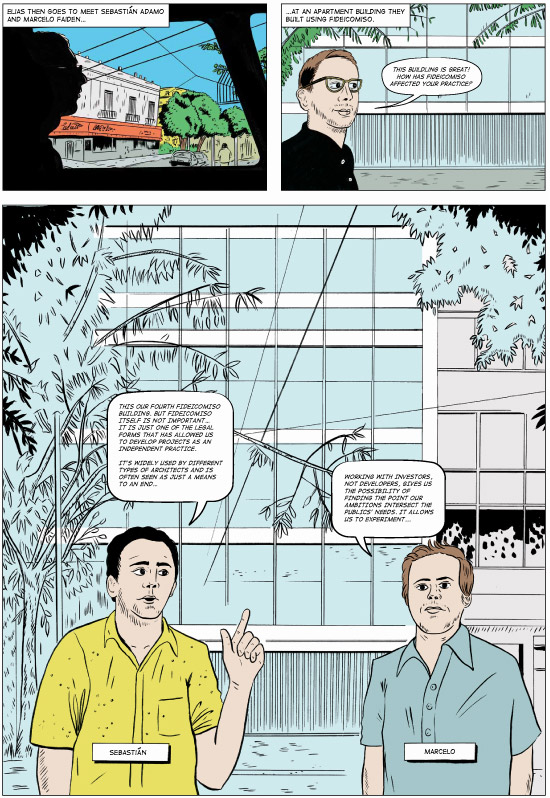 fideicomiso: an architectural adventure in argentina by elias redstone, marcia mihotichimage courtesy of the british council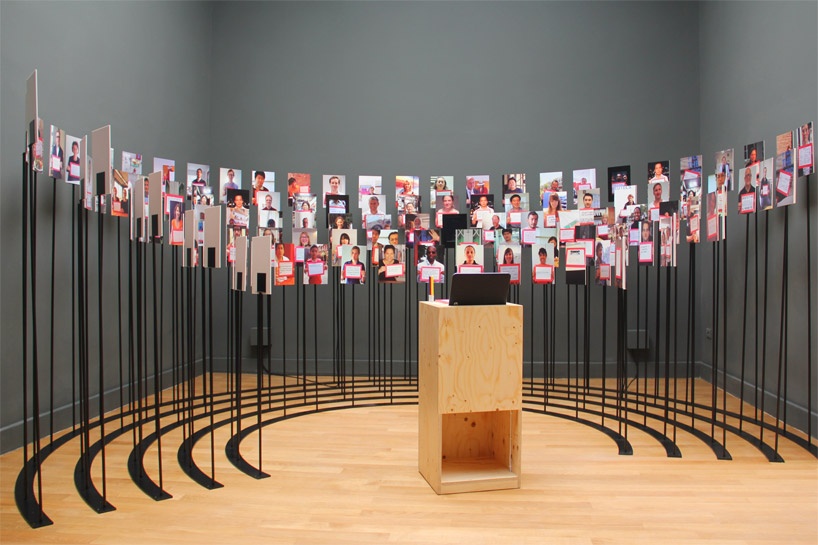 'image of the architect – an open charter'image © designboom
urban projects bureau and public works with owen pritchard: after travelling to a diverse set of locations and contexts across the globe, urban projects bureau and public works with writer owen pritchard, examined how the image of the architect varies around the world. from houston and bangkok to amsterdam and ebbw vale, these locations reveal a variety of approaches to urban development. conceived within a uk context of apprehension about the future of the profession, their investigation was motivated by a desire to reaffirm qualities that are vital to the continued progress of society and to the architect's role as an agent in the world. two motivating factors drove their work: first, they aimed to accurately depict an image of architects within varied but specific contexts. second, they sought to provide a platform for debate surrounding the future of the profession. the group's findings will establish the basis for an open charter – a proposal for a new platform for discussion and engagement for the architectural profession to clarify, critique and act upon critical issues that determine the role of the architect.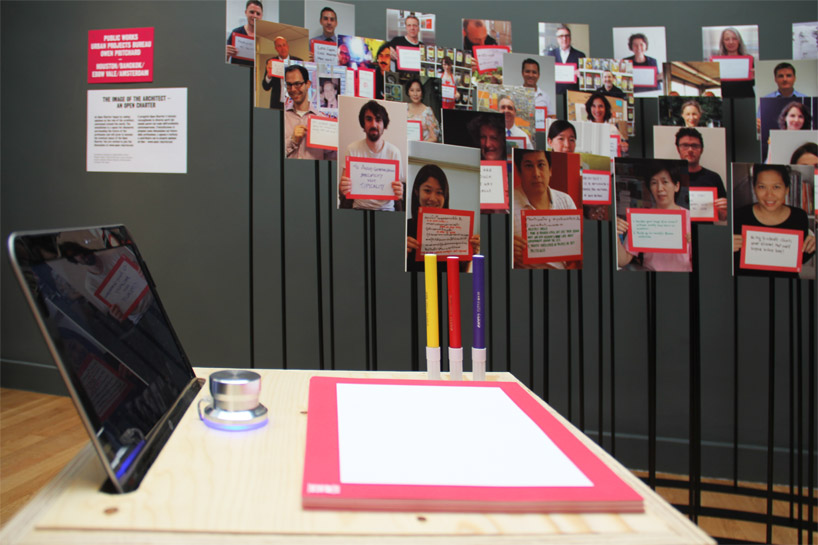 an iPad sits at the focal point of the faces, where visitors are able to write their own message and take a photoimage © designboom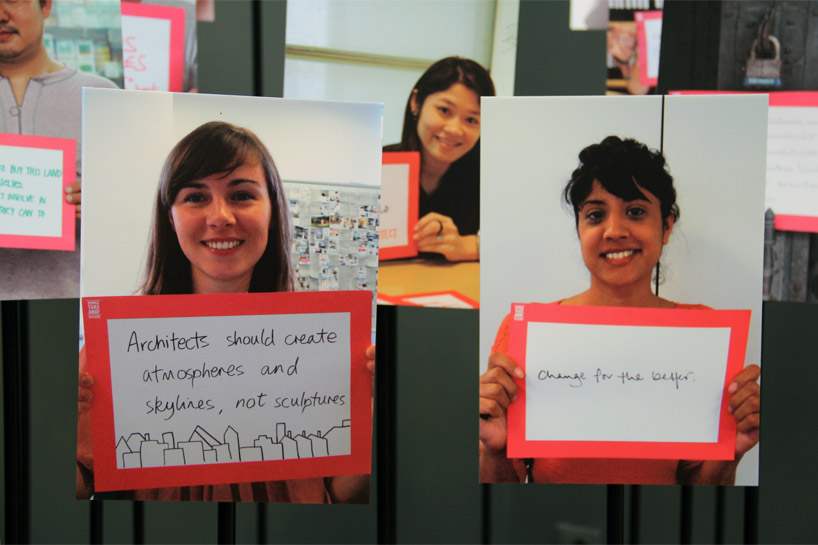 image © designboom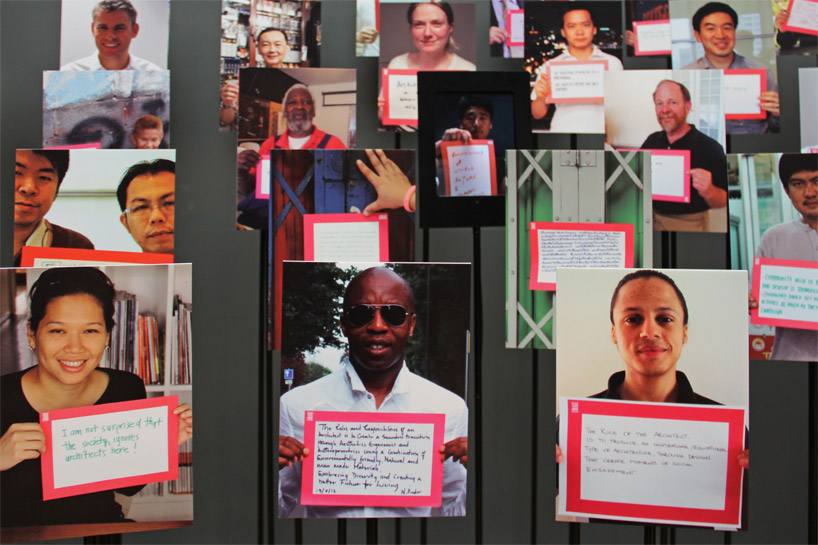 image © designboom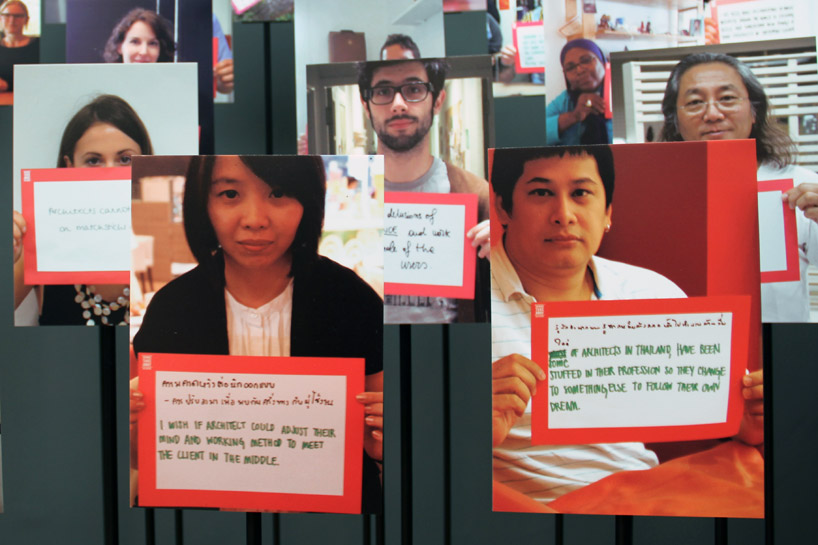 image © designboom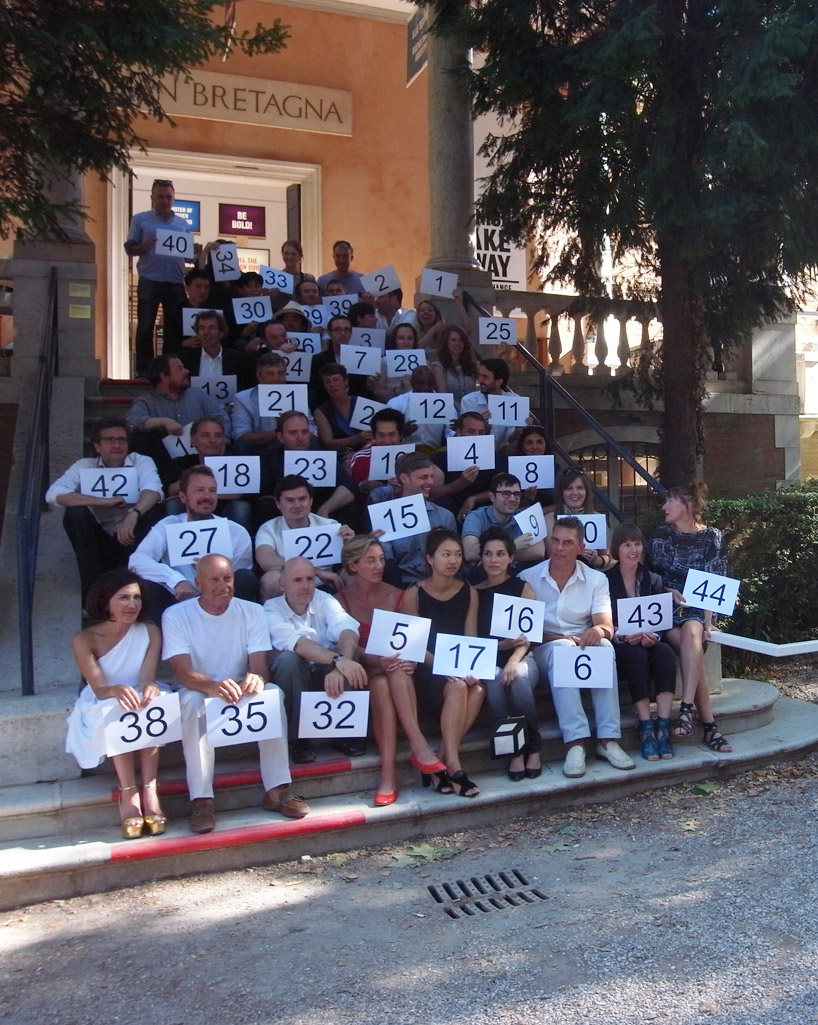 meeting in the front of the UK pavilion for a group photo of the curators and british architectsimage © designboom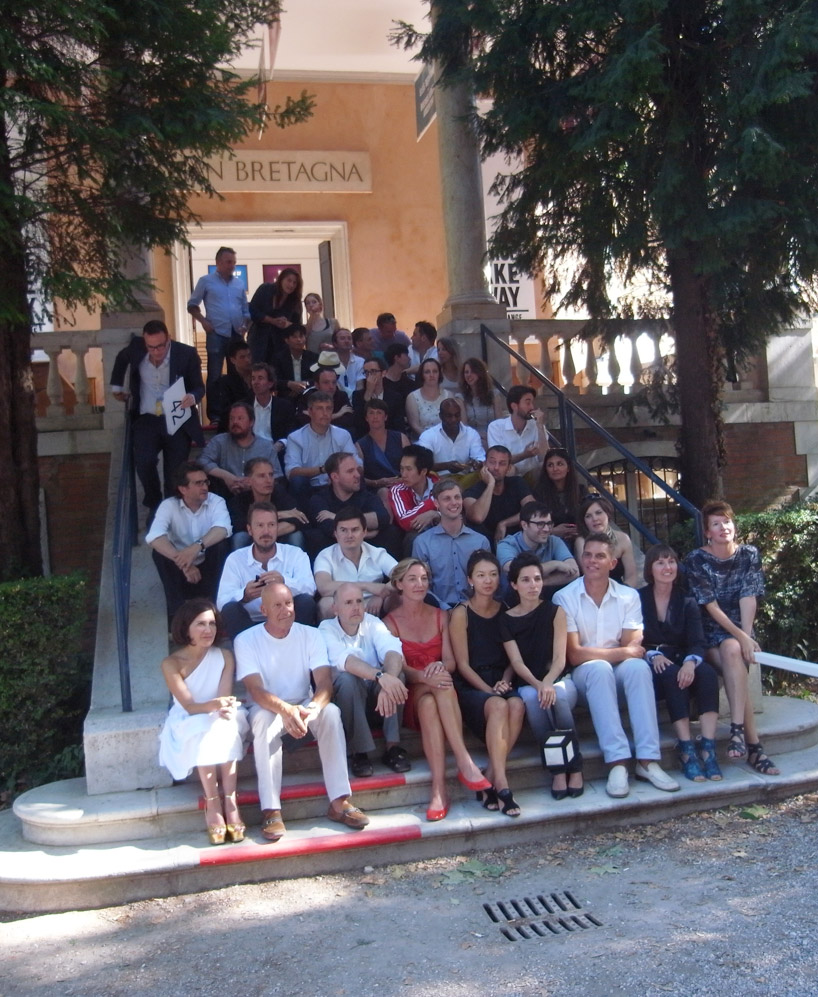 architect norman foster (35) sits amongst his architect colleagues in preparation for the photoimage © designboom
Save
Save
danny hudson
I designboom
aug 28, 2012
a diverse digital database that acts as a valuable guide in gaining insight and information about a product directly from the manufacturer, and serves as a rich reference point in developing a project or scheme.
designboom will always be there for you
milan, new york, beijing, tokyo

,
since 1999