feb 09, 2013
the cowshed collective brings sustainability to social farming
cowshed by the cowshed collective, callan, county kilkenny, ireland image © henrietta williams all images courtesy of commonage and the cowshed collective
among the greenery of callan, a small town in ireland, a group of recent university college of dublin graduates are creating an architecture that responds to the ordinary in a rich and compelling way. dubbed the cowshed collective, the group works under the premise that brilliant resourcefulness, architectural honesty and critical design thinking can expand a building's everyday performance. these ideas have been underwritten by an equally enterprising entity, commonage. named after the irish notion that land is managed through collective responsibility, the design/research studio has been commissioning projects that bring together architects, artists, social geographers and the like to create new frameworks and contexts for creative practice in ireland. the cowshed was built as part of a 17 day design/build workshop for commonage summer school, itself an intensely collaborative process that had participants from a wide range of backgrounds working alongside local tradesman and builders as well as sharing meals and listening to public talks. the cowshed  is an important impetus for a long term project seeking to design and build structures at the camphill callan community farm, a social farming program that supports a work environment for people with disabilities.  
the shed in context and its relationship to the existing structureimage © cowshed collective
the program brief called for a small milking parlor, room for a cow and her calves and a hayloft. the response was an ambitious design that set to additionally create infrastructure on the farm. not only would the enclosure provide that farm with a yard,  two single pitched roofs would capture and channel rainwater for both the cattle and the yard. the unique program and team made for the architecture be be almost entirely process driven and unabashedly site-specific. the construction process facilitated participant's learning and became the driving force of the design. the site itself provided a selection of salvaged materials; red brick, ESB poles, galvanized roof sheeting, steel for the foundation,  structural timber and pre-cut plywood panels from a temporary installation by commonage. while the efficient use of these reclaimed materials makes the cowshed a model of sustainable practice, the designers also made use of a the staircase in the adjacent shed to grant access to the overhead hayloft, thereby seamlessly weaving together the program with the existing farm. the timber cladding creates glowing points of interior sunlight that alternately illuminate from within at night. the masonry, exposed beams and selective color ensure that the cowshed's rustic beauty can be appreciated far beyond it's utilitarian function.
selective color, staggered masonry and slotted cladding give the shed a rich range of textures image © ste murray
a ready client acclimating to the new structureimage © henrietta williams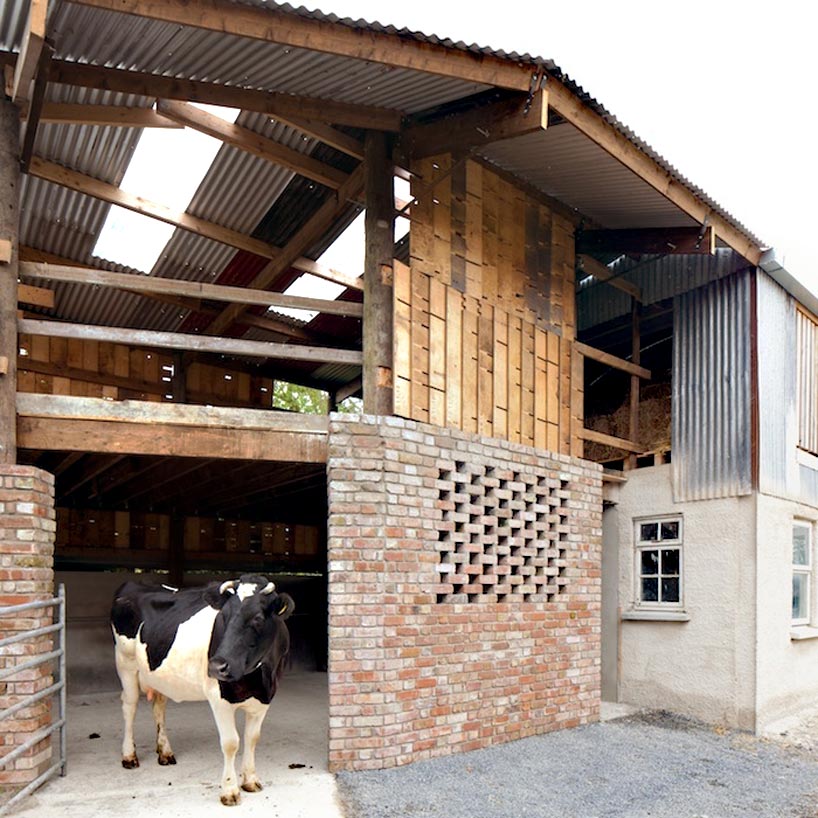 the hayloft weaves into the existing barn image © henrietta williams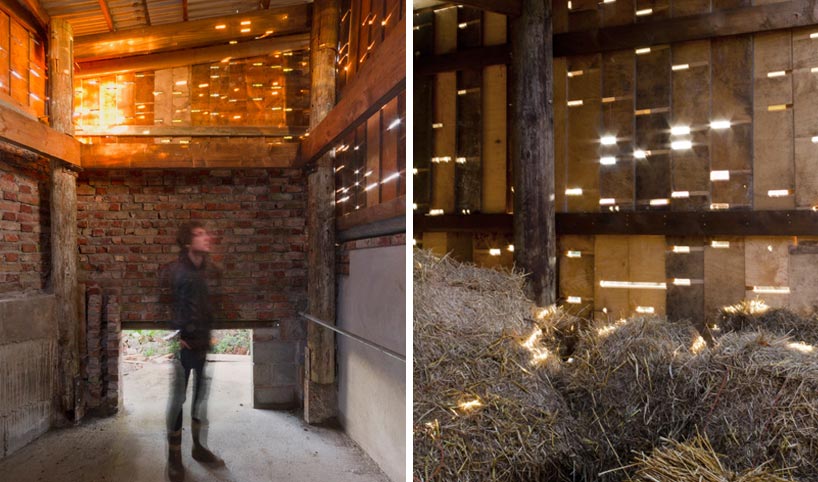 the slotted wood cladding has a remarkable dappled-light effect  image © ste murray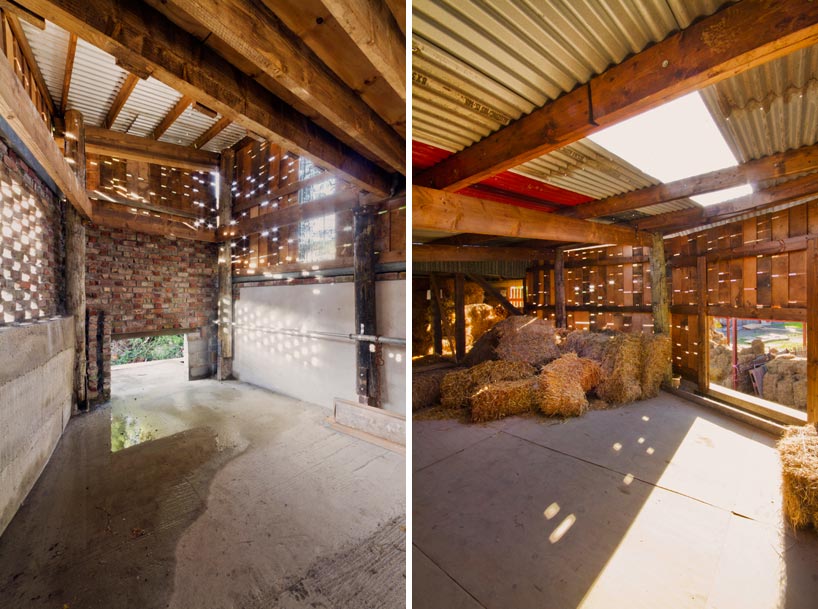 (left): first floor interior (right): interior view of the hayloftimage © ste murray
(left): the cowshed lit from within at night (right): the dappled and skylight change throughout the day image © ste murray
nighttime view image © cowshed collective
commonage summer school participants attend public lectures and share meals as part of the design/build workshopimage © brian cregan 
laying the foundation with salvaged steel beamsimage © cowshed collective
timber supports where set thereafterimage © cowshed collective
salvaged brick was used for the walls image © henrietta williams
participants worked on site along with local buildersimage © brian cregan
bricklaying for the milk parlorimage © henrietta williams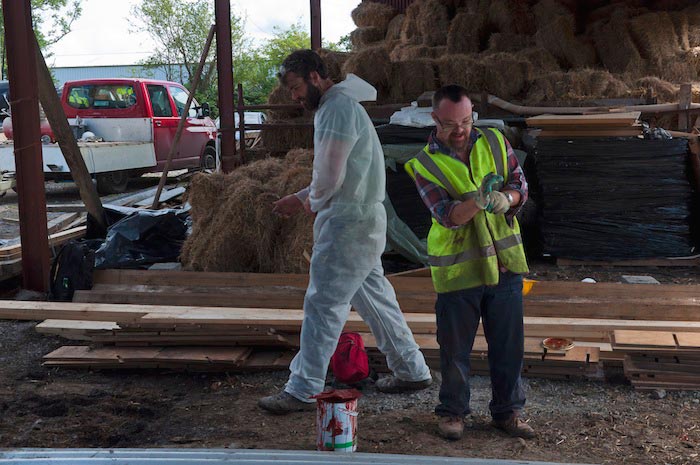 participants and tradesman stockpiled reclaimed materials image © brian cregan
the design was informed by the building process and modest tools available image © brian cregan 
roof and wall cladding image © brian cregan
image © henrietta williams 
the summer school culminated in the 'cowshed ceili', a celebration with banjo players on the bridge at dusk and a disco in the hayloft to end the festivitiesimage © henrietta williams
floor plan level 0 and 1
section image © henrietta
axonometric
project info:
design/build workshops led by: cowshed collective commissioned by: commonage summer school & camphill callan                                                                          engineer: kavanagh mansfield                                                                                              location: westcourt, callan, co. kilkenny ireland                                                                                                                                       funders: kilkenny leader partnership & ireland funds
barns
(20 articles)
aug 08, 2016
aug 08, 2016
mar 20, 2016
mar 20, 2016
may 16, 2014
may 16, 2014