the AUDI urban future initiative asked six international architecture firms to investigate the future of mobility
with the theme of 'transitions', the 2012 AUDI urban future initiative asked six architecture studios from around the world to examine their cities with an eye towards mobility and the greatest challenges of future urban construction. rapid population increases and emerging economic power have put high stress on current systems, but the diversity of the new urban fabric is often best served by local intervention and a critical approach.
with these ideas in mind, AUDI in collaboration with stylepark invited urban-think tank (são paulo), CRIT (mumbai), junya ishigami (tokyo), höweler & yoon (boswash / USA), NODE architecture & urbanism (pearl river delta / china), and superpool (istanbul) to present case studies on their cities. each was selected specifically for the local perspective the firm brought to questions of urban development.
in the months following today's conference, the progress and results of these projects will continue to be documented. in october 2012, one firm's interventions will be selected for AUDI as the winner of the architectural competition.
AUDI germany CEO rupert stadler explains, 'AUDI has the responsibility to go beyond the design of cars, and [investigate] the use of design to transfer certain ideas. the language of a car will have to adapt to society all the time; [it] will develop together with the technology. the idea is to create a city dossier, a microcosm of ideas. we don't want to build the plants; we want to show [governments, developers, and city planners] what the technology is, and which is worthwhile of following up. we want to be the indicators.'
UPDATE (5/19/12): readers can find videos of each of the presentations (mostly english only; some remarks german only) here.
video presenting the 'AUDI urban future award 2012'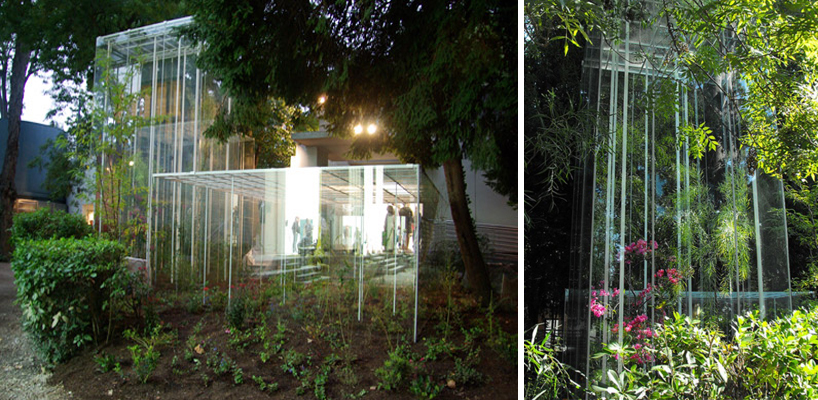 with his own work reflecting the overlap between interior and exterior, architect junya ishigami encourages conceptualizing cities as landscapes above: the japanese pavilion designed by ishigami for the venice architecture biennale 2008, more info on designboom
despite the size and bustle of tokyo, japanese architect junya ishigami suggests, 'tokyo is not a city', part of his thesis that modern metropolises are better considered as a landscape because of the ways in which diverse environments intersect, layer, and overlap. he coins the term' interwoven environment' for the space surrounding buildings — whether used as parks, forest, road, or open water — and calculates that 71.3% of tokyo consists of this interim space, with just 28.7% actually occupied by buildings.
'tokyo is a complex of innumerable number of cities with many centers,' he explains. 'the way to depict the future of tokyo is in how we relate all the continuously changing towns to each other.' future city planning must accept constant change as an a priori condition, and must permit the coexistence of different planning methods.
in particular, ishigami's question was of gaps: the spaces of transition from one place or object to another. from the gaps in transportation methods to the gaps in the urban fabric of 'interwoven environments', these spaces encourage the creation of new ways of interaction.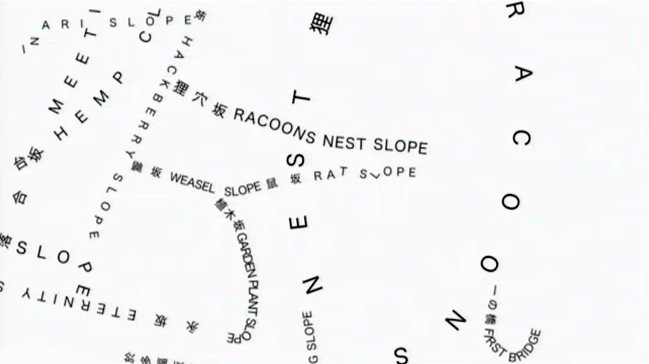 in his talk, ishigami drew the parallel that many street names in tokyo are taken from the language of nature; above, a city map where street names stand in for the roads themselves
reflecting ideas the studio discussed at the AUDI conference, urban-think tank principal hubert klumpner discusses the importance of considering local conditions in the studio's grotão music factory and community center
taking são paulo as its case study, architecture firm urban-think tank discussed the ways in which a changing urban structure demands a rethinking of the approach to urban planning and architecture. 'são paulo is many cities within one city,' founder alfredo brillembourg suggests. the lack of a coherent urban fabric requires a more locally minded design process, in which end concepts and goals are emphasized instead of objects or tools. 'we should shift the paradigm of thinking about success and move onto experimentation.'
'we might not need lamps but we need light. we might not need a car but we need mobility. the world needs a full shift in paradigm, not just little adjustments.' – alfredo brillembourg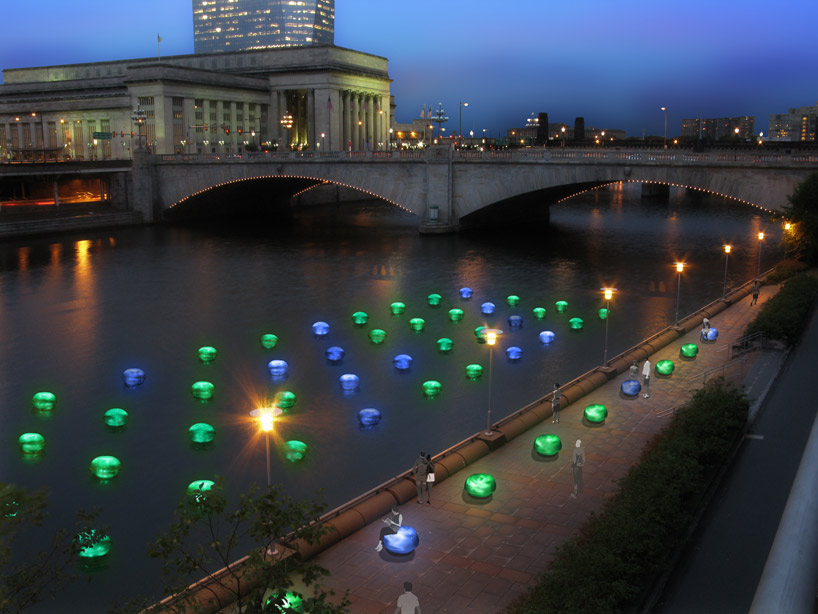 among transit-related projects, höweler & yoon has developed architectural interventions including 'light drift' above, covered by designboom here
rather than reflecting on a single city, boston-based höweler & yoon architects discussed the more fluid dynamic of contemporary urban structures, discussing the heavy development of the 'boswash' region along america's east coast.
boswash describes the eastern board of the united states running from boston, massachusetts to washington DC, comprising five major urban centers across nine states. if boswash were a nation, it would have the eighth largest GDP in the world, as well as 54 million people and 26 million cars.
'in order to rethink the city we have to rethink the citizen, and rethink identity', höweler & yoon aver. the firm is initiating an 'I <3 boswash' campaign of bumper stickers and signs as an integral tactic in its ways of rethinking structure and society. looking forward, the sites of intervention that interest them are in the multimodal switching between different types of transport — opening the way for new kinds of architectures — and in reconfiguring currently abandoned districts and regions.
'in order to change the city we need to change the dream,' höweler & yoon closes. 'it's not just a question of new desire but of new dreams.'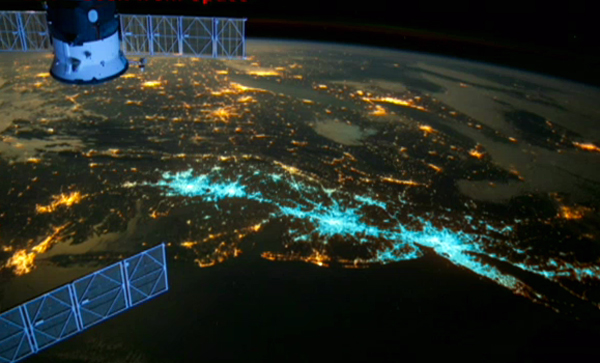 a space view of 'boswash' shown by höweler & yoon illustrates the intensity of the urban centers in the area --->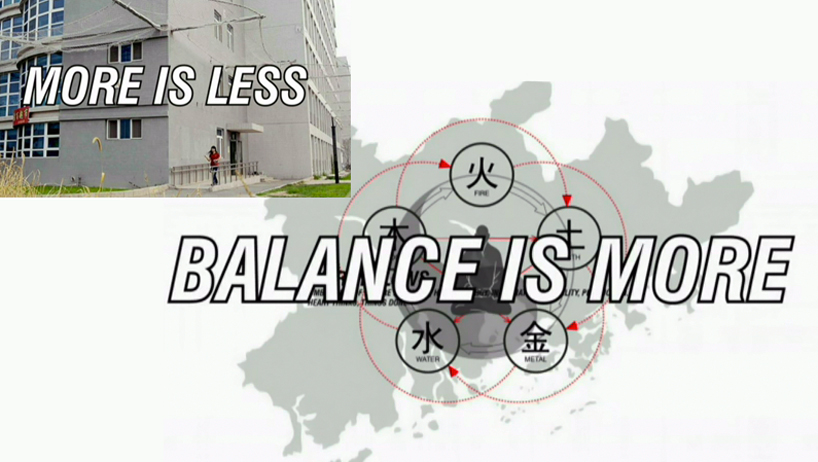 reflecting on the popularized mantra in china 'more is more', NODE considers how 'more is less', before finally concluding that balance should be the keyword of future urban design
based in china's pearl river delta, NODE architecture & urbanism studio outlines the extreme growth of the region over the last 30 years, and the challenges this creates for urban development. the pearl river delta comprises five of china's most developing cities: shenzhen, hong kong, guangzhou, dongguan, and macau. these are cities that have seen immense increases in population in the extremely recent past; by some records, the population of shenzen has risen from 10,000 to 20 million in 30 years. and their economic output has jumped as well, by as much as 800 times (in the case of dongguan and shenzen).
the most unusual part of this development, NODE architect doreen heng liu speeka suggests, is the way in which factories have integrated into the cities themselves, bringing along with it not only jobs within the industry but also completely new economic sectors: hotels, retailers, and housing complexes. the current urban model is chaotic and fragmented, but it also suggests an urban plan that is more free and flexible.
balance and integration, with thoughtful infrastructure, is what NODE finds necessary for the urban future.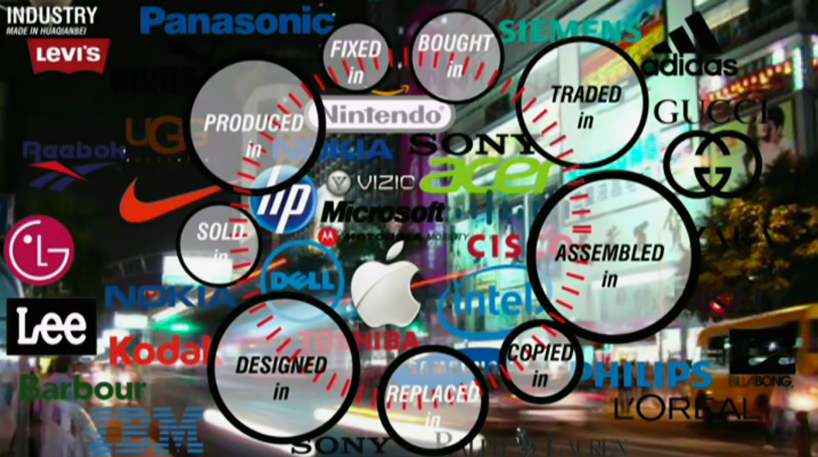 in their talk, NODE illustrates not only the wealth of industries that now have factories in the pearl river delta, but also the new interactions they bring to urban society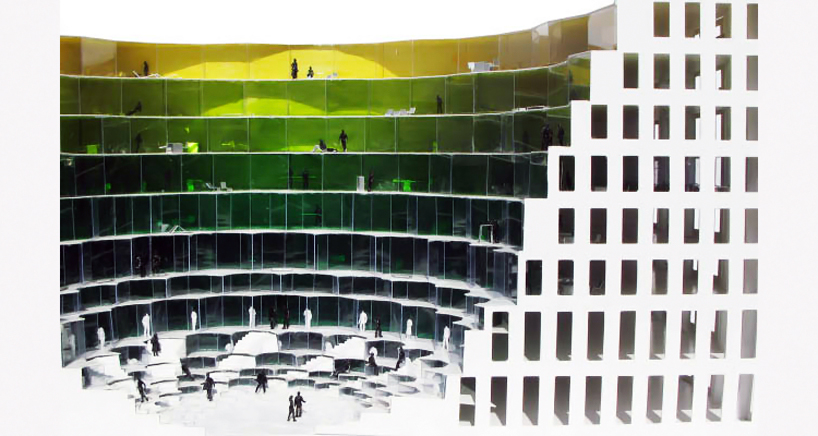 above, the denizli municipality headquarters concept by superpool, designed as a series of intersecting public meeting spaces
istanbul-based design studio superpool takes their city as a case study, reflecting on the potential of technology to revitalize and construct cities. istanbul has always been a large city and center of cultural exchange, studio founder selva gürdoğan notes, and 'because of its location, it has always been part of a bigger idea'.
today's modern reflection of this is in the fact that istanbul boasts the largest facebook population of any european country. within the city itself, residents can complain about skipped garbage pickups or other conditions via smartphone applications. at the same time, gürdoğan notes that there is a noted lack of data about mobility in particular. istanbul's infrastructure is heavily of roads, but of the many public bus lines that do exist, there is no one single documentative map offered.
the multicultural city is also dealing with larger societal questions. since 1839, istanbul has been governed by six different constitutions, an average of a new constitution every 20 years. 'we think that's as important as the urban building stock,' she explains: 'that the social agreements between the residents is still being negotiated.'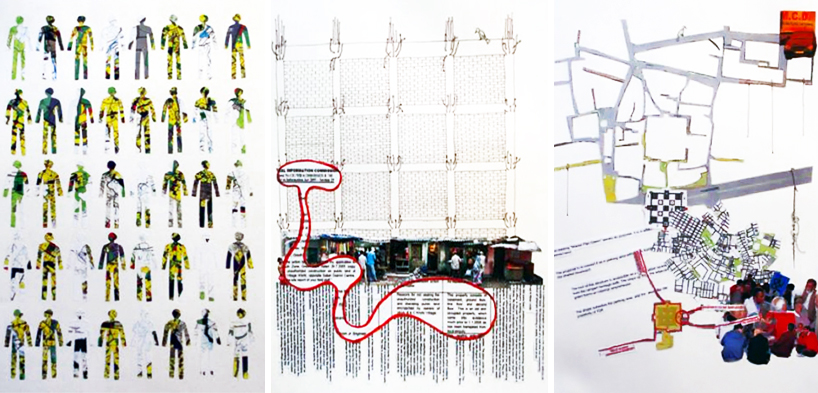 mumbai's multidisciplinary CRIT studio adopts a critical and sociological approach to urban planning
based in mumbai, CRIT (collective research initiatives trust) is a group of architects and urban planners, among historians and designers, interested in the critical assessment and development of the urban realm. at the 'AUDI urban future conference', their presentation emphasized the importance of expanding the idea of mobility beyond transportation and into the social dynamic of cities.
in mumbai, 'the new city is the city of entrepreneurs', the team explains; and the new urban form is of blur. new patterns of work, living, and movement are created in response to the struggling entrepreneurs, many of whom are often housed under a single roof, creating new kinds of social kinship.
on the larger level as well, the relationships that are developed or created among government planners, architects, developers, and existing and potential residents generate complex social networks, wherein single actions have great mutual effects.
'CRIT wants to engage in that mess. we intervene in that interface between the megaprojects and this ruffling of the city. this idea of a singular future is passée', a CRIT architect continues. the point of intervention is in how designers and architects can build devices towards a multiple future.
you can read more about CRIT's analysis of mumbai as the 'city of entrepreneurship' in the writeup linked here.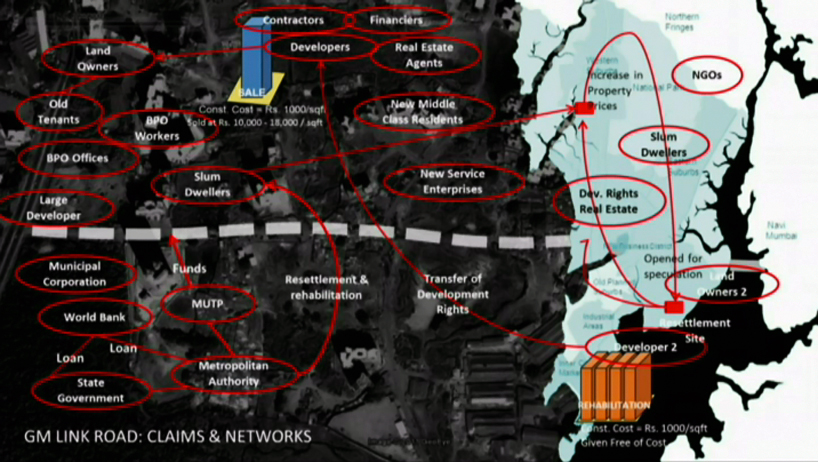 at the AUDI urban future conference, CRIT discusses the complex relationships that characterize the development of mumbai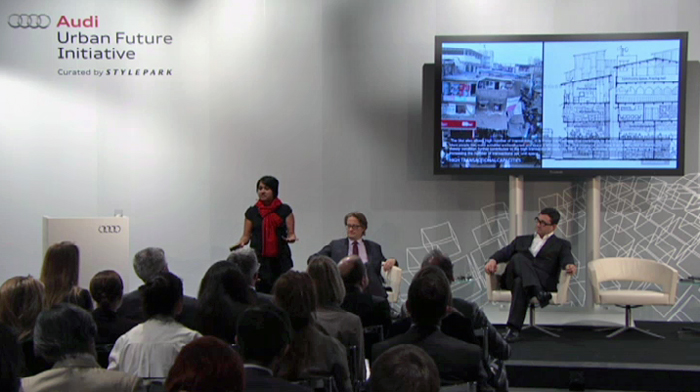 presentation during the AUDI urban future award conference
jenny filippetti
I designboom
may 16, 2012
KEEP UP WITH OUR DAILY AND WEEKLY NEWSLETTERS
a diverse digital database that acts as a valuable guide in gaining insight and information about a product directly from the manufacturer, and serves as a rich reference point in developing a project or scheme.
designboom will always be there for you
milan, new york, beijing, tokyo

,
since 1999