in central spain, penelas architects has designed a small dwelling as a secluded place for meditation. assembled on the outskirts of madrid, the 'hidden pavilion' is situated amid a forest and interacts directly with the surrounding trees. the entire property — photographed here by miguel de guzmán — has been built using three materials: rusted steel for the structural frame, glass for its façades, and cherry-tree wood for the interiors.

all images by miguel de guzmán / imagen subliminal
fully embedded within the forest, penelas architects has sited the home to engage with the neighboring landscape. suspended over a small waterfall, the pavilion lets trees pass through its terraces, and cantilevers above voids that have been strategically positioned to allow for future growth. the upper level is inclined to provide room for a 200 year-old oak tree, while lightwells have been deliberately raised in order to illuminate the scheme's interior.

the small dwelling has been designed as a secluded place for meditation
despite its glazed façades, designed to instill a sense of nature, the house remains private thanks to its woodland setting. a spiral staircase connects the dwelling's two internal levels, before leading to a rooftop terrace that overlooks the remainder of the site. primary living accommodation is found at the intermediate storey, where the kitchen and lounge adjoin a private external veranda.

primary living accommodation is found at the intermediate level

the 'hidden pavilion' interacts directly with the surrounding trees

 the upper level is inclined to provide room for a 200 year-old oak tree

the kitchen and lounge adjoin a private external veranda

glazed façades instill a sense of nature

the pavilion lets trees pass through its outdoor terraces

the house remains private thanks to its woodland setting
project info:
name: the hidden pavilion
architect: penelas architects
location: las rozas, madrid, spain
architect in charge: josé luis esteban penelas
project year: 2016
area: 70 sqm / 753 sqf
photography: miguel de guzmán – imagen subliminal
Save
Save
Save
Save
Save
Save
Save
Save
Save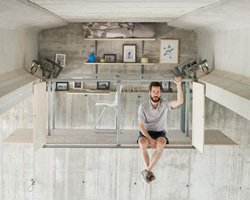 aug 17, 2017
aug 17, 2017
aug 16, 2017
aug 16, 2017
aug 14, 2017
aug 14, 2017
jul 26, 2017
jul 26, 2017
jul 20, 2017
jul 20, 2017
jun 03, 2017
jun 03, 2017