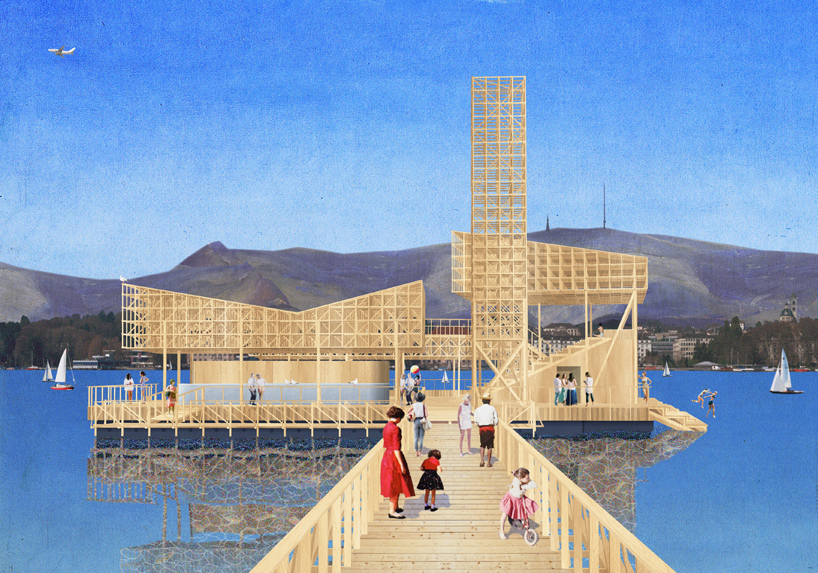 nov 13, 2015
students at ETH zurich design floating wooden pavilion for manifesta 11

students at ETH zurich design floating wooden pavilion for manifesta 11
rendering of 'pavillon of reflections'
image © ETH studio emerson
in the summer of 2016, zurich will host the 11th edition of manifesta — a roving european biennial of contemporary art. the event's central presentation platform is to be 'the pavillon of reflections', a floating island with an open-air cinema and integrated swimming pool. the buoyant structure, which will be located near bellevue, seeks to create a central location for the event during its 100-day duration. the pavilion will offer space for dialogue and reflection and will also serve as a meeting point for participants and visitors. the structure is being made in cooperation with 30 architecture students from ETH zurich, led by studio tom emerson.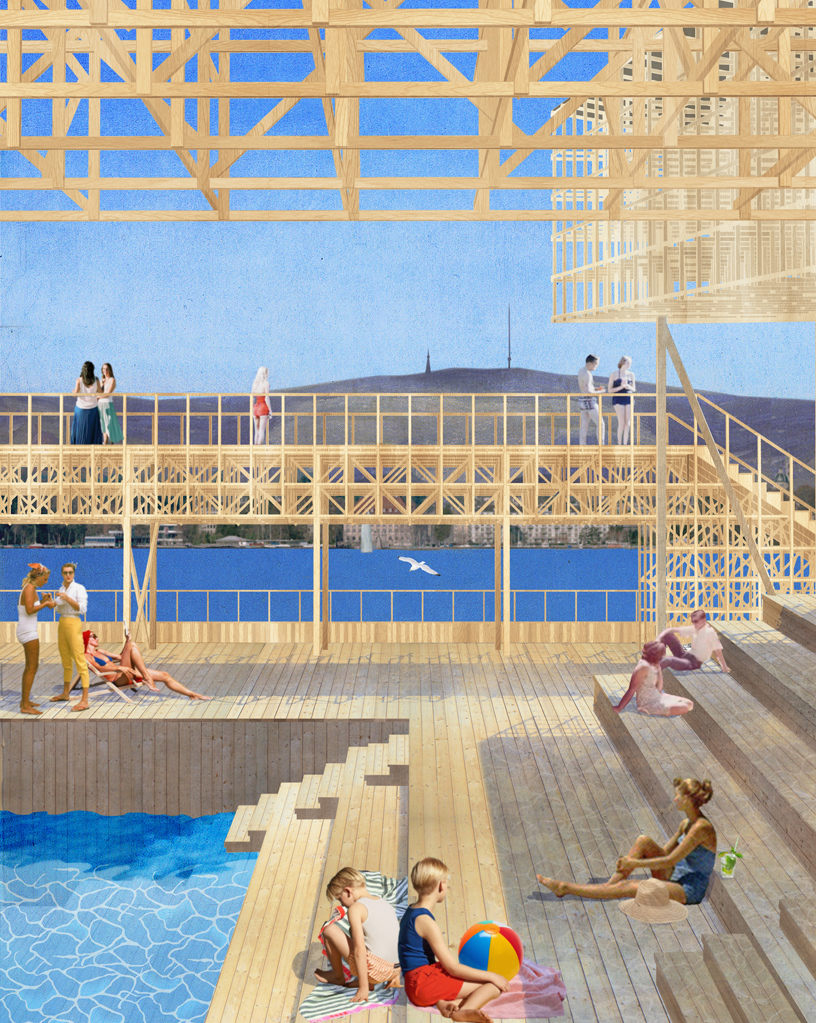 rendering of 'pavillon of reflections'
image © ETH studio emerson
the design responds to biennial curator christian jankowski's call for the students to design a pavilion outfitted with an LED screen, spectator seats, a pool, and a bar. following a competition among the students, the most promising ideas were selected and developed. in addition to the design process, the production techniques will also have a profound effect on the ultimate character of the scheme, which will be constructed solely from wood. for many of the students, the pavilion is their first opportunity to realize their own project. following the planning phase, the building will be prefabricated — also by the students — in a hangar near zurich, before being assembled on the lake in the spring of 2016.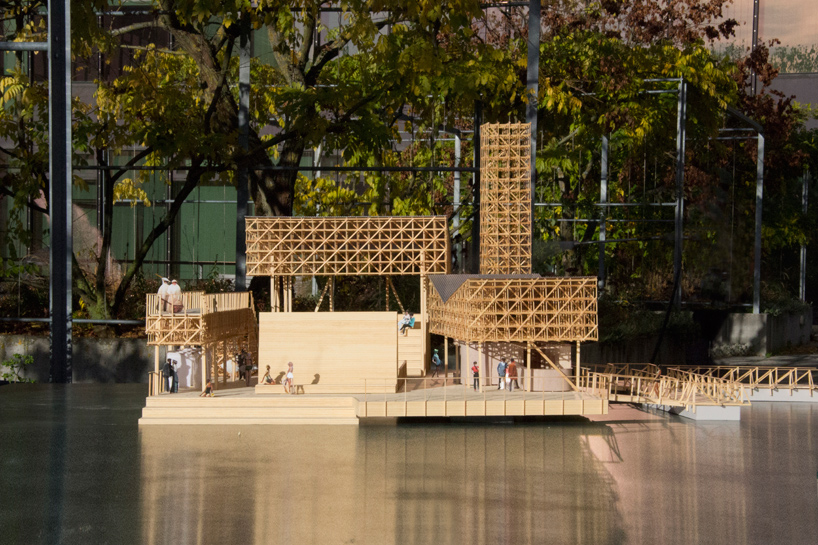 architectural model 'pavillon of reflections'
image © ETH studio emerson
various film screenings and the remainder of the public program will be supplemented during the day by the open-air swimming area. the pool is bordered by a stand for spectators, which will be used for cinema seating during evening hours. once in use, a strikingly large LED screen will communicate with the city and locate the pavilion on the lake. the adjacent bar provides both swimmers visitors with drinks and snacks. 'our team represents all the relevant areas of architectural production. from the development of the concept, through detailed planning and construction of 1:1 models, to logistical organization and documentation with our own little newspaper, in which the project is addressed from a variety of perspectives,' explains boris gusic of the ETH studio tom emerson.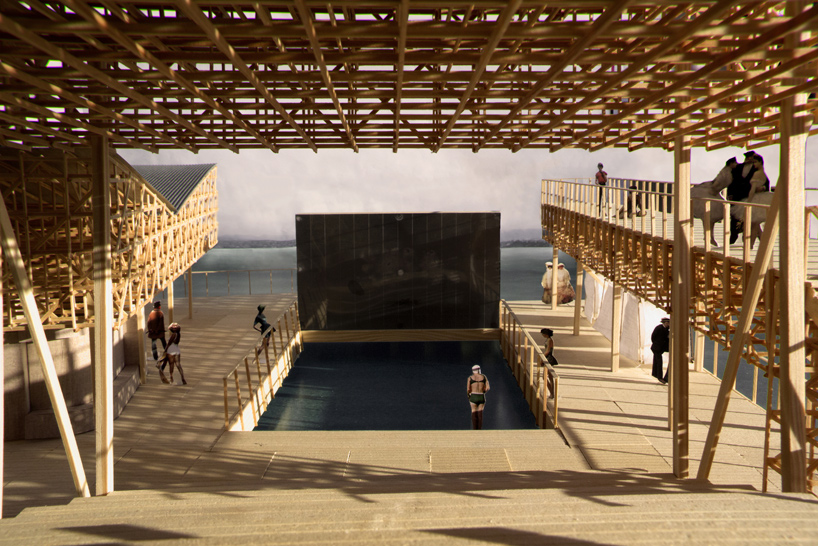 architectural model 'pavillon of reflections'
image © ETH studio emerson
'the location on the lake, and thus in nature, also creates a certain distance from the workplaces in the city which are the focus of the exhibition,' adds curator christian jankowski. 'the possibilities for recreation and leisure offered by the 'pavillon of reflections' represent a clear contrast with the artworks in manifesta, that are being developed within the workplaces of zurich. the fact that art reception is based thoroughly in the senses will be further amplified by the fact that the site of reflection is floating on water without firm ground, exposed to the sun and rain.'
manifesta 11 runs from june 11th, to september 18, 2016.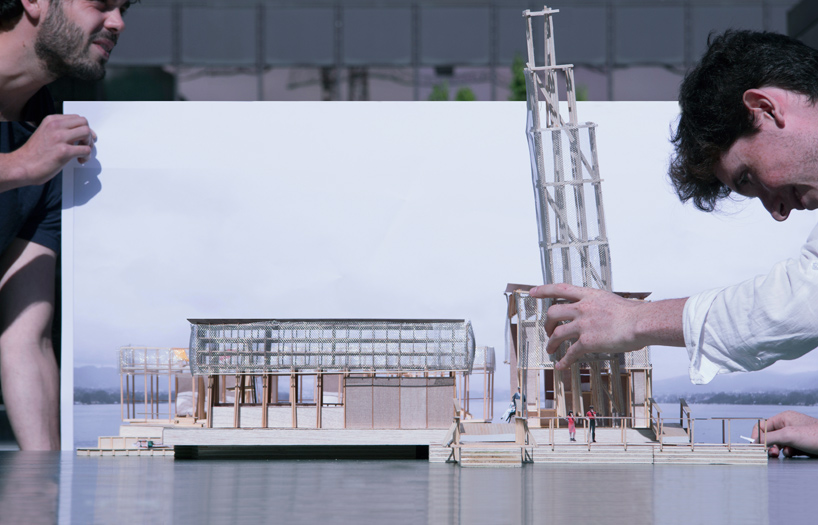 concept of 'pavillon of reflections'
image © ETH studio emerson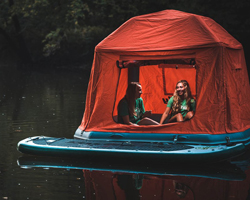 oct 10, 2017
oct 10, 2017
oct 04, 2017
oct 04, 2017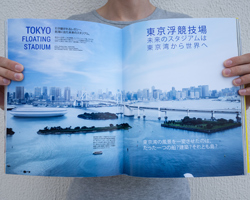 jun 22, 2017
jun 22, 2017
jun 11, 2017
jun 11, 2017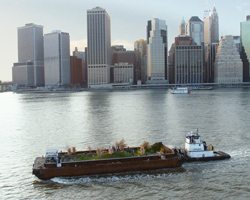 may 30, 2017
may 30, 2017
may 19, 2017
may 19, 2017