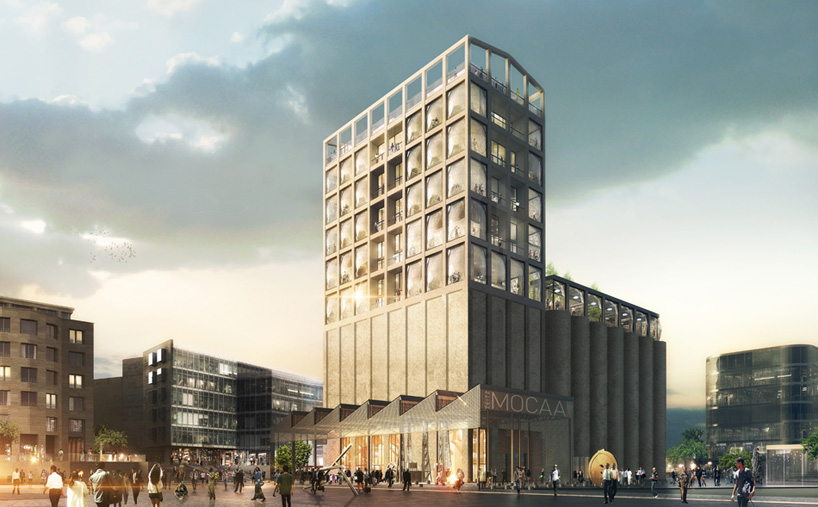 thomas heatherwick debuts V&A waterfront grain silo redevelopment project
image courtesy of thomas heatherwick studio

designboom is in cape town where, on the occasion of design indaba 2014, thomas heatherwick officially revealed plans for a project his firm is working on in the south african city. located along the famous V&A waterfront, the scheme is that of a non-for-profit cultural institution that is set to house the most significant collection of contemporary art from africa and its diaspora.


first introduced to the brief in november of 2013, the british architect was asked to transform the historic grain silo complex, which has been disused since 1990, with an intervention that would serve as a cutting-edge venue for hosting the modern african art of german collector, entrepreneur and ex-puma CEO and chairman jochen zeitz, for which the center is being named after.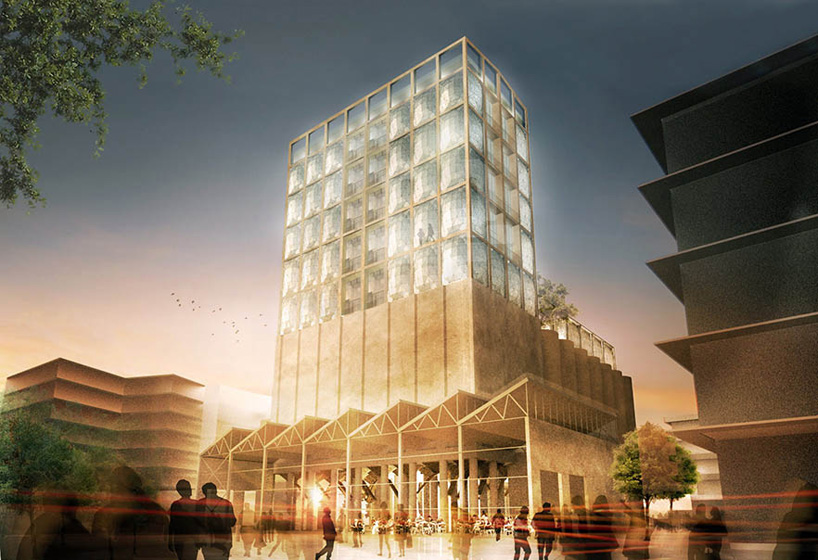 scheme of MoCAA by night
image courtesy of thomas heatherwick studio

the R500-million redevelopment plan envisions heatherwick repurposing what was once the tallest building on the cape town skyline. explaining the design heatherwick said, 'how do you turn forty-two vertical concrete tubes into a place to experience contemporary culture? our thoughts wrestled with the extraordinary physical facts of the building. there is no large open space within the densely packed tubes and it is not possible to experience these volumes from inside. rather than strip out the evidence of the building's industrial heritage, we wanted to find a way to enjoy and celebrate it. we could either fight a building made of concrete tubes or enjoy its tube-iness.'
in wanting to maintain the essence of the silos' (a heritage listed site) original industrial purpose, choice pieces of machinery will be retained in order to illustrate its early working character. heatherwick's proposal will see him carving out an open space of galleries and a central circulation area through the core of the forty-two 33 meter high concrete tubes, measuring 5.5 meters in diameter. by cutting through eight of the silos' cellular concrete structures, he will create a cathedral-like central atrium that is light filled from an integrated overhead glass roof; this element set to accentuate the roundness of the cylindrical structures, and serve as a place for presenting monumental art commissions which have previously seen in africa until this construction.
speaking on the challenges of this project, heatherwick explained that, 'unlike many conversions of historic buildings which have grand spaces ready to be repurposed, this building has none. the project has become about imagining an interior carved from within an infrastructural object whilst celebrating the building's character.'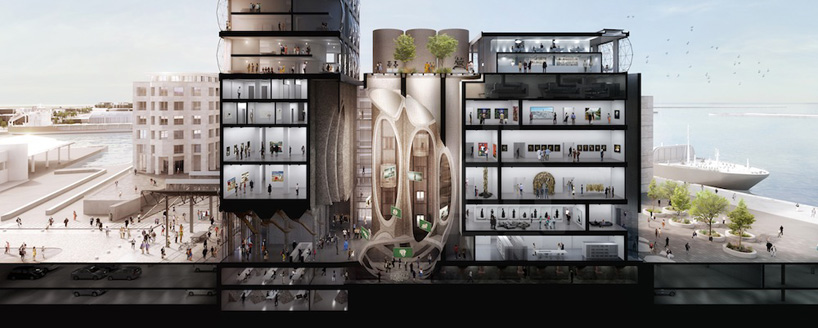 section detailing heatherwick's vision for the historic grain silo complex
image courtesy of thomas heatherwick studio
the other silo bins of the zeitz museum of contemporary art africa (zeitz MoCAA) will be carved away from above ground level, leaving the rounded exterior walls intact. additionally, clean white cubes will offer gallery spaces not only for the permanent collection, but international travelling exhibitions. in its programmatic entirety, the zeitz MOCCAA will consist of 80 galleries, 18 education areas, a rooftop sculpture garden, state of the art storage and conservation area, and centres for performative practice, the moving image, curatorial excellence and education.
heatherwick studios is responsible for designing all of the necessary amenities for a public institution of this scale, including: bookstores, a restaurant ad bar, coffee shop, orientation rooms, a donors' room, fellows' room and various reading rooms. a series of old underground tunnels will be be re-engineered to create unusual education and site specific spaces for artists to dialogue with the original structure. he is working alongside three local delivery partners: van der merwe miszewski (VDMMA), rick brown associates (RBA) and jacobs parker (who will lead the museum fit out) to realize the zeitz MoCAA.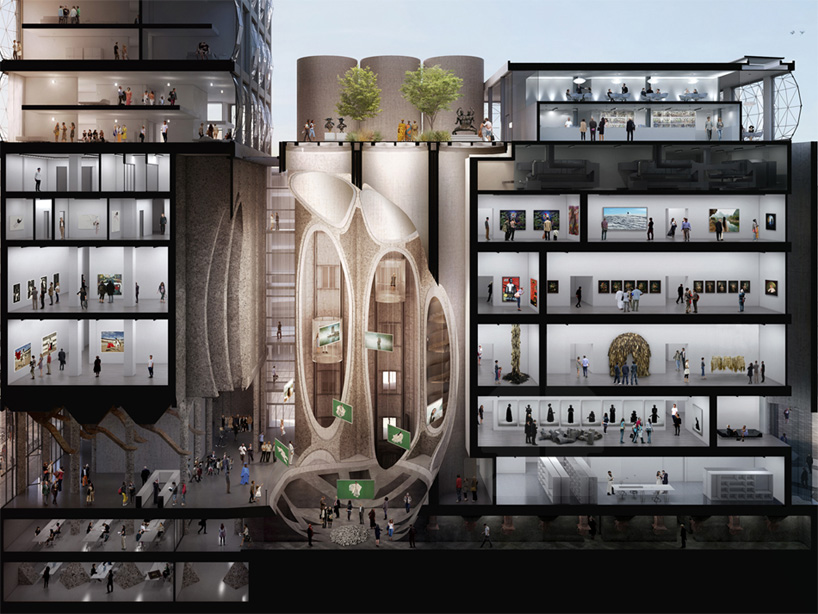 detail view of the museum's organization of space
circulation will be offered through cylindrical lifts that will move inside bisected tubes; and spiral stairs that emulate that giant drill bits. glass will cap off each shaft, which will have the strength to support individuals walking over the rooftop garden, and will additionally draw light into the interior.
from the exterior, the monumental façades of the silos and lower section of the tower will be relatively unchanged. no new windows will be inserted, and the thick layers of paint on the edifice will be removed in order to expose the original concrete structure. the greatest visible modification will be the integration of pillowed glazing panels (bulging outward as if lightly inflated) that will be installed into the existing geometry of the grain elevator's per floors. by night they will transform the upper floors of the building into a glowing lantern or beacon of light.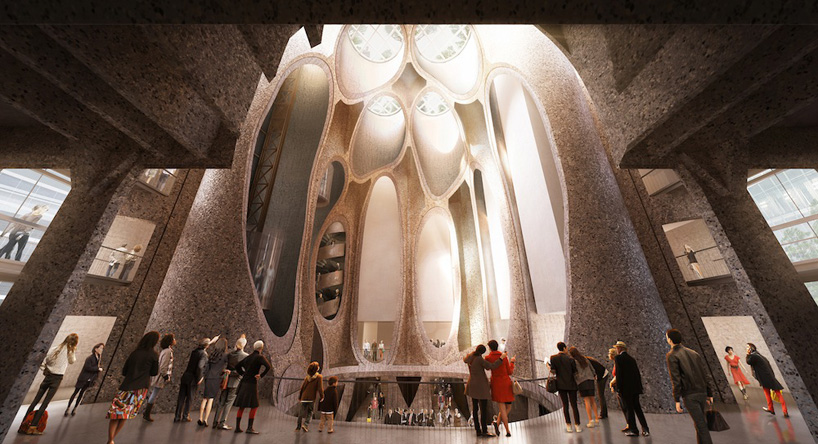 the architect will carve out an open space from the cylindrical silos so visitors can experience the volumes from within
image courtesy of thomas heatherwick studio
david green, ceo of the v&a waterfront, said, 'thomas heatherwick understood how to interpret the industrial narrative of the building, and this was the major breakthrough. his design respects the heritage of the building while bringing iconic design and purpose to the building. under his mentorship as lead designer, local partners stand to gain not only in experience but insights and knowledge sharing.''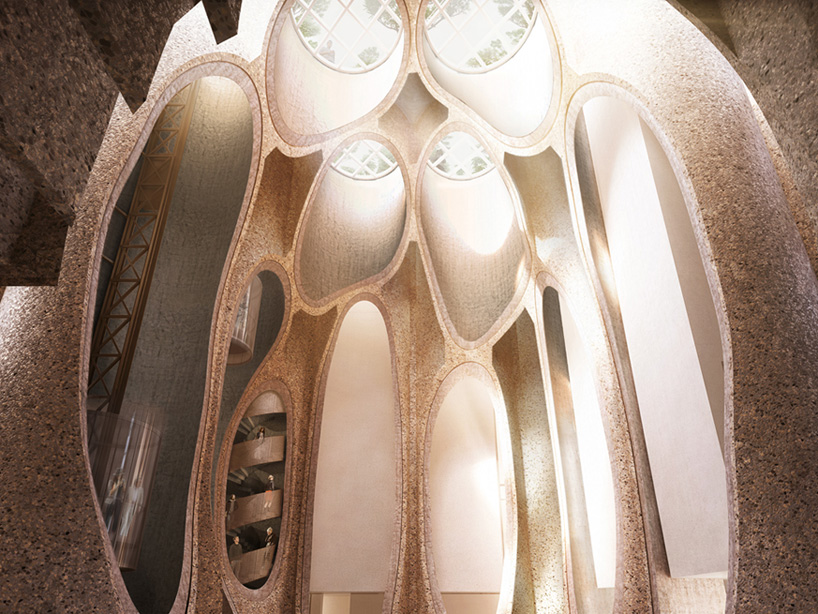 detail indicating the eight silos which will be carved to form a light-filled oval atrium
image courtesy of thomas heatherwick

'for five years we investigated suitable sites across africa. the V&A waterfront provided an iconic heritage building, situated in one of the most visited and iconic sites in africa. heatherwick studio's design offers a creative solution that delivers a new architectural icon for the exhibition and preservation of contemporary art from africa. i am honoured that my collection will have such a handsome home.' – jochen zeitz, co-founder zeitz MoCAA and founder zeitz collection

mark coetzee, executive director and curator of zeitz MoCAA, concluded, 'by repurposing our architectural heritage through an evocative juxtaposition of industrial design and contemporary art, we are creating a culturally significant institution of a scale that truly recognizes the creative talents of africa. we have worked tirelessly with heatherwick studio to imagine a showcase for all the components of a functioning contemporary art museum, designed to allow the public direct access to, and engagement with, the most cutting edge artistic practice.'

set to open in 2016, the zeitz MOCAA is an expression of thomas heatherwick's characteristic boldness and creative flair, and will adorn the V&A waterfront with an architectural work that is harmonious union of concrete and metal, in combination with crisp white spaces that are enveloped in light.


thomas heatherwick presenting the zeitz MoCAA concept at the 2014 design indaba conference
© designboom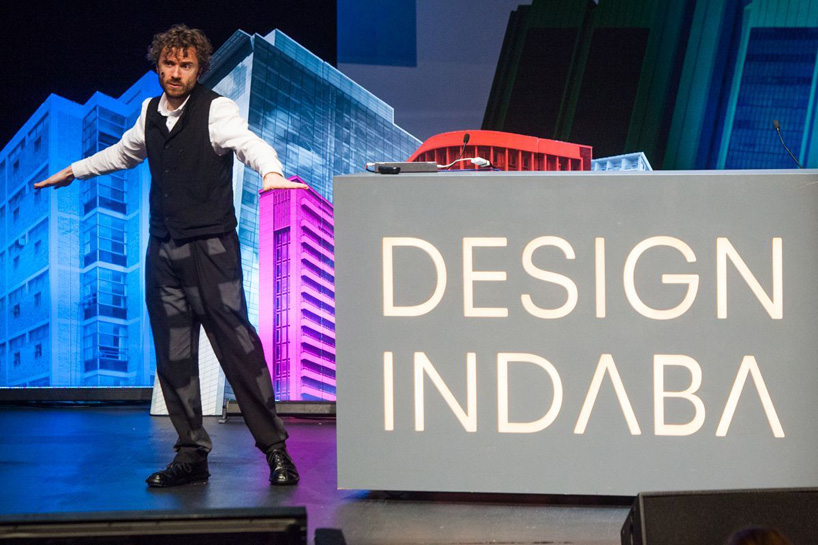 thomas heatherwick presenting at the 2014 design indaba conference
image courtesy of design indaba
dubbed 'the conference on creativity', the design indaba conference is all about how design, creativity and innovation can positively impact the world. so much more than a 'how-to' conference, this is a forum fueled by inspiration that breeds ideas, ingenuity and innovation. the conference is an opportunity to listen to the world's foremost creatives, entrepreneurs and trendsetters. it's the not-to-be-missed creative event in africa.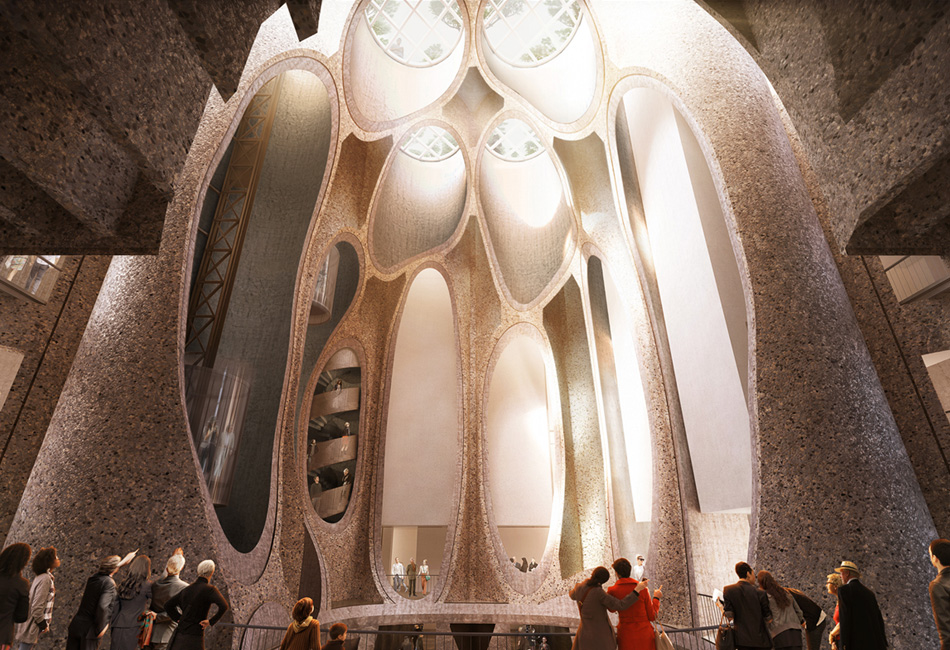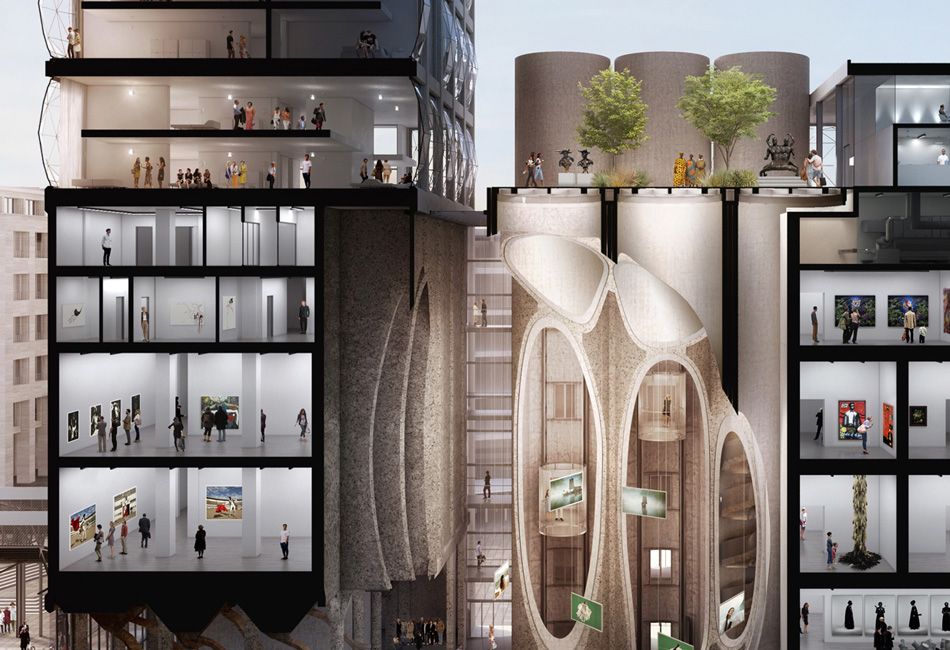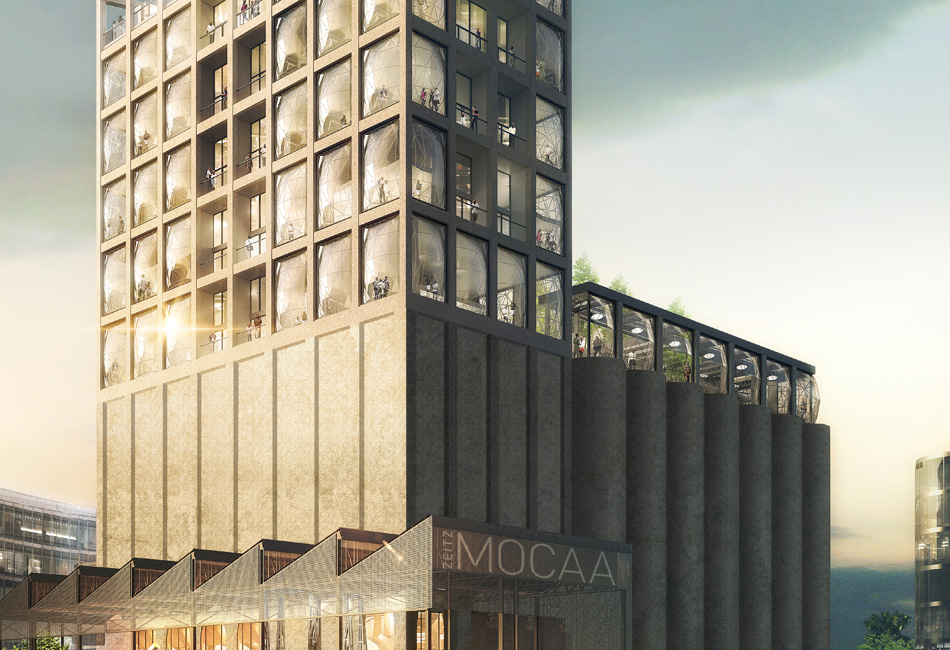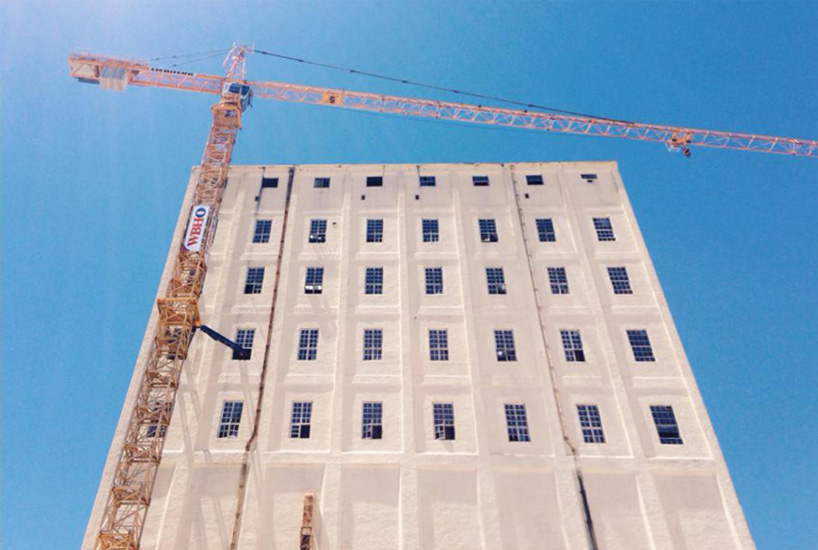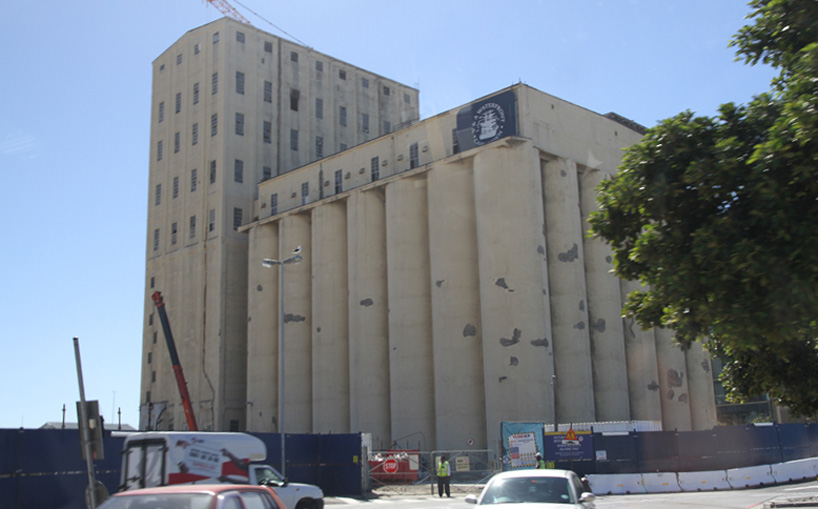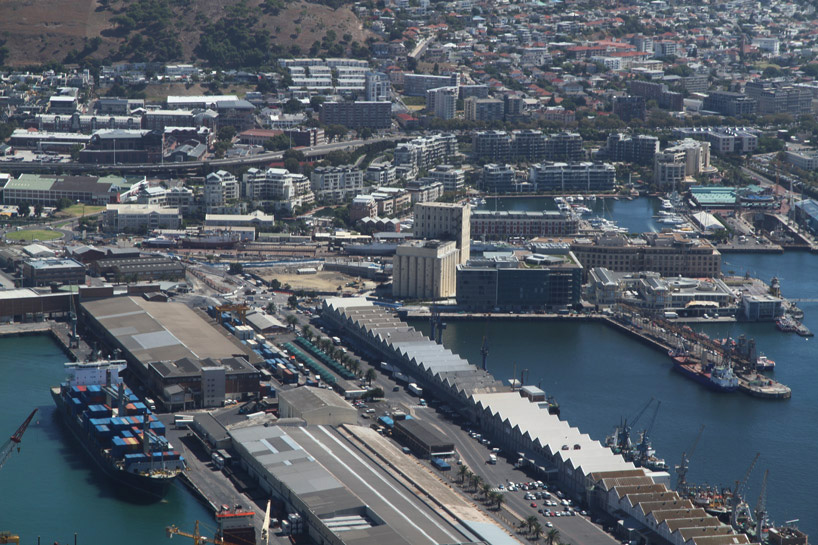 Save
a diverse digital database that acts as a valuable guide in gaining insight and information about a product directly from the manufacturer, and serves as a rich reference point in developing a project or scheme.
designboom will always be there for you
milan, new york, beijing, tokyo

,
since 1999