feb 07, 2016
tomohiro hata's hillside house interior integrates terraced platforms
tomohiro hata's hillside house interior integrates playful terraced platforms
all images © toshiyuki yano
embedded on a hillside in suwayama in kobe, the 're-slope' house by japanese architect tomohiro hata is one of the many residences that have been developed over the years on the same sloping plot. 
'the landscape of this slope has changed where houses forcibly complete for light and wind' comments hata. the original house was completely demolished to free up the site and allow freedom to re-establish an improved home that works with the natural topography of the hill.


following the natural gradient of the hill, a wedged shaped property was realized
the resulting design sees a wedged shaped structure clad in metal which follows the sloping gradient and simultaneously nestles among the greenery. the interior configuration has been distinctively composed across three open-plan, terraced platforms. mimicking a set of stairs, the architect followed the same concept as the exterior and spatially arranged the house complementing the original topography.

the stepped interiors have been wrapped in wood
large skylights open up to the sky and trees, while illuminating the different timber platforms installed with a series of small niches for the large family. despite the noticeable absence of railings between the levels; the client follows a belief that if every possibility of danger is eliminated from your surroundings, this eventually sets people back on knowing how to overcome the smallest risk. following this concept, hata established the distinctive interiors which encourages and explores an adventurous and playful spirit.

spread across three floors, there are two outdoor terraces

the series of skylights permeates the interiors with natural light

with little partitioning, spatial boundaries are eliminated to encourage interaction between the family members

the distinctive layout promotes an exciting home for the couple's children

the previous property was demolished to free up the site

the top-floor terrace

scaffolding used as platforms for plants, with the extended skylights providing a shelter

the street façade of the japanese home

the house distinctively sits amidst the lush surroundings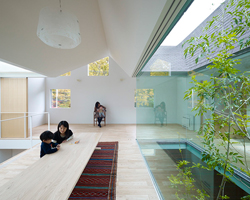 apr 02, 2014
apr 02, 2014
oct 14, 2011
oct 14, 2011