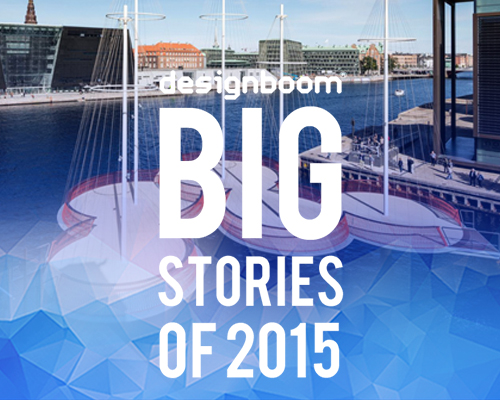 dec 08, 2015
TOP 10 bridges of 2015
TOP 10 bridges 2015
over the past 12 months there has been no shortage of dynamic bridge designs proposed and constructed, spanning over water, land and inaccessible landscapes all around the world. as cities and populations continue to grow, the need for bridges not only improves accessibility and infrastructure for all modes of transport, but it has also been explored in an artistic approach to facilitate a common ground between strangers. from differing scales and materials to construction techniques that demonstrate great feats of human accomplishment, we continue our annual review of the year's BIG stories with bridges that caught our eye in 2015.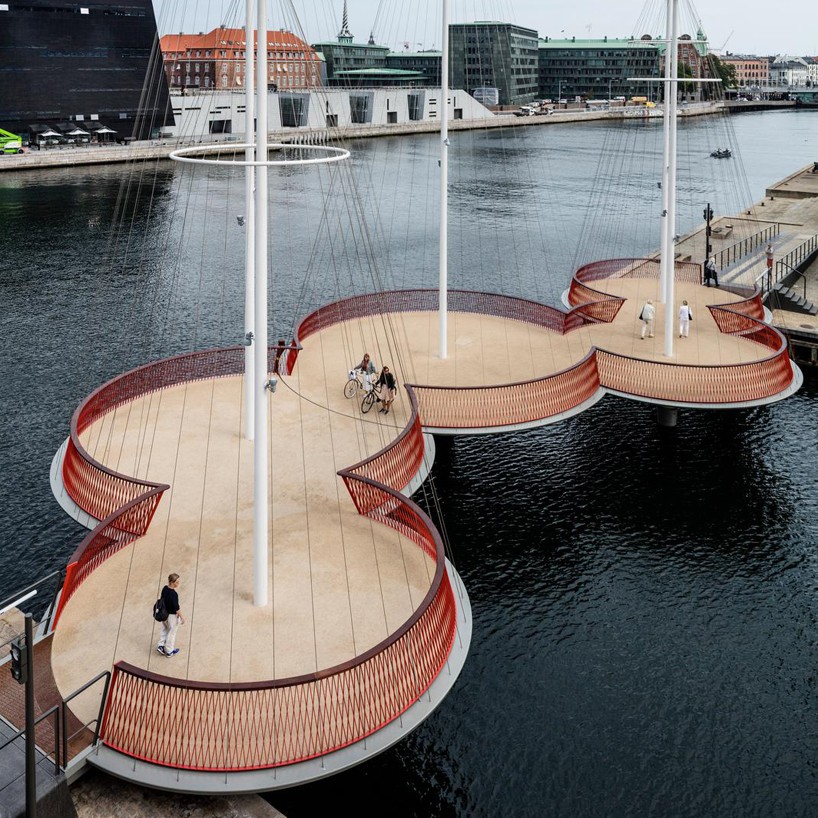 the structure is a testimony to the region's nautical history, with posts that take the form of ship masts
image © anders sune berg
accommodating the many cyclists, pedestrians and runners along the waterfront in copenhagen, artist olafur eliasson designed the cirkelbroen bridge which opened in august. referencing danish nautical history, the structure is reminiscent of ship masts and has created a convenient link over the canal, while serving as both a meeting place and vantage point that invites reflection, new views and perspectives.
'the cirkelbroen bridge creates new spaces along the waterfront,' explains eliasson. 'it provides proximity to the water and encourages users to slow down a little and take a break. I hope it will become a meeting place.'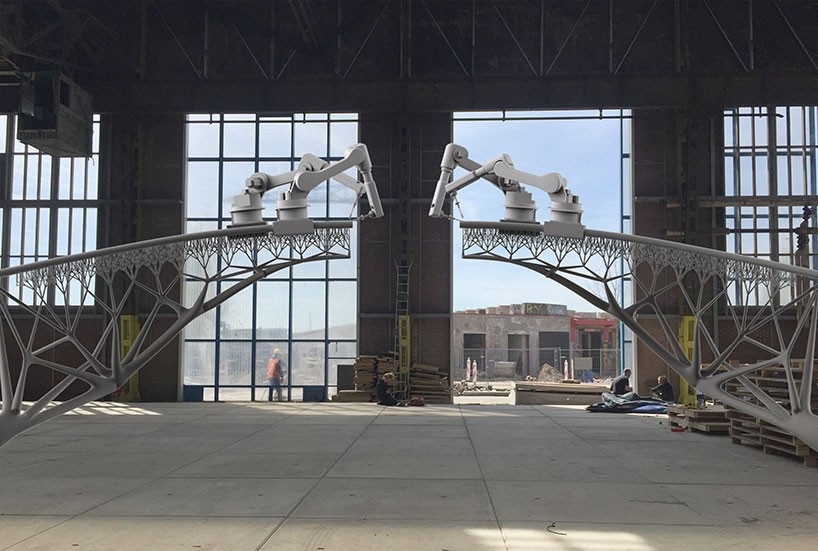 the steel bridge is intended to be located in the center of amsterdam, netherlands
image © joris laarman for MX3D
there has been a popular surge in the exploration of 3D printed technologies in the architecture and design industries. an example of this was the ambitious proposal by dutch startup MX3D and joris laarman, where they intend to create a 3D printed steel bridge to be located in the center of amsterdan. the advanced technique will inherently be a cost effective solution- offering creative robotic solutions for art, architecture and construction.
'this bridge will show how 3D printing finally enters the world of large-scale, functional objects and sustainable materials while allowing unprecedented freedom of form. the symbolism of the bridge is a beautiful metaphor to connect the technology of the future with the old city, in a way that brings out the best of both worlds.' explains joris laarman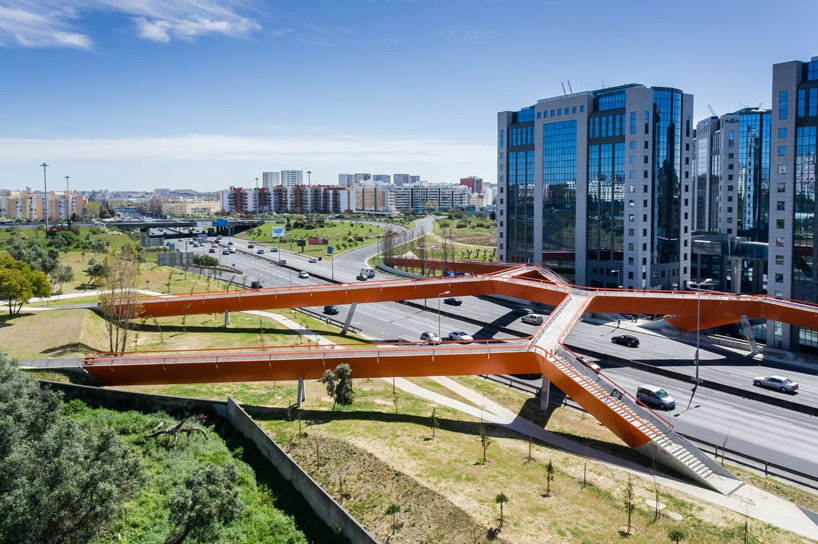 the built solution is a hybrid structure: with no pillars under the central span, box girders are used instead
image © joão morgardo
overlapping a busy highway in lisbon, maximina almeida + telmo cruz of MXT studio designed the dynamic pedestrian and cycling bridge colored in orange. the erection of the bridge saw an effective increase of bicycle use in the city due to its strategy to encourage more leisure activities associated with cycling. the resulting structure abolished the use of supporting columns, thus increasing the size for the ramps and staircase access.
'this bridge belongs to the maps of the future, inevitably optimistic, of other journeys and transport modes, soft, resulting from a new global ecological awareness.' – maximina almeida + telmo cruz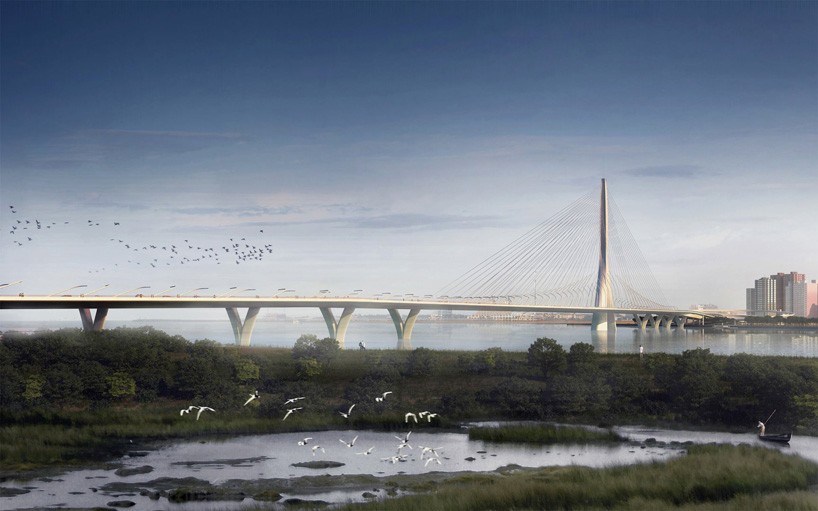 it is believed that the crossing will form the world's longest single-tower, asymmetric cable-stayed bridge
image © visual arch / courtesy of zaha hadid architects
after winning an international competition, zaha hadid architects will construct the danjiang bridge — an entirely new crossing that will span the tamsui river in taiwan. the cable-stayed structure will minimize its visual impact on the natural surroundings by using a single concrete mast to support the 920 meter-long road, rail and pedestrian deck. as well as increasing connectivity between the city's neighborhoods, it will also reduce through-traffic on local roads by linking two of the region's main highways.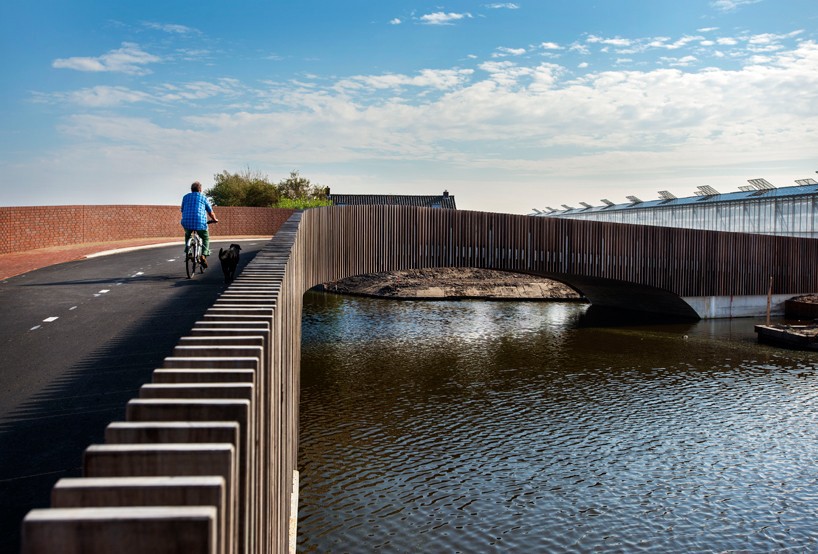 the vast scheme serves as both a museum and an urban leisure space
image © raymond rutting / NEXT architects
clad in timber, this bridge in town of monster, the netherlands has been designed to serve both man and nature. the duo-function 'batbridge' by NEXT architects spans and intersects the flight path of the flying mammal which inherently established the specially building deck and brick balustrade which can accommodate the bats during the summer months. focused on the relationship between humans and nature, the concrete arch spans the entire vlotwatering and the s-shaped deck is supported with a pressure arc that slants under the 25m bridge.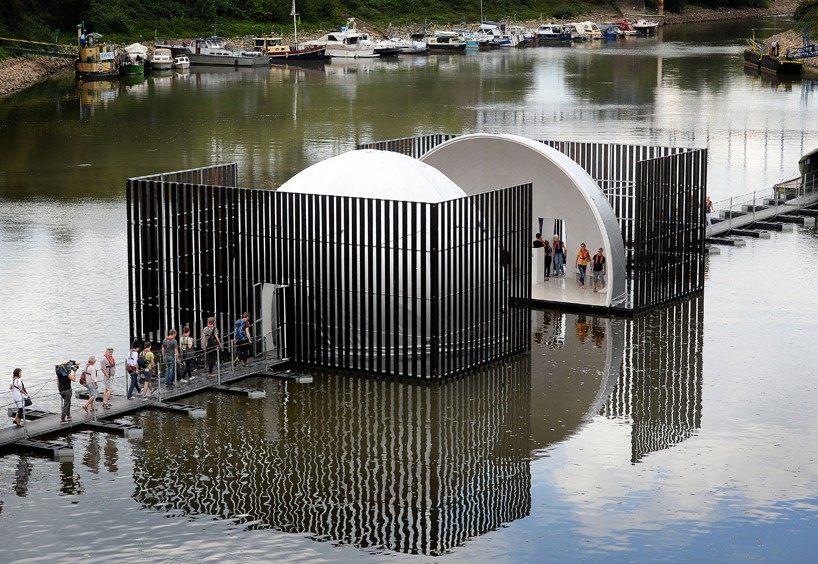 visitors walk towards the center of the bay where two halves of the dome are split in two
image © volker hartmann / urbane künste ruhr
part of an installation for the annual ruhrtriennale festival, this mobile bridge by artists robyn backen, andre dekker, graham eatough, nigel helyer and jennifer turpin is distinctive because of its ability to extend and retract a pair of identical floating walkways towards and away from each other. the hemispherical structure has the ability to split in two, offering a 10 meter divide of water when the gap between platforms is extended. when the two halves of the dome move together, the gap between them diminishes, and visitors from opposing sides are united in a chapel-like, shared space for contemplation.
'this walk-on installation is is an attempt to bridge the divide separating us from strangers and to facilitate a meeting on common ground', the artists describe. 'a space is created with a unique atmosphere in which people may reflect with each other on history, memories and experiences.'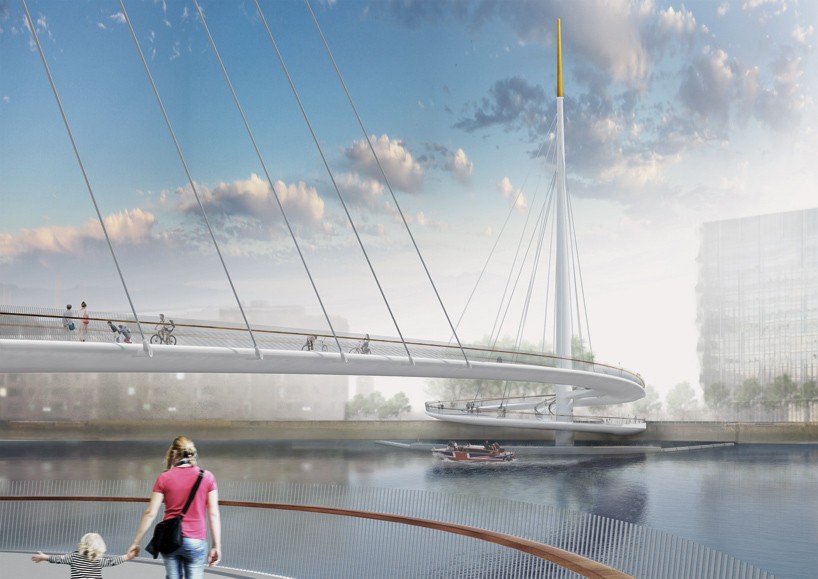 the unanimous recommendation saw off competition from amanda levete, marks barfield, and hopkins architects
image © bystrup architecture, design and engineering
after a long competition process which began earlier this year, it was recently announced that bystrup architecture design and engineering will be the firm tasked with constructing central london's first car-free bridge designed specifically for both cyclists and pedestrians. the winning proposal for the nine elms to pimlico bridge was praised for its elegant and simple strategy, where the design encompassed an aspiration to celebrate the river and 'create a thing of real beauty which is what this bridge should be.'
'from the outset we wanted to design an elegant bridge that provided simple and uninhibited access for all, with minimal impact landings on each bank. we are very excited that this will be the first shared pedestrian and cycle bridge over the thames, adding to the rich history of london's river crossings.' – architect erik bystrup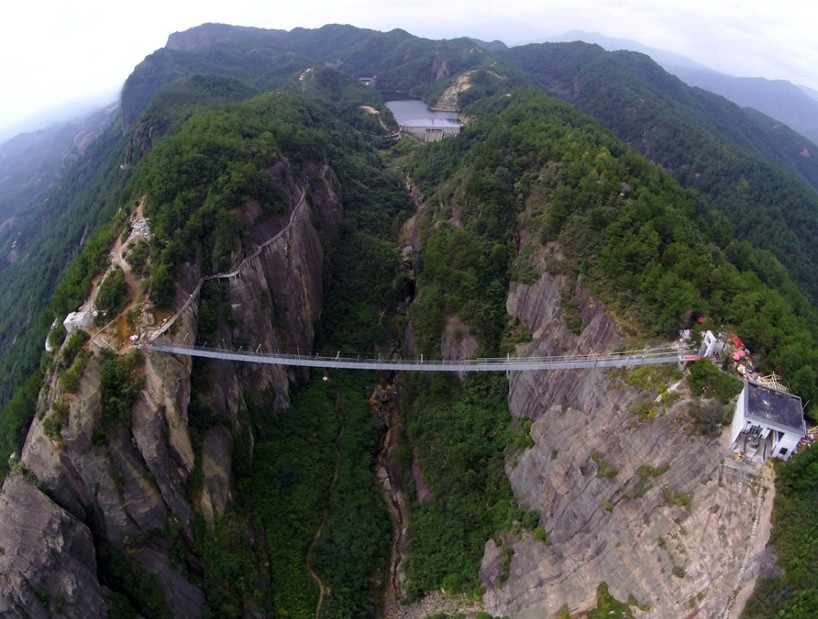 the 300 meter-long structure spans between two cliffs
image © sina
a bridge providing a heart-pumping and memorable experience spans between two cliff edges in the chinese province of hunan. appropriately titled 'brave men's bridge', the suspended crossing is made entirely from 1 inch paneled glass which states to be 25 times stronger than regular glass.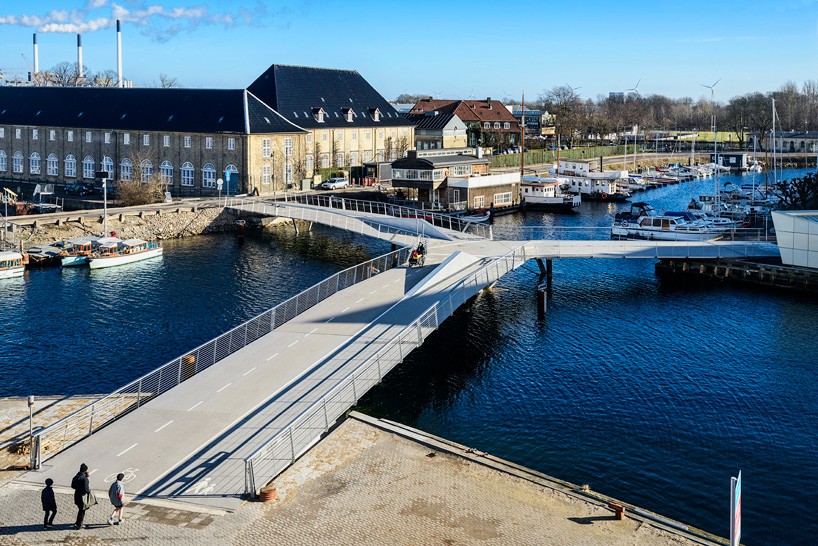 the project takes its name from its form when the dynamic crossings are raised
image © christian lindgren
taking its name from its distinctive split form when the structure's two crossings are elevated, the lightweight footbridge in copenhagen was completed by dietmar feichtinger architectes. comprised of three linear spans that meet above the water's surface, two of can be opened independently. the entire onshore connection is realized as a light and removable design.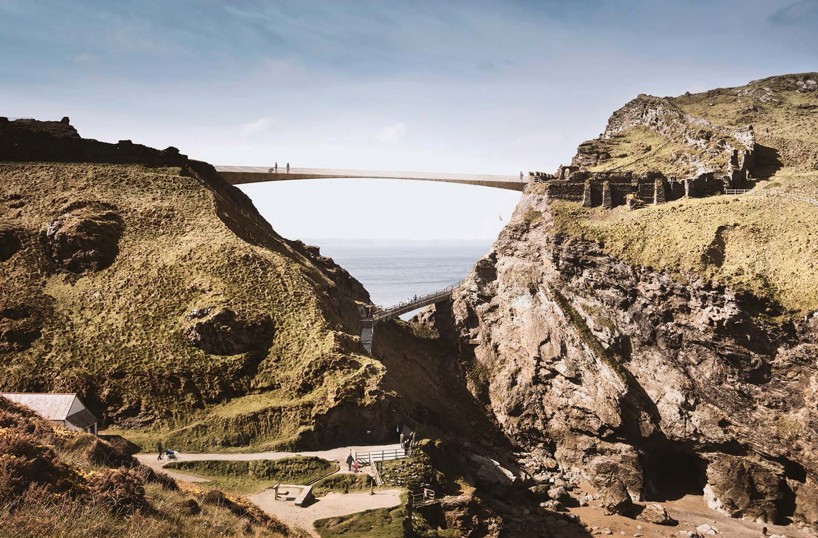 niall mclaughlin architects' entry
image courtesy of malcolm reading consultants
a recently announced shortlist of six teams was revealed for a competition to design a bridge for britain's cornish coastline. the new structure will be situated next to tintagel castle, a medieval fortification located on the peninsula of tintagel island. above is niall mclaughlin architects' entry where the stone arch design is formed of stacked rocks, with the pathway bounded by a handrail of fine bronze balusters that recreates the lost land approach to the castle.
aug 07, 2020
aug 07, 2020
aug 06, 2020
aug 06, 2020
aug 04, 2020
aug 04, 2020
jul 27, 2020
jul 27, 2020
jul 20, 2020
jul 20, 2020
jul 12, 2020
jul 12, 2020
dec 31, 2015
dec 31, 2015
dec 29, 2015
dec 29, 2015
dec 29, 2015
dec 29, 2015
a diverse digital database that acts as a valuable guide in gaining insight and information about a product directly from the manufacturer, and serves as a rich reference point in developing a project or scheme.