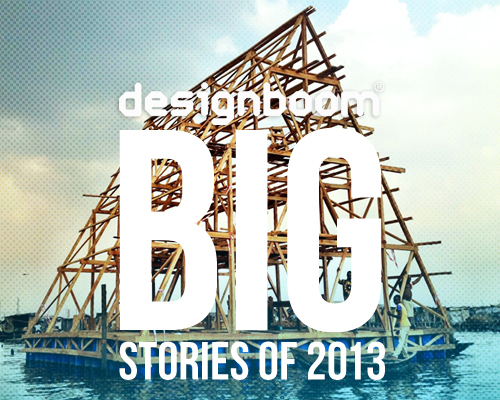 dec 31, 2013
TOP 10 educational facilities of 2013

TOP 10 educational facilities of 2013
faced with budget cuts and restricted funding, educational buildings are often the first to feel the impact of economic difficulties. therefore it has been encouraging this year to see a continued trend towards inspiring and dynamic schemes, redefining school environments and they way they are used by students and staff. our ten most popular stories of 2013 includes a diverse range of offerings, placing work from established names such as norman foster and zaha hadid alongside designs from emerging young practices and organizations contributing resourceful and unconventional solutions.
floating school in makoko by NLE architects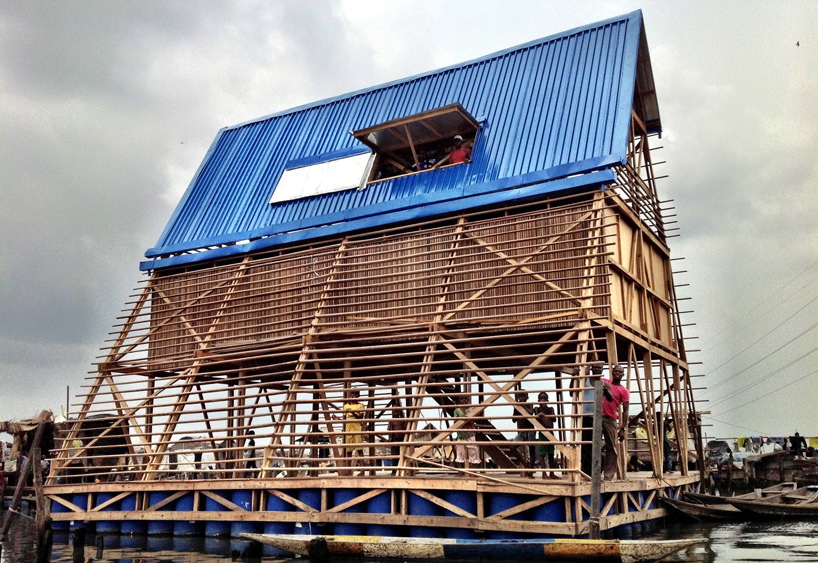 image © NLÉ architects
NLÉ architects has been working on a three-phase plan for the waterfront community of makoko in lagos, nigeria that will transform the already buoyant city into a contemporary community on the water's surface. the independent floating structures are made from local materials applied in new and inventive ways.
vienna university's law + admin buildings by CRAB studio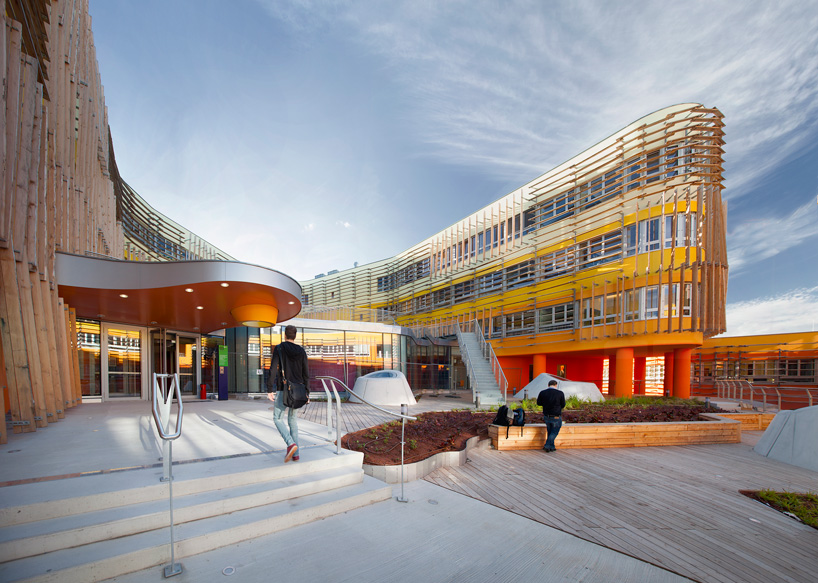 photo by ronald kreimel
image courtesy of CRAB studio
CRAB studio has completed the 'departments of law and central administration' at vienna university, part of the ongoing development at the campus, masterplanned by BUSarchitektur. using their experience of working in colleges, sir peter cook and gavin robotham ensured that a vibrant and dynamic building was constructed, comprising an engaging collection of spaces which cater for the needs of students and professors during classes and outside of teaching hours.

LOOP kindergarten by SAKO architects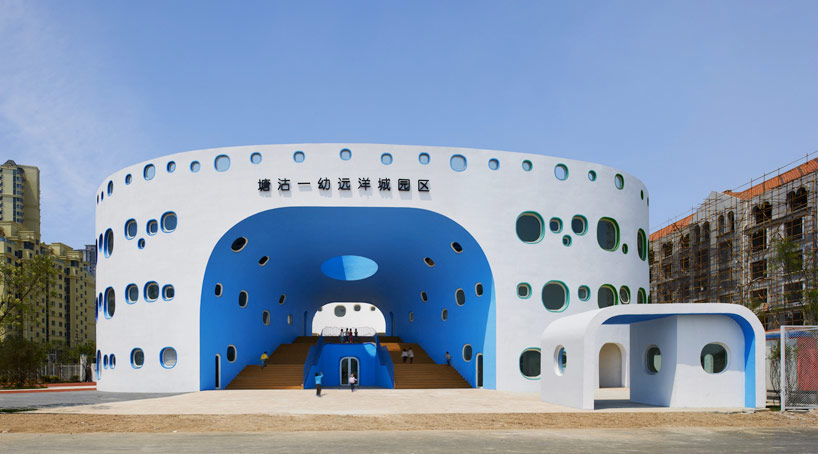 photo © misae hiromatsu
image courtesy of SAKO architects
the 'LOOP' kindergarten in tianjin by SAKO architects creates a clear contrast between the industrious apartment-block surroundings and the colorful colosseum of education. not a single sharp corner exists, from the footprint to the window sills, with beveled edges making for a kid-friendly environment brought to life with vivid tones that span the spectrum of the color wheel, and carry through to the structure.
cairns institute by woods bagot and RPA architects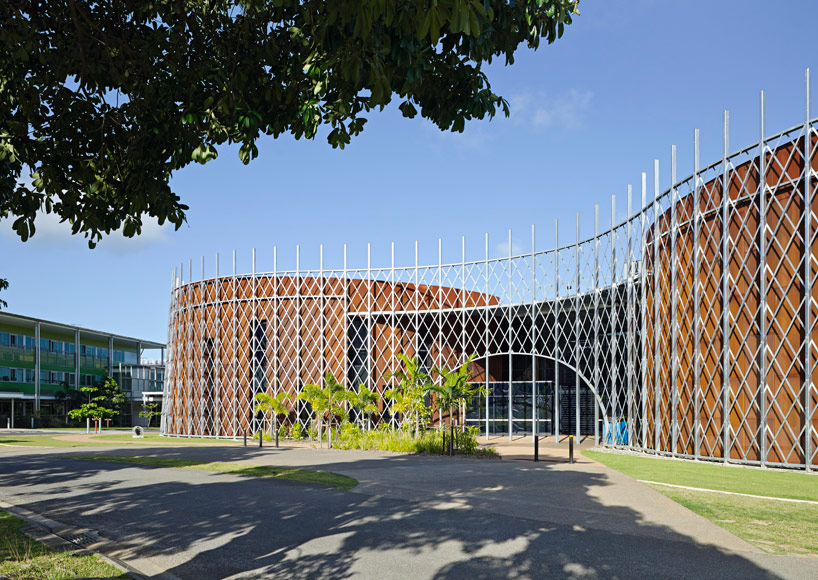 image courtesy of woods bagot
'cairns institute', a tropical research center in australia, has been constructed to reflect its northern queensland setting. surrounded by rain-forested hills, the distinctive design draws the landscape into the heart of the campus, offering a stimulating atmosphere for the school's occupants. this joint project by woods bagot and local office RPA architects is intended to facilitate investigation and collaboration.
jockey club innovation tower by zaha hadid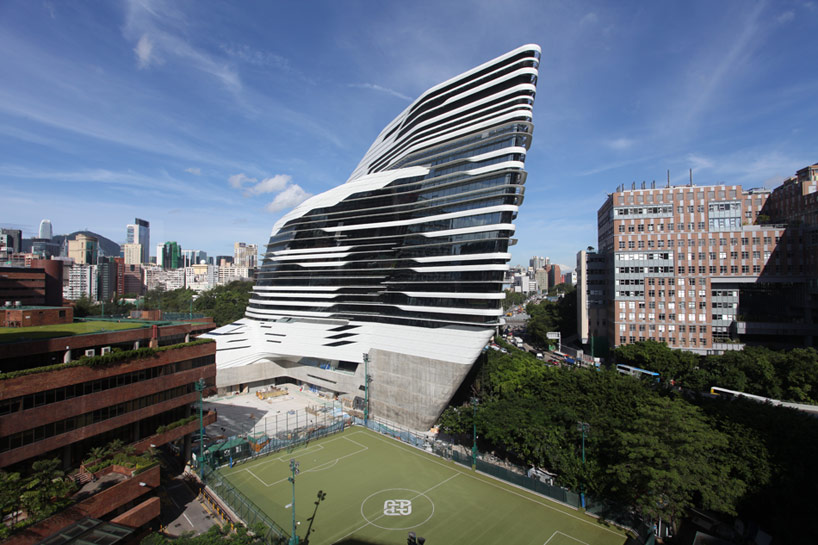 image courtesy of the hong kong polytechnic university school of design
zaha hadid architects has finalized construction of the hong kong polytechnic university's 'jockey club innovation tower', a fifteen-storey structure providing 15,000 square meters of floor area and accommodating up to 1,800 students and staff per day. the project, hadid's first permanent building in hong kong, reinterprets the orthodox typology of a multi-story building, establishing a series of fluid and connected volumes in constant dialogue with each another.
green dot animo leadership high school by brooks + scarpa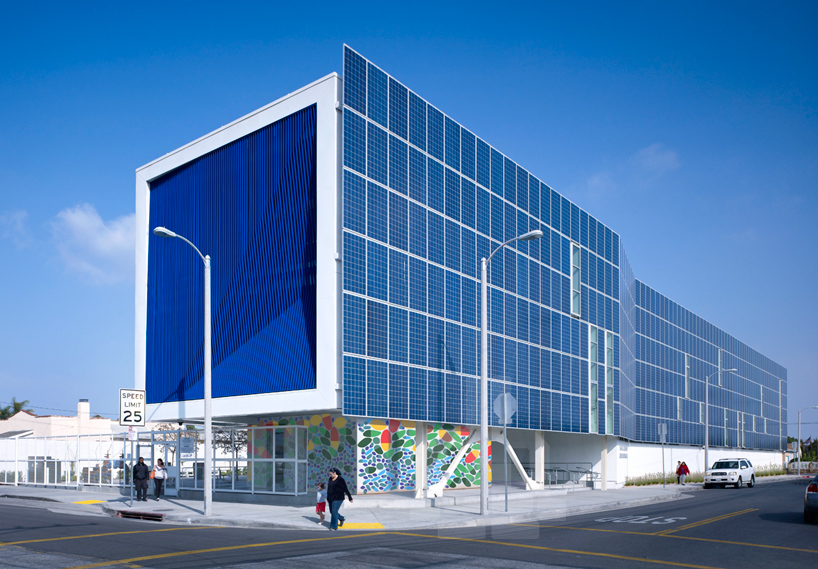 image courtesy of brooks + scarpa architects
the 'green dot amino leadership' charter high school by american firm brooks + scarpa architects is an innovative and sustainable building that encourages a productive learning environment. designed to enhance passive sustainable strategies, the large solar panel facade and open-air courtyard both visually inform and define the building's exterior presence.
turin university faculty building by foster + partners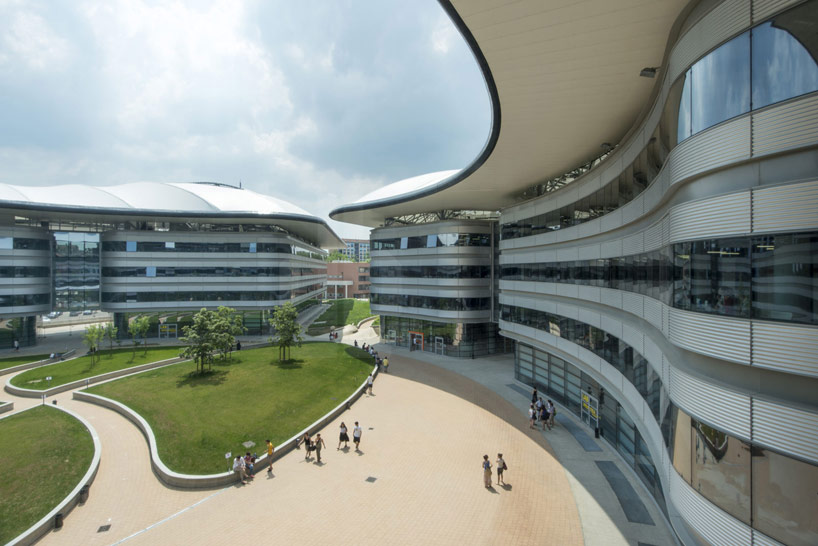 image © foster + partners
foster + partners have completed a sweeping structure for the university of turin campus. a composition of brushed metal bands and sky-reflecting glazing, the new building is set to accommodate around 5,000 students. the design consolidates the faculties of law and political science within two volumes linked by a single roof canopy.
xiaoquan elementary school by TAO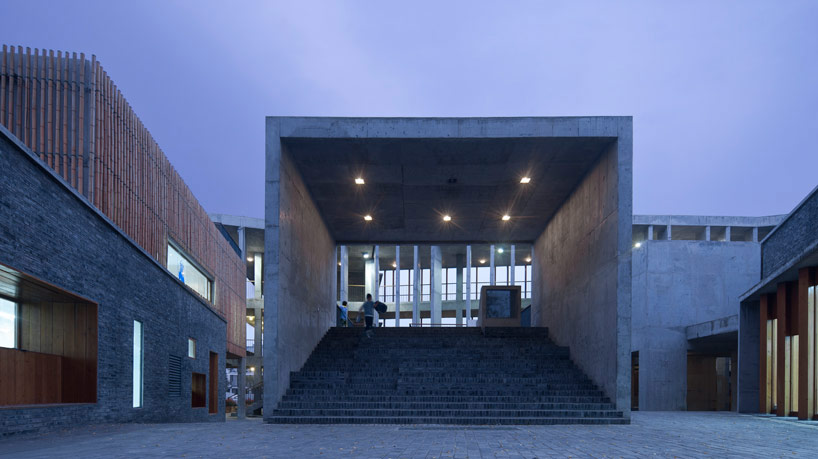 photo © yao li
image courtesy of trace architects office
xiaoquan elementary school, completed by trace architects office, features a cluster of small buildings creating a micro city, replete with the spatial compositions of the urban landscape. analogous to original xiaoquan's urban space in scale and pattern, the school is a rhythm of typological places such as plazas, courtyards and steps so as to provoke a familiar feeling from everyday life.
portable moving school for refugees by building trust international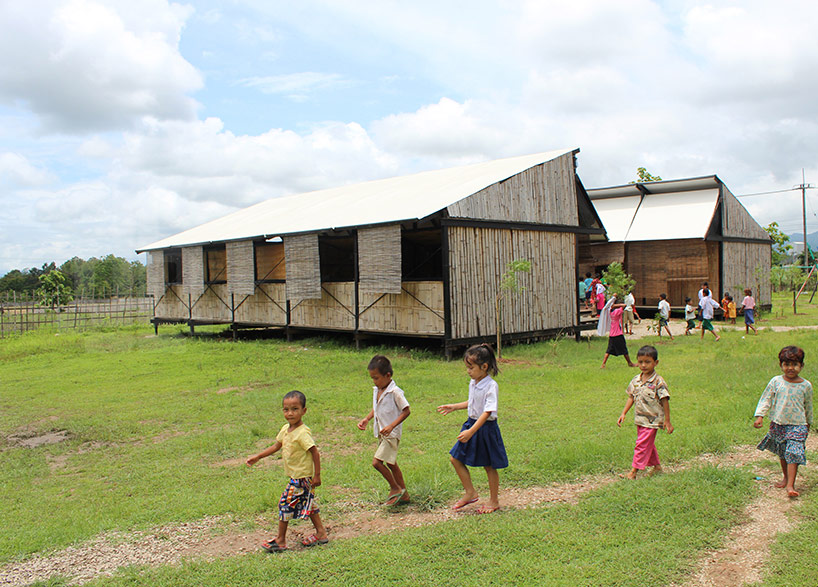 image courtesy of building trust international
the moving school project organized by UK-based NGO 'building trust', provides a modular, flat-pack design for migrant and refugee communities living on the thai-burmese border. the portable buildings provide security for those living in host countries, where often they don't have the right to own land, making infrastructural investments difficult. the initiative has transformed the learning environments of more than 1000 children to date, from schools constructed with just a tarpaulin sheet over a mud floor, to safe, clean, well ventilated classrooms.
bezalel academy's new campus by SANAA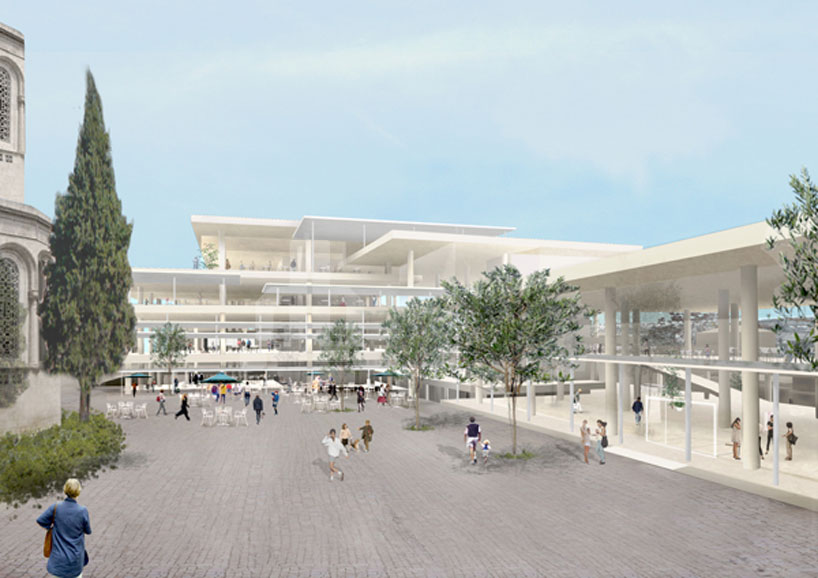 image © SANAA
earlier this year SANAA, working in collaboration with local architects nir-kutz, revealed plans for the downtown jerusalem campus of belzalel academy of art and design. the structural framework of the 400,000-square foot building is an arrangement of horizontal slabs, which are layered on top of one another at varying heights in such a way that they follow the topography of the surrounding area. the various sized blocks collectively form a roofed terrace offering views of the holy surroundings.
jul 02, 2020
jul 02, 2020
jun 22, 2020
jun 22, 2020
jun 21, 2020
jun 21, 2020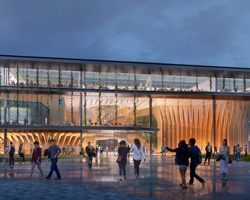 jun 18, 2020
jun 18, 2020
jun 17, 2020
jun 17, 2020
jun 16, 2020
jun 16, 2020
dec 31, 2013
dec 31, 2013
dec 31, 2013
dec 31, 2013
dec 31, 2013
dec 31, 2013
a diverse digital database that acts as a valuable guide in gaining insight and information about a product directly from the manufacturer, and serves as a rich reference point in developing a project or scheme.