TOP 10 reader submissions of 2015 – social impact
for this top 10, we decided to put together the most amazing projects that were motivated by social matters. the designers and architects that made them know their role and responsibility in society, and with their work, they aim to generate changes. this year we received several thousand submissions from our readers, with designers, artists and architects from across the globe sending through a diverse range of works that we have shared with our audience over the last 12 months.
we believe that maintaining an open dialogue with creatives is extremely important, and we are happy to showcase the high level of original projects of our readership. from emergency modules to housing activities, we highlight 10 social impact projects from our reader submissions of 2015.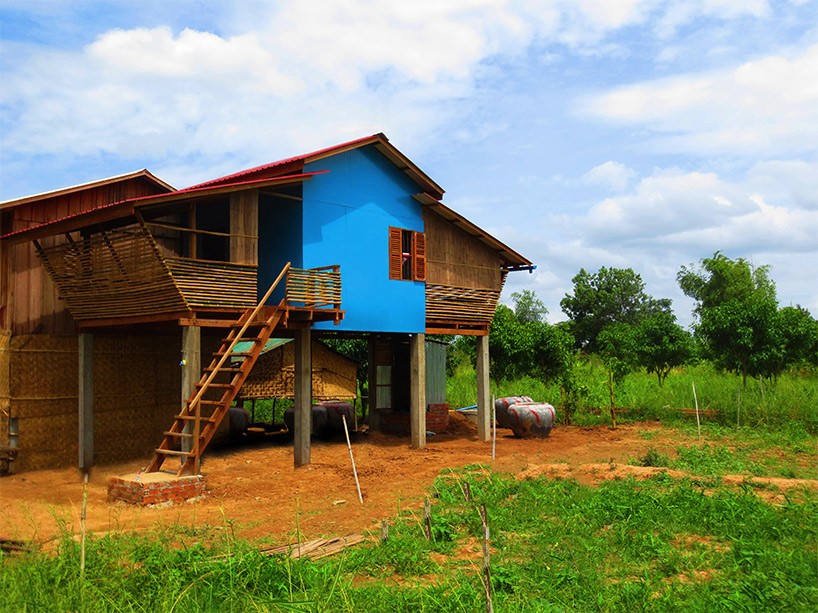 image courtesy of building trust international
building trust international and atelier COLE, in collaboration with habitat for humanity cambodia, presented their latest creative housing scheme. 'framework house' is a low-cost accommodation project that allows NGOs and government programs to provide families in need with quality, long-lasting shelters. the design is customizable; clients and/or families are able to directly change the looks and environments to fit their needs via layout and material selection. with each dwelling, the 'framework' program incorporates lessons on sustainable building techniques, healthy home principles, and presents detailed options for future expansion and investment.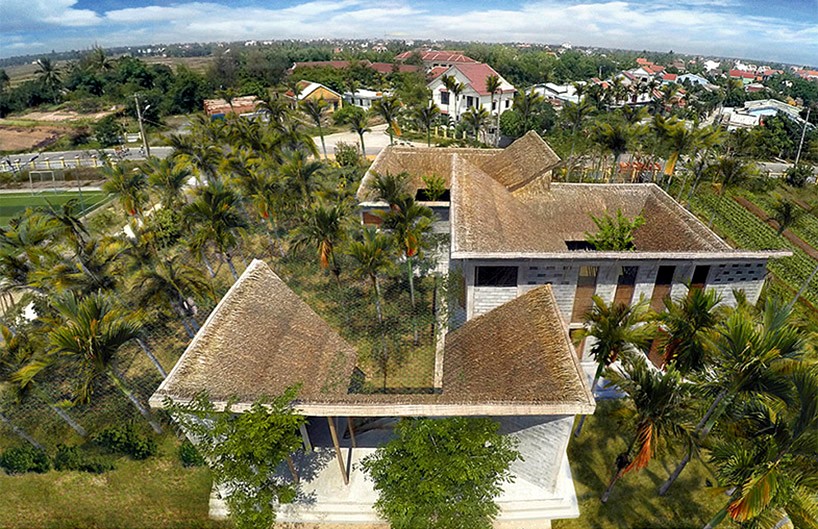 image courtesy of hoang thuc hao, vu xuan son
hoi an city, vietnam boasts a thriving ancient quarter complimented by a breathtaking seashore. cam thanh, a small district in the southeast quadrant of the city, is just as brilliant. mangrove forests crisscross waterways, with abundant coconut trees and small dispersed villages. the area has everything necessary to succeed, except one thing. connection. while hoi an draws countless tourists, lack of transport between the two has left cam thanh overwhelming poor with a low standard of life.
the district was in critical need of a physical platform to act as a community hub. with a good system to provide linkage between different social, scientific, and economic groups, creating tourist opportunities with sustainable development initiatives would be considerably easier. the 'cam thanh community center' by 1+1>2 was designed to fulfill that purpose. located in the commune's core, the plan includes three buildings that flow continuously within their surroundings.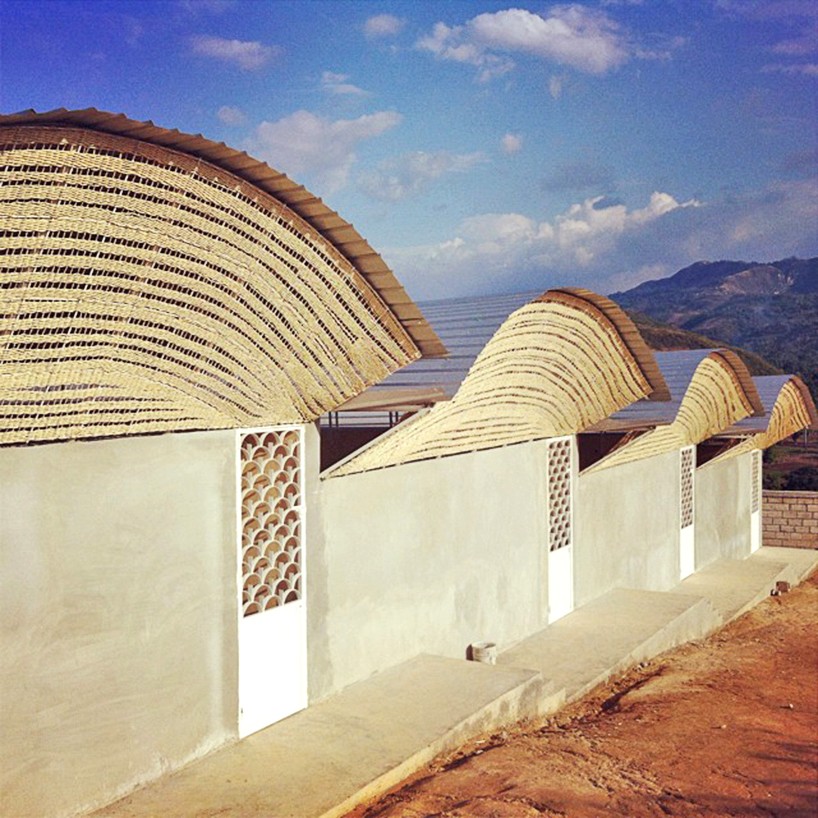 image courtesy of kenbe design/build
kenbe design/build is a social business founded on the desire to confront the endless complexities of enabling sustainable social progress. using backgrounds in architecture and construction, the company set out to create buildings that are equal both in volume and educational value. through research, it became clear that community engagement, the teaching of skills, and providing jobs were the three conduits to their mission. incorporating the local populace was obvious, how they would go about doing so — not so much.
to incorporate as many people as possible, kenbe often finds ways to adopt unknown materials and techniques into every project. latanyé, a natural material traditionally used for furniture and mattresses, is used in walls and as window coverings in the 'RH secondary school'. in a remote area, bas-citronniers, bamboo is plentiful but not used for construction. in a school built there, locals were trained on how to use the organic material rather than expensive and dangerous concrete.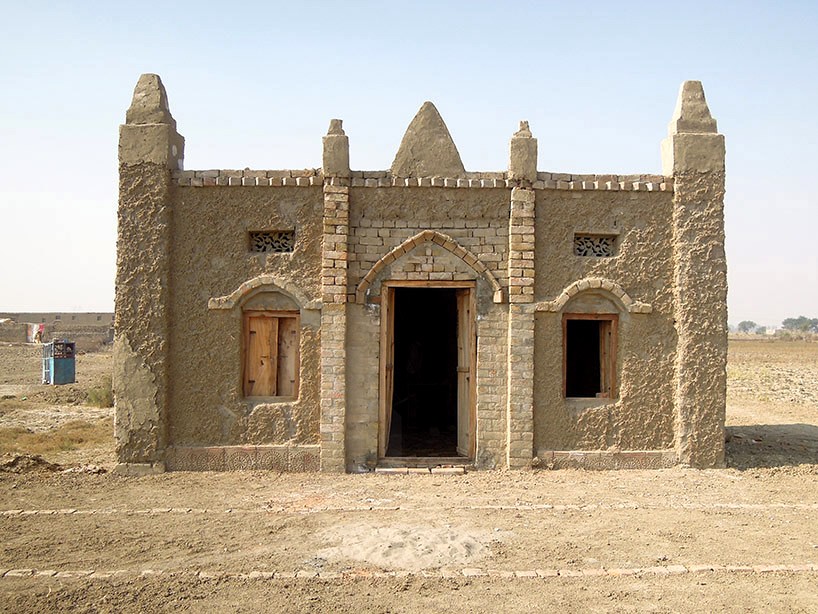 image courtesy of earth home project
'earth home project' asks the question of what architecture can do to help defend against the very-growing problems people in developing countries have to face. the scheme started back in 2011 in pakistan with the aim of trying to help rebuild houses that had been destroyed during the flood of 2010. a land area of 160,000 km² (nearly 20% of the country) was hit. the poorest regions were the ones most badly struck. 15 million people were affected and 6 million people lost their homes. for most of them it is strictly impossible to erect their houses on their own because they lack the necessary means to do so.
the initiative helps residents rediscover traditional building techniques, while insuring improvements made to the design contribute to the stability and sustainability of the construction. the project therefore focuses on using local materials that can easily be procured by anyone; mud and lime are used as bricks, insulating and binding material, as well as bamboo for the flat-roof structures.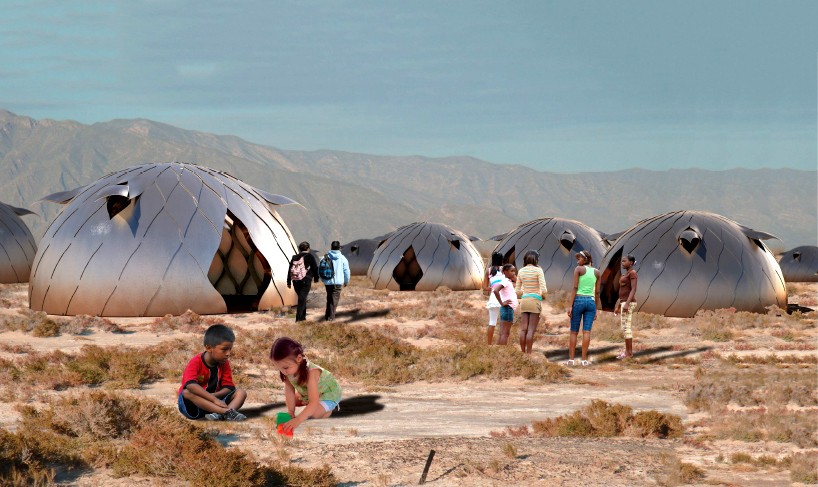 image courtesy of felipe ferrer cárdenas
the student research team at the design studio of the facultad de arquictura of the pontificia universidad católica del perú has created the 'deployable emergency module', built in response to the aftermath of natural disasters like earthquakes, floods, etc., that have hit the peruvian coast. the aim of the project was to create a housing structure that could be responsive to the characteristics and peculiarities of a specific climate, transportable, modular, easy to fold and unfold, strong, and resistant. the result is a self-supporting structure that achieves equilibrium thanks to its radial distribution that restricts movement.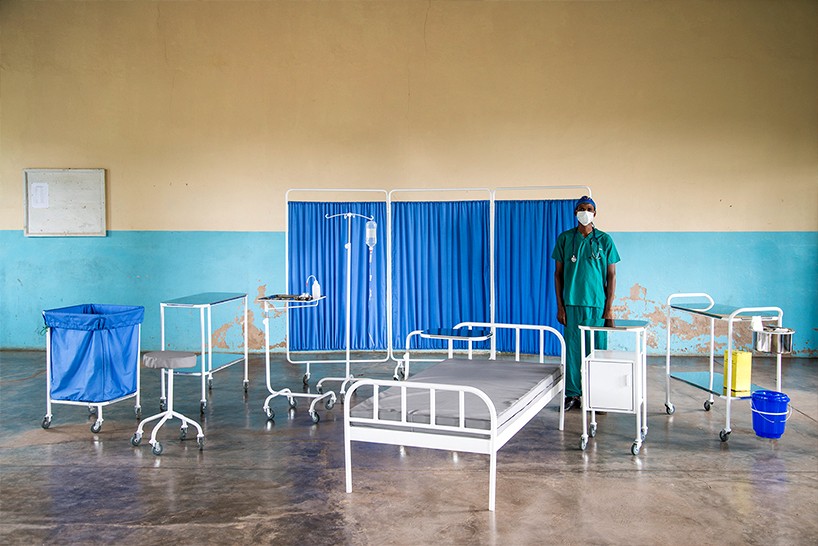 image courtesy of super local
knowing that malawi barely has its own manufacturing industry, business, and institutions including hospitals, super local paired with local communities and craftsmen to collaborate on the design of a new set of hospital equipment called 'care collection'. malawi's hospitals work with neglected equipment because in order to get the good quality ones, they need to be imported and most of the times are very expensive, or too technical or of poor quality. super local saw an opportunity here, following their philosophy of working with a human-centered approach, supporting the local economy, finding solutions in the country itself, creating employment and encouraging entrepreneurship. the complete 'care collection' featuring hospital equipment of good quality has been completely developed and has now received their first orders.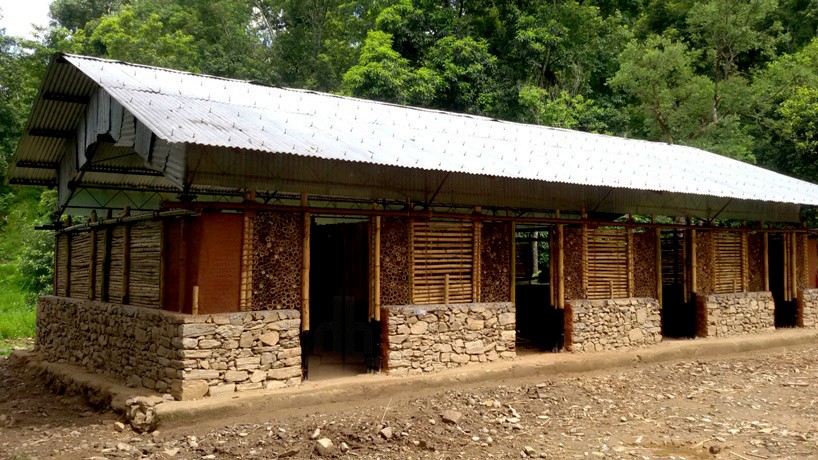 image courtesy of dipon bose, samya ghatak and rishabh sharma
the rebuilding of a school in chhoprak, gorkha, nepal was carried out by two graduating architecture students from the birla institute of technology, mesra — dipon bose and samya ghatak, along with a freelance architect based in delhi, rishabh sharma. following the devastating earthquakes in nepal, a rebuilding effort was mobilized to erect structures before the monsoon season hit in full force. as time went on, in rural areas especially, temporary and makeshift tents became commonplace, housing everything from shops to schools.
the educational centre's program is focused specifically on the shree sarbodaya lower secondary school in the remote himalayan village of chhoprak, in the gorkha district of nepal. funding and volunteer support was provided by kathmandu based NGO, rescue gorkha. two structures were erected; one completely new and the other a reconstruction of the original schoolhouse destroyed during the earthquakes.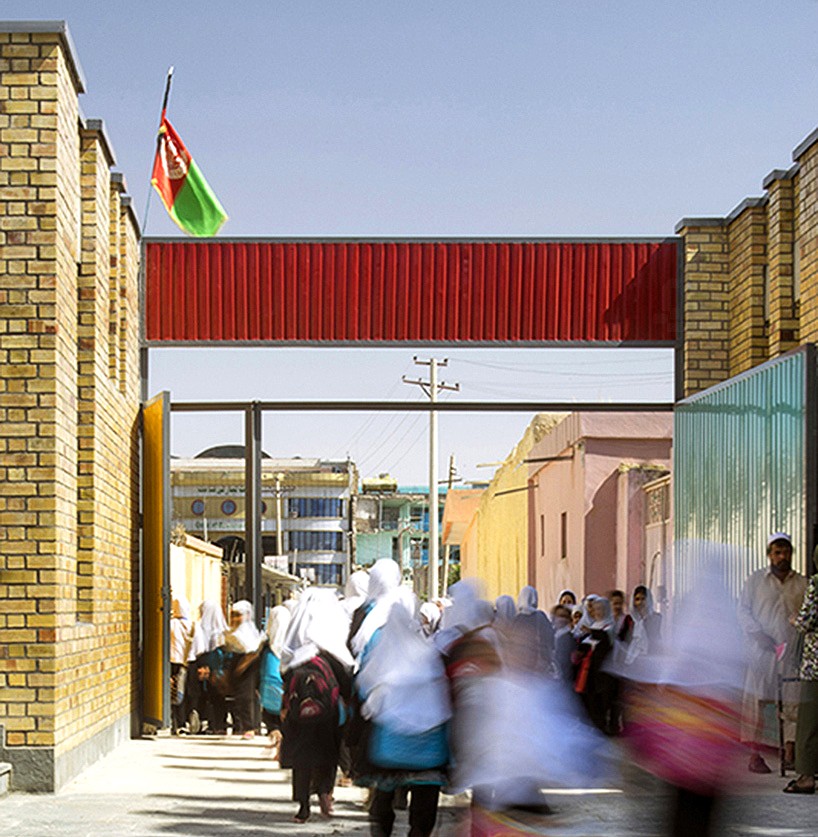 image courtesy of nic lehoux, gohar khatoon girls' school
in june 2015, the 'gohar khatoon girls' school' opened its doors in downtown mazar-i-sharif, afghanistan. the facility is run by the balkh province ministry of education, and is fully integrated into the national schooling system. 'gohar khatoon' was designed and realized by a multi-national team composed of afghans, iranians, and americans. development was funded by the janet w. ketcham foundation and sahar, and extensive research was provided by masters of architecture students at the university of washington.
the complex is approximately 1,600m2, and replaces a building — formerly a school — that was in a severe state of disrepair. 'gohar khatoon' educates girls and young women from kindergarten through grade twelve, acting as a gateway to mazar-i-sharif's multiple universities. upwards of 3,000 students attend the institution daily, effectively positioning it as a vital source for female education in an important urban location.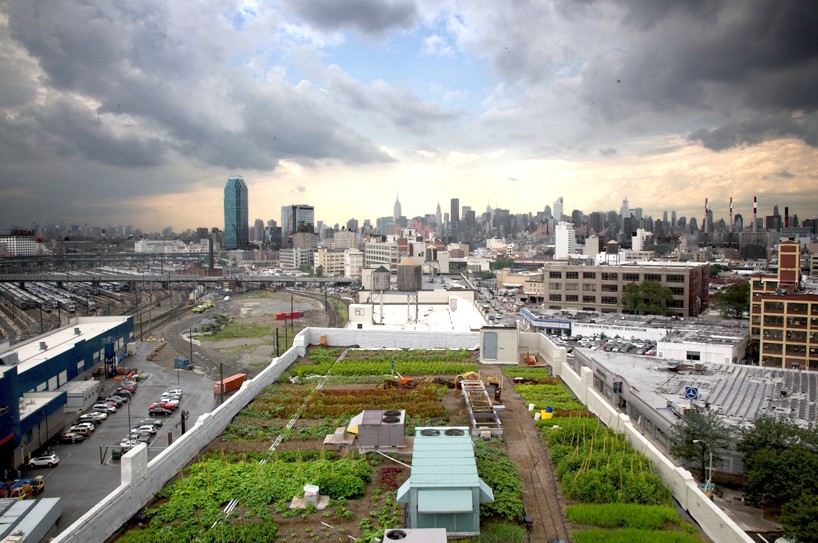 image © anastasia cole plakias, brooklyn grange rooftop farm
bromley caldari architects, in collaboration with acumen capital partners & brooklyn grange LLC, renovated a 300,000ft2 building in long island city, new york. originally a seven story commercial loft building, it has since catered to a range of industries including media, architecture, fashion, film, and printing, and design. as part of the $USD 10,000,000 overhaul, the 42,000 square foot rooftop was transformed into an urban rooftop farm.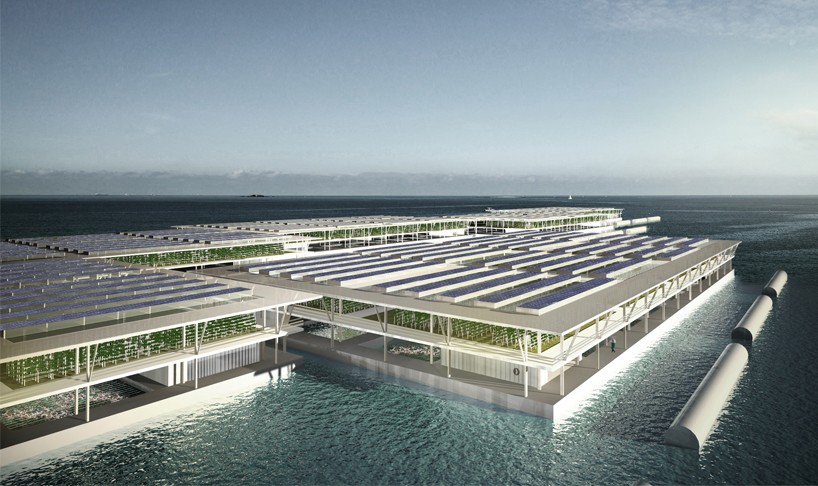 image courtesy of forward thinking architecture
given current trends, it's estimated the world's population will reach 9.1 billion by 2050, which will in turn rise food demand by up to 70%. the planet's nations are already facing extreme challenges in the business and practicalities of feeding their peoples, made worse by an increasingly agitated, erratic global climate. society's dependence on fossil fuel technologies, paired with a universally homogenized palate will inevitably be our downfall. moving forward, horticulture needs to focus less on increasing production, and more on minimizing imports, preserving land, and educating citizens on localized, self-sufficient solidarity.
javier f. ponce of forward thinking architecture, in collaboration with jakub dycha, conceptualized 'smart floating farms' as a vision to the future of agribusiness. the concept is a commercially-viable off shore farming alternative, which would work in tandem with traditional growers to produce families with fresh, organic goods. the semi-automated, sustainable system will, they hope, drive communities towards healthier diets — the concept doesn't include production of red meats or poultry; as well as decrease environmental destruction, and aid in food security and resilience.
juliana neira
I designboom
dec 31, 2015
a diverse digital database that acts as a valuable guide in gaining insight and information about a product directly from the manufacturer, and serves as a rich reference point in developing a project or scheme.
designboom will always be there for you
milan, new york, beijing, tokyo

,
since 1999