see designboom's TOP 10 stories archive:



TOP 10 reader submissions of 2016 – private spaces
2016 was a year full of surprises where architecture practices delighted us with clever solutions for small spaces, creative upcycling techniques, and beautiful and functional spaces that respond to their context. this year we received several thousand submissions from our readers, with designers, artists and architects from across the globe sending through a diverse range of works that we have shared with our audience over the last 12 months.
we believe that maintaining an open dialogue with creatives is extremely important, and we are happy to showcase the high level of original projects of our readership. from tiny apartments to farm forest resorts, we highlight 10 private spaces from our reader submissions of 2016.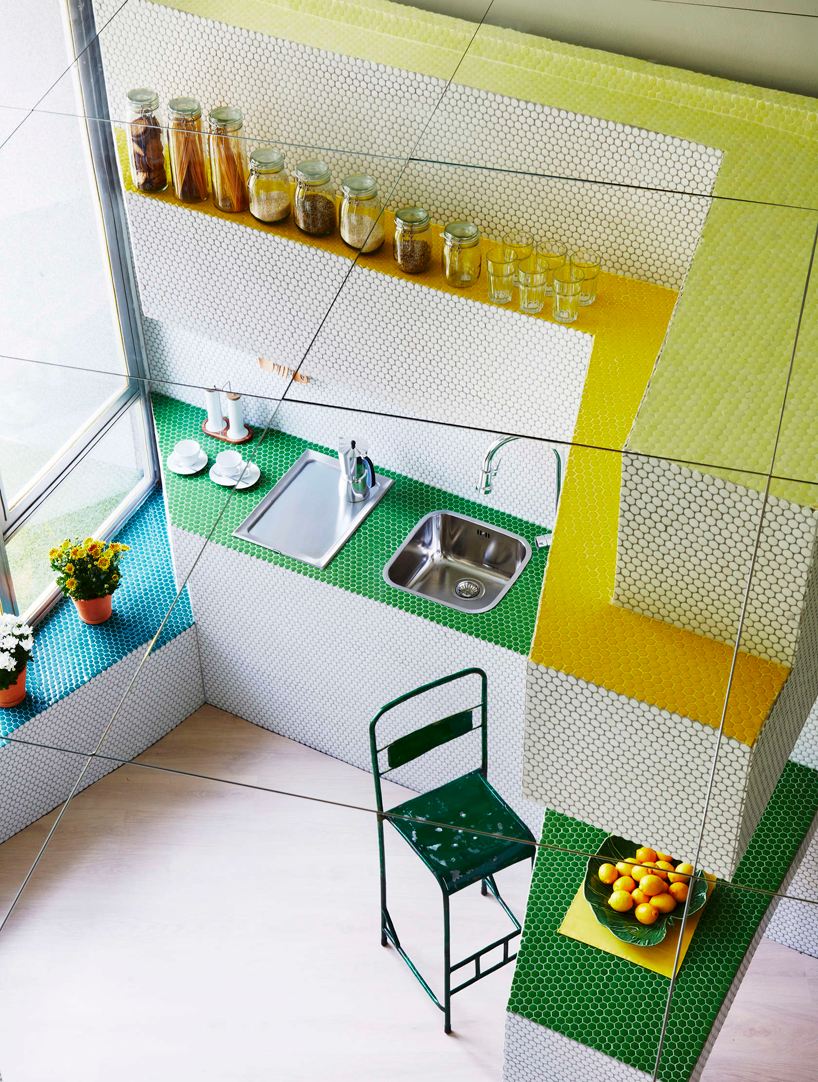 image © orlando gutiérrez
zooco estudio has transformed a 36 square-meter open space with a clear and concise geometry into a real home covered in mosaics. the concept aims to compress and expand the bands that run around the perimeter of the site in order make the best out of the small space, while dividing it in a surprising way. different elements provide spatial tension, configuring the necessary circles to accommodate the house in its minimum expression. the scheme is very clear: to fill the perimeter with the serving space and to empty the center, generating the habitable area.
read more about the project on designboom here.
MINIMAMORALIA BY JONAS PRIŠMONTAS AND TOMASO BOANO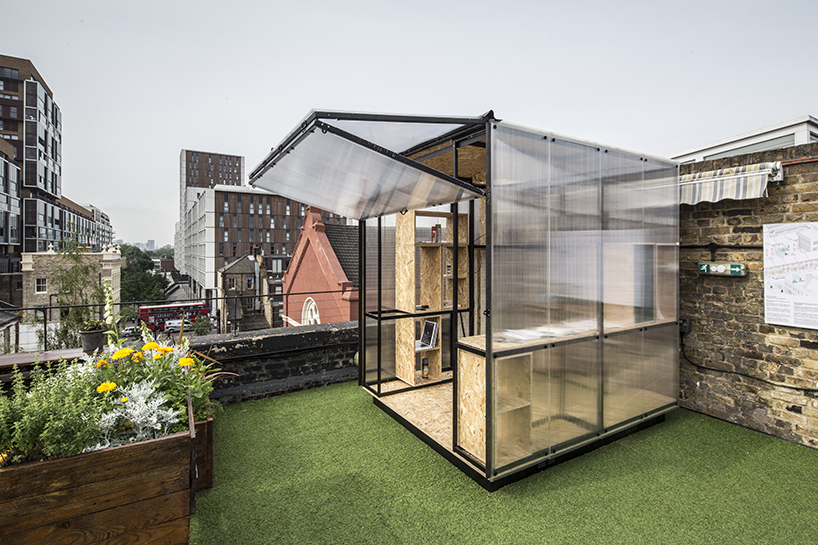 image courtesy of tomaso boano and jonas prišmontas
designed by london architects jonas prišmontas and tomaso boano, 'minima moralia' is a critical installation, a manifesto of social hope with no political intention. referencing t. adorno's 1951 masterpiece, it investigates and reflects our damaged lives in current london conditions. the project offers tiny, cellular pop-up spaces to be inhabited by designers, sculptors, painters, musicians and other creatives alike. it is a programmatic vision for london's backyards and interstitial spaces. workshop and live/work studio spaces have the potential of creating new typologies for creative communities that would pop up in unused public or private spaces around the city. its structure is made of a modular steel frame that creates an empty grid with multiple internal configurations. shelves, desks, artificial lights, and curtains can be provided to meet the user's needs.
read more about the project on designboom here.
APARTMENT FILIPPO BY STUDIO ALEXANDER FEHRE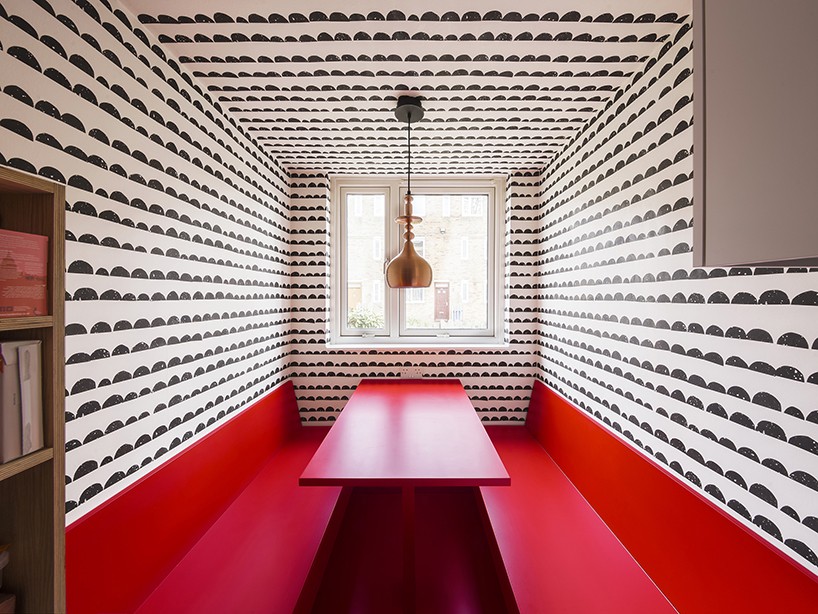 image courtesy of studio alexander fehre
stuttgart-based interior design firm studio alexander fehre has renovated — with a bespoke tailoring concept — a 45-square meter apartment located only 15 minutes away from the tower bridge in london. the renovation's intelligent use of such a small place was guided by the owner's living needs. an unusual kitchen solution freed up space in the living area, while integrating much greater functionality. the bathroom was equipped with a spacious shower, adding quite a luxurious touch, and the narrowness of the room was further enhanced. the work resulted in showing that 45 square meters can definitely be enough of a good thing.
read more about the project on designboom here.
HOUSE LUNA BY BURATTI ARCHITETTI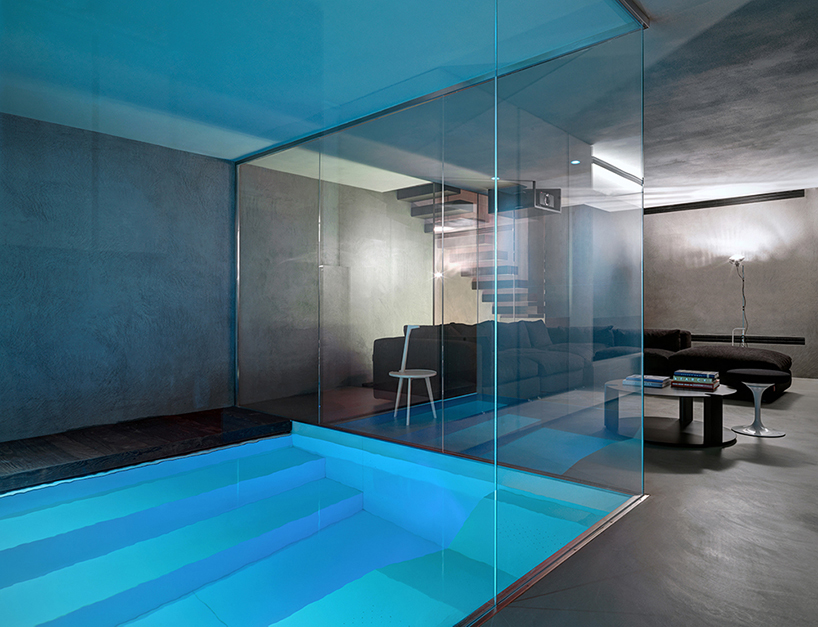 image © marcello mariana
located in the outskirts of milan, italy, 'casa luna' by buratti architetti is a project that stems from the desire of the owner to turn a duplex apartment into his new home, one that fits him, his needs and passions. when entering, a very compressed space showcases all the materials that characterize the ground floor: smoked grey oak, dark heat-treated chestnut wooden sliding panels, boiserie, and a fixed piece of furniture lacquered in striped larch. following this area, the heart of the house opens, exploding the living room with a monolithic black raw iron totem that includes in its shelves a fireplace and TV screen. a big round glass table defines the dining area and introduces the stainless steel kitchen.
read more about the project on designboom here.
FARM FOREST RESORT BY D6THD DESIGN STUDIO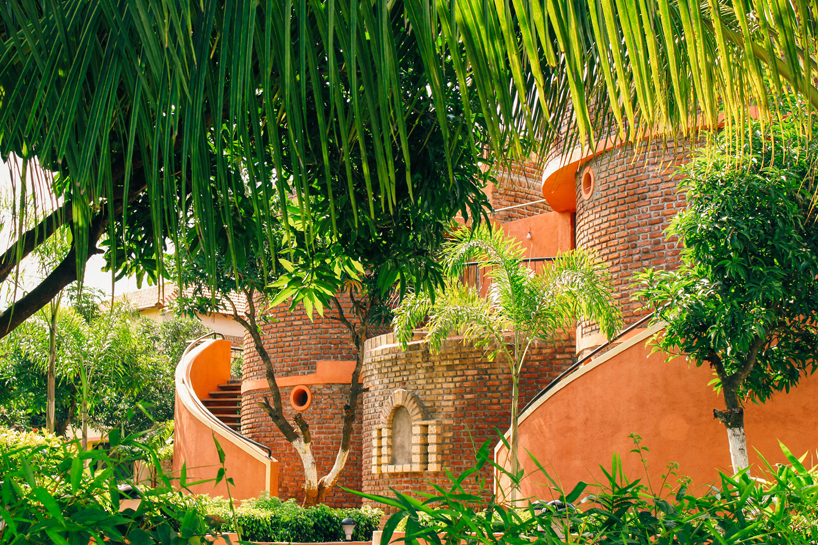 image courtesy of d6thd design studio
d6thd design studio recently completed their shyam farm forest resort project in gujarat, india. located in the bhodje village next to the gir lion sanctuary, guests are welcomed in fort-like cottages –built according to local nomadic traditions of setting up circular houses within the forest.
when visitors are close to the entrance, they can catch a glimpse of the cottages discretely hidden behind dense greenery. when one finally enters the resort, each section has a large foyer shaded by a welcoming mango tree. inbuilt seating spots made of sandstone are found below the trees, allowing for an intimate interface with the outdoors. the sequencing and orientation of the clusters is based on the availability of land within the old farm; d6thd design studio created an arbitrary layout to break down the monotony of the design. furthermore, spaces move from light to dark, hot to cool, public to private – reflected through variations in scale & proportion which offers intriguing spatial experiences.
read more about the project on designboom here.
TWO HOUSES BY ALKHEMIST ARCHITECTS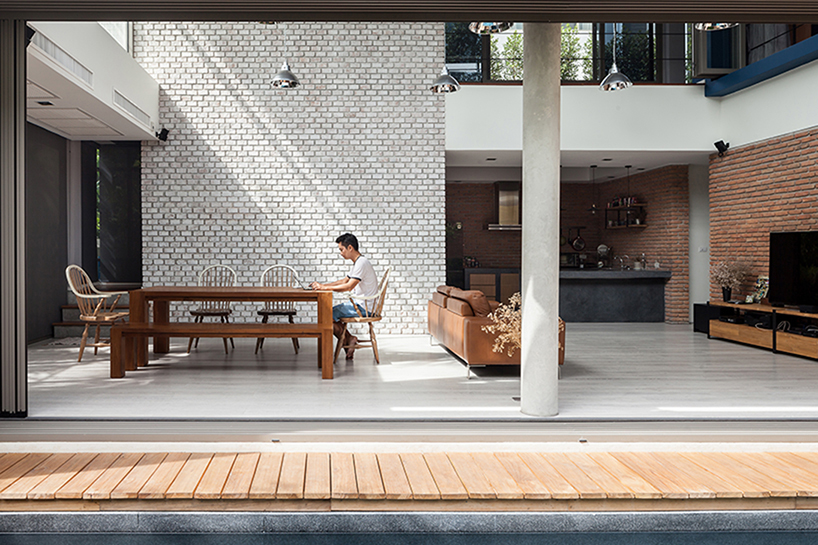 image courtesy of alkhemist architects / by ketsiree wongwan
local-based alkhemist architects was commissioned to erect two houses belonging to a pair of brothers. located in a suburban gated community in bangkok, thailand, the siblings, who are very close but have different lifestyles, wish to live close to each other and spend some time together. however, they also want to establish a private distance whenever is needed. the architect began the design process by using one simple building typology that would be then repeated on both houses. once this design development got into detail level, the logic of repetition evolved to fit the different needs of each individual. as a result, the two houses look similar on a first glance, yet they differ once they dwelled within them.
read more about the project on designboom here.
COLLAGE HOUSE BY S+PSARCHITECTS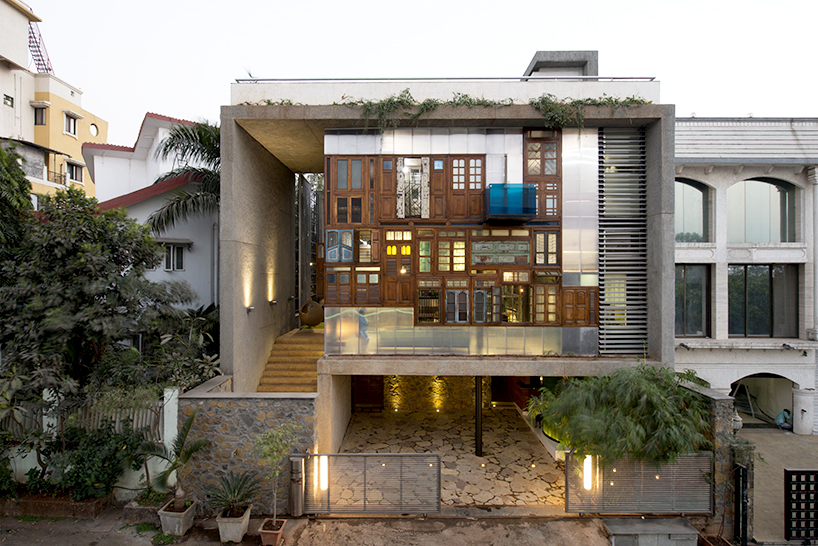 image courtesy of sebastian zachariah, ira gosalia, photographix
when living in mumbai, india, it is impossible to ignore the informal settlements in the city, and if looked at closely, there are many lessons to be learned from frugality, adaptability, multi-tasking, resourcefulness, and ingenuity. local-based S+PSARCHITECTS have seen how a visual language emerges in found objects, ad-hoc, eclectic, patched and collaged elements. an attempt has been made here to apply some of these lessons without romanticizing or fetishizing them. the project looks at the idea of collage and recycling in several ways, from the very physical — like materials, energy, etc. to the intangible — like history, space, and memories.
the front façade sets the tone for what lies within, with a corner that recycles old windows and doors of demolished houses in the city. this becomes a major backdrop for the living room with an exposed concrete faceted ceiling above countered by the polished white marble with intricate brass inlay on the floor. metal pipe leftovers pieced together like bamboo form a 'pipe wall', integrating structural columns, rainwater down take pipes and a sculpture of spouts that in the monsoon are a delight for all the senses.
read more about the project on designboom here.
MANGO TREE HOUSE BY UJJVAL PANCHAL & KINNY SONI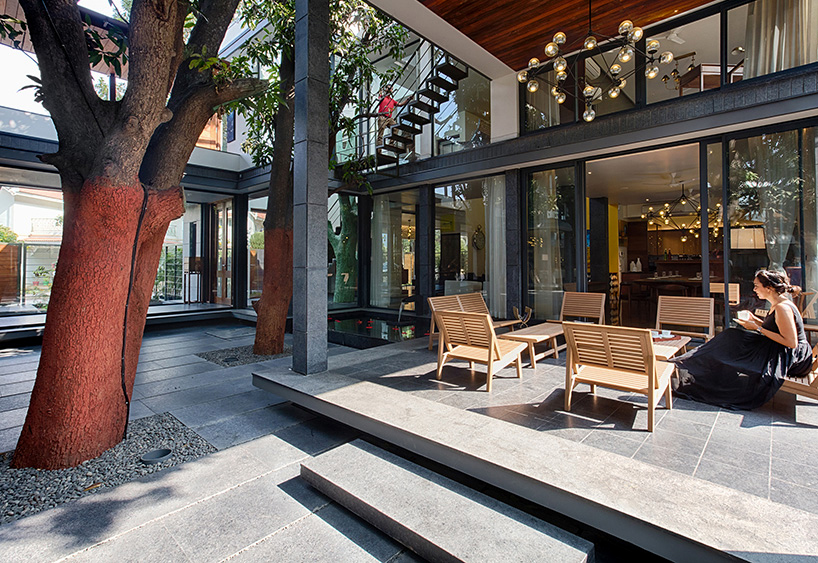 the 'mango tree house', is a private residence in bhopal, india designed by architects ujjval panchal and kinny soni. as suggested by its name, the home's concept focuses on the appreciation and integration of several mature mango trees on the plot. split into two major blocks, every component of the design communicates the experience of 'living under the foliage'.
conceived of as a solid envelope from outside, the residence is very private. this was done to allow the break down of all formal barriers between interior and exterior. all spaces are designed as more-or-less open pavilions, each of which centers itself around a mango tree. prominent use of glass, in addition to flat ceilings and continuous floor planes further the home's ambiguous nature.
read more about the project on designboom here.
FOUR CARAVANSÉRAILS BY OUALALOU + CHOI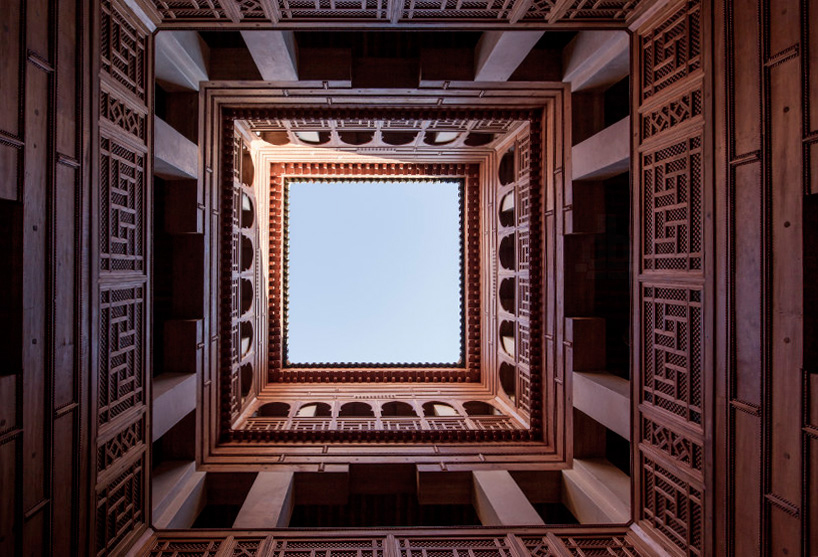 images courtesy of oualalou + choi
architecture firm oualalou + choi was given the honor in rehabilitating four of the caravansérails of the medina of fez, morocco. listed as a UNESCO world heritage site since 1981, the historically and culturally rich town has become a focal point for conservation. the project is broad, spanning multiple disciplines including urban design, architectural restoration, and landscaping.
oualalou + choi chose to focus specifically on the city's longstanding copper work industry, and tackles the associated morphology, physical displacement, and environmental impact of the artisanal activity. structures included in the effort date from the 14th – 17th centuries, and also the creation of a new building.
read more about the project on designboom here.
H.A GIVES VIETNAMESE ZEN HOUSE AN AIR OF MONASTERY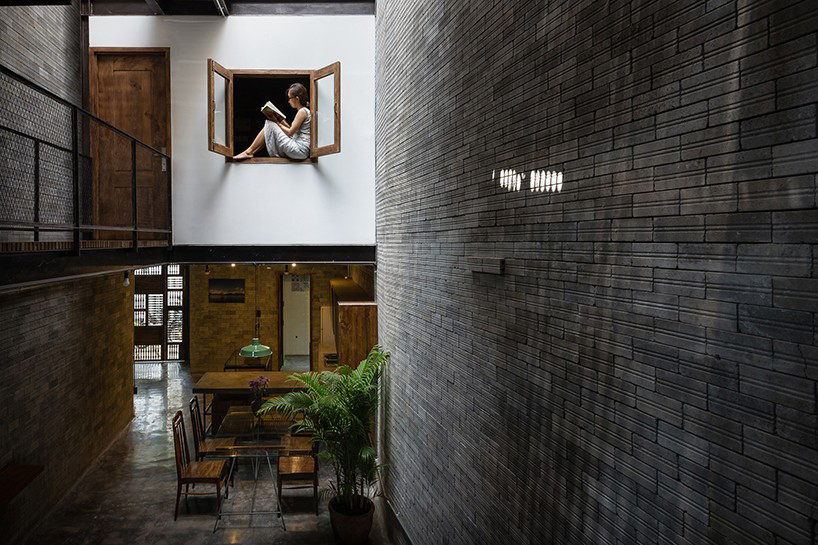 image courtesy of H.A / © quang tran
H.A. architecture has finished a 78 square-meter house located in binh thanh, sai gon, vietnam, owned by a buddhist family looking forward to have a place of peace, tranquility, and completely free from the hustle of the city. with this in mind, the design aimed to create more than a house, a monastery that would allow its users to be in a calm, restful, relaxing and soothing home. to do so, the program works towards a limitless space, where the user can either travel or stand in one place, having angles filled with transparency, generating a continuous open environment.
read more about the project on designboom here.
Save
Save
juliana neira
I designboom
dec 01, 2016
a diverse digital database that acts as a valuable guide in gaining insight and information about a product directly from the manufacturer, and serves as a rich reference point in developing a project or scheme.
designboom will always be there for you
milan, new york, beijing, tokyo

,
since 1999