see designboom's TOP 10 stories archive:



TOP 10 READER SUBMISSIONS OF 2016 – SOCIAL IMPACT
social responsibility has been one of the most relevant topics of 2016. with the immigration crisis in europe, global warming's wrecking havoc and communities still living in absolute poverty, both architects and designers have managed to find ways to help people and generate social impact through their practices. this year we received several thousand submissions from our readers, with designers, artists and architects from across the globe sending through a diverse range of works that we have shared with our audience over the last 12 months.
we believe that maintaining an open dialogue with creatives is extremely important, and we are happy to showcase the high level of original projects of our readership. from non-rectangular football fields in densely populated areas to urban farming, we highlight our TOP 10 reader submissions of 2016 social impact.
WORLD'S FIRST NON-RECTANGULAR FOOTBALL FIELD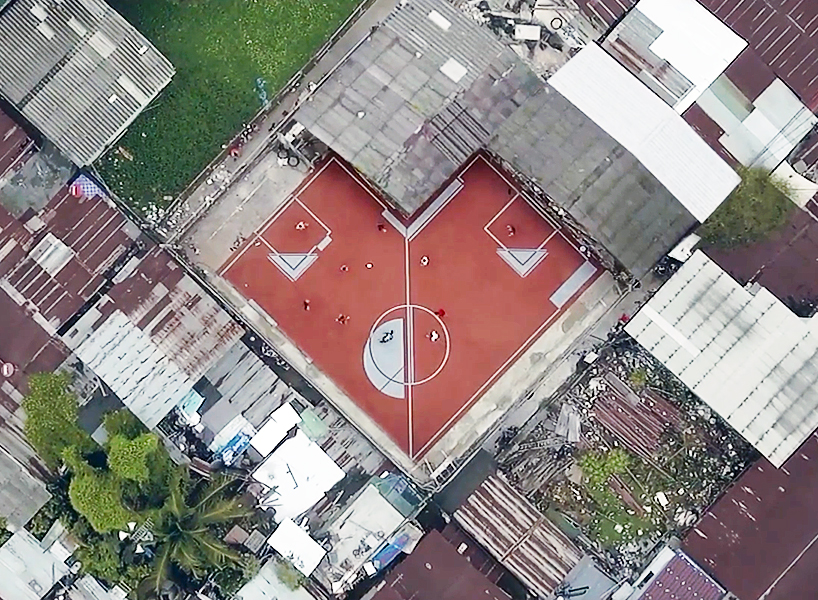 image courtesy of AP Thai
the world's first non-rectangular football field has been constructed in the community of khlong toei, a densely populated area of bangkok, thailand. the project, which includes a series of play areas, seeks to demonstrate that otherwise vacant asymmetrical spaces can be utilized for outdoor recreation. the scheme has been developed by AP thailand, in collaboration with CJ worx, who hope that the project will help enhance relationships among the people in the community.
read more about this project on designboom here.
MICROINSTALLATIONS IN POLAND BY NO STUDIO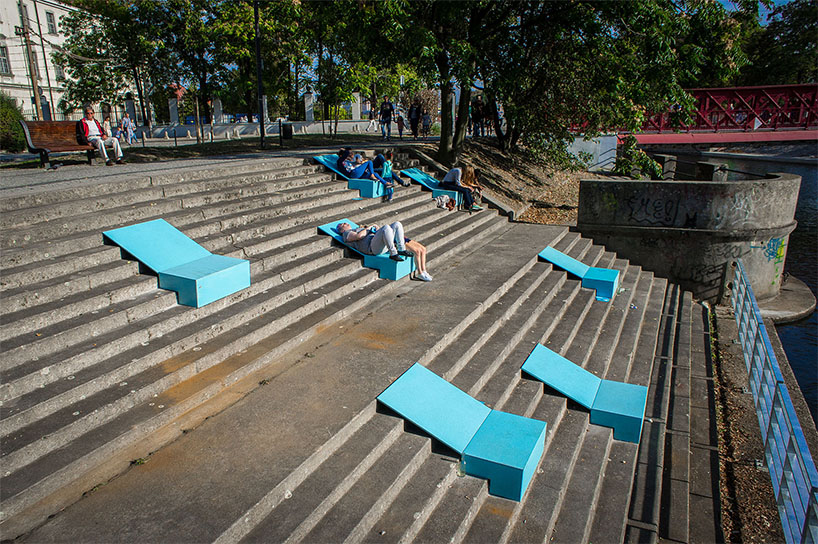 image courtesy of no studio
founded by magda szwajcowska and michal majewski, wrocław-based no studio's portfolio contains works that range from temporary architecture to product design to small architecture. for the local festival DoFA (lowersilesian festival of architecture), they created the 'microinstallations' — a series of small interventions in the urban space that aim to restore the forgotten city and its neglected locations. the project is located on the unused concrete stairs that lead to the river next to wrocław's historic bridge, where the studio has placed simple half-chairs – half-sunbeds to recover the area, inviting people to sit down, sunbathe, and enjoy the view.
read more about this project on designboom here.
INCOME INEQUALITY BY HERWIG SCHERABON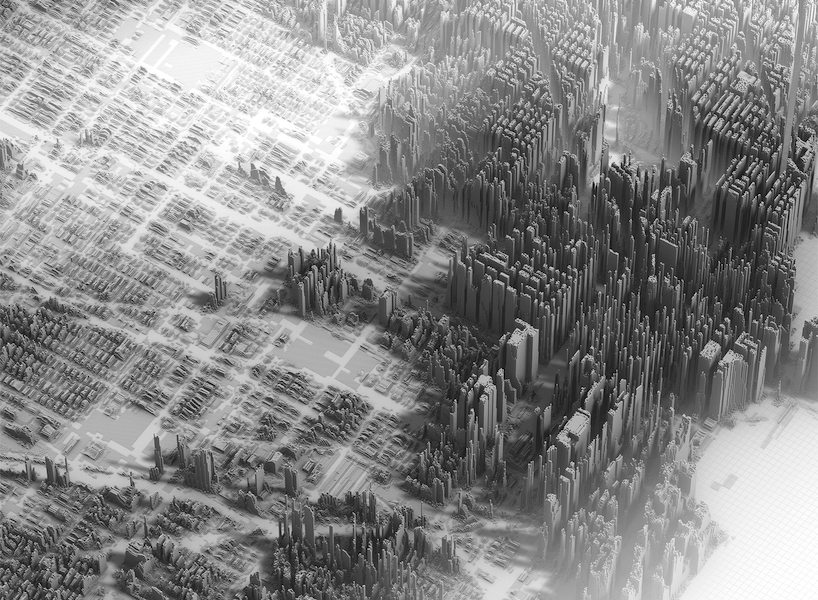 image courtesy of herwig scherabon
herwig scherabon's 'income inequality' project details los angeles' and chicago's income levels through a series of abstract data diagrams. the images reveal an architectural aesthetic by showing a high-resolution matrix of blocks that mimic the appearance of magnetized iron. the poorest neighborhoods in the city are clearly distinguishable and stand out in contrast to the highest towers belonging to the rich. the creator states that there is an obvious division between rich and poor in modern cities. the patterns and correlations within the urban fabric, as well as the politics behind urban planning, reveal a lot about the people that live in these places and the powers that shape them.
read more about this project on designboom here.
TRUMP'S WALL PROPOSAL BY STUDIO 3.14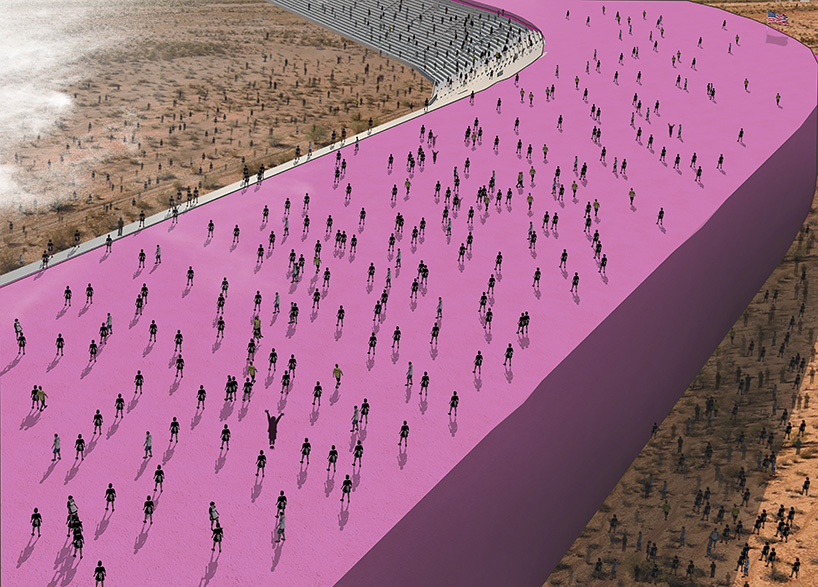 image courtesy of estudio 3.14
trump has spoken of a wall but the public hasn't been able to imagine it. the intern program at estudio 3.14 — a design firm based in guadalajara, méxico — in collaboration with the mamertine corporation of the united states, have envisioned a wall along the mexican-american frontier. the project includes architectural renderings of the structure in various border landscapes (hills, desert, a border crossing over a river, and in urban tijuana), floor plans, iconography, and an infographic, as well as a symbolic use of the wall on the american currency. the design references luis barragán's pink walls that are emblematic of mexico while taking advantage of the megalomaniac of wall building in architecture.
read more about this project on designboom here.
FAITH MOVES MOUNTAINS BY ESPACIO CERO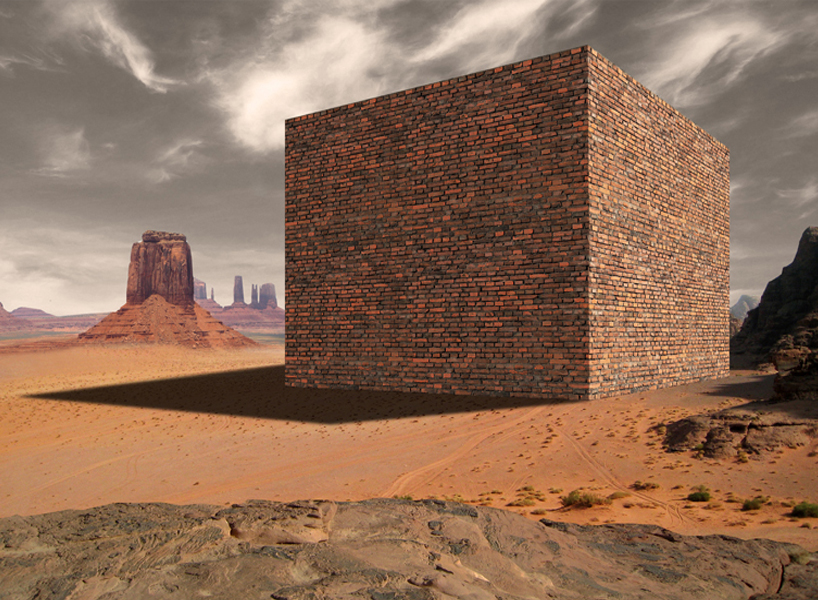 image courtesy of espacio cero
'faith moves mountains' by espacio cero is a project that aims to create a prison for 500 inmates to explore how architecture can help in shaping environments that influence behaviors. a central flaw with incarceration is the high rates of recidivism—or how a large number of released prisoners relapse into crime and soon end up behind bars again. the numbers vary from country to country, but the bureau of justice statistics in the united states reports that one-third of all inmates released from US prisons in 2005 were arrested again within a year. in total, more than 75% of those released were arrested again within five years. the concept sees the desert as a natural prison, where inmates are forced to live in harsh conditions.
read more about this project on designboom here.
HOUSE FOR SOMEONE LIKE ME BY NATURA FUTURA ARQUITECTURA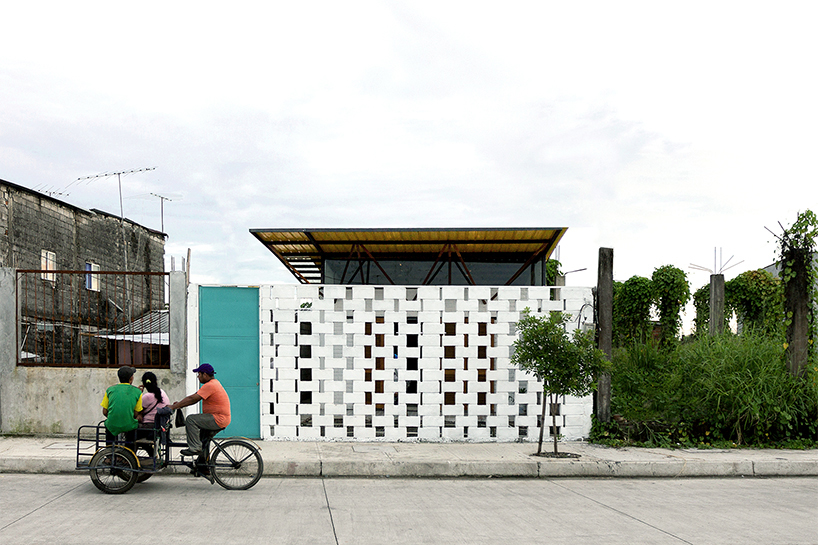 image courtesy of natura futura arquitectura / by christian guerrero
located in the city of babahoyo, provincia de los ríos, ecuador, 'house for someone like me' is built on a vulnerable and insecure suburb, with a fast-growing population that has opened the possibility for new constructions. vero — the owner of he house — is a young entrepreneur and mother of two, who manages her own business selling fruits and vegetables in the center of the city. for her, natura futura arquitectura considered a dwelling that makes the best out of the small lot — a 7×20 meter space. the design proposes a two-bedroom house, with an open space that consists of a dining room, living room, kitchen, bathroom, and courtyard.
read more about this project on designboom here.
PROYECTO CHACRAS BY NATURA FUTURA ARQUITECTURA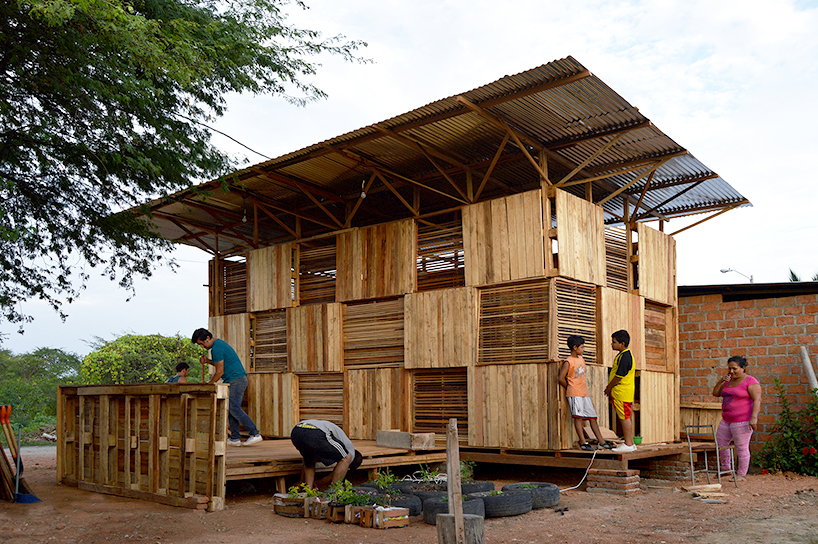 image courtesy of natura futura arquitectura
located in the province of el oro, ecuador, the town of chacras appears like an old western movie, full of historical references by its proximity to its neighboring peru (manuelita saenz, simon bolivar's romantic partner lived here). don velfor — an inhabitant who lost his home in the ecuador earthquake in april this year — found refuge in an area of 12 x 10 meters partially occupied by his mother-in-law there. the project was conducted in may 2016 in a period of 10 days. natura futura arquitectura in collaboration with cronopios-el oro (a collective dedicated to cultural management) carried out the different processes.
read more about this project on designboom here.
NJORO CHILDREN'S LIBRARY BY PATRICIA ERIMESCU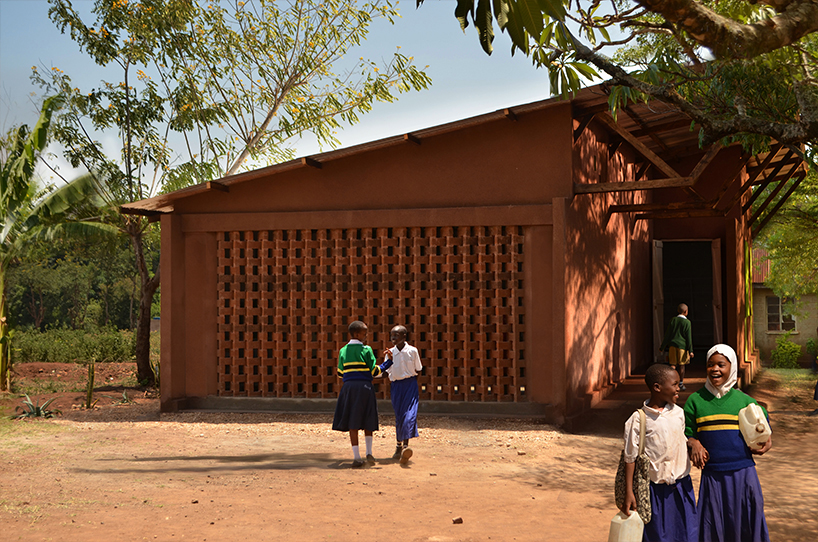 image by patricia erimescu
the 'njoro children's library' is located in mailisita, on the lower slopes of mount kilimanjaro. the area is situated in isolation and the njoro primary school and new library must function efficiently without the use of grid energy. the project was initiated by patricia erimescu in collaboration with the local NGO excel education foundation to complete educational facilities in tanzania that integrate the community by acting as a participative project built by locals and volunteers. the architecture borrowed extensively from local tanzanian culture and involved its users in the process to ensure it met their specific needs.  materials and construction methods familiar to local builders help the structures fit into their context and respond to the prevailing climate.
read more about this project on designboom here.
VERTICAL FARM BY ILIMELGO ARCHITECTS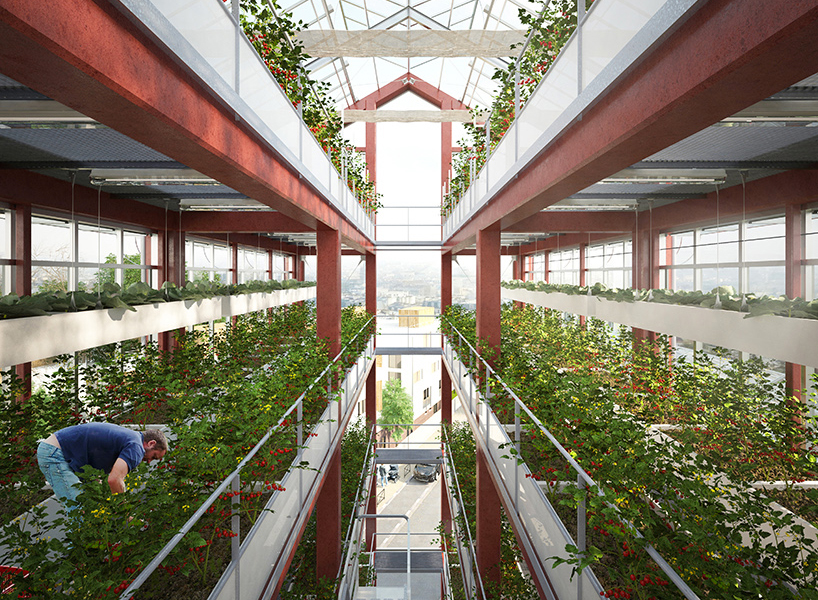 image courtesy ilimelgo architects / by poltred
vertical farm's design by ilimelgo architects aims to house crops and maximize their exposure to sunlight. a shaft opening created in both parts of the building enables light to circulate and enhances thermal exchanges. this void also allows for materials to circulate around easily to respond to the urban gardener's needs. the intent is to create a dynamic junction between traditional market gardening and technological innovation. this proposal represents an opportunity to provide the inhabitants with fresh food and to improve the quality of nutrition locally. the project strives to reconnect town and country, sky and ground.
read more about this project on designboom here.
MICRO WIND TURBINE BY WILS FERBER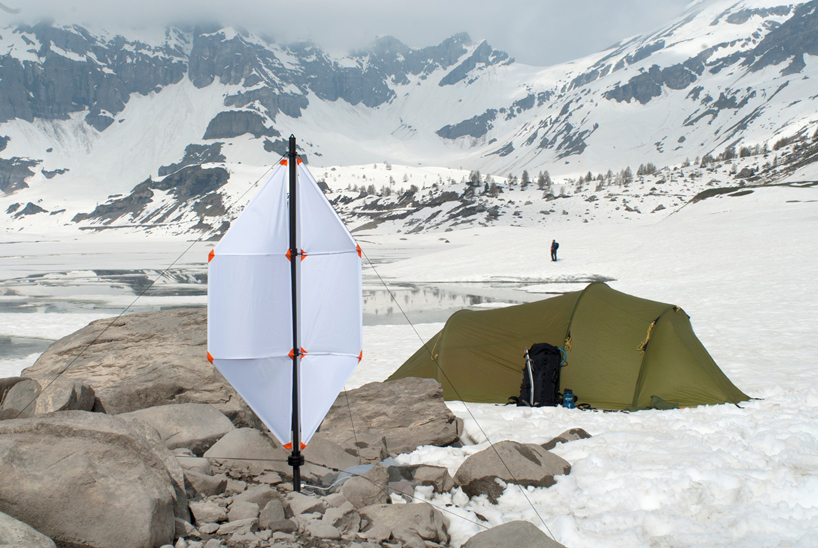 image courtesy of dubai design week
the 'micro wind turbine' is a compact, lightweight, portable charging device, designed by student nils ferber, at the école cantonale d'art de lausanne (ECAL) in switzerland. the device which weighs less than one kilogram operates day and night and can be folded down to the size of a trekking pole.
after repeatedly running out of batteries during long trekking tours, nils feber wondered how professional adventurers dealt with the situation. this led him to contact a number of mountaineers, climbers, film-makers and expedition leaders to ask them questions about their experiences, requirements and the typical weather conditions that they had endured in remote locations. feber says that 'all of them told me they use solar panels to recharge, but being entirely dependent on sunshine is a huge problem – sometimes putting them out of work for several days.' the 'micro wind turbine' provides the perfect solution to these problems and has already received an overwhelming positive response from professional trekkers. the device is 40% lighter than its closest competitor and packages in a bigger rotor, enabling a high output even at low wind speeds.
read more about this project on designboom here.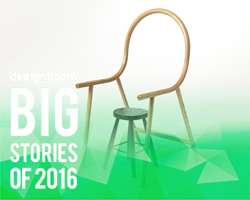 dec 24, 2016
dec 24, 2016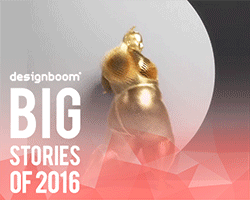 dec 22, 2016
dec 22, 2016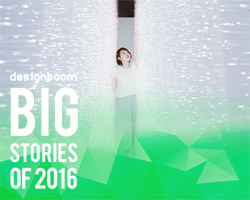 dec 22, 2016
dec 22, 2016
dec 21, 2016
dec 21, 2016
dec 20, 2016
dec 20, 2016
dec 19, 2016
dec 19, 2016
a diverse digital database that acts as a valuable guide in gaining insight and information about a product directly from the manufacturer, and serves as a rich reference point in developing a project or scheme.