unlike realized projects, architectural visualizations have the power to push the boundaries of our imagination and conceive of buildings that are truly radical. with our readers portal at designboom, we get to delve into the minds of architects and designers on an international scale, and thanks to the thousands of submissions we received during 2019, we have shared countless projects that have both captivated, and at times provoked, our audiences.
this year we have shared a huge variety of work, from off-shore living to dreamy renders of a dystopian reality where trees are scarce. hoping to awaken your imagination once more before we move into 2020, we highlight our TOP 10 reader submissions of 2019 – visualizations of the future.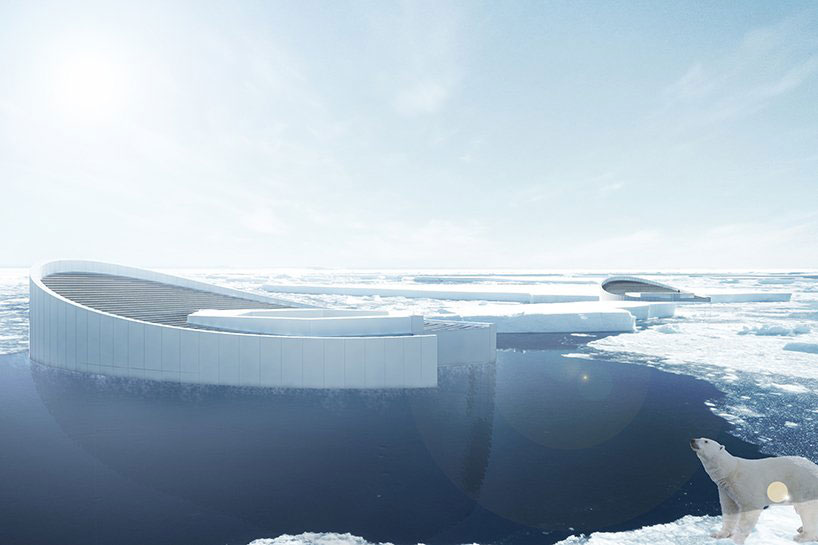 as part of an international design competition initiated by the ASA (the association of siamese architects), faris rajak kotahatuhaha, denny lesm ana budi and fiera alifa were awarded 2nd prize with their project that proposes to re-freeze the arctic. just as reforestation in tropical and sub-tropical regions helps to restock depleted forests and woodlands, the idea behind the submarine architecture investigated how to respond to melting ice caps. focusing on prevention rather than a cure, the design team's proposal sought to restore the polar ecosystem by re-freezing sea water that has melted into new 'ice fields'.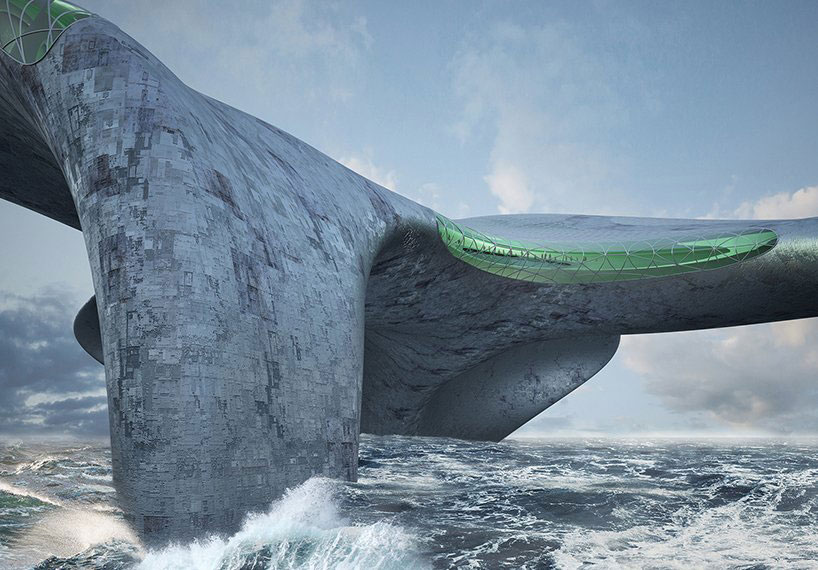 'flolony' is a changeable buoyancy floating housing unit, made up of a mobile naval architecture piece equipped with autonomous energy and developed on a geometry which enables the vessel to adapt to any marine conditions, even the extreme ones. developed by italian studio hov, the structure has the upper part always out of the water, controlled by systems that can guarantee the maximum supply of vital elements (light and water), useful for the residential/productive metabolism of the colony.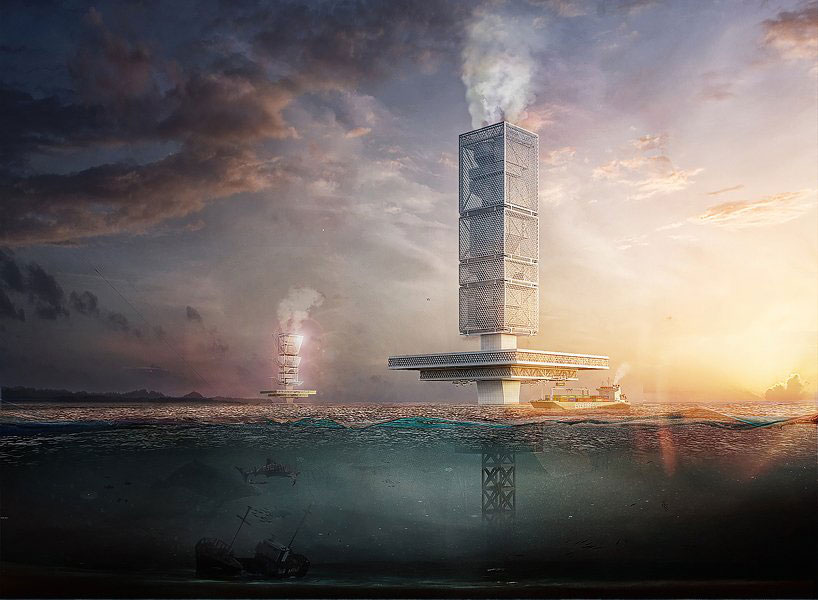 conceived by US-based architectural designer honglin li, 'FILTRATION' is a floating skyscraper imagined to clean up our seawater by recycling the plastic and debris found in the infamous 'great pacific garbage patch'. receiving honorable mention in the evolo 2019 skyscraper competition, the modular, prefabricated waste-management and waste-to-energy megastructure proposed a solution to the global environmental and energy crisis.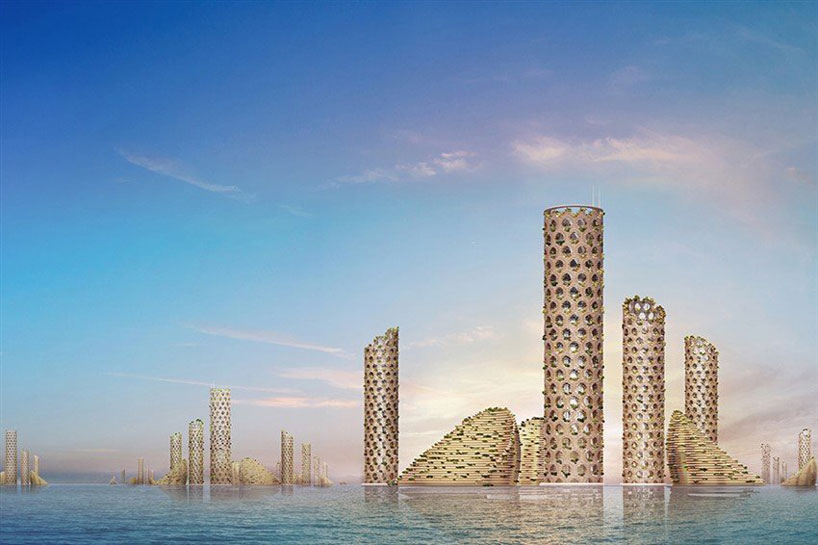 architecture firm luca curci architects presented vertical city, a project proposal for a vertical city-building of 25,000 people settled in the water. a number of renewable energy resources, such as wind, water turbines and solar panels are incorporated into the project, following a zero-waste policy. the city includes energy storage solutions, water desalination system, and integrated food production and farming encouraging a healthier and more sustainable lifestyle.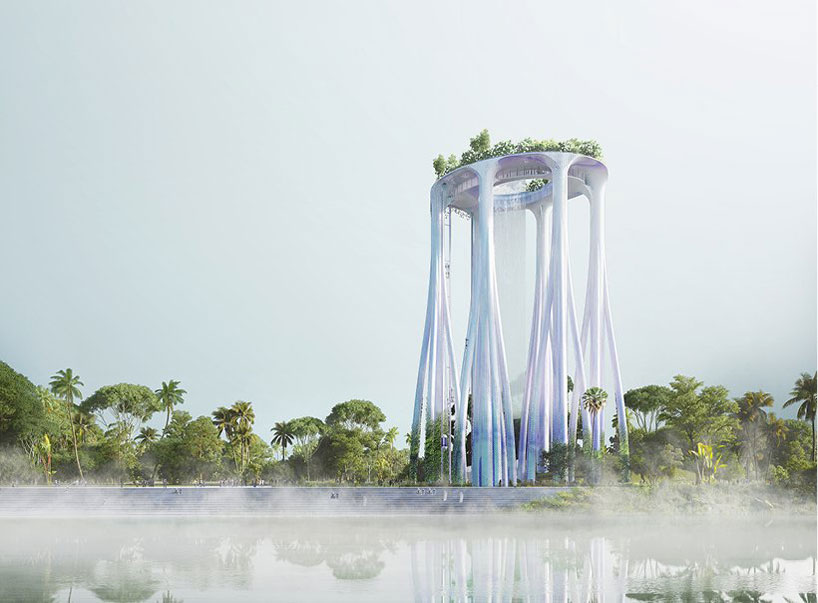 as part of a global competition to design a memorial building on singapore's waterfront, XTU architects presented their entry for a site located within the prominent bay east garden. first launched in january 2019, the project called to architectural practices around the world to create a new landmark in celebration of the country's founding leaders and unique cultural identity. in response, the paris-based studio, XTU, envisioned a huge 'root-like' structure that puts nature and a giant waterfall at it's center.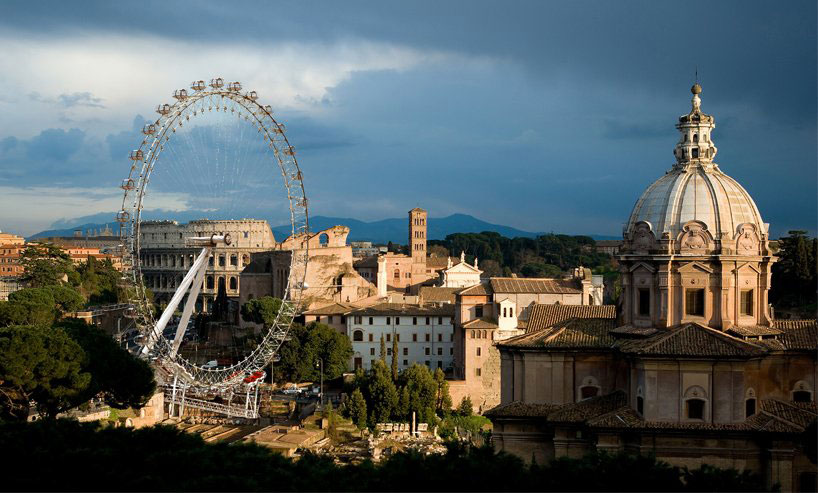 m²ft architects revealed their 'what if' project that depicts a number of famous sites in rome re-imagined with contemporary architecture from around the world. the series of visualizations posed the question: what would happen if we changed the context of these iconic interventions? from placing the london eye in the roman forum, to the famously 'inside out' centre pompidou being relocated to rome's piazza navona, 'what if' showcased a collection of seemingly fantastical scenes.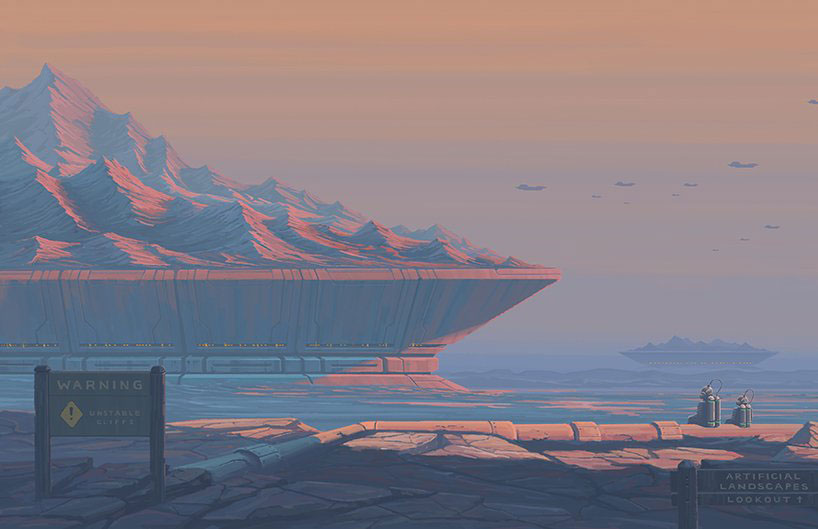 once long ago, planet earth held many high hills and wide forests, that existed outside of a museum's walls. australian architect and illustrator nick stath contemplated a nostalgic world where humans can only remember these natural features. his work encompassed an illustrated fairy tale, winning second prize in this year's sixth annual fairy tales competition run by blank space.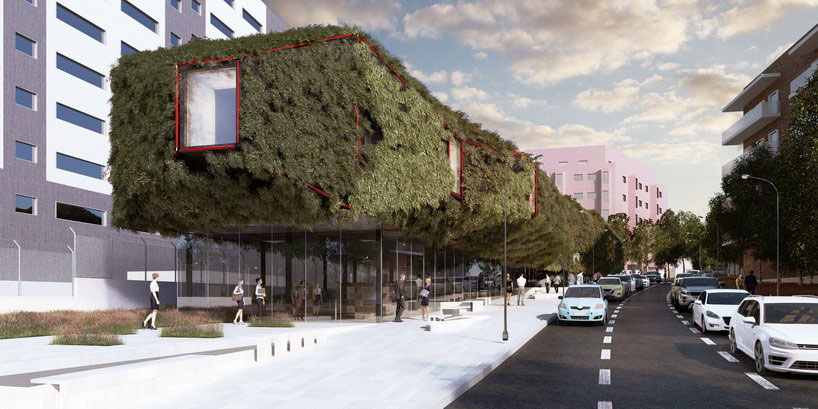 'the green spaceship' by 3GATTI proposed to land in madrid's villaverde, providing a new municipal library for residents of the area. the concept behind the project aimed to create a recognizable landmark within the district – a public building that is not hidden from citizens, but attracts them inside.
lissoni architettura proposed the 'high lines' pedestrian crossing as a new landmark within the urban fabric of new york. the main concept behind the project was not to create just another elevated walkway, but rather to reinvent a completely new vision for this part of the city. using the morphology of the city and the evident contrast of scale between the existing buildings and the sidewalk, the bridge evolved like a living organism that constantly changes shape by adapting to the heights of the adjacent structures.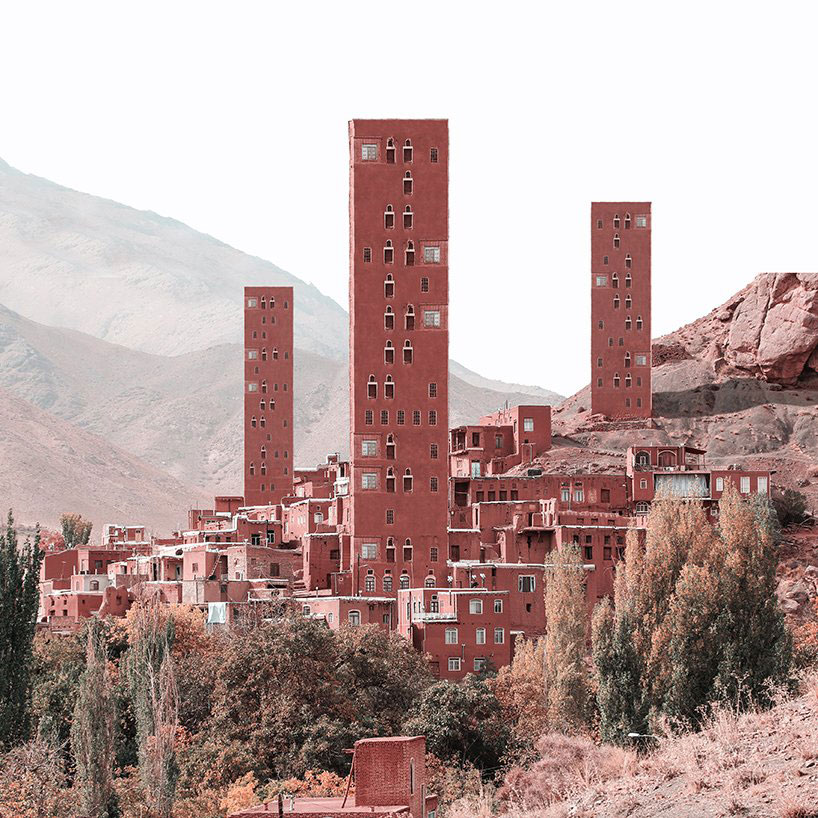 from the designer who brought us the dreamy iranian monuments that look as they come straight out of movies, his new photomontage series in the 'retrofuturism' collection, depicted imaginary skyscrapers within the arid context. once again, mohammad hassan forouzanfar experimented with the lack of verticality in traditional iranian architecture and imagined how tall buildings would look as if designed with the vernacular style.
see designboom's TOP 10 stories archive: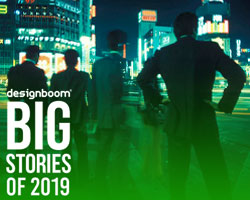 dec 25, 2019
dec 25, 2019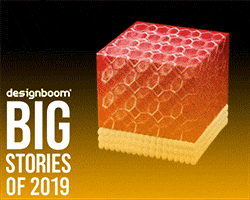 dec 24, 2019
dec 24, 2019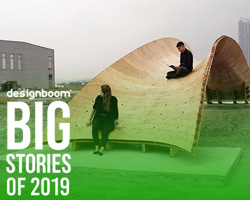 dec 20, 2019
dec 20, 2019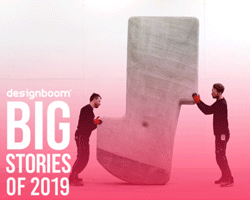 dec 19, 2019
dec 19, 2019
dec 18, 2019
dec 18, 2019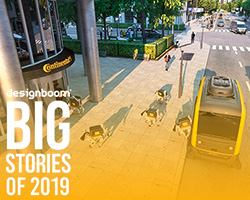 dec 17, 2019
dec 17, 2019
a diverse digital database that acts as a valuable guide in gaining insight and information about a product directly from the manufacturer, and serves as a rich reference point in developing a project or scheme.