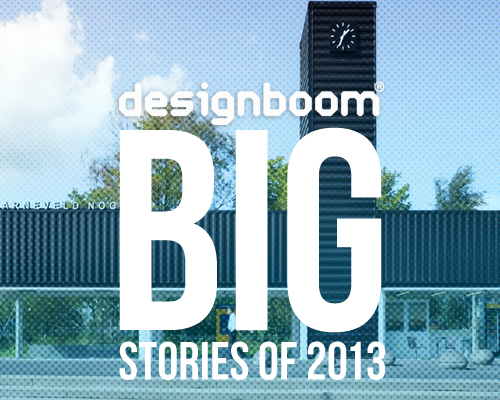 dec 27, 2013
TOP 10 shipping container structures of 2013

TOP 10 shipping container structures of 2013
originally only used to transport cargo across the globe, shipping containers were so cheap to manufacture that it was economically more viable to leave them at the freight's destination, rather than to return them to their origin, or re-use them for the same function. consequently, the last few years have seen architects and designers repurpose the steel enclosures, utilizing their flexible and adaptable nature, which means that they can be constructed almost anywhere. cheap, lightweight, and readily available, designboom's TOP 10 shipping container structures of 2013 includes a range of imaginative and inventive uses for the modular units.
below, we recap the most popular container designs from the past twelve months.
barneveld noord bus station by NL architects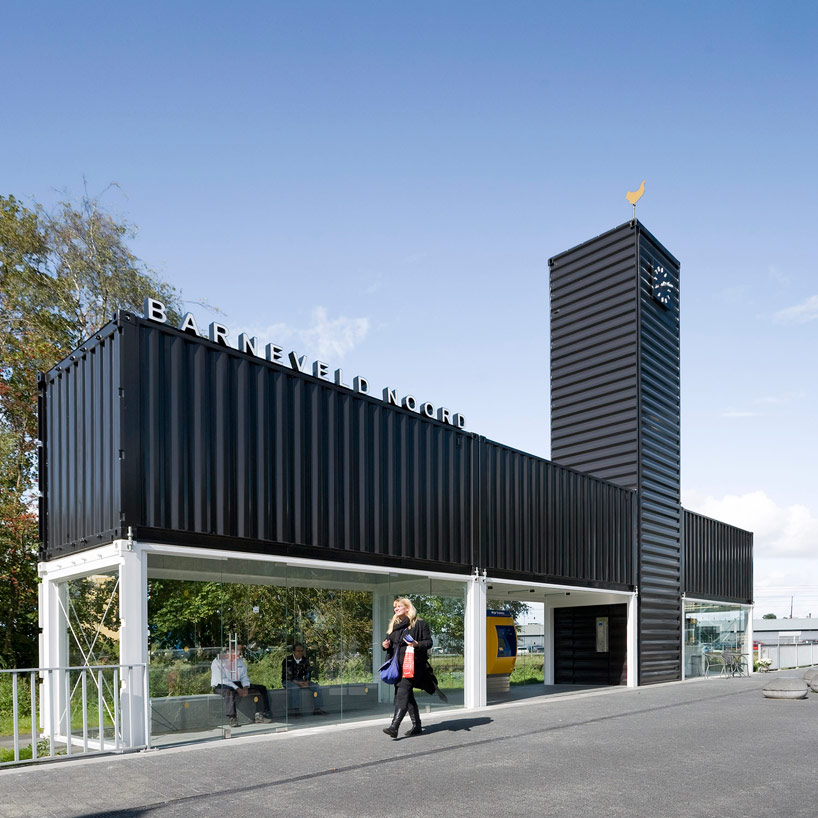 photo by marcel van der burg
image courtesy of NL architects
NL architects has developed a temporary shelter at 'barneveld noord bus station' in the netherlands, designed to improve the waiting experience. at the station, an on site bike repair shop, run by people who are differently able, will introduce a human presence to a previously unmanned post. this has created informal supervision, and has helped contribute towards the general maintenance of the site.
ECOntainer bridge by yoav messer architects ltd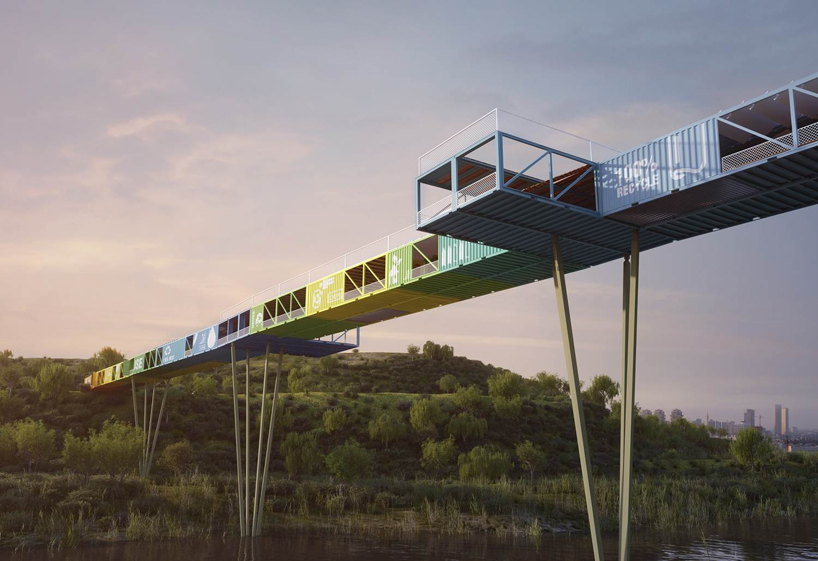 image © yoav messer architects
'ECOntainer bridge', by israeli practice yoav messer architects, will soon be under construction in ariel sharon park, a nature conserve rooted in the ideas of environmental ecology and sustainability. the deck will accommodate pedestrian and light vehicle traffic, freeing the roadways for vehicles and improving the flow of both. the containers' modular characteristic makes it ideal for replacing or repairing parts, modifying certain points of the design, and using the natural proportions to frame specific views.
casa oruga by sebastian irarrazaval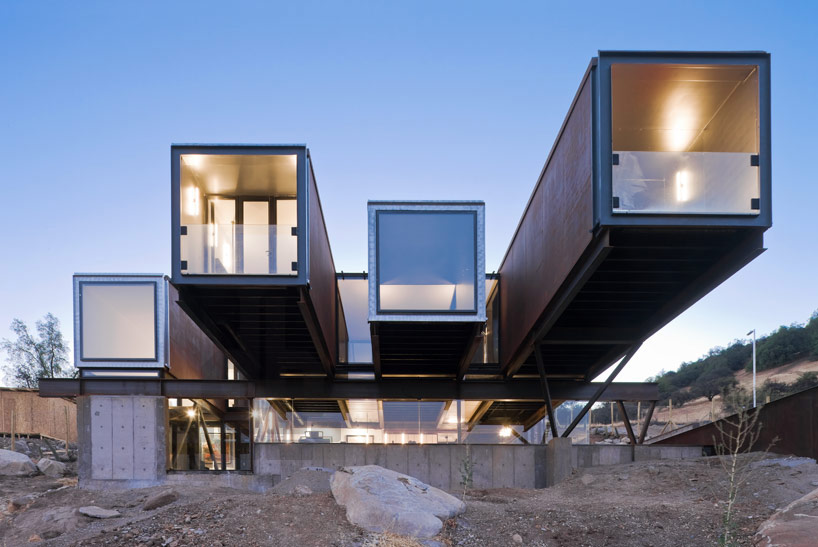 image © sergio pirrone
responding to the powerful tectonics of the chilean andes, 'casa oruga' by sebastian irarrazaval, makes use of modular shipping containers to create habitable volumes that streak the landscape with soaring lines. the configuration allows external air to run smoothly and easily through the all house and its different parts in order to avoid mechanical cooling.
EKOCENTER by coca-cola company and DEKA R&D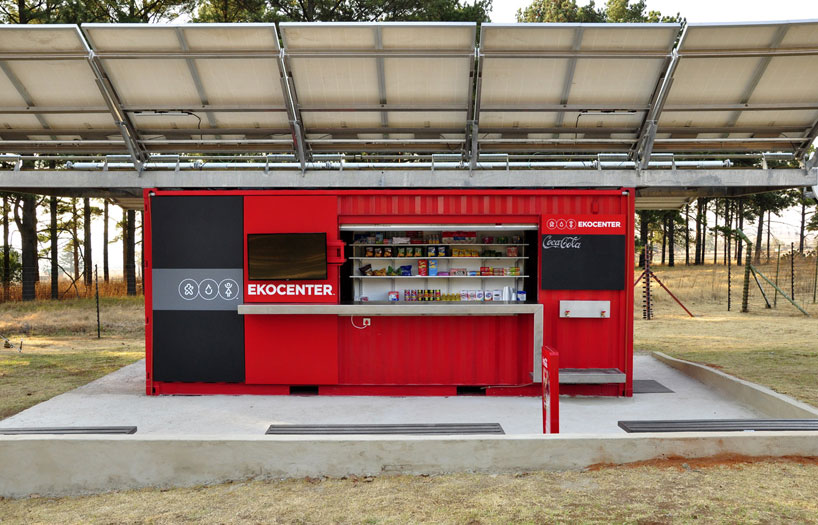 image © coca-cola company
to help provide communities in need with access to safe drinking water and other basic necessities, the coca-cola company, together with DEKA R&D have launched 'EKOCENTER'. the modularly designed kiosk, which has been transformed from a 20-foot shipping container, with a water purification system housed within the community center. the system delivers approximately 800 liters of clean water daily at the hourly electricity cost of less than a standard hair dryer.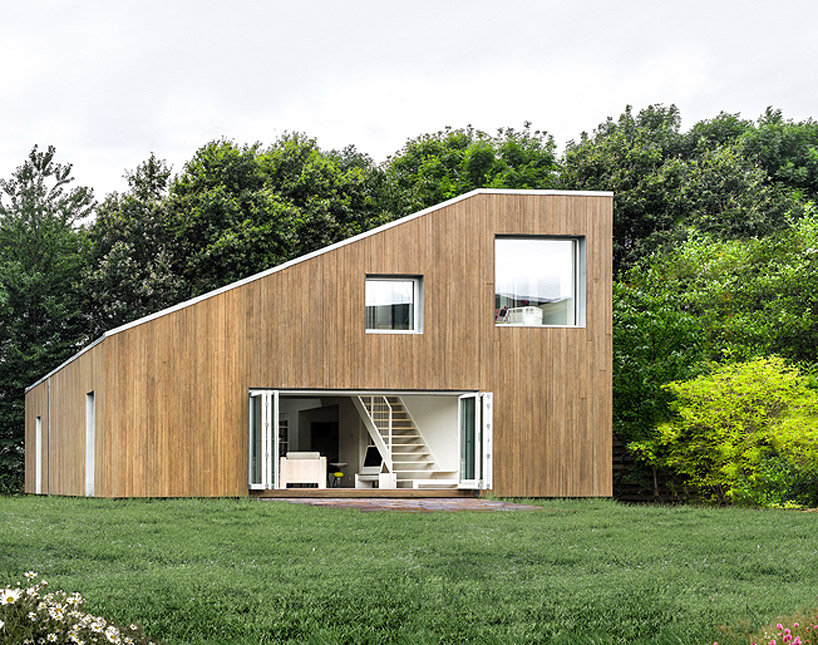 image courtesy of arcagency
copenhagen-based arcgency have constructed a carbon-neutral dwelling made up of three stacked shipping containers. in keeping with changing european energy policy, the architecture is designed to produce more energy than it consumes through the use of upcycled containers as a steel frame, a sustainable bamboo façade, a rainwater collection system, solar cell-clad green roof and permeable paving.
bharati antarctic research station by bof arkitekten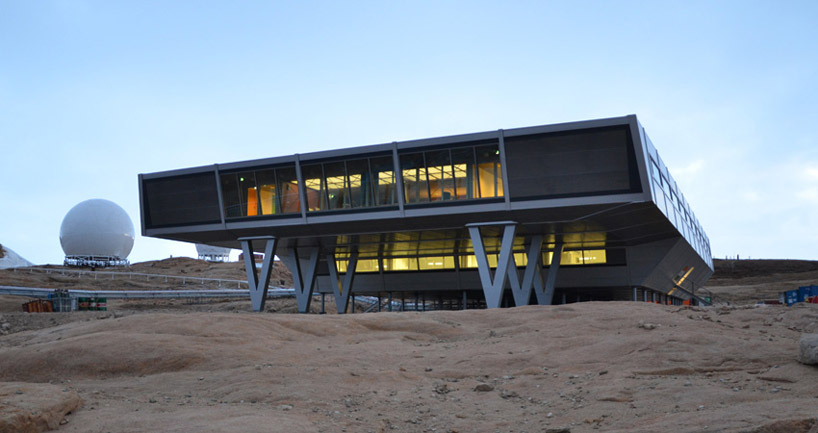 image courtesy bof architekten
situated on a pen­in­su­la in nort­heastern antarc­tica, the 'bharati antarctic research station' by hamburg-based bof arkitekten presents a self-sufficient energy facility comprising 134 shipping containers wrapped with an insulating metal skin. the development is conceived as an architectural volume that can be readily dismantled due to restricted accessibility within the region.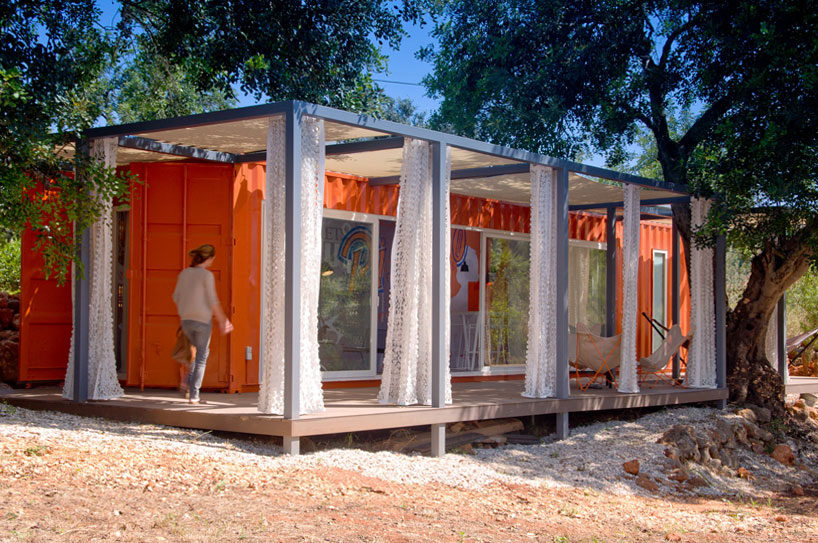 image courtesy of studio arte
studio arte has been exploring the notion of nomad living in their architectural practice, resulting in a series of shipping container structures that they see serving a multitude of purposes: a start up for young home owners, a holiday home, a concept for holiday resort planners, a shed for guests, a home office, a home studio, a pop-up, or a hotel room.
hoonigan racing division headquarters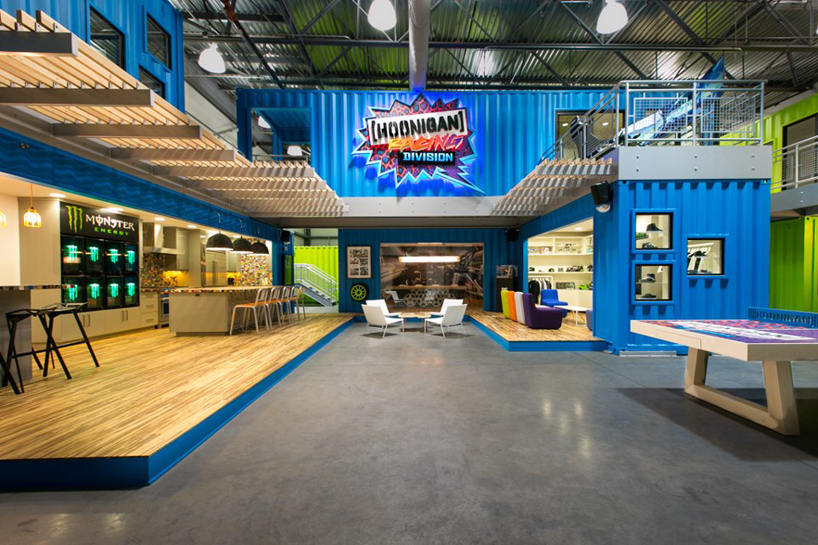 located in park city, utah, the scheme utilizes 17 recycled containers to construct a reusable workspace. the design houses the 'gymkhana' mastermind – a 12,000 square foot facility divided evenly into two spaces: a creative office space capable of housing up to 25 employees, and secondly a workshop which services the team's race vehicles.
jike idea innovation building by jikerzhicheng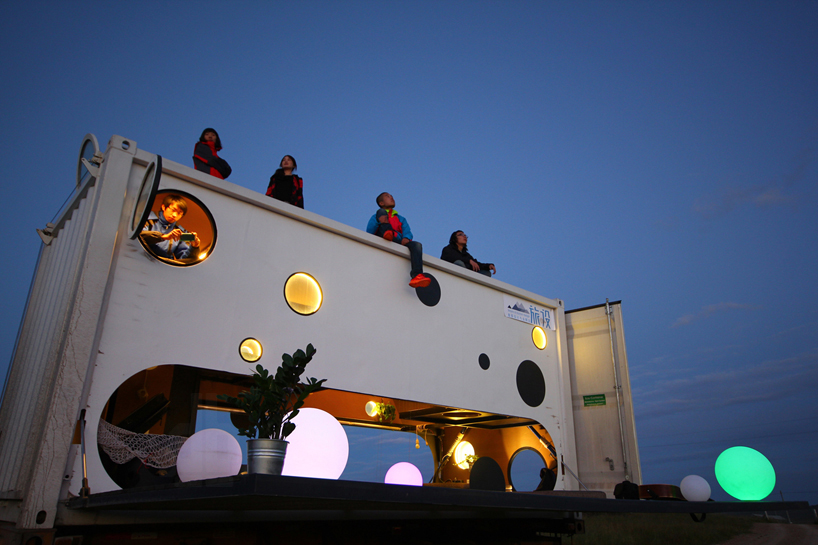 transformed from a 20 foot shipping container, the doorless garage concept by beijing's jikerzhicheng product design defines the line between indoor and outdoor spaces. stretching to achieve a seamless connection with the environment, the intervention forms a three dimensional ventilation system through the use of several round windows in the wall and ceiling panels.
amin library by dpavilion architects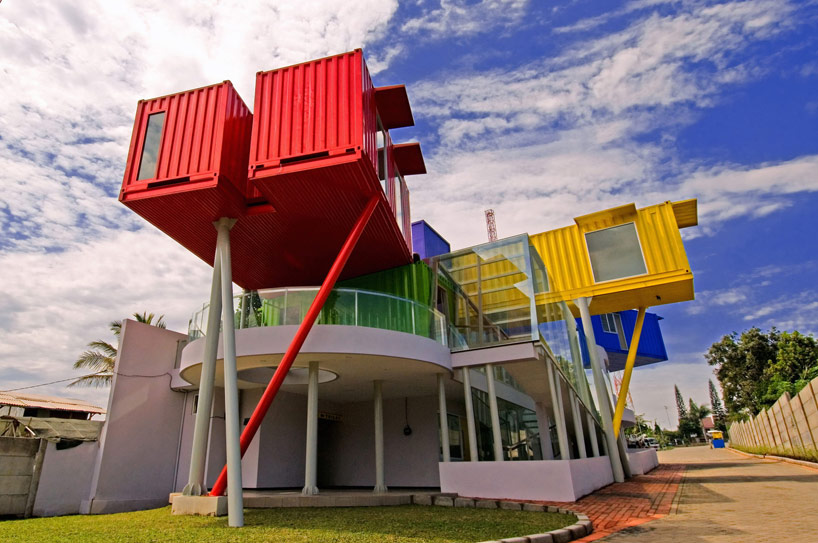 photo © ganny gozaly
image courtesy of dpavilion architects
surabaya-based firm dpavilion architects has recently completed a colorful library in batu made from eight recycled shipping containers, each costing only $820 USD. the actual built structure provides the foundation for the containers hoisted upon steel stilts. the container then becomes the perfect building component, economically and metaphorically, using its unique properties to introduce a world beyond the site to the children of batu.
jul 08, 2020
jul 08, 2020
jun 07, 2020
jun 07, 2020
may 31, 2020
may 31, 2020
apr 21, 2020
apr 21, 2020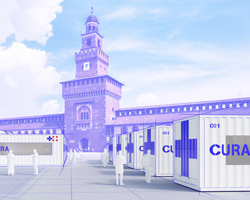 mar 24, 2020
mar 24, 2020
mar 16, 2020
mar 16, 2020
dec 31, 2013
dec 31, 2013
dec 31, 2013
dec 31, 2013
dec 31, 2013
dec 31, 2013
a diverse digital database that acts as a valuable guide in gaining insight and information about a product directly from the manufacturer, and serves as a rich reference point in developing a project or scheme.