see designboom's TOP 10 stories archive:



TOP 10 temporary structures in 2016
2016 has seen a wide selection of pavilions and temporary structures realized across the globe, each demonstrating technological advancements, creativity, and bold design. the boundary between art and architecture has become even closer this year, with prototype droneports, inflatable domes, and commissioned art pavilions all making our list. challenged with a tighter budget, scale, and time frame, these structures focus on detail, engineering, and how they can transform our public spaces. as this year comes to a close, we continue our annual review of the year's BIG stories, and take a look at the array of temporary structures that caught our eye.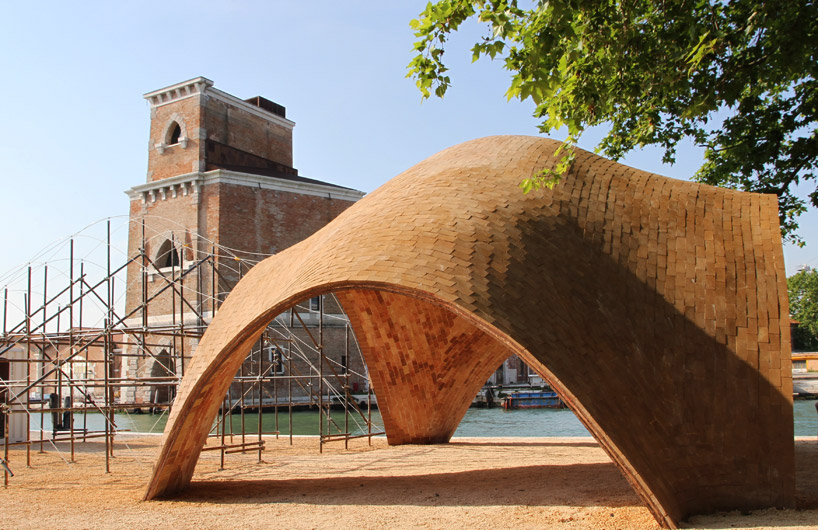 image © designboom
constructed for the occasion of this year's venice architecture biennale, norman foster assembled a full-scale prototype of 'droneport' featuring a modular vaulted system. the inaugural project of the norman foster foundation will aim to create a network of similar facilities capable of delivering medical supplies and other necessities to inaccessible regions such as rwanda.
'the droneport project is about doing 'more with less', capitalizing on the recent advancements in drone technology – something that is usually associated with war and hostilities – to make an immediate life-saving impact in africa.' – norman foster

read more about the project on designboom here.

SERPENTINE PAVILION 'UNZIPPED WALL' BY BJARKE INGELS GROUP / BIG

image © iwan baan
the highly anticipated serpentine pavilion was revealed in london's hyde park designed by bjarke ingels group / BIG. the undulating canopy made up of 1,802 fiberglass frames was conceived as a 'cave-like canyon' and inside, formed a dramatic and three-dimensional structure hosting a café and stage.
'we decided to work with one of the most basic elements of architecture: the brick wall,' explains bjarke ingels. 'rather than clay bricks or stone blocks, however, the wall is erected from pultruded fiberglass frames stacked ontop of each other. the wall is then pulled apart to form a cavity within in, to house events of the pavilion's program.
read more about the project on designboom here.
THE ENVISION PAVILION BY SOU FUJIMOTO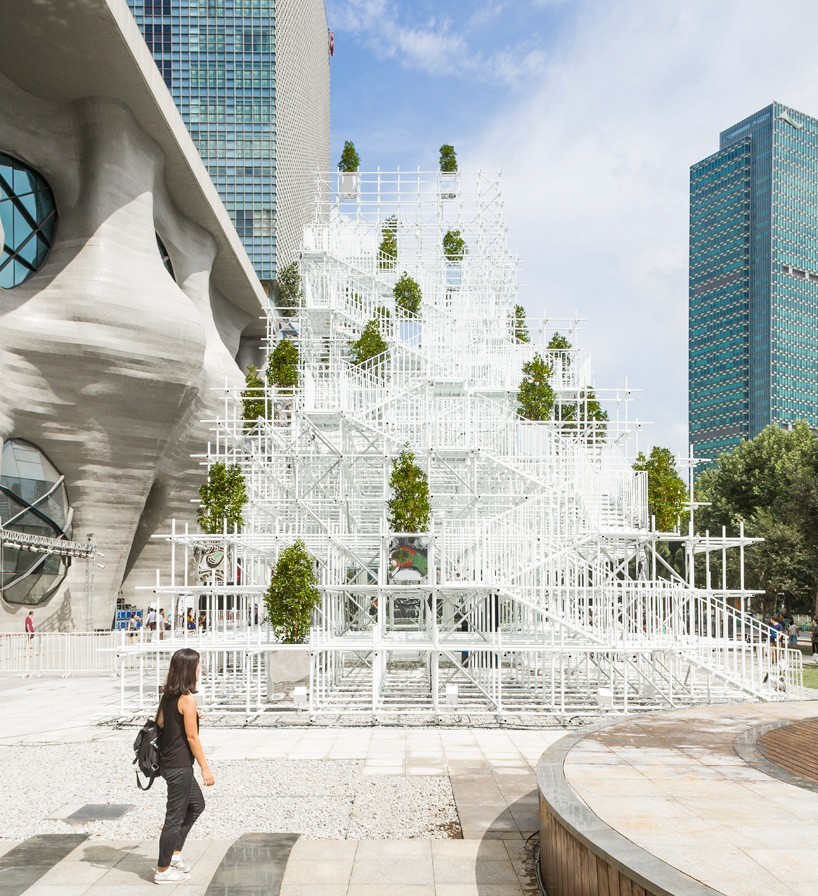 image © vincent hecht
japanese architect sou fujimoto created a climbable scaffold pavilion beside the shanghai himalayas center. created for the shanghai project, the concept derived from exploring the future of mankind in relation to architecture. the structure adopts the use of a scaffold which inherently serves as the the 'skeleton' rather than the secondary material for construction. a sense of transparency was achieved and the area underneath serving as space for talks and events. standing as a stark contrast to the himalayas museum, visitors can climb up and achieve a different perspective at an elevated height.
read more about the project on designboom here.
THE SMILE INSTALLATION BY ALISON BROOKS ARCHITECTS
the curving, wooden installation served as an interactive landmark monument for the 2016 london design festival. the collaboration resulted in a spectacularly curved, tubular structure made from cross-laminated tulipwood (CLT) measuring at 3.5m high, 4.5m wide and 34m long. the engineering feat used a layered construction, where the wood fibers turned at right angles for each successive level. much like two balconies, the tops opened, illuminating the interior space and providing people with great vantage points to look over london and at night, the linear strips guide the public up and down the arc.
see more about the project on designboom here.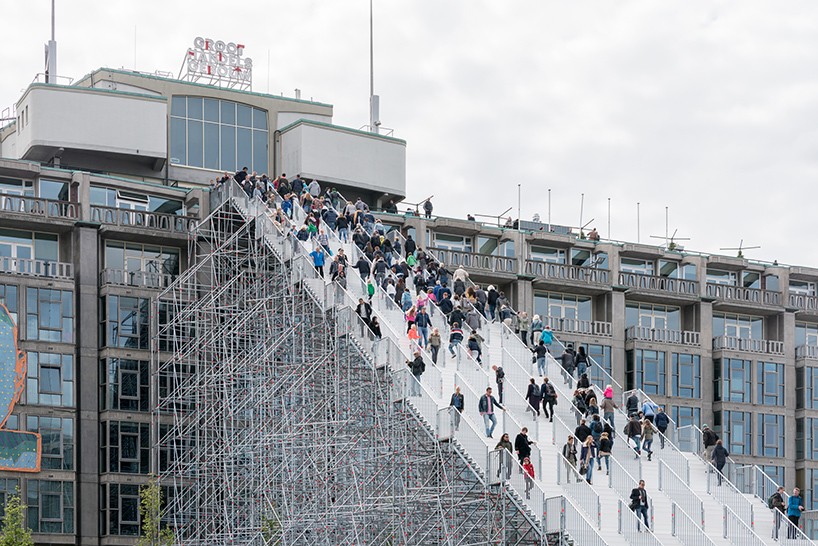 image © ossip van duivenbode
a gigantic scaffold staircase was opened to the public in rotterdam which lead from the central station to the top of the groot handelsgebouw — an important building in the city's history. comprising of 180 stairs, the installation by MVRDV offered a progression of perspectives over the city as one ascends 29 meters to the roof of the adjacent building. once at the top, a temporary observation deck overlooked the entire city.
'with this installation and in our exhibition we show what this city could look like if we do that in many places, engaging a series of our existing buildings and giving access to their roofs, to create a new, much more interactive, three dimensional and denser urban topography for the next city generation,' explained winy maas, co-founder of MVRDV.
read more about the project on designboom here.
MPAVILION BY BIJOU JAIN / STUDIO MUMBAI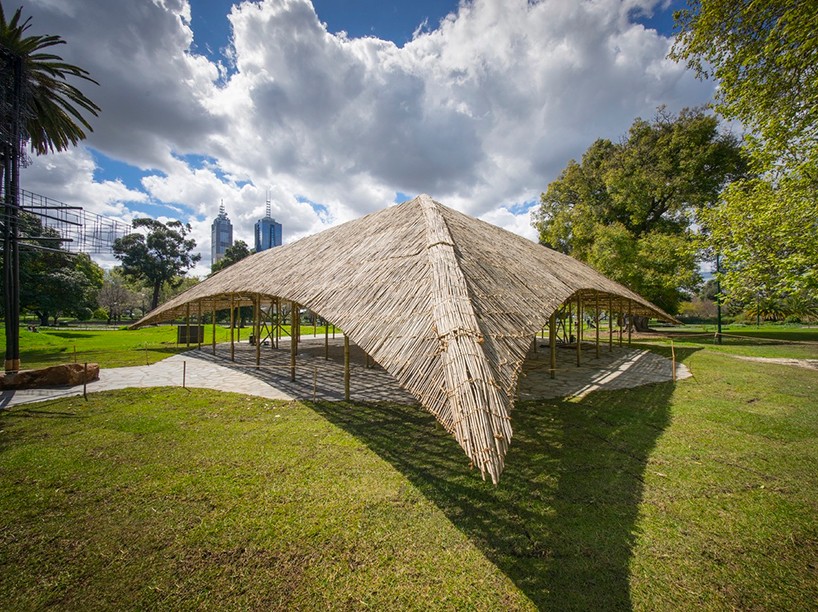 image © john gollings
bijoy jain's design for the 2016 MPavilion featured a sprawling bamboo structure situated in melbourne's queen victoria gardens. the summer pavilion, commissioned by the naomi milgrom foundation, used 7 kilometers of bamboo, 26 kilometers of rope, and 50 tonnes of stone. the end result saw a dynamic structure measuring 12 meters in height and sheltering a space for hosting programs, workshops and performances. an aperture at the center of the roof symbolizes the connection of the earth to the sky, while below sat a golden well representing the importance of water to place and community.
read more about the project on designboom here.
CONTAINER STACK PAVILION BY PEOPLE'S ARCHITECTURE OFFICE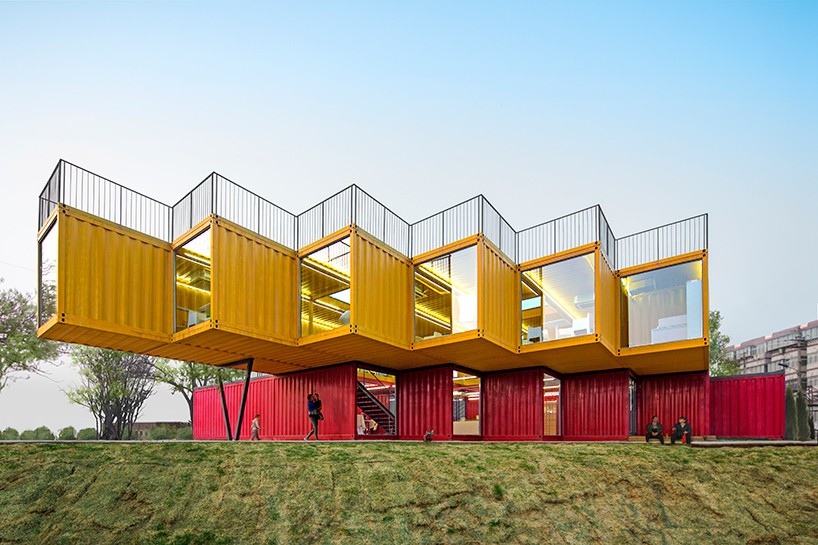 image courtesy of people's architecture office
in the northern chinese province of shanxi, people's architecture office (PAO) realized a pavilion constructed of stacked shipping containers. the structure can be readily disassembled and easily moved to other locations, with six yellow units overlapping perpendicularly above of six red containers. internally, each unit feature full height apertures with floor-to-ceiling glazing, allowing sightlines throughout the entire building and from the outside, the interior activities are on view.
read more about the project on designboom here.
SCULPTURE BY THE SEA 'DYNAMICS IN IMPERMANENCE' BY NICOLE LARKIN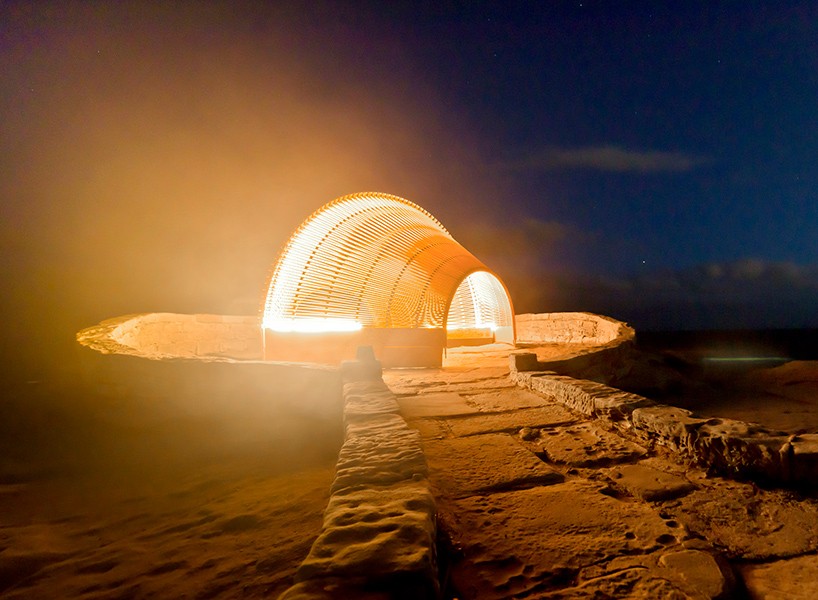 image © ben guthrie
created for the 2016 edition of sculpture by the sea at bondi beach, the glowing structure by nicole larkin explored new ways in which viewers can experience, interpret, and inhabit artworks. fabricated from birch plywood, stainless steel, and concrete, the installation generates ever-changing perspectives depending on the time of day, weather and climatic conditions. the ever-evolving elements of the site — particularly light, shadow and weather — alter the digital, photographic interpretation of the piece and highlights how photography can break down the authentic artistic experience.
read more about the project on designboom here.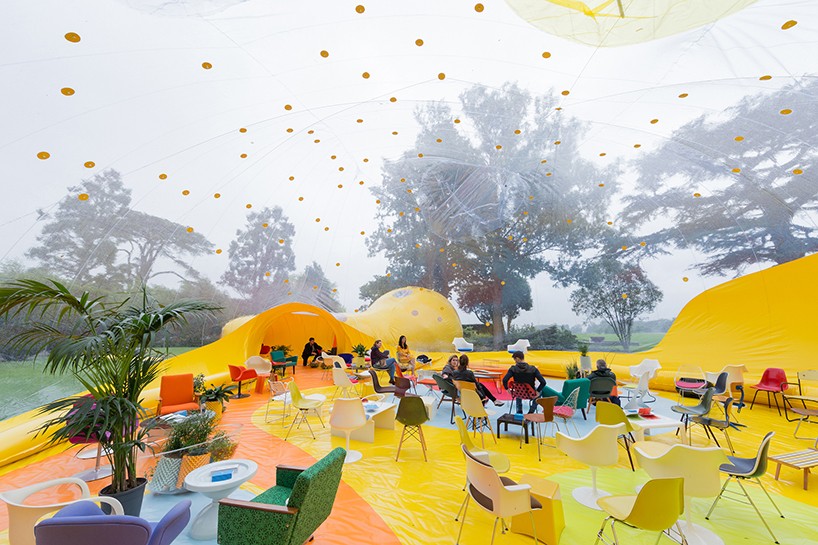 image © iwan baan
designed and realized by DOSIS, 'second dome' was a re-configurable space that transformed from a single, 65-square-meter bubble, to a more than 400-square-meter, multi-room structure within minutes. sited in london fields, a park east of the city center, the installation instantly responds to specific urban needs, quickly popping-up, assembling, and activating the city with little effort or energy required. additionally, the dome reacts to wind and pressure, requiring extremely low quantities of energy for fabrication and assembly.
read more about the project on designboom here.
KAPKAR SF-P7S PAVILION BY STUDIO FRANK HAVERMANS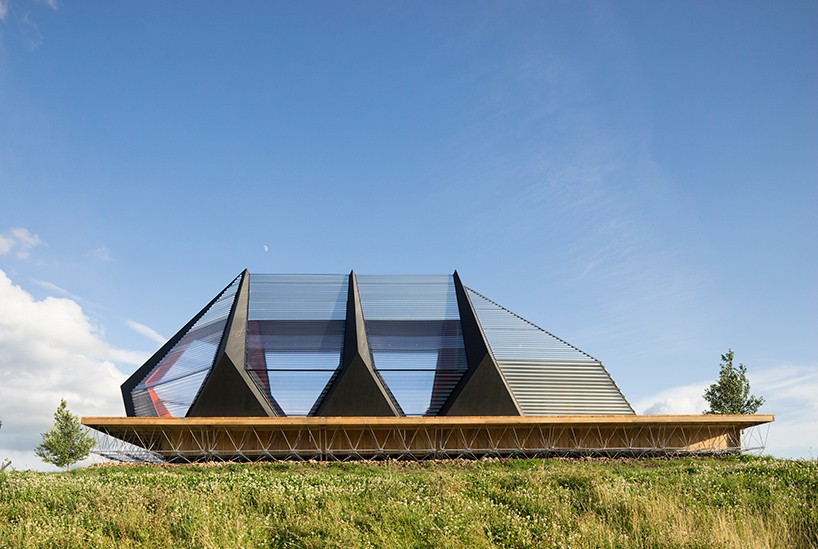 image © rené de wit
'kapkar SF-P7S' was studio frank haverman's creation that would be used to accommodate discussions, small scale exhibitions, and other cultural events. completed on a relatively low budget, the brief called for a striking piece of architecture, which could be easily dismantled and transported to future locations. naturally illuminated, the pavilion had to provide space for at least 50 people. the structre featured a truss frame construction that references the gable roofs formerly used in the dutch region's farmhouses and sheds.
'for me, wood frame constructions are one of the anchor points of the dutch agricultural landscape,' says frank havermans. 'in the interior, the trusses are folded open and become interior spaces and places to sit for three people.'
read more about the project on designboom here.
Save
Save
Save
Save
Save
Save
Save
Save
Save
Save
Save
Save
Save
Save
Save
Save
Save
Save
Save
Save
Save
Save
Save
Save
Save
Save
Save
Save
Save
Save
Save
Save
Save
Save
Save
Save
Save
Save
Save
Save
feb 10, 2020
feb 10, 2020
feb 03, 2020
feb 03, 2020
jan 18, 2020
jan 18, 2020
jan 13, 2020
jan 13, 2020
jan 07, 2020
jan 07, 2020
jan 04, 2020
jan 04, 2020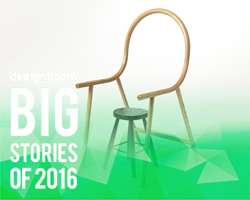 dec 24, 2016
dec 24, 2016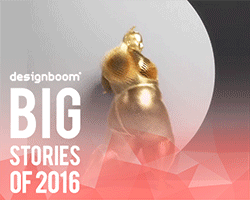 dec 22, 2016
dec 22, 2016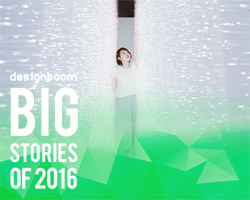 dec 22, 2016
dec 22, 2016
dec 21, 2016
dec 21, 2016
dec 20, 2016
dec 20, 2016
dec 19, 2016
dec 19, 2016
a diverse digital database that acts as a valuable guide in gaining insight and information about a product directly from the manufacturer, and serves as a rich reference point in developing a project or scheme.