paris-based firm, town and concrete have imagined a pavilion composed completely from bubblegum pink balloons fastened together to form a gigantic pyramid structure. led by french architect cyril lancelin, who experiments with the limits of architecture, the pavilion would be designed to be transported and used at different occasions from festivals to galleries.

all images © town and concrete
the eye-catching renders show two cylindrical holes that puncture the walls of the pyramid allowing curious visitors to climb inside. the idea would be for hundreds of different-sized balloons to be randomly distributed and thanks to its inflatable nature, a large part of the experience would be for visitors to bounce and interact.
'the holes are slightly sloped, making it difficult to climb the center, but it offers a challenge.' says cyril lancelin 'these openings allow to have a view on the outside from the pyramid and the pyramid also becomes transparent from the outside. it is an experience on matter and form.'
oct 23, 2017
oct 23, 2017
sep 06, 2017
sep 06, 2017
jul 19, 2017
jul 19, 2017
jul 18, 2017
jul 18, 2017
apr 24, 2017
apr 24, 2017
jul 07, 2016
jul 07, 2016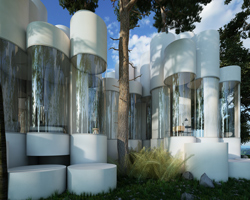 jul 13, 2017
jul 13, 2017
jul 10, 2017
jul 10, 2017