a temporary chapel that can be transported has been envisioned by town and concrete. with mobility in mind, the typical furniture needed for a chapel has been reduced to its simplest form. meanwhile, the bright green exterior –made of a combination of round and flat surfaces– is interrupted by a single cross on the front that acknowledges its function.


all images © town and concrete
led by cyril lancelin, the structure derives from a sphere. using this as the main concept, the sphere is repeated in different directions to form the general envelope. small shifts and voids open for entry and views of the forest. 'each sphere is assembled to the other' comments architect cyril lancelin 'the sphere being the favorite element of engineers for the assembly of elements that can be adapted for different uses.' as a result, this chapel would be made for nature, the spheres out of green polycarbonates for lightness and at the same time, the permeable nature of the structure influences a light-filled and peaceful respite for worship.
oct 01, 2017
oct 01, 2017
sep 18, 2017
sep 18, 2017
aug 14, 2017
aug 14, 2017
aug 12, 2017
aug 12, 2017
jul 21, 2017
jul 21, 2017
jul 10, 2017
jul 10, 2017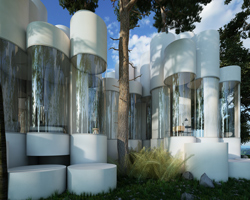 jul 13, 2017
jul 13, 2017
jul 05, 2017
jul 05, 2017