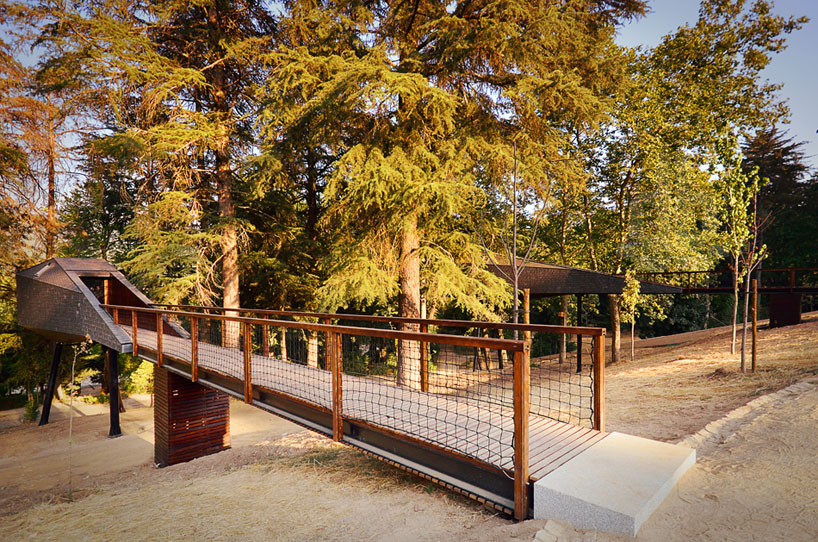 sep 26, 2013
tree snake houses slither between trees at pedras salgadas park
tree snake houses slither between trees at pedras salgadas park
photo by ricardo oliveira alves
in pedras salgadas park, portugal, two 'tree snake houses' can be found positioned amongst the trees, offering a tranquil retreat just outside the seaside city of porto. designed by luís rebelo de andrade and tiago rebelo de andrade, the forest refuges were developed in partnership with modular system company on the notion that the small constructions could redefine our concept of modular systems, forseeing the temporary dwellings as being adaptable to a variety of landscapes and climates.
the name of the tree houses indicates where their formal references are derived from. extending from high ground over the park's sloping terrain, the dwellings are accessed via an open bridge which gradually widens towards the entrance of the cantilevered serpentine architecture's interior, which is shaped like a head. the units are both equipped with a small kitchen and wash area, with the main feature being that of the master bedroom studio space that has an open skylight and front facing window that offers views of the lush surrounding greenery.

walkway leading to the interior
photo by ricardo oliveira alves
the structural framework of the forest sanctuaries are made from a combination of native raw materials, slate and wood which also attributes to their invisibility within the natural setting of the park. sustainability and ecology have not gone forgotten in the realization of the 'tree snake houses'. the walls of the structures are formed by layers of reinforced insulation, while energy is harnessed through solar panels and water is reused. a low consumption LED lighting system is integrated to illuminate the interior and entrance walkway by night.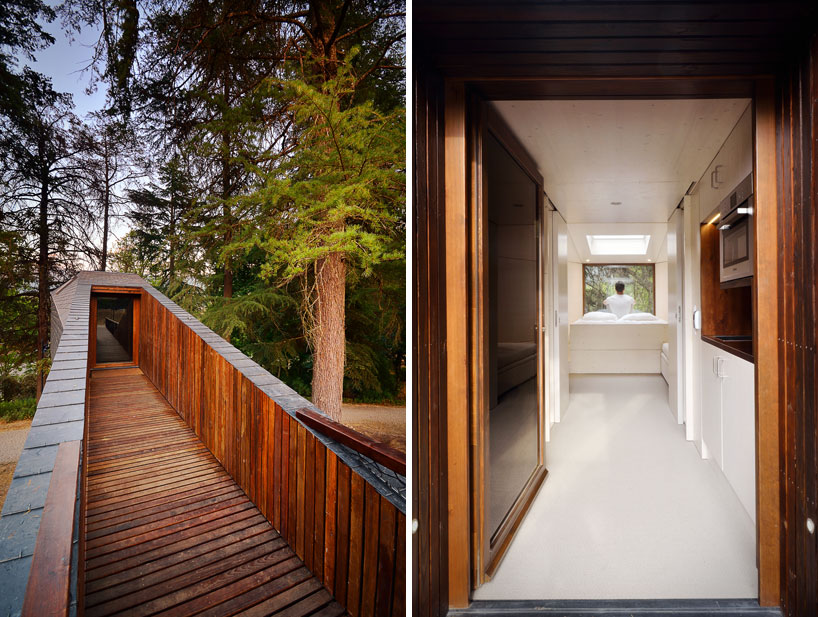 each unit is equipped with a kitchen, bathroom and studio space
photos by ricardo oliveira alves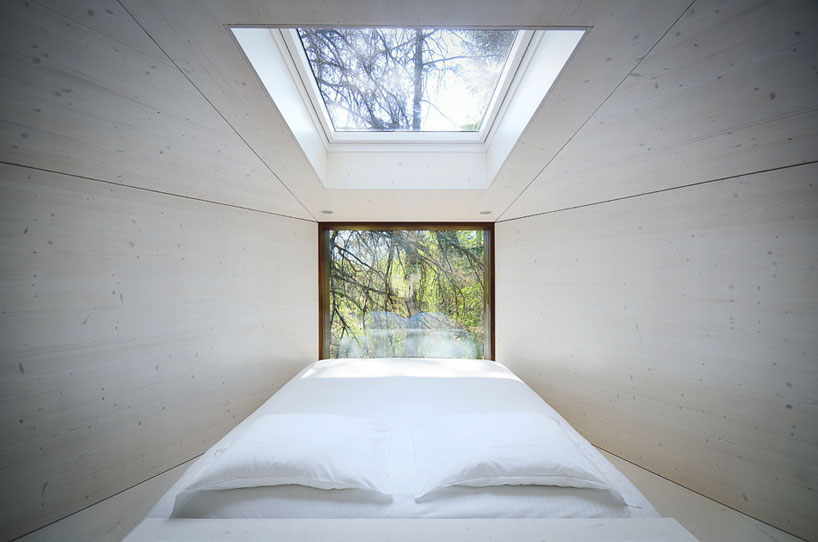 the bedroom has a skylight and front facing window which look to the forest beyond
photo by ricardo oliveira alves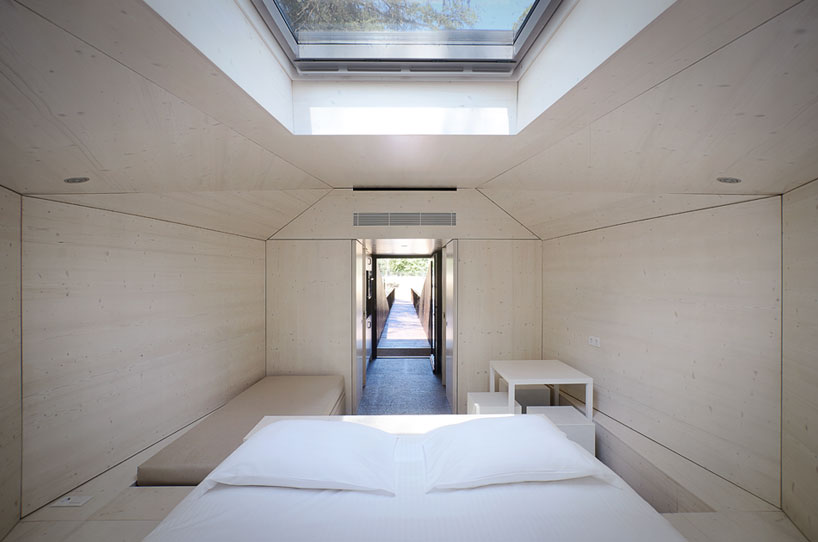 view from the studio towards the entrance
photo by ricardo oliveira alves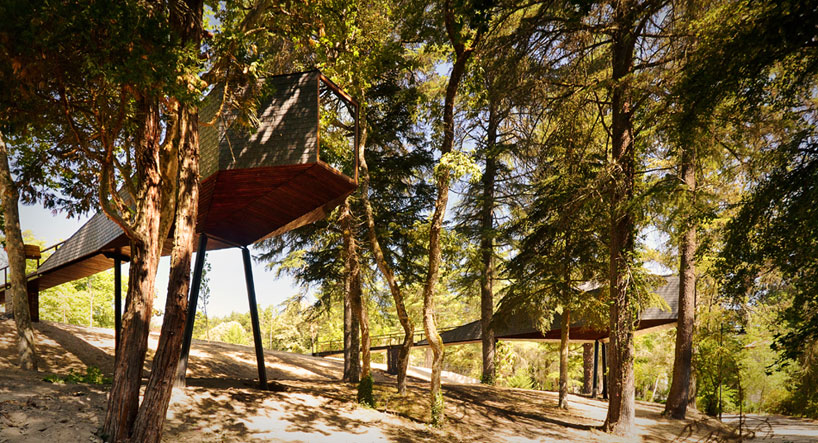 the tree houses snake between the trees of the park
photo by ricardo oliveira alves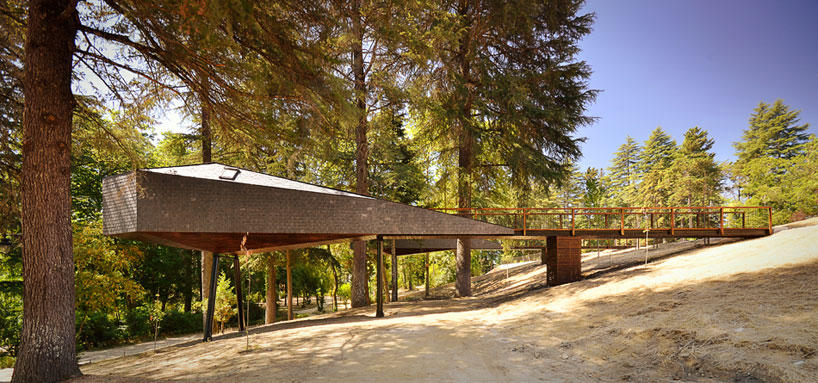 general view of the cantilevered serpentine-like architecture
photo by ricardo oliveira alves
project info:
architects: luís rebelo de andrade & tiago rebelo de andrade
collaborators: madalena rebelo de andrade, rquel jorge, pedro baptista dias
project area: 27,00 m2
client: UNICER
constructor: modular system
photography: ricardo oliveira alves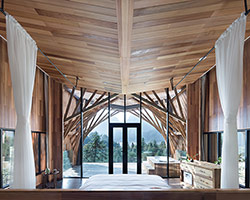 may 01, 2017
may 01, 2017
mar 22, 2017
mar 22, 2017
jan 18, 2017
jan 18, 2017