jul 29, 2014
truck-a-tecture presents transformable structures for nomadic living
truck-a-tecture presents transformable structures for nomadic living
photo by tom kessler
all images courtesy of kaneko
to explore the potentials of mobile living and adaptable architecture, kaneko has organized 'truck-a-tecture', which presents four structures at its gallery in omaha, nebraska. various american design studios participated in the event through the conception and realization of each project, including min | day, jones, partners: architecture, office of mobile design, and mark mack architects. the exhibition is intended to generate conversation on current-day trends toward nomadic lifestyles, and offers new perspectives on transformable spaces. the projects utilize various mechanical techniques to provide the itinerant individual, traveling by vehicle, the ability to spread out when temporarily stopped.
truck-a-tecture opened on june 27, 2014, and will be on display until august 23.
the 'pneumad', designed by min | day, inflates to create a dome-shaped space
photo by tom kessler
the 'pneumad', completed by omaha and san francisco-based min | day, unites an inflatable (pneumatic) structure with nomadic functionality to create a spacious room able to pack down into a small trailer. able to be towed by nearly any type of car, the project is intended for a mobile person with a desire to spread out, providing a shelter unconfined by the dimensions of the vehicle. the design team describes, 'the "pneumad" enacts a form of anti-heroic desire to escape permanence, solidity and place-bound dwelling.'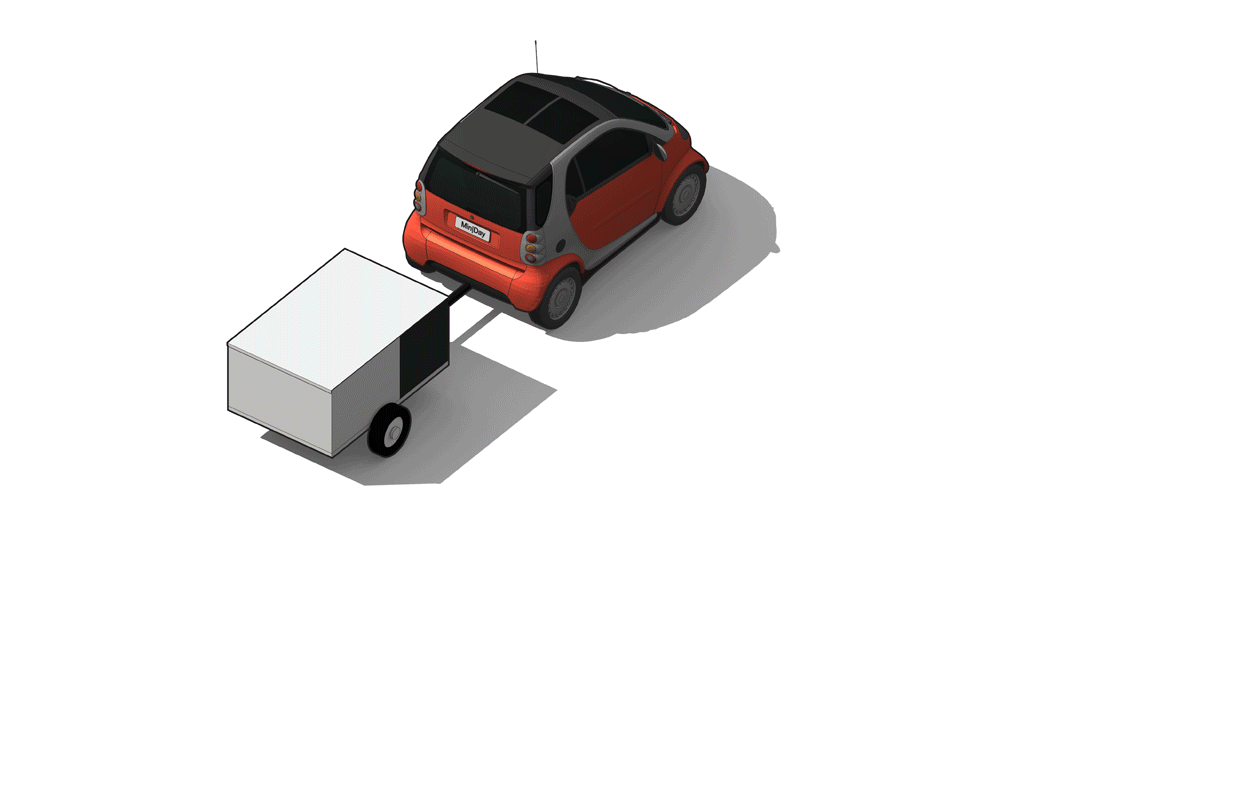 the scheme fuses the ideas of pneumatic structures and nomadism, and is able to be packed away into a small trailer
images by min|day
the pneumatic structure provides a shelter unconfined by the dimensions of the nomad's vehicle
photo by tom kessler
the inflatable frame is infilled with opaque, translucent, and transparent materials
photo by tom kessler
for office of mobile design's contribution, principal jennifer siegal envisions the 'aero-mobile', which integrates a dwelling volume on the back of a taylor-dunn truck. a scissor lift system elevates the pod above the cab of the vehicle, allowing two walls to flip down to greatly increase usable enclosed space. the raised room is composed of metal frame and fabric surfaces, and is accessed by a fold-able ladder.
a mechanized scissor lift elevates the dwelling pod of the 'aero-mobile'
photos by tom kessler
the living volume travels on the back of a taylor-dunn truck
photo by tom kessler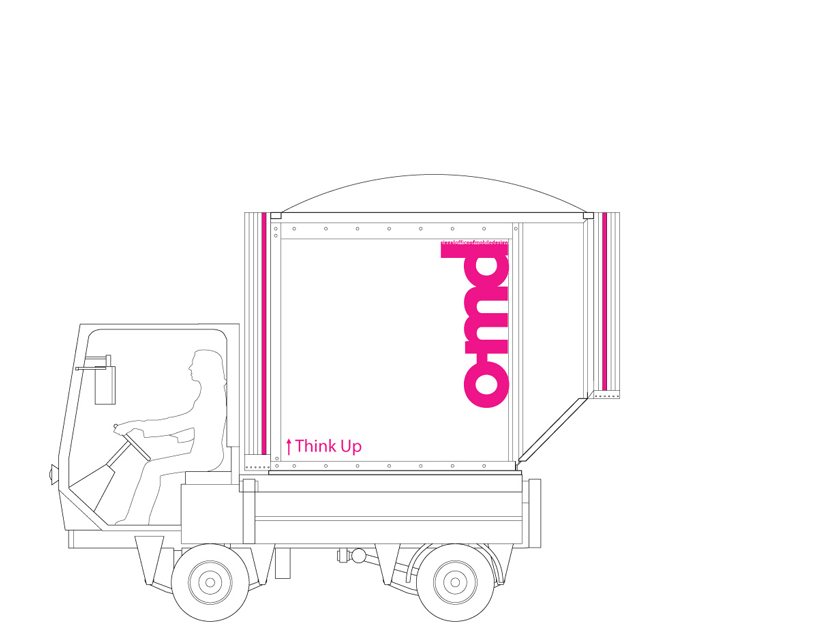 images by office of mobile design
enclosed by fabric typically used on sailboats, the interior space provides ample room for the nomadic individual
photo by tom kessler
the 'self-lifting mobility project' (S/LMP), completed by venice, california-based architect mark mack, reduces the number of possessions a nomadic individual has, in order to allow for increased mobility and flexibility. the structure maximizes spatial opportunity through transformable elements, including a scissor lift and engaged cabinetry. while resting in a slanted position, the sleeping loft flips upward, enclosed by a tent-frame shell. the back canopy similarly rotates outward to shade the back area.
mark mack architects have packed a number of mobile elements on the back of a tow-able trailer
photo by tom kessler
while resting in a slanted position, the sleeping loft flips upward, enclosed by a tent-frame shell
photo by tom kessler
elevation: self-lifting mobility project
image by mark mack architects
photo by tom kessler
for the event, los angeles-based architect wes jones has contributed the 'mobile dwelling support structure' (MDSS), arranging a series of operable elements on the back of a standard trailer. the organization aligns pre-fabricated living modules along the edges, which each support specific dwelling functions such as food storage, preparation and cooking, dining, health maintenance and hygiene (shower, toilet, sink), dressing, and working. a sleeping hammock occupies the center, while four solar panels above collect energy to power the program pods' systems. armatures allow the panels to fold out for access of the boxes below, while shading the space around the trailer. due to its performative and spatial flexibility, the design team posits, 'easier even than pitching at tent, requiring no more effort than dwelling "normally" in a fixed house, this is not "camping," but active lifestyle dwelling.'
eight programmatic pods provide living services on the 'mobile dwelling support structure'
photo by tom kessler
image by jones, partners: architecture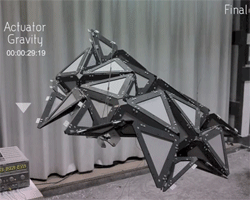 aug 19, 2014
aug 19, 2014
aug 05, 2014
aug 05, 2014
jul 27, 2014
jul 27, 2014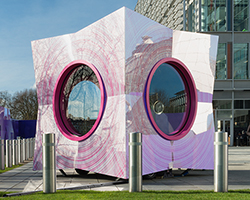 mar 05, 2017
mar 05, 2017
feb 27, 2017
feb 27, 2017
feb 24, 2017
feb 24, 2017