in late 2016, work began on transforming eero saarinen's JFK terminal building into the hub of a 505-room hotel and events space. with construction at the new york airport now moving ahead, MCR, the project's developer, has installed a lounge setting inside one world trade center, which will be used for events and information ahead of the hotel's opening. the custom-designed interior has been informed by some of the most recognized elements of the original terminal building, including a split-flap display, a chili pepper red sunken lounge, and a wide array of TWA memorabilia.

a sunken lounge is carpeted in the signature color created by eero saarinen for the TWA flight center
image by emily gilbert (main image by jesse david harris)
designed by lubrano ciavarra architects, the TWA lounge occupies the 86th floor of 1WTC and affords views from manhattan to JFK airport 12 miles to the east. eero saarinen's TWA flight center originally opened in 1962, a year after saarinen's death, and served as trans world airlines' terminal until 2001. in 1994 the structure was deemed a historic landmark, and in 2005 it was put on the national register of historic places. the plans unveiled by MCR development seek to revive the famous midcentury landmark through a privately funded investment totaling approximately $265 million USD.

the reception desk is modeled after TWA ticket counters created by raymond loewy
image by emily gilbert
internally, the TWA hotel seeks to preserve and restore the terminal building, mirroring its 1962 design aesthetic. meanwhile, two acoustically insulated hotel structures, housing the guest rooms, will be set back on either side. passengers from every terminal will be able to reach the TWA hotel via the airtrain, as well as through the saarinen-designed passenger tubes that connect directly to terminal 5. the hotel building will contain 50,000 square feet of meeting and event space below grade, a 10,000 square foot observation deck, and eight food and beverage outlets. see designboom's previous coverage of the project here.

MCR's TWA collection includes historic design and branding books and flight hostess uniforms
image by emily gilbert

two hotel structures housing the guest rooms will be set back on either side of the terminal
image courtesy of MCR development

the original structure has been closed to the public since 2001
image courtesy of MCR development

the north hotel foundation is now complete
image courtesy of MCR development

the venue's event center will be located below-grade
image courtesy of MCR development

restoration plans include reviving the interiors by charles eames and raymond loewy
image by max touhey

the hotel building will contain 50,000 square feet of meeting and event space
image by max touhey

the hotel is set to open in spring 2019
image by max touhey
Save
Save
Save
Save
Save
Save
Save
Save
Save
Save
Save
Save
Save
sep 30, 2017
sep 30, 2017
sep 19, 2017
sep 19, 2017
aug 21, 2017
aug 21, 2017
jul 19, 2017
jul 19, 2017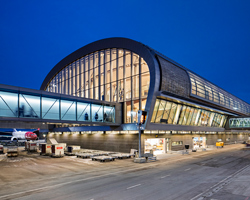 apr 27, 2017
apr 27, 2017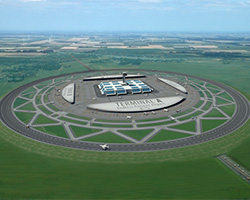 mar 23, 2017
mar 23, 2017
oct 22, 2017
oct 22, 2017
oct 21, 2017
oct 21, 2017
oct 19, 2017
oct 19, 2017
oct 22, 2017
oct 22, 2017
oct 22, 2017
oct 22, 2017
oct 21, 2017
oct 21, 2017
oct 19, 2017
oct 19, 2017
sep 27, 2017
sep 27, 2017
sep 27, 2017
sep 27, 2017