spanning the winding randselva river, a unique new building connects two forested riverbanks at kistefos — northern europe's largest sculpture park. part museum, part bridge, and part sculpture, 'the twist' has been designed by bjarke ingels group (BIG) and represents the firm's first project in norway. dramatically torqued at its center, the structure not only allows visitors to cross from one riverbank to the other, but is also capable of hosting an international program of contemporary art exhibitions.
designboom was in attendance to preview the building and its opening exhibition 'hodgkin and creed', which remains on view until november 17, 2019. hear the thoughts of bjarke ingels in our exclusive video interview at the top of this page.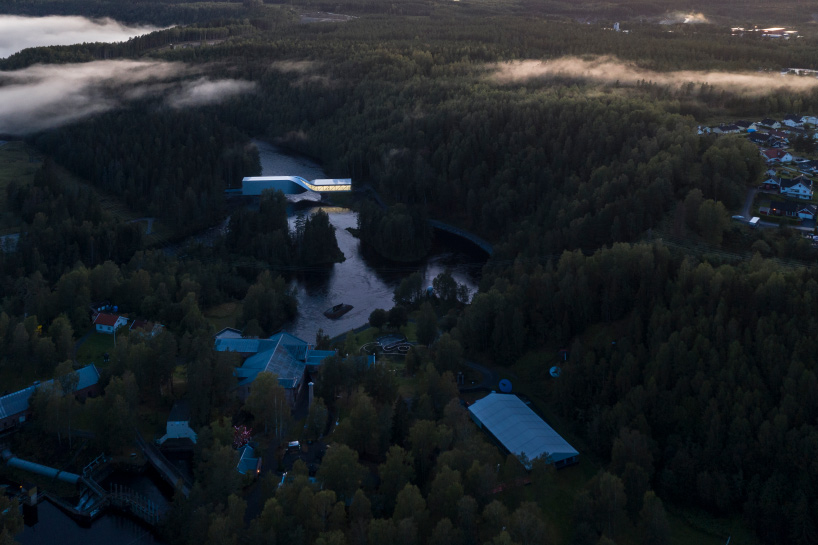 all images by laurian ghinitoiu © bjarke ingels group and kistefos
kistefos comprises a museum and sculpture park at jevnaker, a municipality 80 kilometers (50 miles) north of oslo. established in 1996 by norwegian businessman and art collector christen sveaas, on the former site of his family wood pulp business, kistefos' sculpture park includes works by leading international artists such as anish kapoor and marc quinn, among others. BIG's 'art bridge' completes the park's cultural route, allowing visitors to experience the outdoor artworks as part of a continuous loop.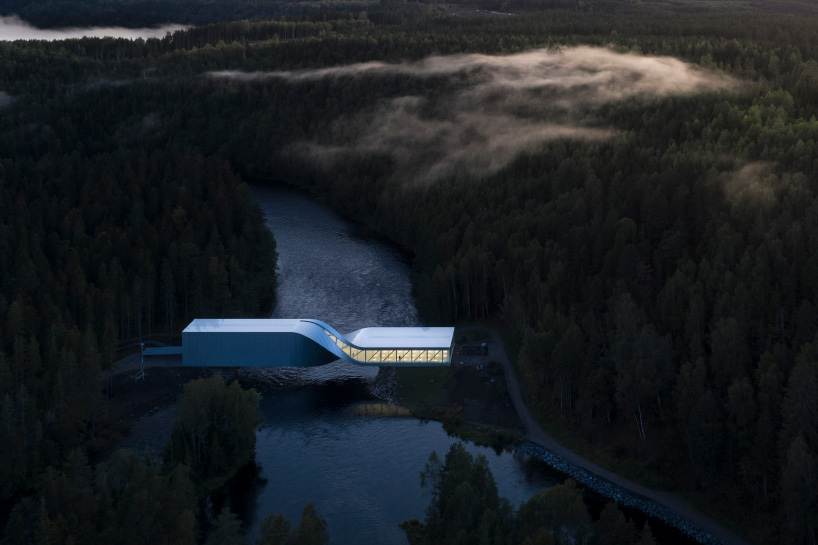 'the twist is a hybrid spanning several traditional categories: it's a museum, it's a bridge, it's an inhabitable sculpture,' explains bjarke ingels. 'as a bridge it reconfigures the sculpture park turning the journey through the park into a continuous loop. as a museum it connects two distinct spaces — an introverted vertical gallery and an extraverted horizontal gallery with panoramic views across the river. a third space is created through the blatant translation between these two galleries creating the namesake twist. the resultant form becomes another sculpture among the sculptures of the park.'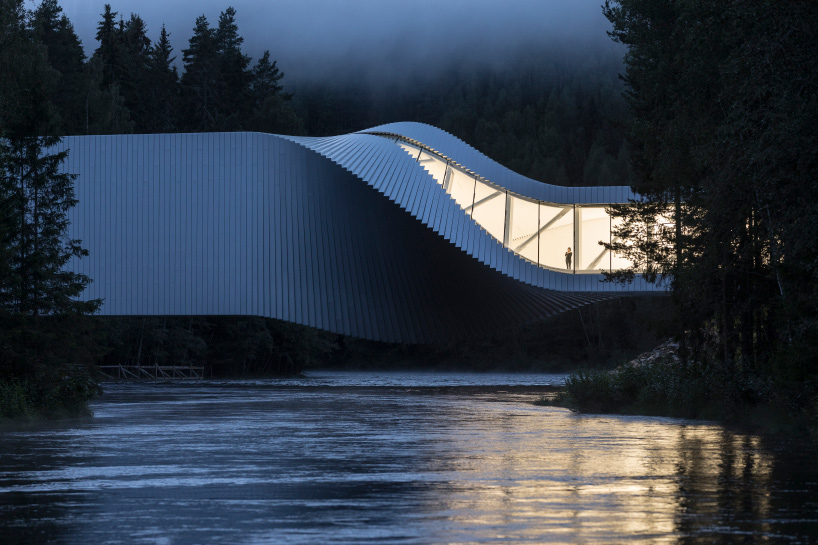 straight aluminum panels — developed in collaboration with baumetall — have been arranged like a stack of books to create the museum's double-curve geometry, with the same principle used internally. 'wherever you look, you see arches and curves, fibonacci spirals and saddle shapes, but when you look closer you realize that everything is created from straight lines — straight sheets of aluminum, straight boards of wood,' ingels continues. 'an expressive organic sculpture composed of rational repetitive elements.'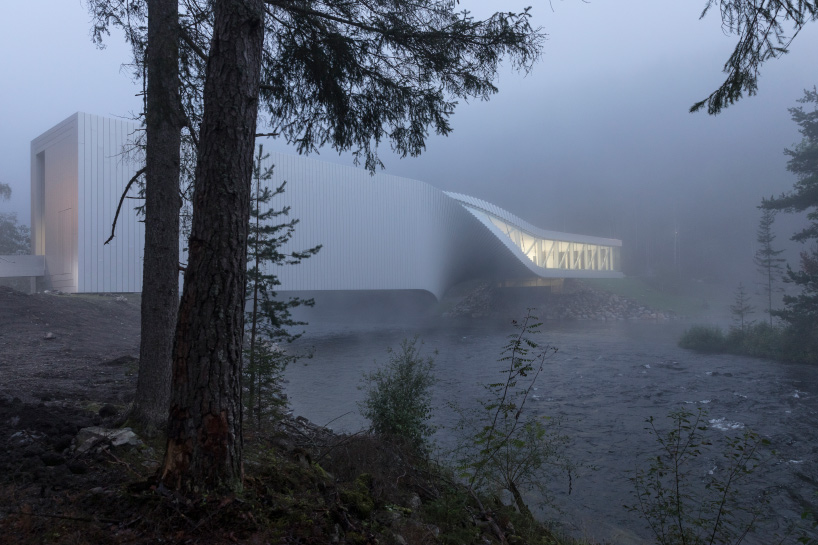 conceived as a 'continuous path in the landscape', both sides of the building serve as the main entrance. from the south, visitors enter through a dramatic double-height space with clear sightlines through the entire building to the north entrance. conversely, guests arriving from the north enter into a panoramic space with views of the site's pulp mill and the surrounding landscape. the different types of daylight entering through the curved glass windows creates three distinctive galleries: a wide, naturally lit gallery with panoramic views on the north side; a tall, dark gallery with artificial lighting to the south; and, in between, a sculptural space with a twisted sliver of overhead light.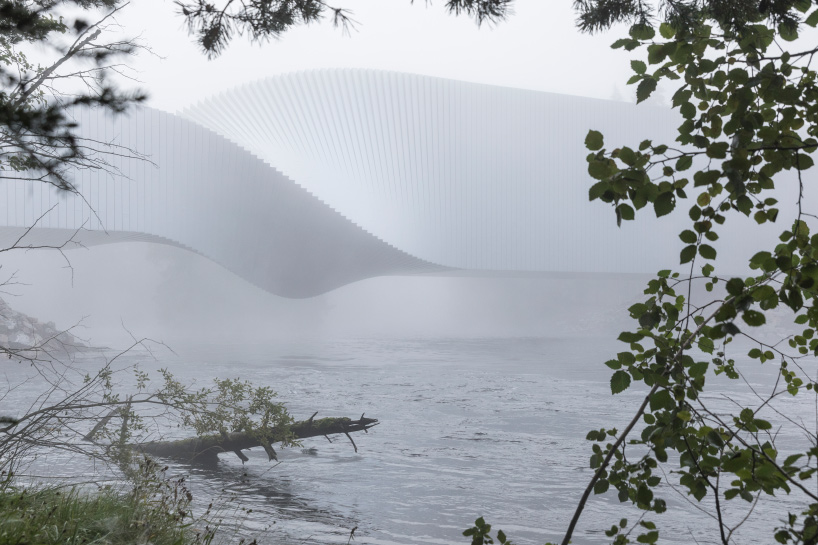 'the twist has been an extremely complex building to construct, yet the result is simple and striking,' BIG partner david zahle explains. 'from an array of straight elements, the museum was constructed in an industrial manner as both a piece of infrastructure and as a building reflecting its natural surroundings. as you approach 'the twist', you start to notice the museum reflecting the trees, the hills and the water below, constantly glimmering and changing its appearance in dialogue with nature.'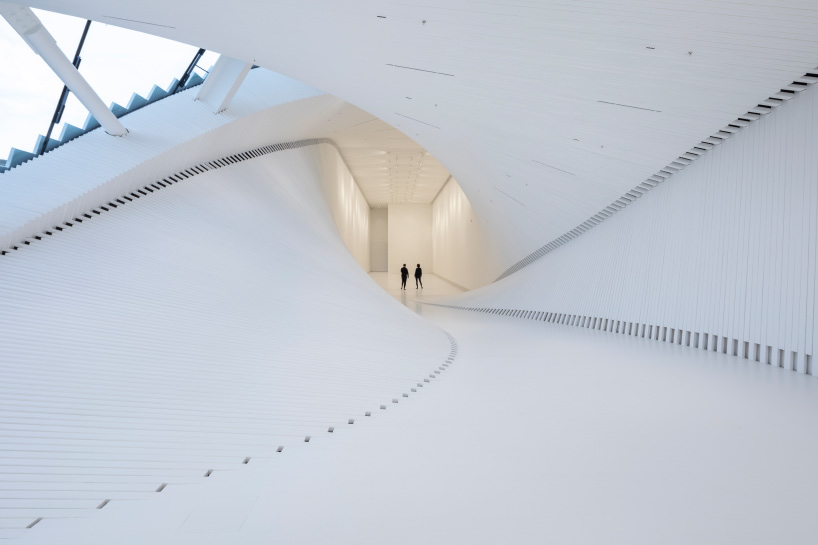 'after many years of planning and development, we're delighted to be opening this beautiful new space 'the twist' at kistefos, which will allow us to expand our work with leading contemporary artists and welcome more visitors than ever before,' says christen sveaas, founder of kistefos. 'our ambition is to make kistefos a must-see cultural destination with a world-class temporary exhibition and sculpture park program to complement the rich industrial heritage of the site.'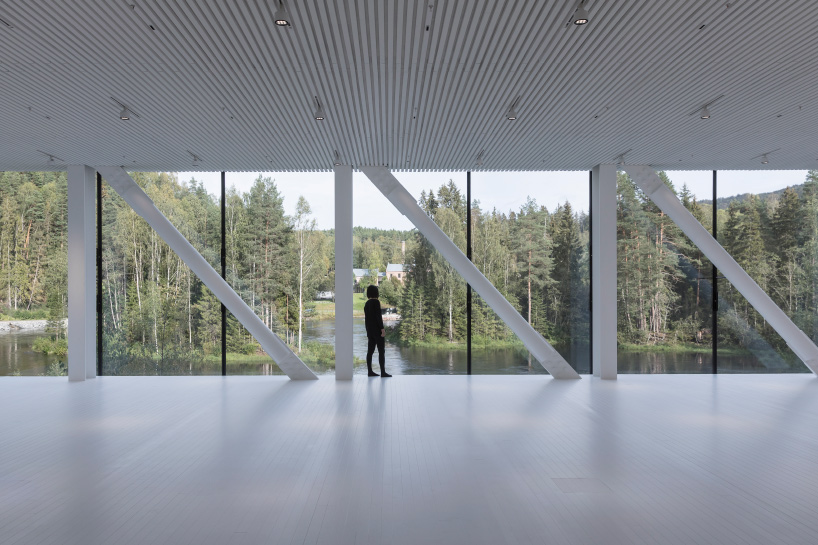 the building's opening exhibition 'hodgkin and creed – inside out' pairs howard hodgkin (1932-2017) with martin creed (b.1968) and features important works from public and private collections — including the christen sveaas art collection. curated by guy robertson and produced by kistefos in collaboration with the estate of howard hodgkin and martin creed, the exhibition remains on view until november 17, 2019.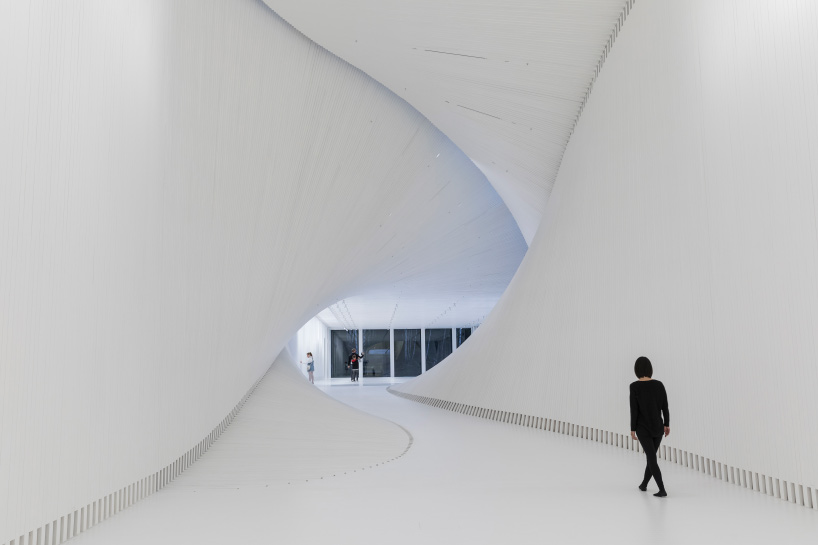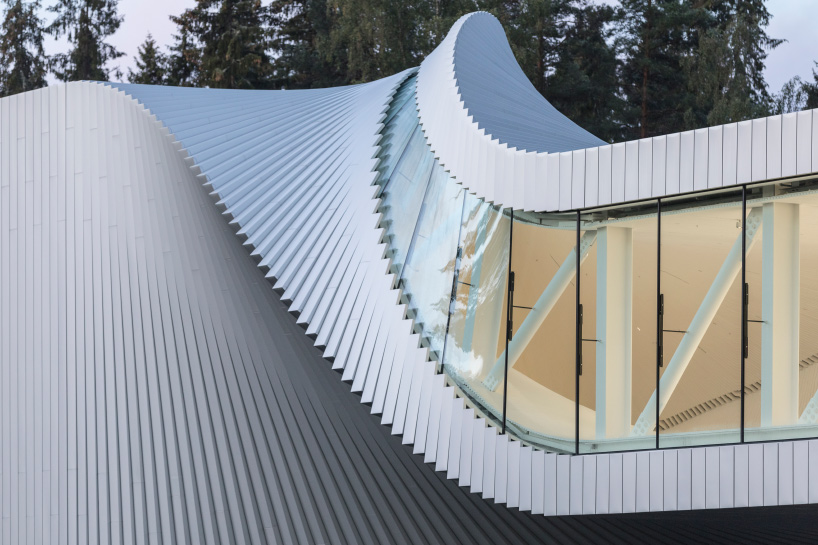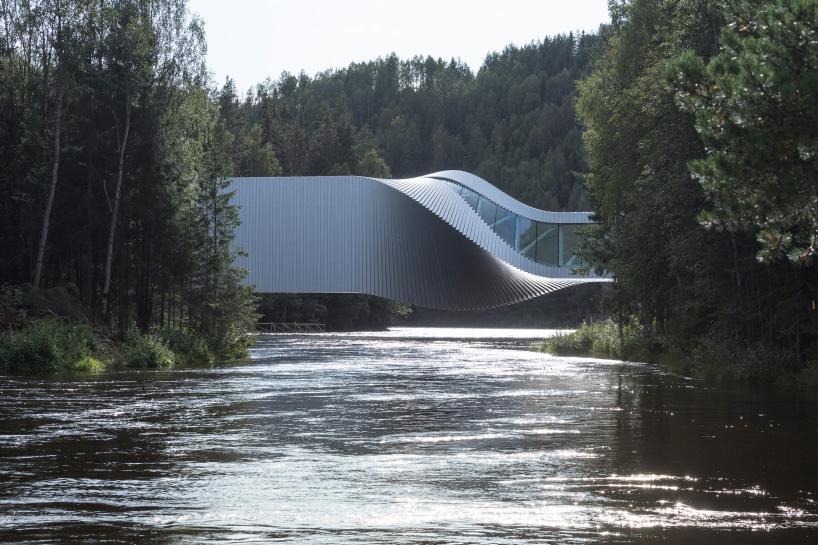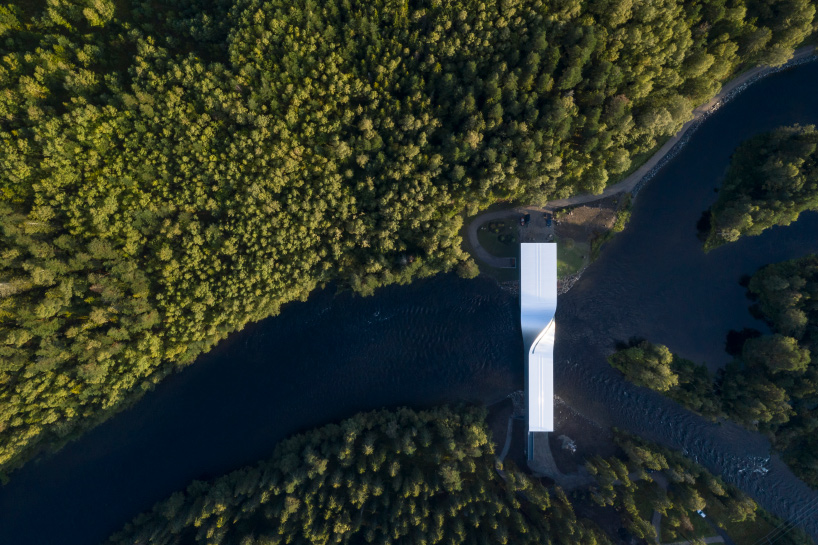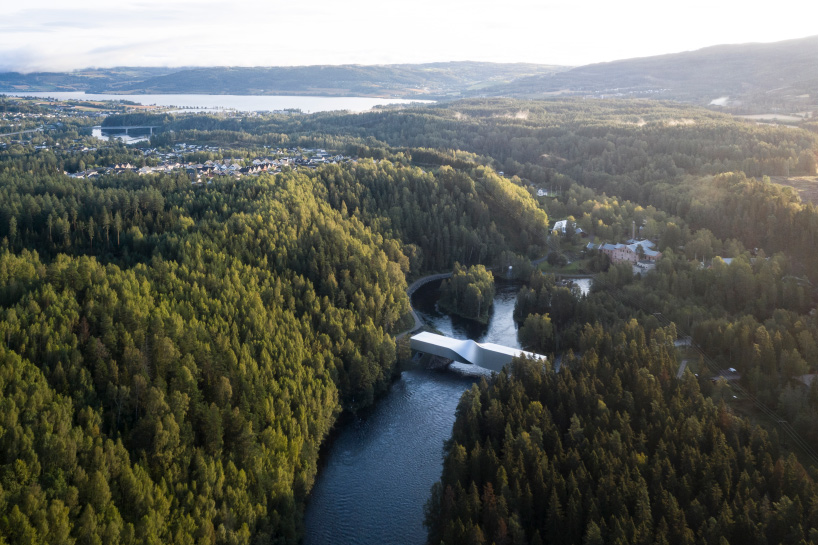 project info:
name: the twist
type: competition
size: 1,000 sqm / 10,800 sqf
location: jevnaker, norway
client: kistefos museum
collaborators: AKT II, ÅF belysning, AS byggeanalyse, baumetall design, BIG ideas, bladt industries, brekke & strand, davis langdon, DIFK, ECT, element arkitekter, erichsen & horgen, fokus rådgivning, GCAM, grindaker, lüchinger & meyer, max fordham, MIR, rambøll
BIG – bjarke ingels group
partners-in-charge: bjarke ingels, david zahle
project leader: eva seo-andersen
project architect: mikkel marcker stubgaard
team: aime desert, alberto menegazzo, aleksandra domian, aleksandra sobczyk, alessandro zanini, alina tamosiunaite, andre zanolla, balaj alin ilulian, brage mæhle hult, brian yang, carlos ramos tenorio, carlos surrinach, casey tucker, cat huang, channam lei, christian dahl, christian eugenius kuczynski, claus rytter bruun de neergaard, dag præstegaard, david tao, edda steingrimsdottir, espen vik, finn nørkjær, frederik lyng, jakob lange, joanna m. lesna, kamilla heskje, katrine juul, kekoa charlot, kei atsumi, kristoffer negendahl, lasse lyhne-hansen, lone fenger albrechtsen, mads mathias pedersen, mael barbe, marcelina kolasinska, martino hutz, matteo dragone, naysan john foroudi, nick huizenga, nobert nadudvari, ovidiu munteanu, rasmus rosenblad, richard mui, rihards dzelme, roberto fabbri, ryohei koike, sofia rokmaniko, sunwoong choi, tiina liisa juuti, tomas ramstrand, tore banke, tyrone cobcroft, xin chen
aug 05, 2020
aug 05, 2020
jul 03, 2020
jul 03, 2020
jun 30, 2020
jun 30, 2020
jun 19, 2020
jun 19, 2020
apr 26, 2020
apr 26, 2020
apr 17, 2020
apr 17, 2020
jul 19, 2020
jul 19, 2020
jul 11, 2020
jul 11, 2020
jul 06, 2020
jul 06, 2020
aug 06, 2020
aug 06, 2020
aug 06, 2020
aug 06, 2020
aug 06, 2020
aug 06, 2020
may 09, 2020
may 09, 2020
may 06, 2020
may 06, 2020
oct 28, 2019
oct 28, 2019
aug 06, 2020
aug 06, 2020
aug 05, 2020
aug 05, 2020
aug 05, 2020
aug 05, 2020
a diverse digital database that acts as a valuable guide in gaining insight and information about a product directly from the manufacturer, and serves as a rich reference point in developing a project or scheme.