when uber takes off with its flying car as it plans to by 2023 it will surely need somewhere to land, a contentious issue many experts believe will be a hindrance to its success. well apparently not. at uber's second annual elevate conference, the ride-hailing company unveiled six skyport concept designs from architecture firms teasing a glimpse into our sci-fi-fantastic airborne future.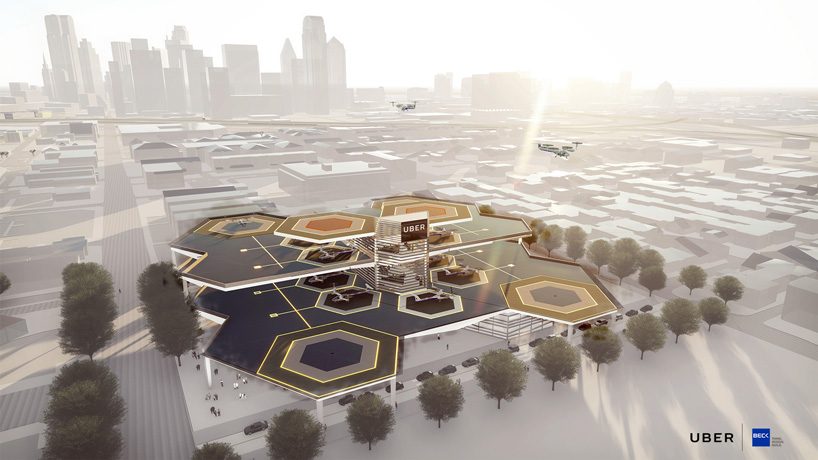 the 'uber hover' by humphreys & partners, pictured above (top), takes inspiration from the form of a beehive for its uberair skyport, modelling itself according to the insects flight patterns to and from the central hub. whilst it accommodates 900 passengers per level, per hour it uses sustainable materials to create an ecosystem that powers itself. similarly inspired is 'the hive' by the beck group, pictured above, which is flexible and scalable to accomodate 150 takeoffs and landings per hour and can be scaled up to 1,000 per hour.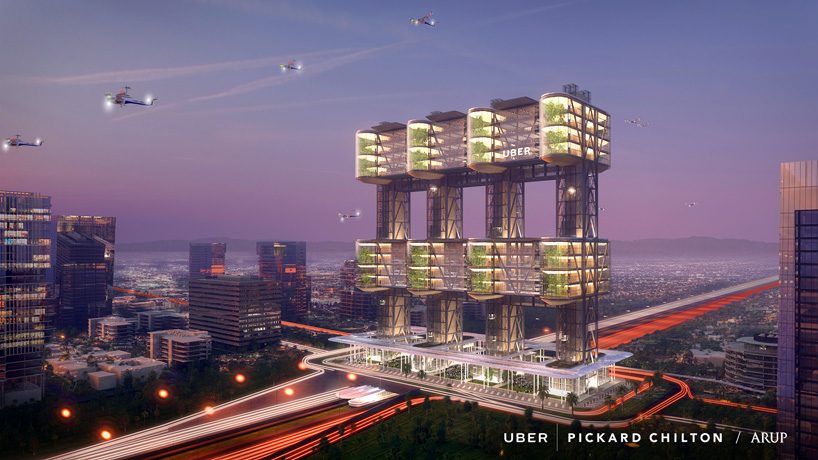 'sky tower' by pickard chilton and arup comprises a series of modules rising high into the sky which the firm says can be combines vertically and horizontally depending on the city landscape. each tower for 180 landings and takeoffs per hour and accommodating 1,800 peak passengers every hour per module.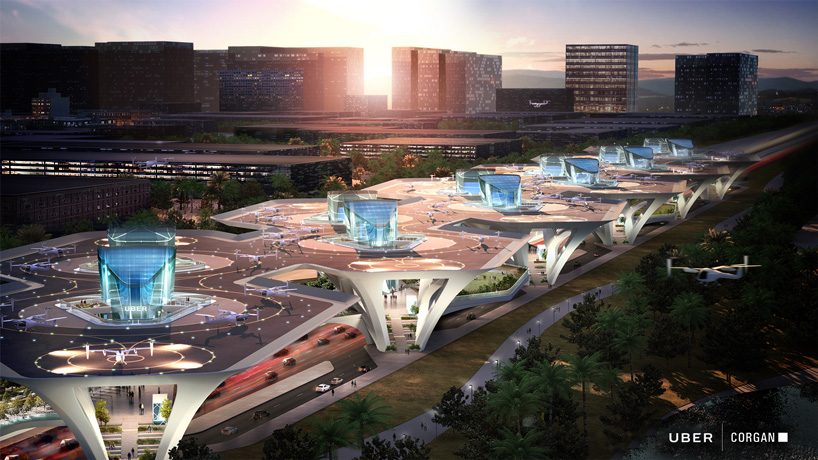 as expected these architects have incorporated designs that are suitably sci-fi considering the idea of a 'flying car' no matter how un-car-like the final prototype appears to look. corgan's 'connect' is a mega skyport concept establishing a network which built above existing highway networks.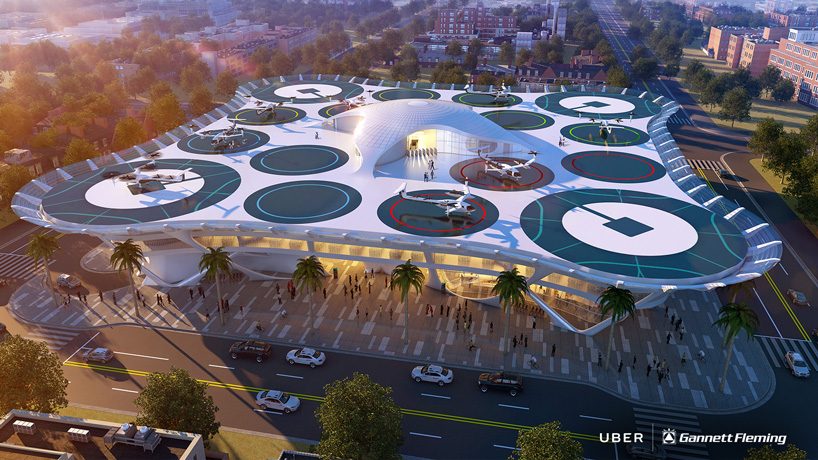 gannett fleming's design includes multiple landing platforms forming shapes that explains its name – 'the paw'. the port supports 52 electric vertical take-off and landing vehicles per hour, per module in a scalable framework that could facilitate more than 600 arrivals and 4,000 people per hour by 2028. lastly BOKA powell's 'skyport prototype' features landings staggered across various tiers at differing heights.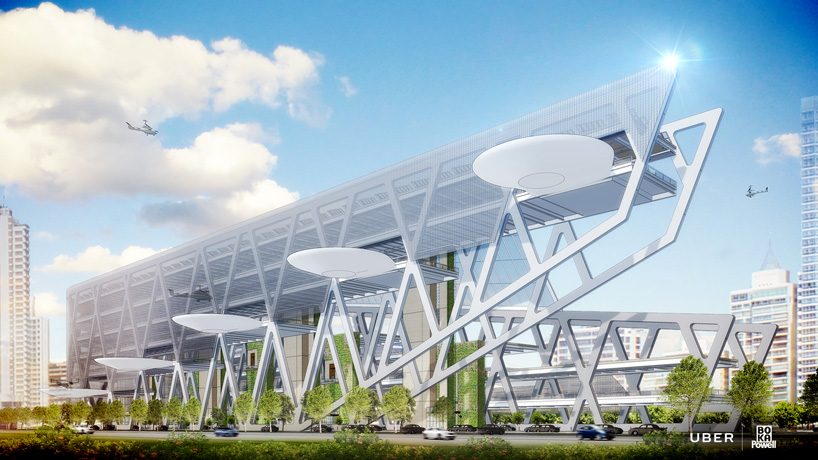 the proposed skysports are in response to uber's design competition which outlines requirements including the transport of more than 4,000 passengers per hour within a 3-acre footprint. as well as other noise and environmental conditions, the need to ensure that electric-powered aircrafts could be recharged between trips with minimal impact on the environment was also a requirement.
in a statement john badalamenti, uber's head of design for advanced programs and aviation, said 'while uberair might feel like a far away dream, it's closer than you think and urban infrastructure has to start to evolve now to keep up.' as well as calling on architects uber has also entered into real estate partnerships with in order to aid the creation of skyports. last fall, uber released the first video of the uberAIR experience.
jun 14, 2020
jun 14, 2020
apr 17, 2020
apr 17, 2020
feb 28, 2020
feb 28, 2020
jan 15, 2020
jan 15, 2020
jan 07, 2020
jan 07, 2020
jan 03, 2020
jan 03, 2020
uber
(14 articles)
jan 07, 2020
jan 07, 2020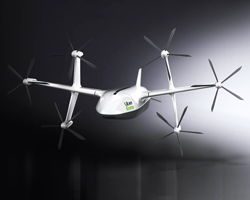 oct 29, 2019
oct 29, 2019
jun 20, 2019
jun 20, 2019
a diverse digital database that acts as a valuable guide in gaining insight and information about a product directly from the manufacturer, and serves as a rich reference point in developing a project or scheme.