marking 28 years since the fall of the berlin wall — a period equal to the time it had been up — the german pavilion seized this significant moment in history to discuss its hopes for the future. presented at the venice architecture biennale, 'unbuilding walls' presents an architectural and urban investigation of borders and division as it relates to the process of healing as a dynamic spatial phenomenon. curated by GRAFT and marianne birthler, the exhibition serves as a response to the debates on nations, protectionism and division that flood society today.
UPDATE (october 2018): as a continuation of the exhibition at the venice biennale, the curators have announced the awarding of two 'unbuilding walls' travel fellowships with a value of €3,000 each. the prize money supports an educational or project excursion, on-site research, and the implementation of the results in concrete projects. find out more here.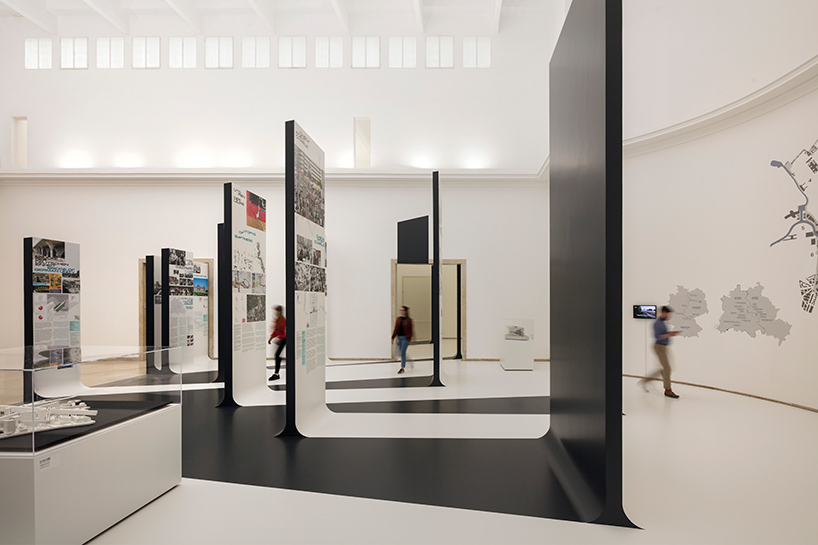 all images by jan bitter
curated by GRAFT and marianne birthler, the exhibition communicates the idea of division through a clever use of perspective and color. as visitors enter the german pavilion, they walk toward a maze of barriers where only monolithic black walls are visible; yet, as they make their way deeper into the venue, informational white panels once hidden are revealed. here, analysis of architectural projects on the former inner-german border show what took place along this unprecedented void. the multitude of approaches, typologies, protagonists, and results show a range of architectural debates and solutions.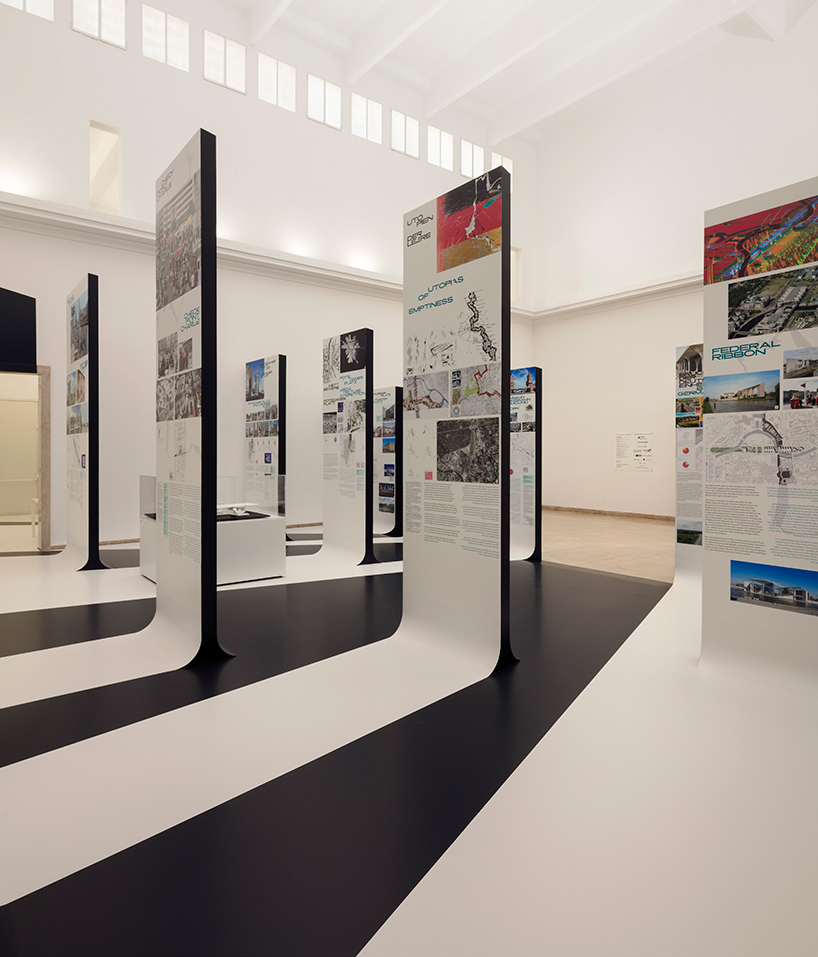 'where the wall and former death strip used to be, the intention was to create free spaces,' explain the curators, GRAFT and marianne birthler. 'alongside state-initiated gestures of connection, such as axel schultes' design for the federal ribbon, a complex process of democratic wrangling ensued about the future of this new urban space that took many forms. should one be allowed to live on a former death strip? should one eradicate this brutal, built testimony to a difficult and contentious period of german history or should it be kept for future generations?'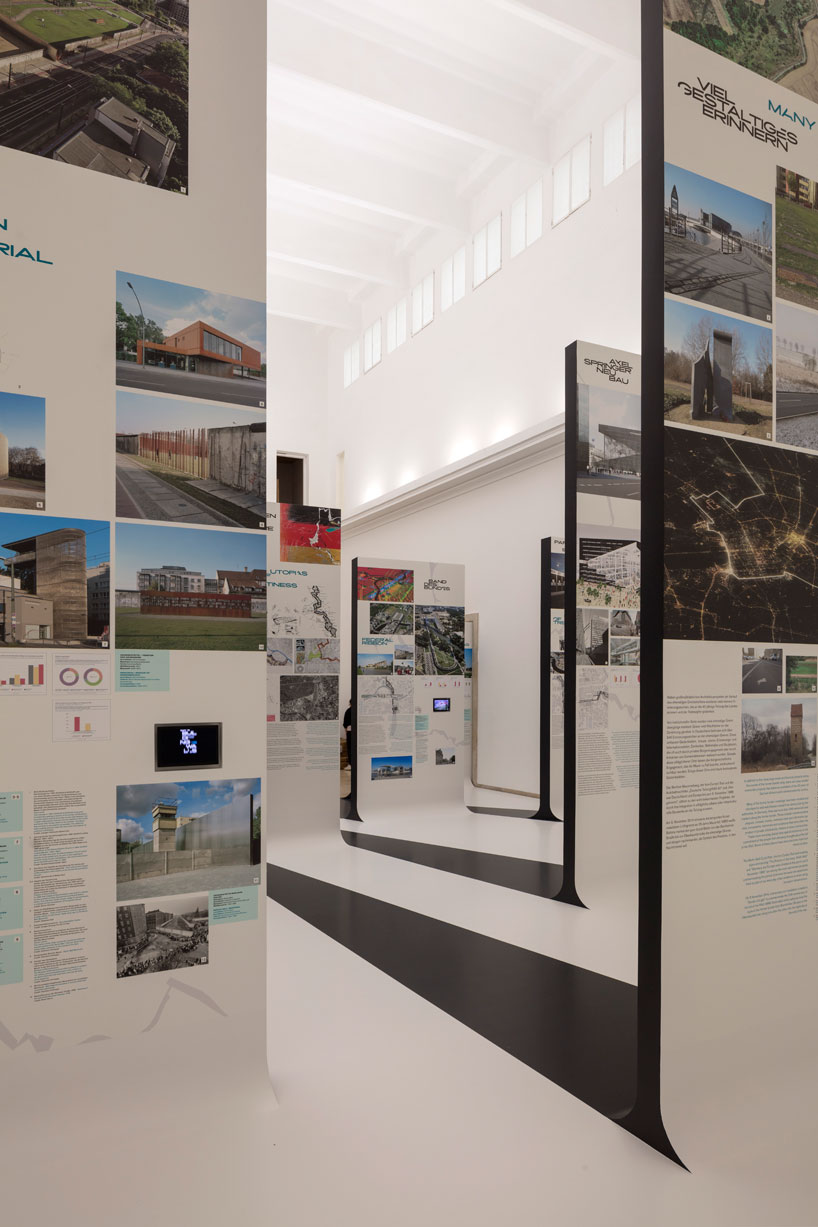 taking the experience of the inner-german wall as a starting point, the exhibition surveys both historical and current barriers beyond germany's specific national perspective. in the course of the preparations for 'unbuilding walls', a team of journalists travelled to border walls around the world — an insight also shown as part of the exhibition.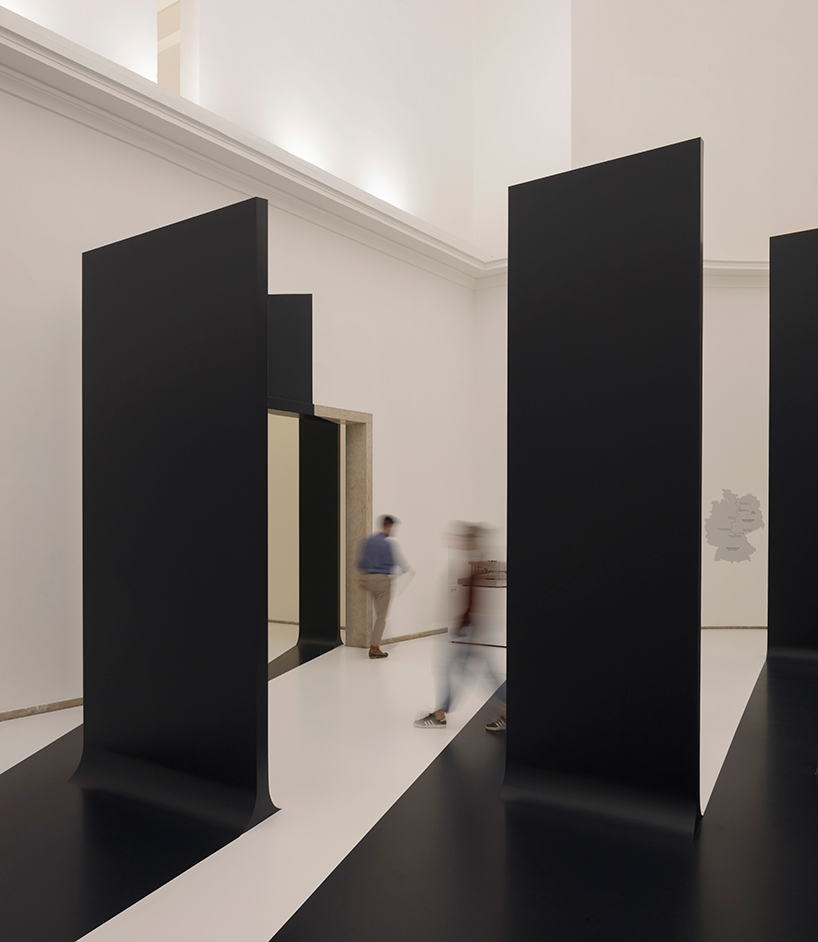 'in the current climate of renewed debate on nations and nationalism, protectionism and segregation, our consideration of the experience of the inner-german border and the many areas in which it continues to resonate today gains new relevance,' the curators continue. 'as the world grows ever more connected, new walls are being discussed and built that separate people from one another. in a world in which trade is global, in which personal communications function on a global scale and in which the threat of rapid climate change can only be tackled together, populist calls for exclusion and restriction seem absurd. nevertheless, they find a broad echo: the more we are connected, the more it breeds desire on the one hand and a fear of loss on the other with regard to possessions, standing and identity.'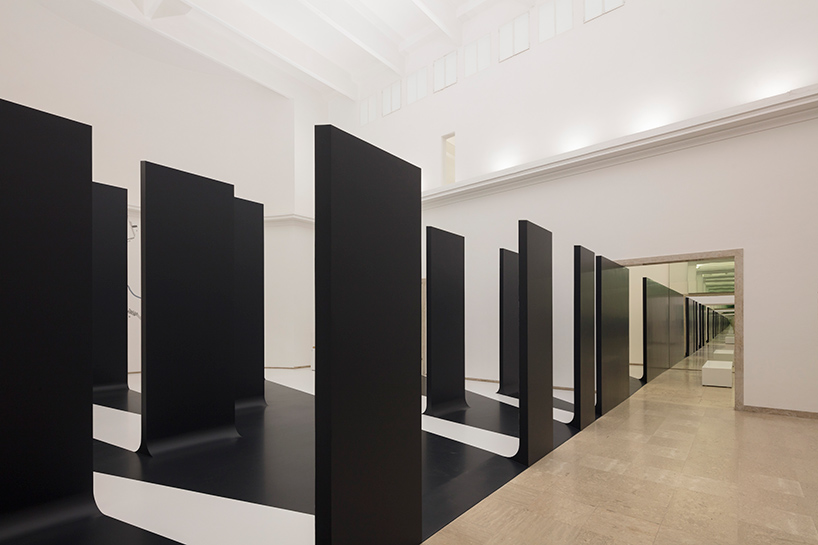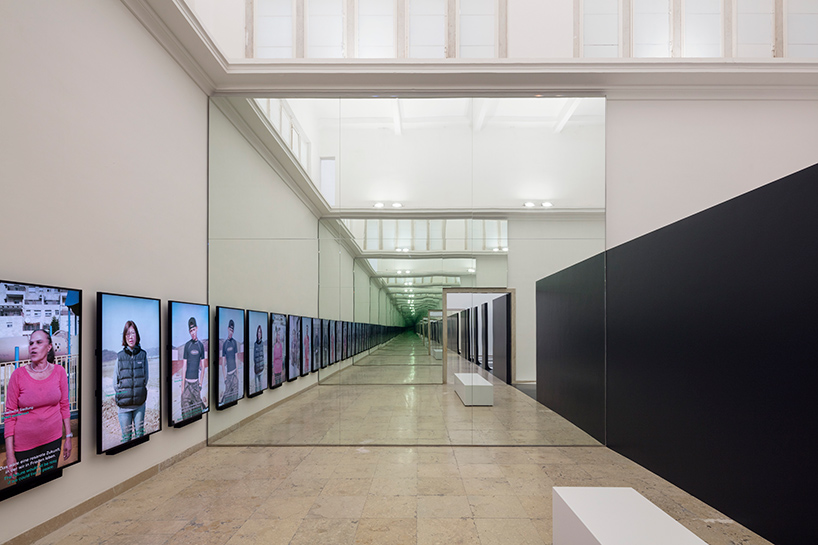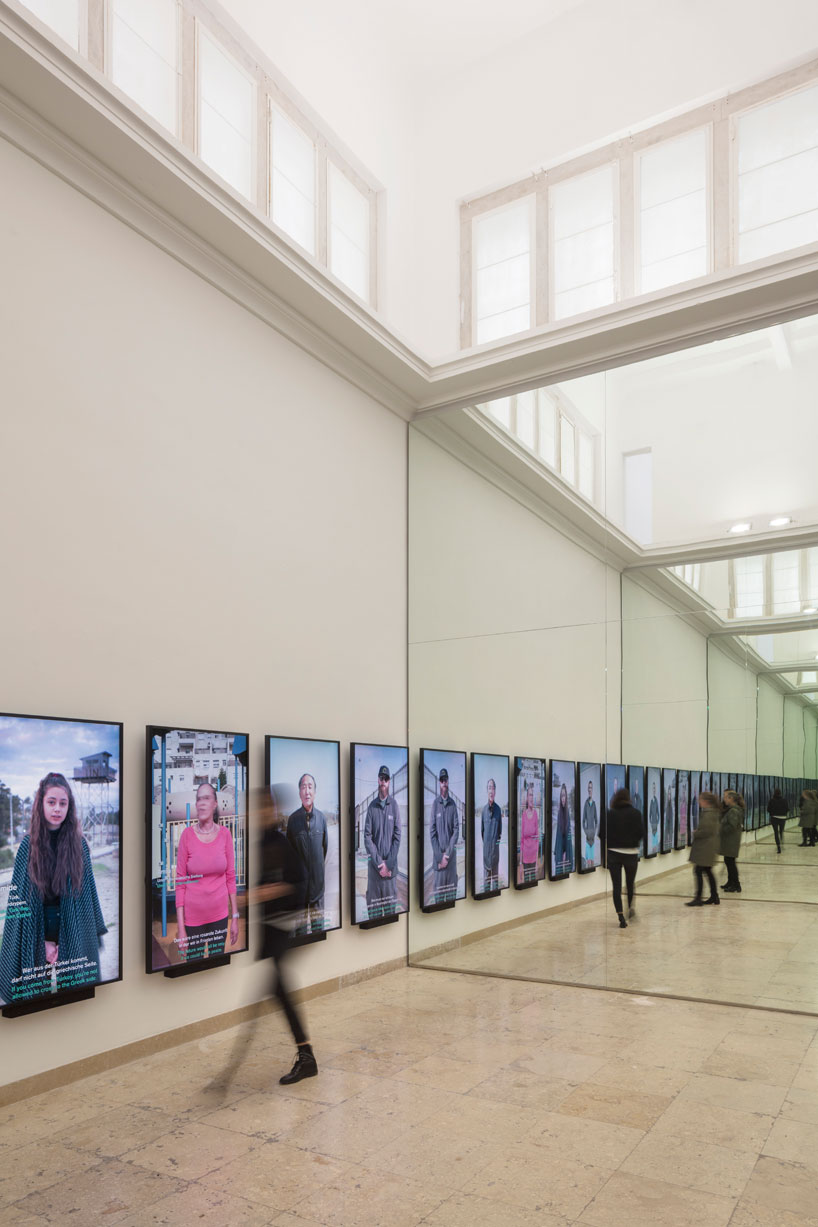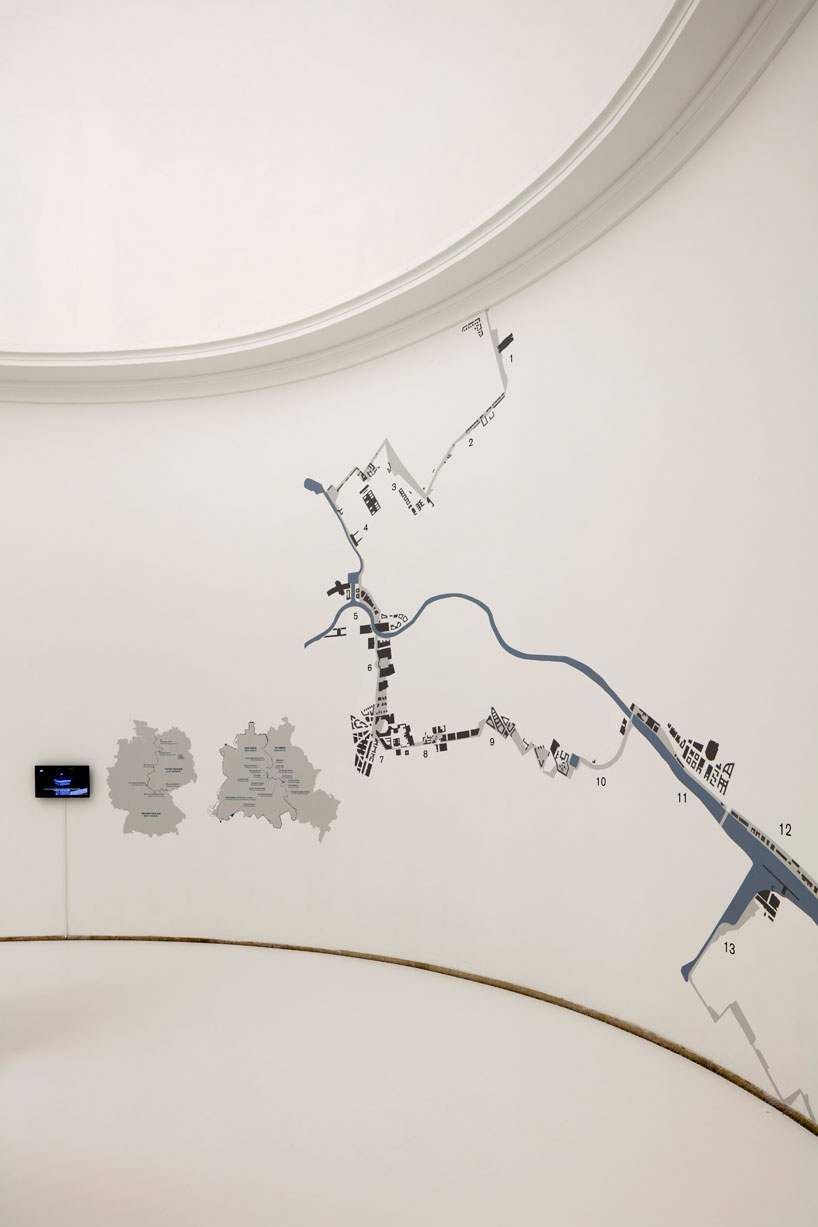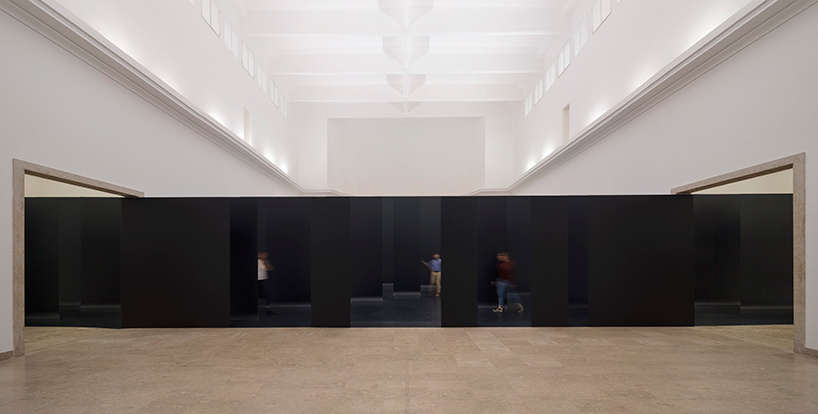 project info:
curators: marianne birthler, lars krückeberg, wolfram putz and thomas willemeit
project management: nora zerelli
production management: felix torkar
project assistants: marta busnelli, julia dorn, oliver gudzowski, laura harnisch, ameli klein, verena otto
design team: marvin bratke, raluca ana maria constantin, alexander liu cheng, moritz hanshans, christopher nielsen, marta piaseczynska, laurent thill
graphic design and exhibition design: proxi.me: christian schärmer, rein steger, max schmieding, maria martí vigil
video installation wall of opinions: regie: maria seifert
camera: helge renner
public relations: a b c ana berlin communications : ana berlin, gesa valentini, vanessa lindenau, franziska laski
exhibition realization: alexander lubic, cfk architetti: clemens f. kusch and martin weigert
eventmanager in venice: solmarino, tomas ewald
on behalf of: federal ministry of the interior, building and community
professional support: gabriele kautz, bmi, anne keßler, bmi, olaf asendorf, bbsr

designboom's coverage of the 2018 venice architecture biennale is in partnership with leading energy company edison. edison is taking part in the 16th international architecture exhibition of la biennale di venezia by initiating a path towards sustainability and the efficient use of resources. the collaboration between edison and la biennale is based on awareness that energy is one of the fundamental elements of architecture and of the places, spaces and cities of contemporary life.
may 24, 2019
may 24, 2019
feb 13, 2019
feb 13, 2019
sep 03, 2018
sep 03, 2018
apr 26, 2018
apr 26, 2018
nov 23, 2017
nov 23, 2017
mar 11, 2016
mar 11, 2016
nov 05, 2018
nov 05, 2018
jul 30, 2018
jul 30, 2018
jul 26, 2018
jul 26, 2018
a diverse digital database that acts as a valuable guide in gaining insight and information about a product directly from the manufacturer, and serves as a rich reference point in developing a project or scheme.