UNEMORI ARCHITECTS has completed the 'sukagawa community center' in fukushima, a 13,698 sqm (147,444 sqft) multipurpose building complex housing a library, a museum, a lecture hall, childcare support, as well as a café amongst others. the project has been developed as part of a municipal reconstruction project to revitalize the severely damaged city center after the great east japan earthquake of 2011. built in collaboration with ishimoto architectural & engineering firm, the five-story building is characterized by open floor setbacks, cantilevered slabs and an activity-based floor plan.
the sukagawa community center houses a wide range of cultural and recreational activities that seek to regenerate community life and establish a long-lasting and versatile relationship between the city and its citizens. activity themes such as 'raise', 'play', 'create', 'learn' and 'meet', divide the multipurpose building into different areas of action, while conventional library categories are reclassified to create a completely new system. 'together with the library stuff, we edited out about 250,000 books from scratch into a new classification original to sukagawa city,' hiroyuki unemori, founder of UNEMORI ARCHITECTS, tells designboom in a zoom interview.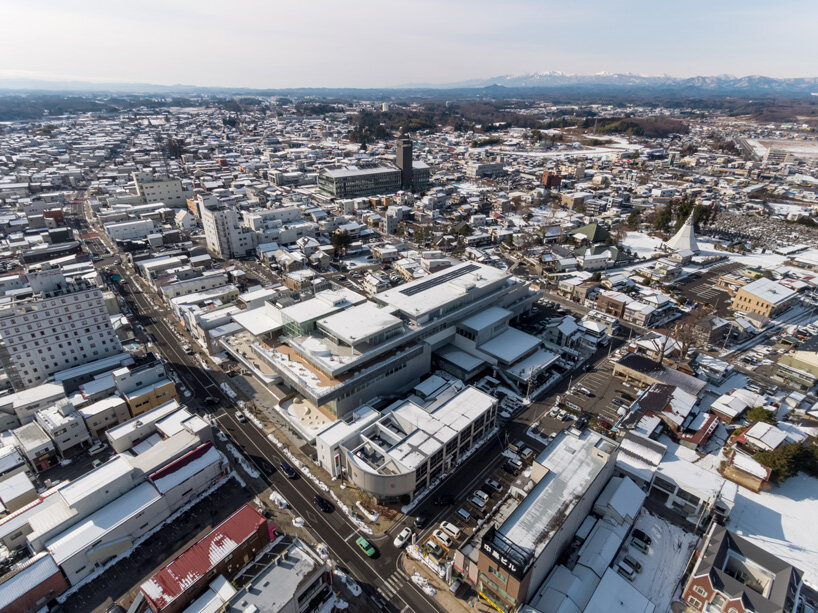 all images by kawasumi・kobayashi kenji photograph office
header image by kai nakamura
together with ishimoto architectural & engineering firm, UNEMORI ARCHITECTS developed the sukagawa community center as a complex structural system. the building is designed as an interlocked structure based on different floor slabs, which are divided into small sections and staggered to form an incremental setback on the site facing the historic main street. its interior is characterized by an open floor plan and offset floor levels that partly appear to float freely in the cavity of the center. this intricate structural system is made possible through a steel frame megastructure, which is placed on the third and fourth floors.
designboom spoke with hiroyuki unemori, founder of UNEMORI ARCHITECTS, about designing a community building after a great natural disaster, and how they reorganized the entire japanese library system to create something unique for the city of sukagawa. read the interview in full below.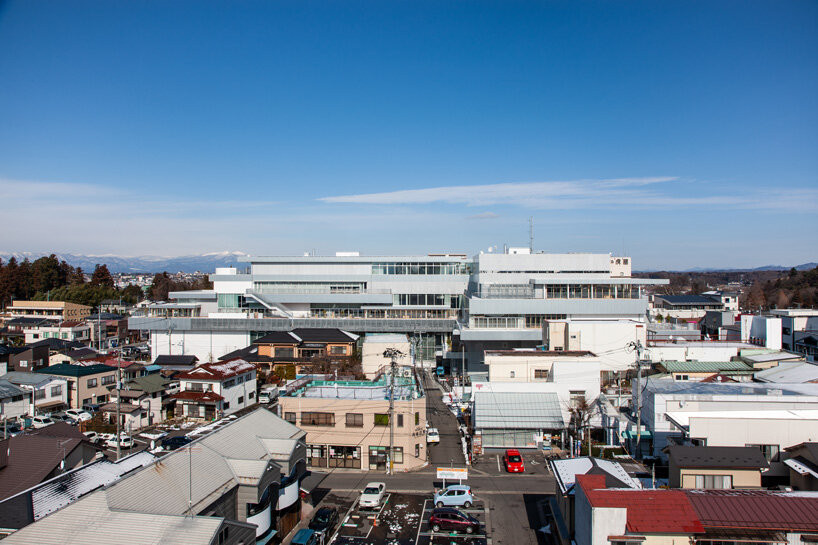 designboom (DB): the sukagawa community center was developed in the wake of the great east japan earthquake of march 11, 2011. how does the new design respond to future natural disasters?
UNEMORI ARCHITECTS (UA): the sukagawa community center is a project after the great earthquake in east japan, and that's why we tried to approach it in both a hard and soft way. for hard design, we stacked a series of slabs and shifted them to the side in order to create exterior terraces. this allows us, in case of a disaster, to evacuate the building through the exterior terraces and staircases. also, within the current coronavirus situation, the interior can be better ventilated by not only the terraces but also the large windows. as for soft design, this building has become a base for many generations of citizens, from children to elderly people, who can visit and work in this building on a daily basis. by doing so, you can see the faces of the citizens and understand the building. such daily use functions effectively for evacuation and mutual help in the event of a disaster.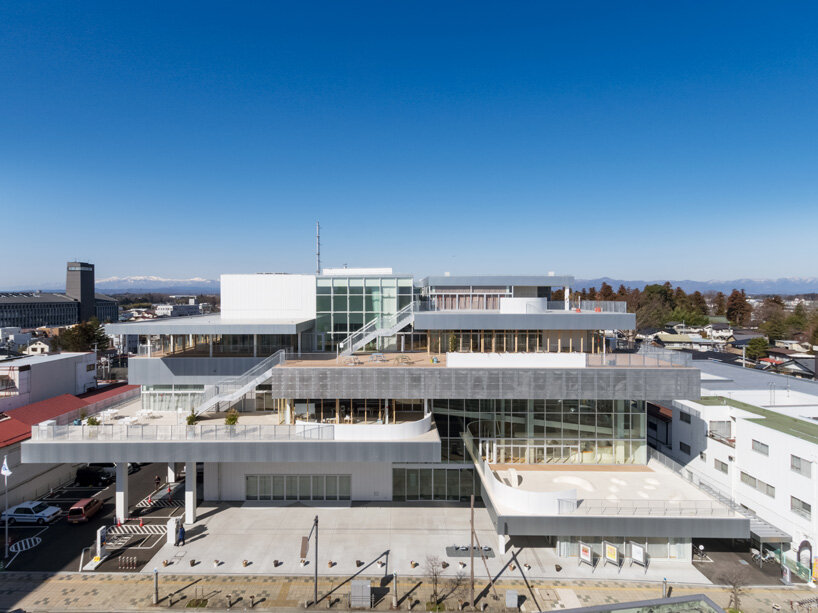 DB: what were the demands and challenges, if any, of designing a building to revitalize the destroyed city center of sukagawa city?
UA: after the earthquake, the city was so deserted that most of the people walking around had disappeared. therefore, by creating many terraces, we made it possible to see people directly from the city and I wanted to encourage the city with the appearance of people working in this building. I also wanted to create a building that would allow one to walk around the city and be continuous with the city. sukagawa is a city with many slopes, and this site also has level differences of about 2.5 meters between east and west. in order to connect the level differences, the floor on the first level was made into a slope as a whole so that one could pass through the building and connect the city. however, such terraces and sloped floors are very difficult to realize in japanese public facilities for reasons such as safety. but we managed to achieve this project through a lot of discussions with the people involved.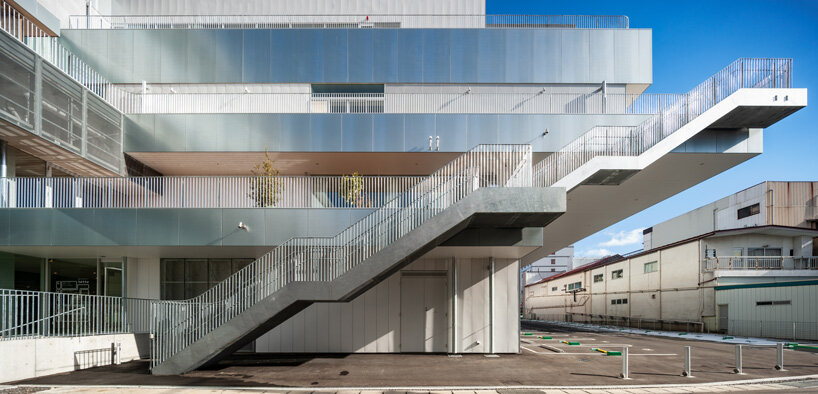 DB: what were the public's demands and how did you integrate them into the design concept? what activities does the floor plan of the multi-purpose building enclose?
UA: about 35 public workshops were held from the start of the design to the completion of the building, and 1,400 opinions were raised. there were various and many demands, and some of them were a little crazy, like wanting a hot spring or a planetarium. however, when we listened to these opinions, many of them crossed functions, such as wanting to teach food, or education in the form of a cooking class, and that it would be nice if the children's playground and library were nearby. perhaps after the earthquake we realized that there was a potential demand among citizens to connect with someone. after that workshop, we reconsidered a complex facility that had only different functions until then to create a new architecture with integrated functions. this building is mainly a multifunctional complex of libraries and a community center with childcare support. therefore, we tried to decompose it into activities and reclassify them into nine themes. books are arranged according to each theme. the entire building is a library, forming an integrated architecture that is a place of activity. for example, we arranged books about making things in the immediate vicinity of the craft room. in addition, books on cooking were placed near the cooking studio, and books such as picture books were placed in the indoor playground. by doing so, even if children are not interested in books, they will still encounter these books. also the opposite could happen; the people coming to take books can encounter those activities.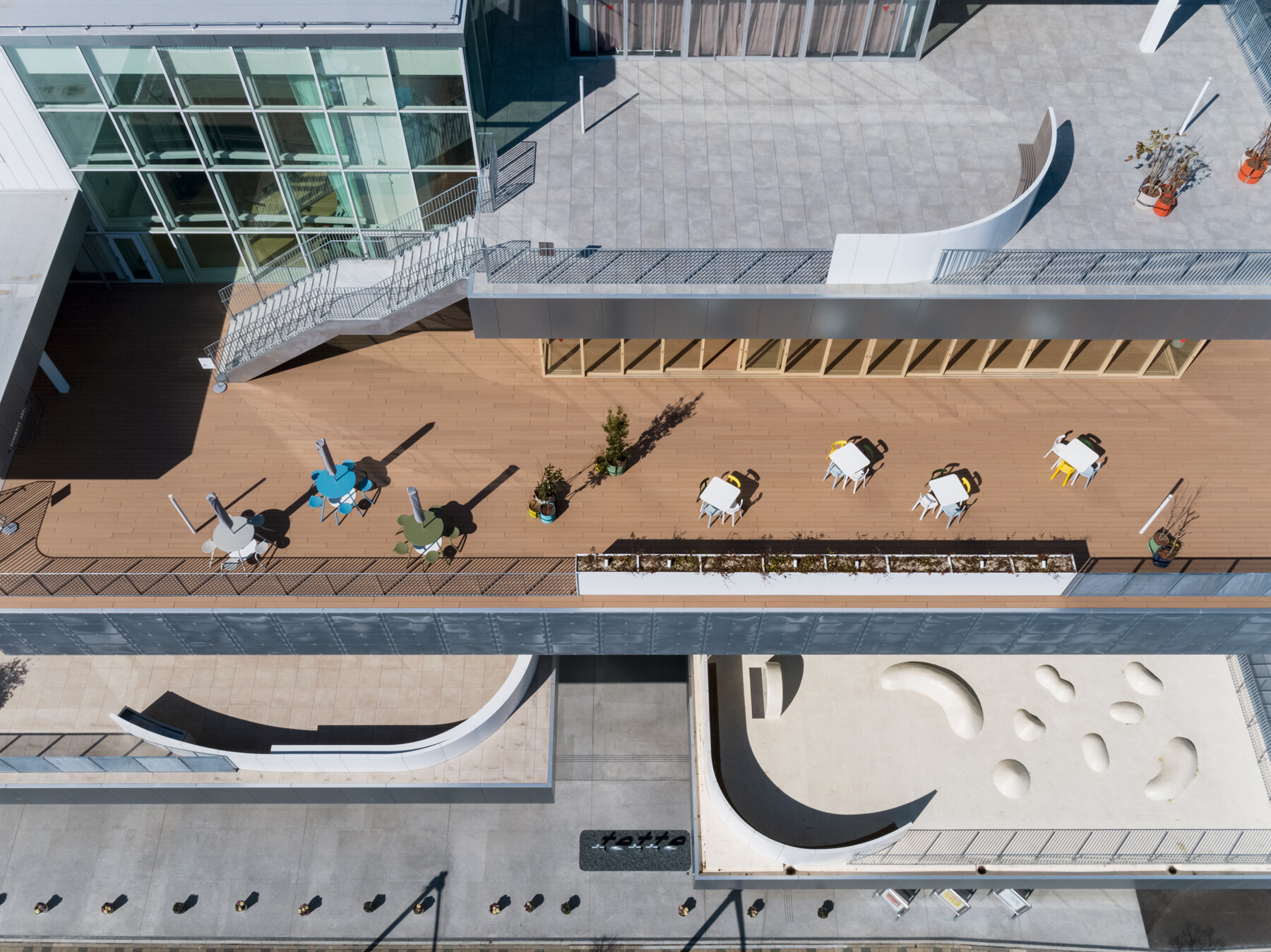 UA (continued): we aimed to make people encounter and discover such relationships between books and activities. however, this idea is different from the traditional method of classifying books in japanese libraries. together with the library stuff, we edited out about 250,000 books from scratch into a new classification original to sukagawa city. for example, we don't have the concept of 'nature' so we couldn't classify following the japanese logic. so, we tried to select books about nature from history and science and technology, and then combine them into the category of nature.

each floor, each plate, contains a theme of each of the categories. for example, one is called 'raise', another is called 'create', and each slab is stacked and shifted on the side. then we planned to connect the plates with gentle slopes and stairs, so one can meet various spaces and books and activities as if they were walking around the city. in addition to high and low ceilings, there is also an intermediate space in between windows called the inner terrace, like an 'engawa', so the building has a variety of spaces outdoor, indoor and in between. we aimed for an architecture that really allows every person to stay by creating various types of spaces.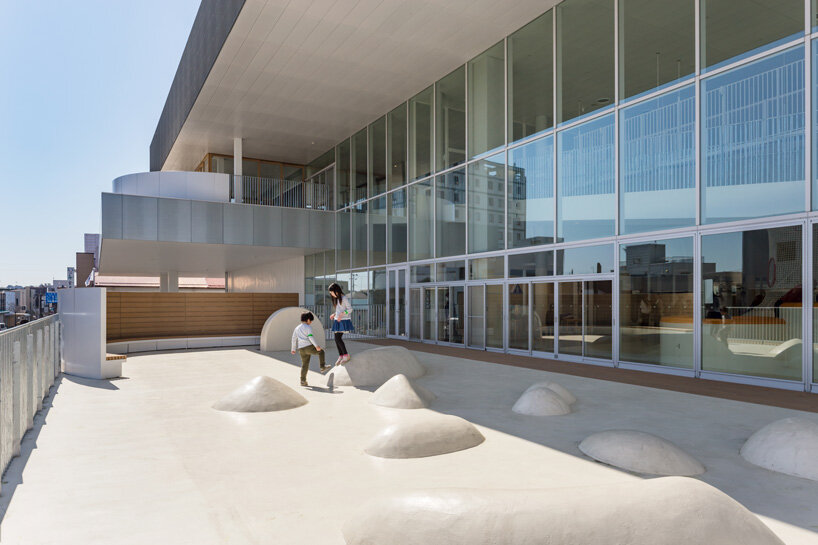 DB: what are the main characteristics of the building's structural design?
UA: the building's plates are out of alignment, so it was not possible to place columns through. that's why it was necessary to shift the position of the pillars up and down. also, I didn't want to drop a pillar on the floor of the first level because I wanted to make the first level feel like a street. therefore, a megastructure with truss beams is created on a part of the third and fourth floors, which are the middle floors, and then the lower, cantilevering floors are hanging from there to support the pillars on the upper floors. this megastructure has a height of about two meters and it contains equipment such as air conditioning. by treating the equipment space in cross section, the machine room on each floor was almost unnecessary, which allowed the openings to be operated in various directions. in addition, this megastructure works as a sound absorbing layer with sound absorbing material inside to prevent the lively sounds of the entrance on the lower floor from reaching the quiet gallery and library space on the upper levels. meanwhile, a gradual sound environment has been realized in the large studio space. the megastructure also serves as a space for smoke pools in case of fire, where we planned to let the collective smoke out through the smoke exhaust window.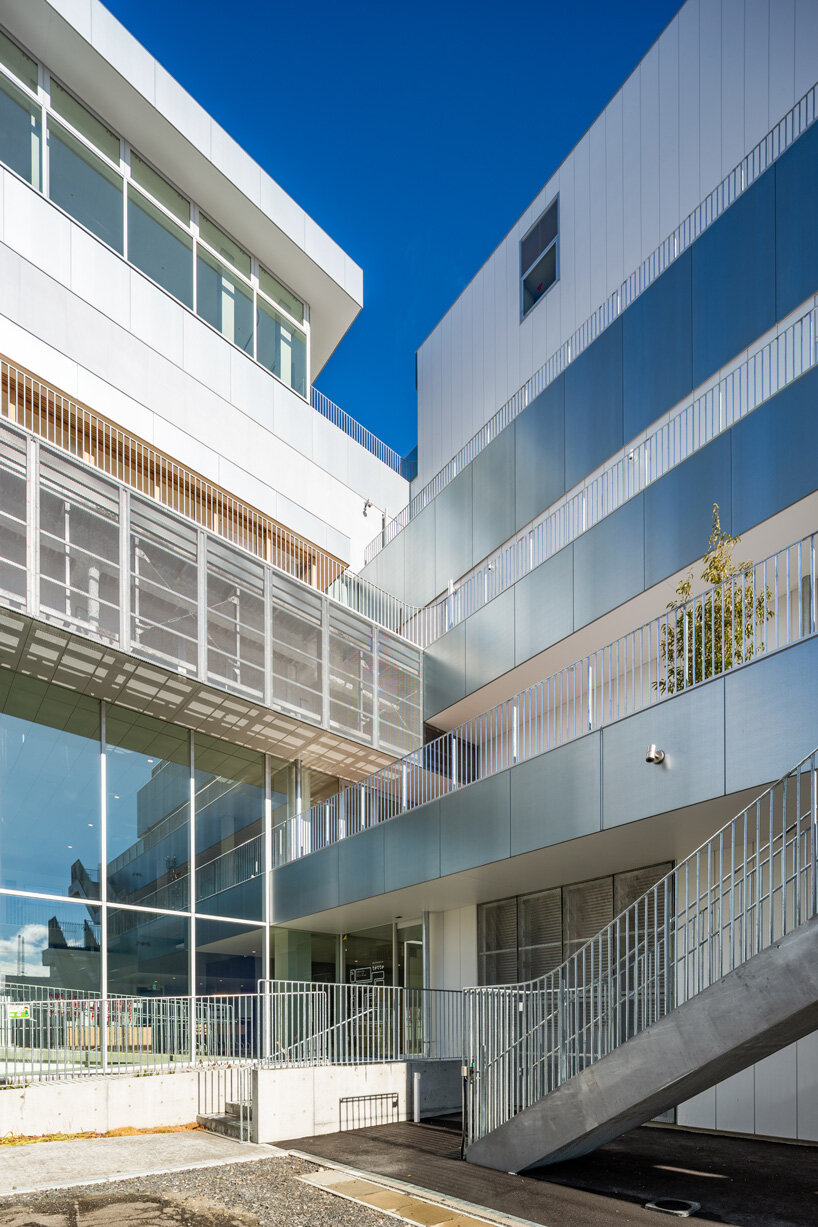 DB: it's really nice that you can see through the megastructure with the mesh that wraps it – that the equipment is not hidden.
UA: this is because we wanted to let the citizens understand how the building is composed, so we tried to expose this truss. the megastructure also works as an element to hang things from, like the netted play space above the indoor playground. it has many functions, not only structural, but also for the equipment, environment, and the prevention of the fire.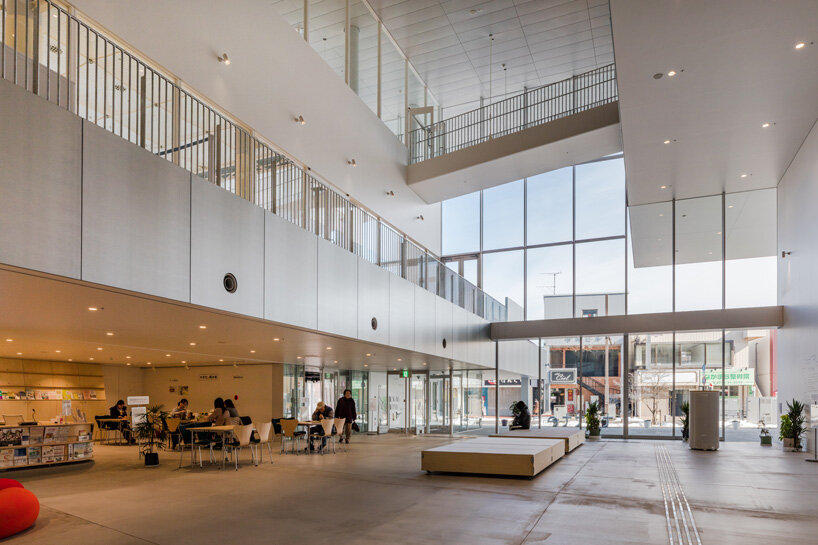 DB: congratulations! are you happy with the result?
the population of sukagawa city is about 77,000. after the construction, 700,000 people – both residents and visitors – came to the city in a single year. also, one of the most important points is that actually this project is not only by UNEMORI, but it is a joint venture between an established architectural firm and an architect in his 30s. generally in japan, it's really difficult to challenge such a large and public building, but sukagawa's government aimed to get fresh ideas by combining creativity with experience. many projects after the disaster in east japan just aimed to recover the existing situation; this project seeks to do so with creative thinking.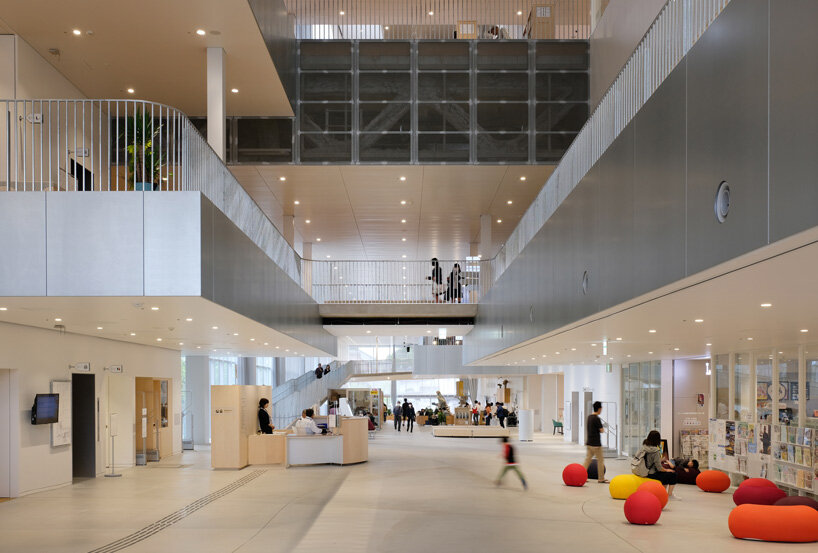 image by kai nakamura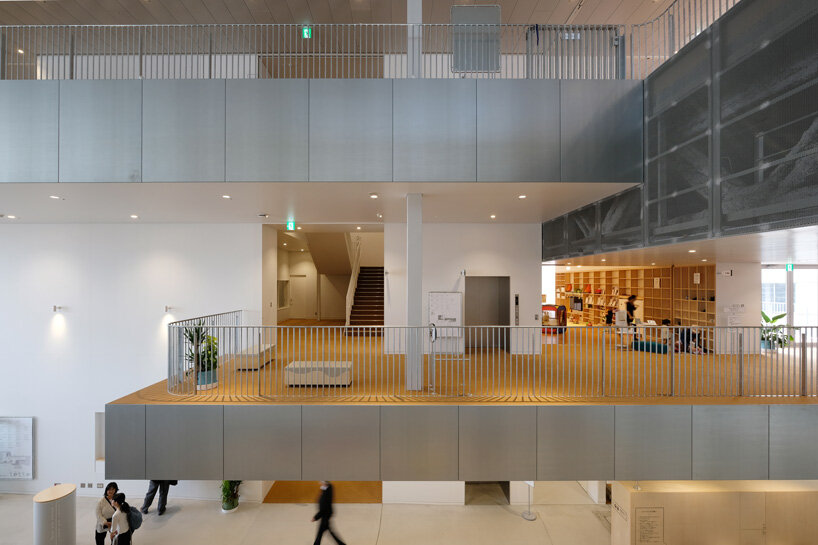 image by kai nakamura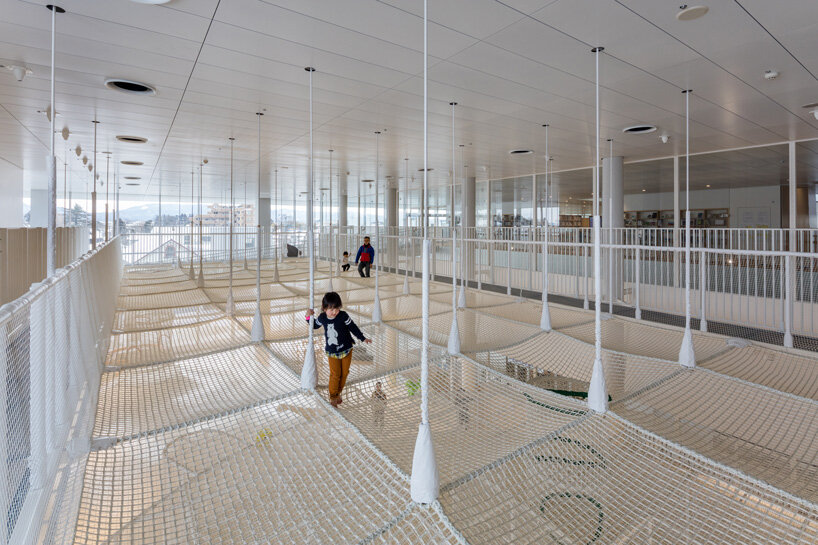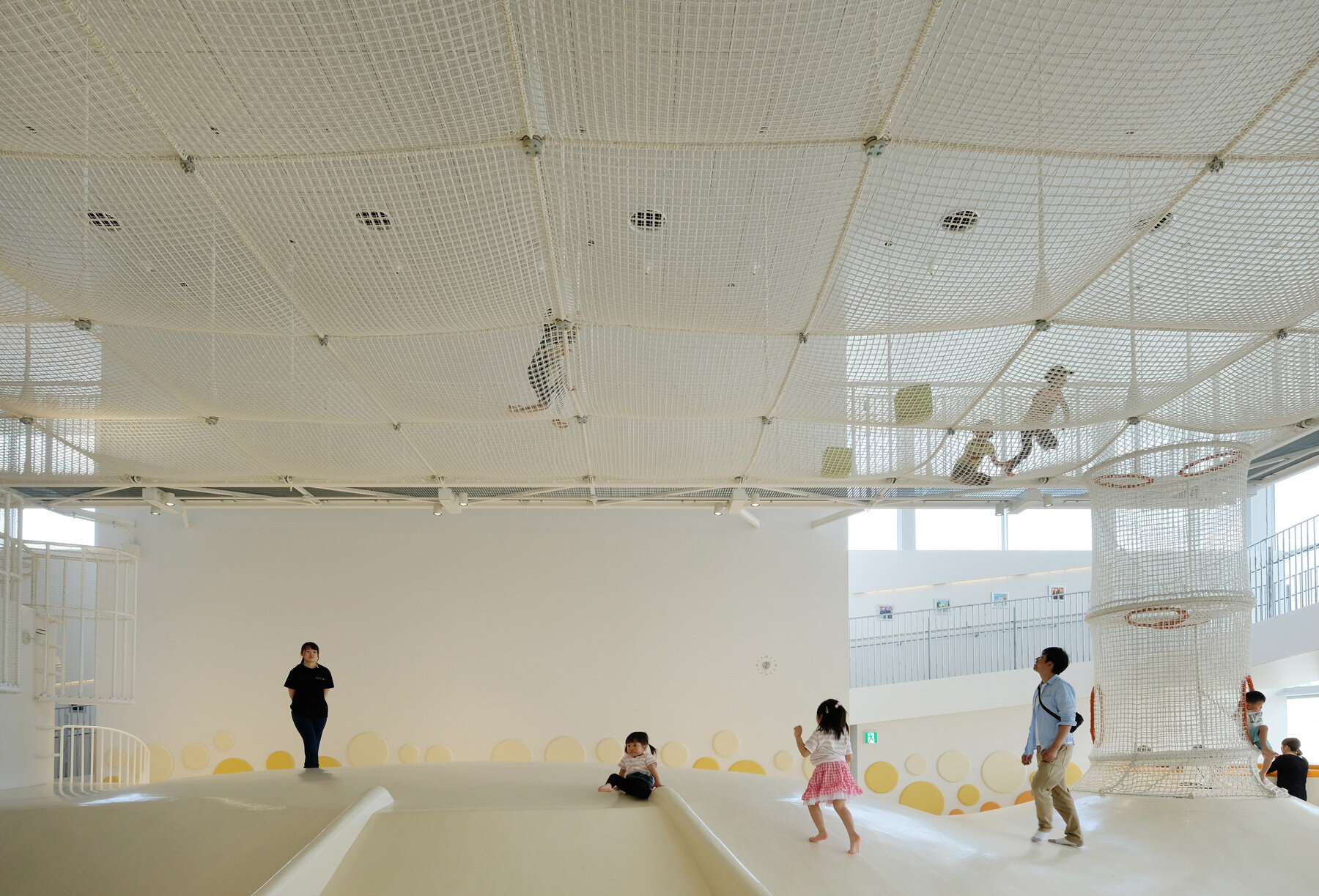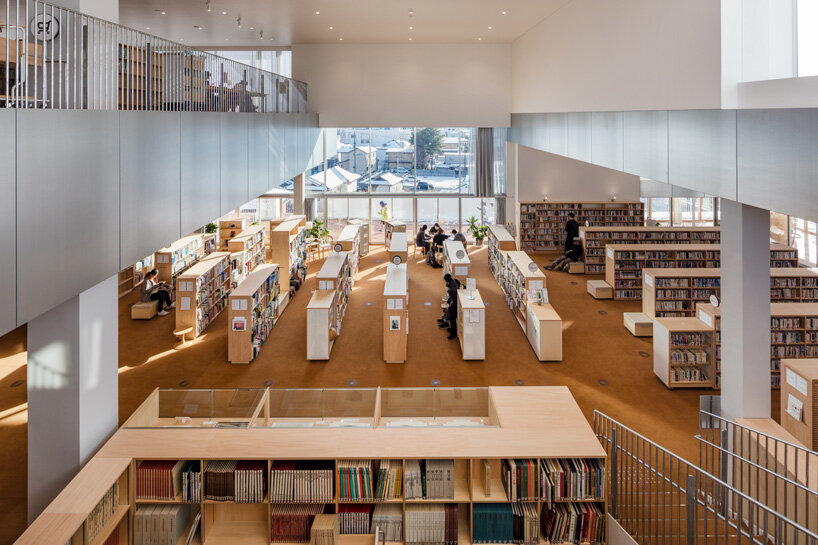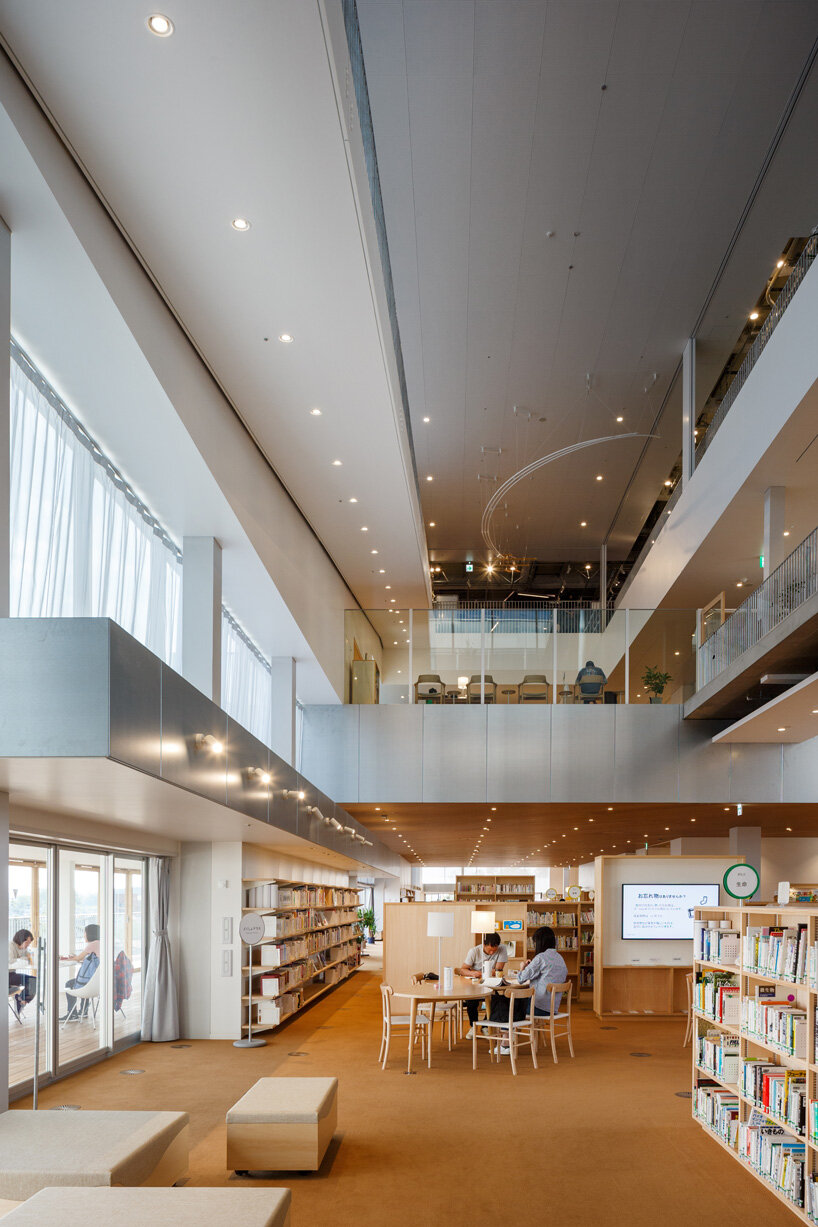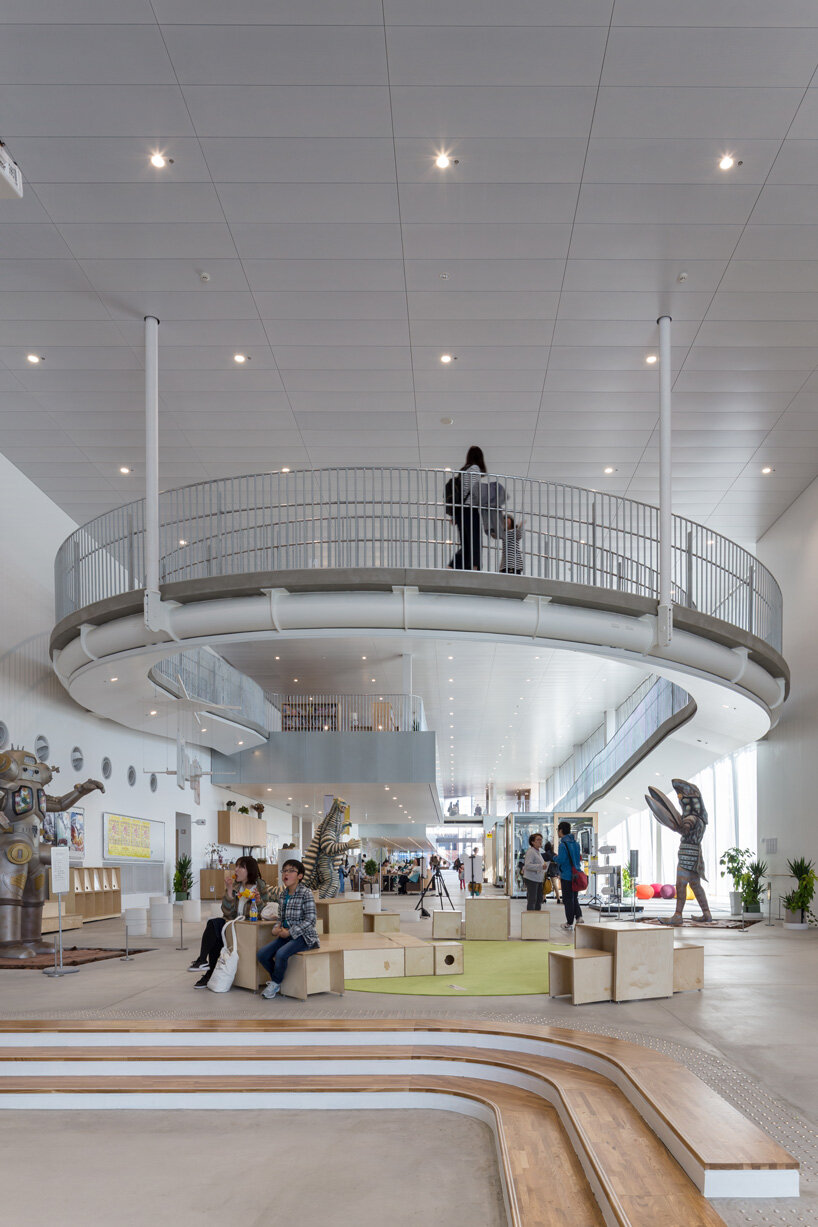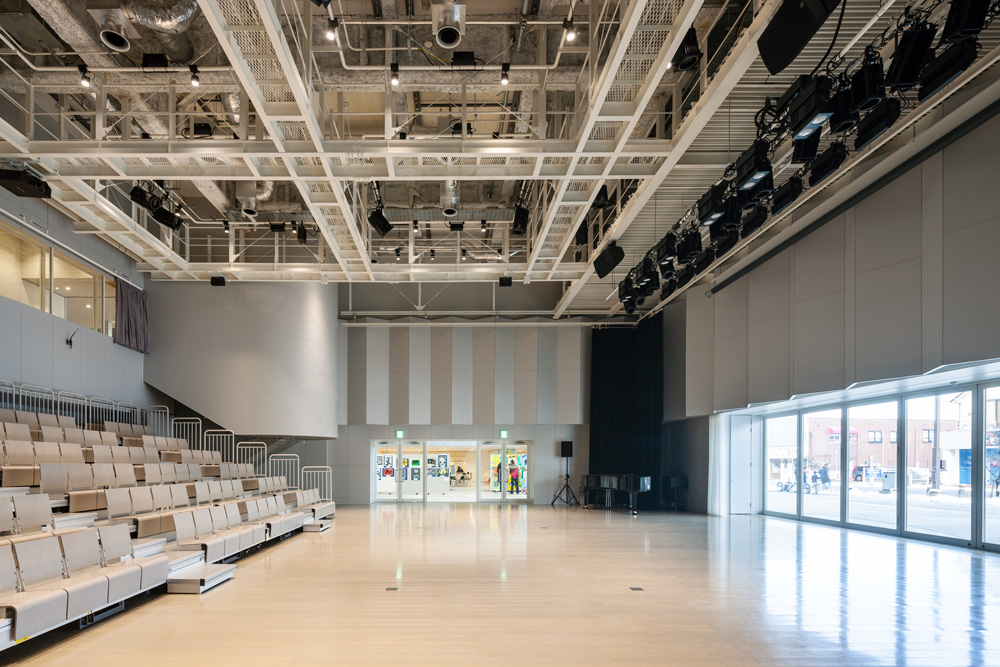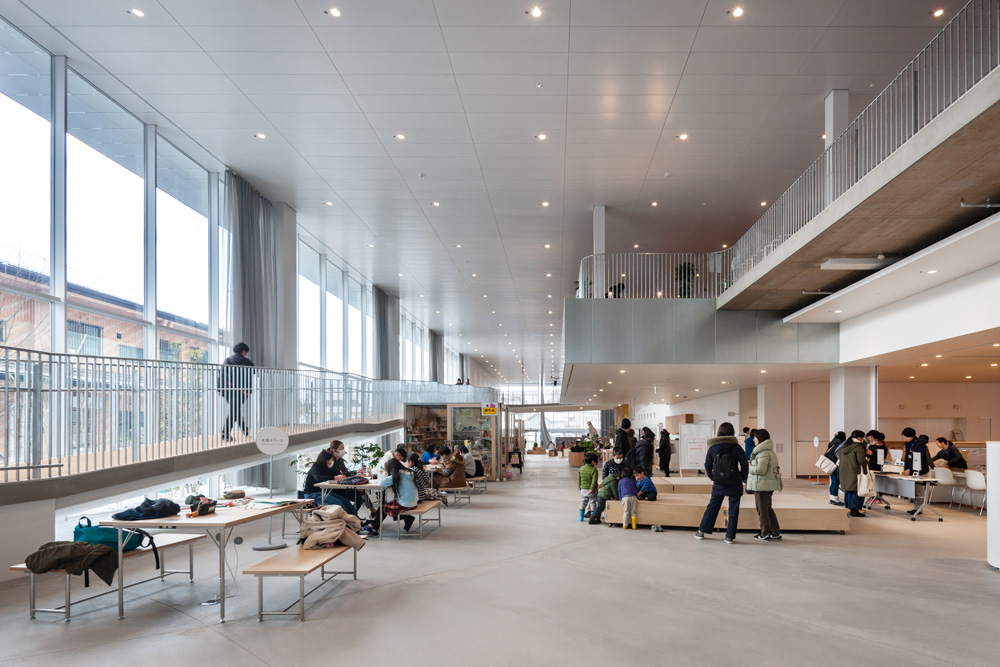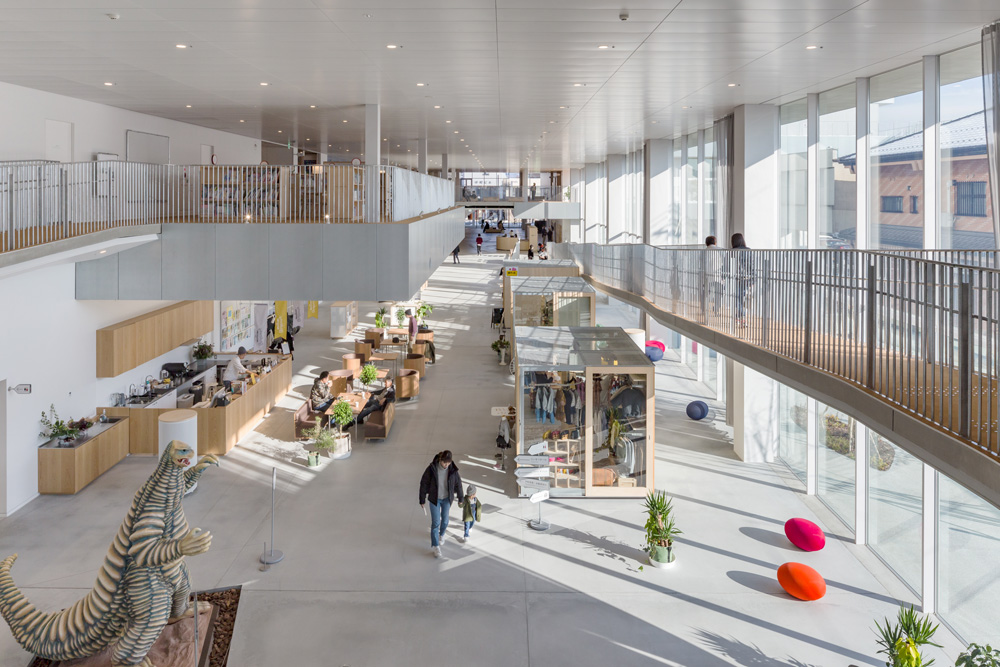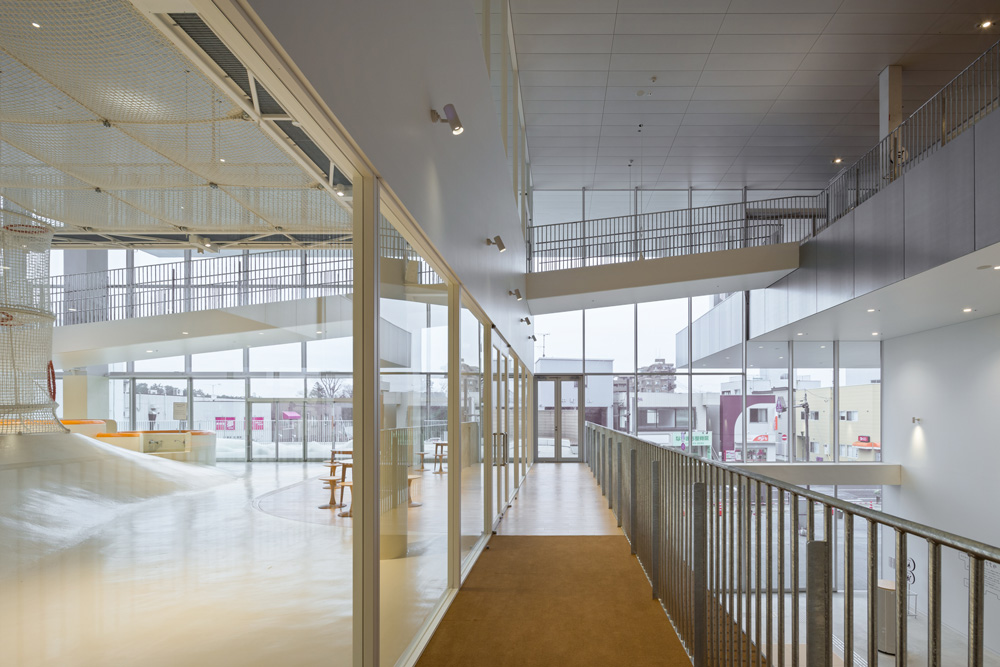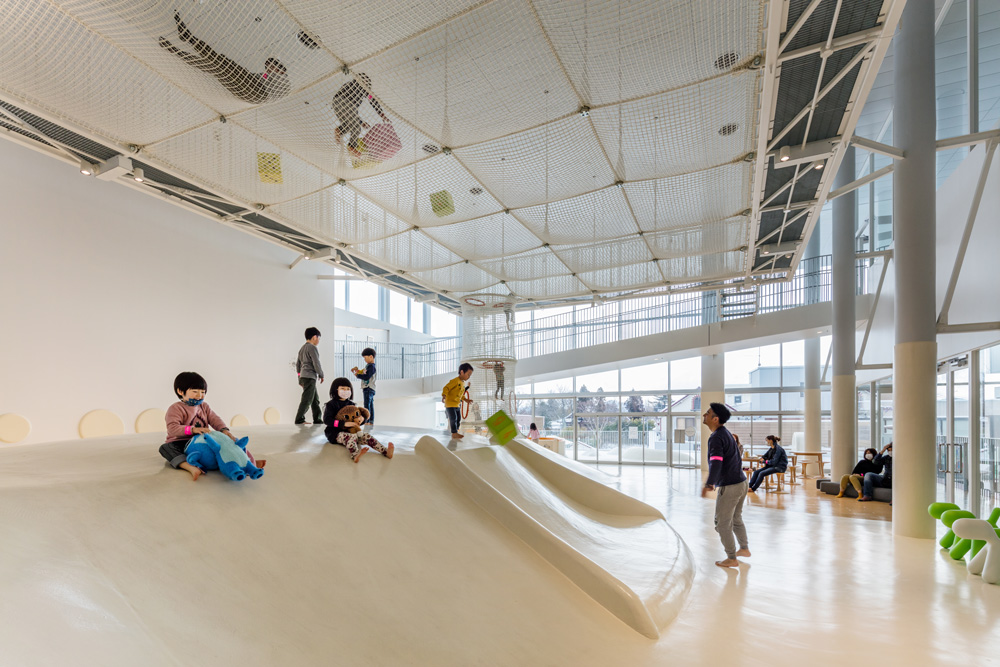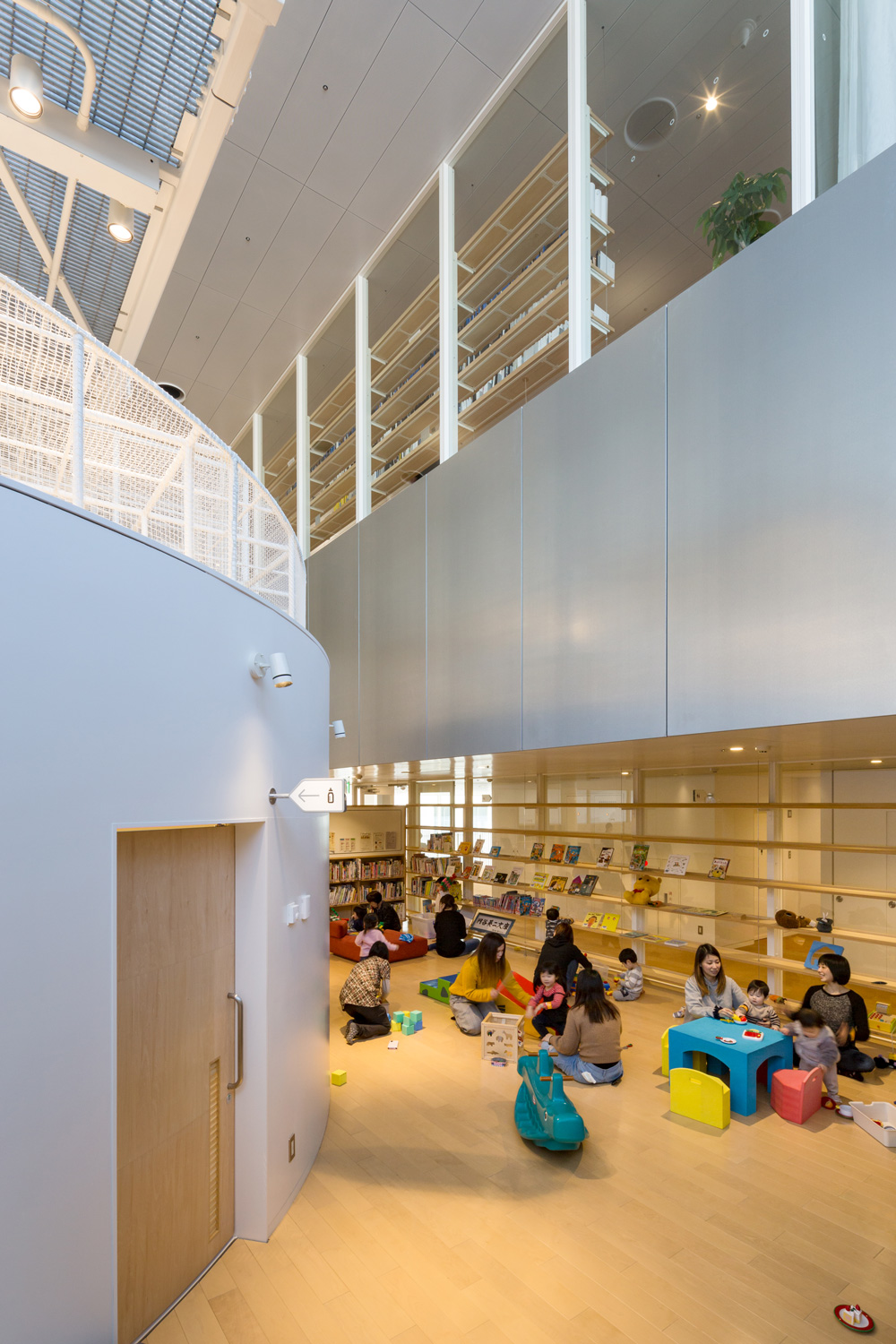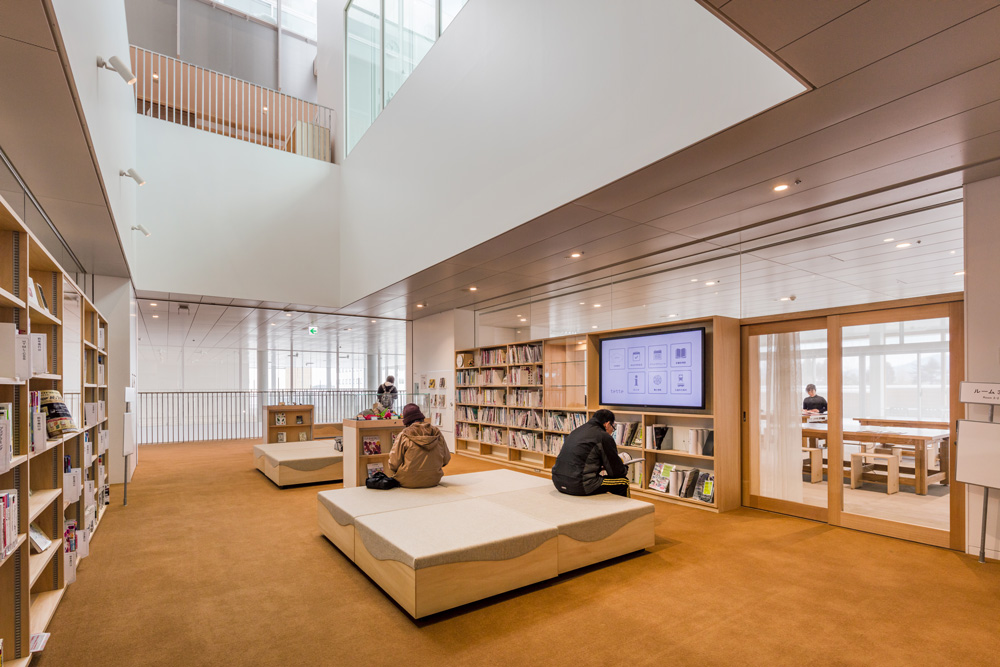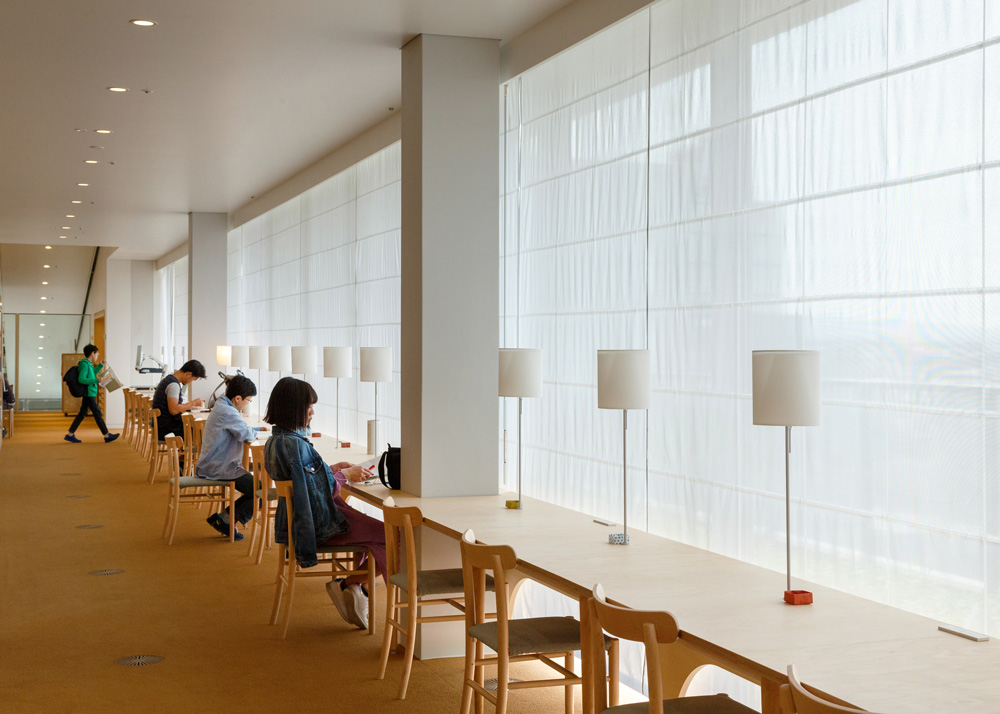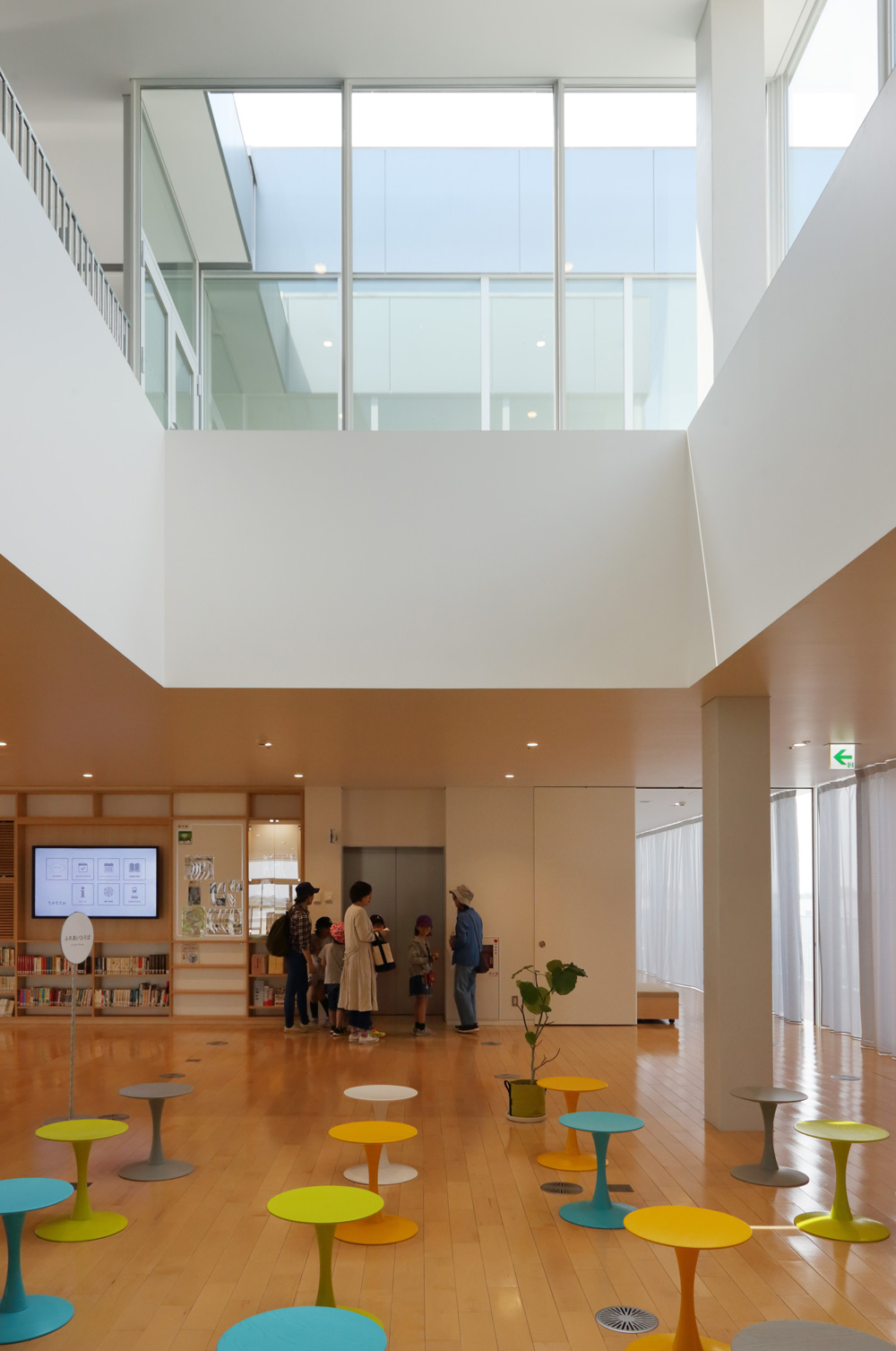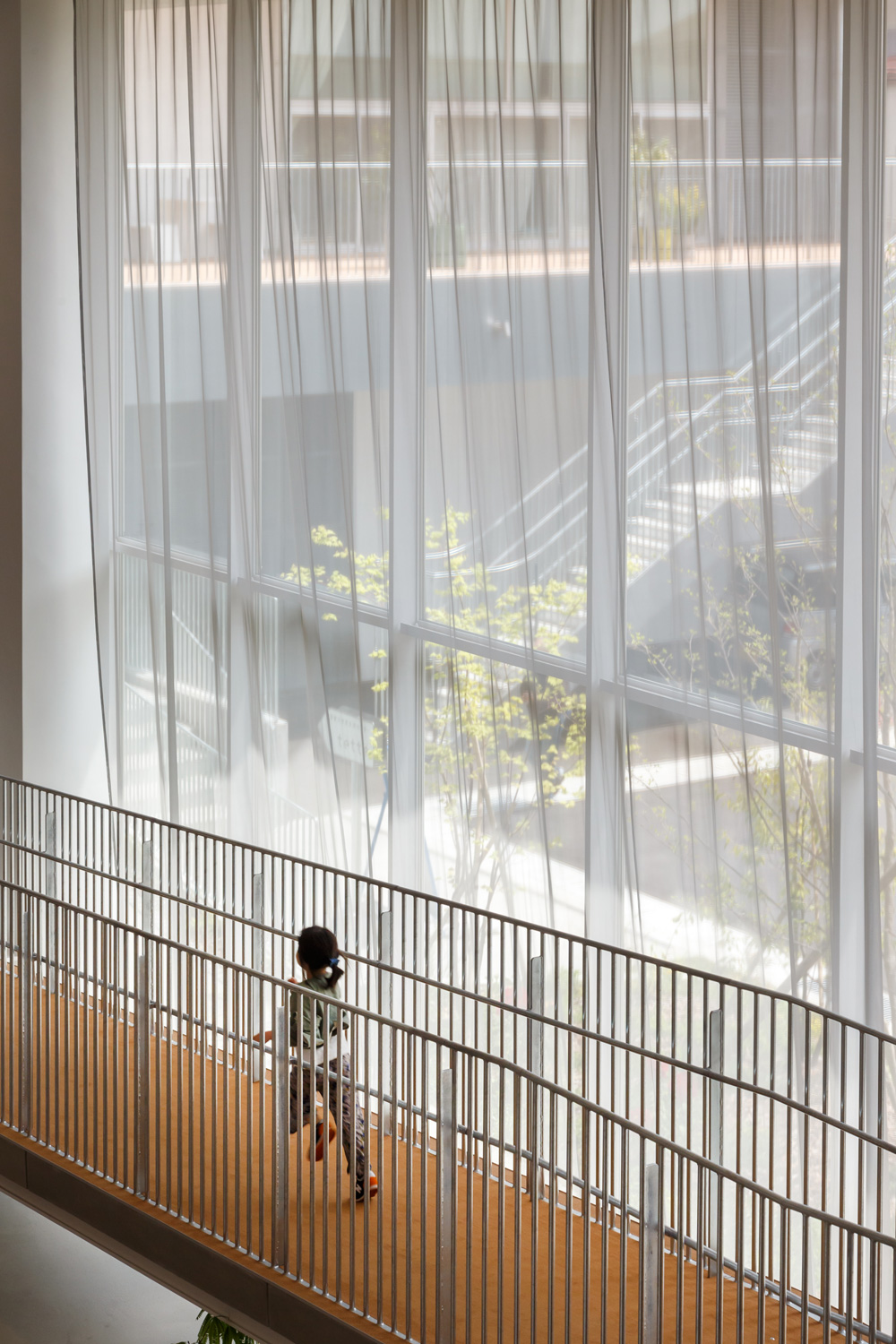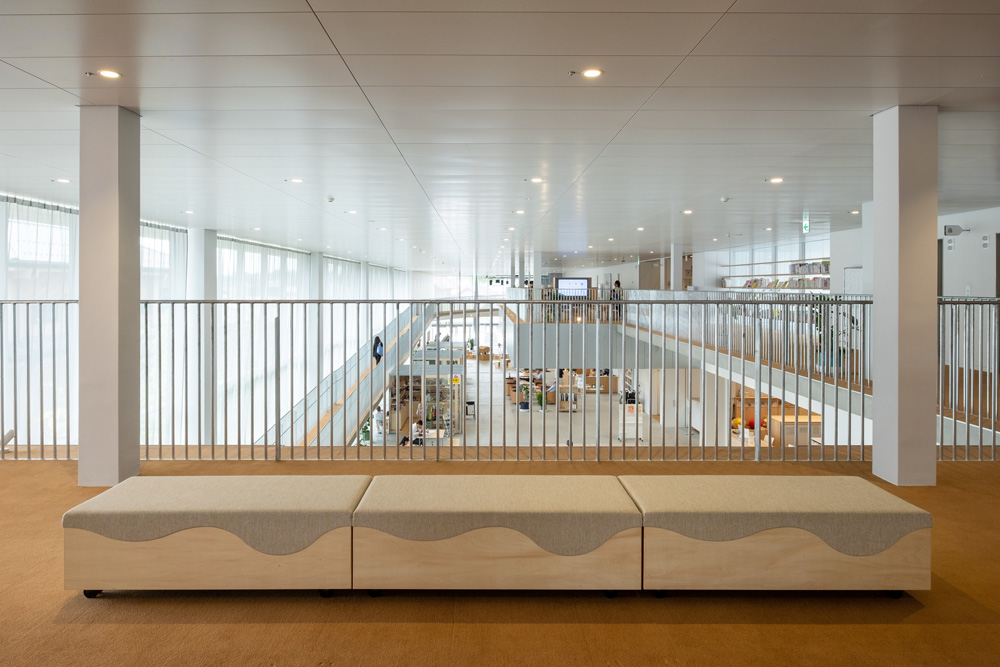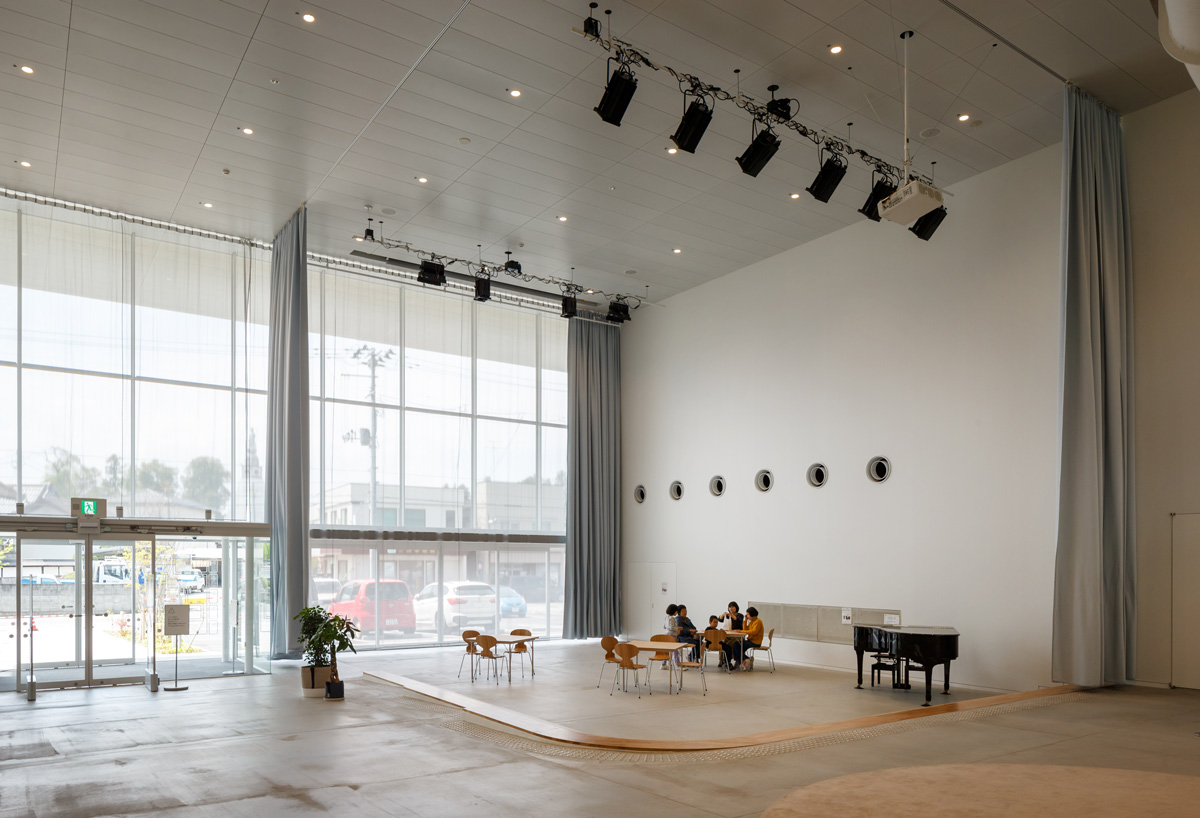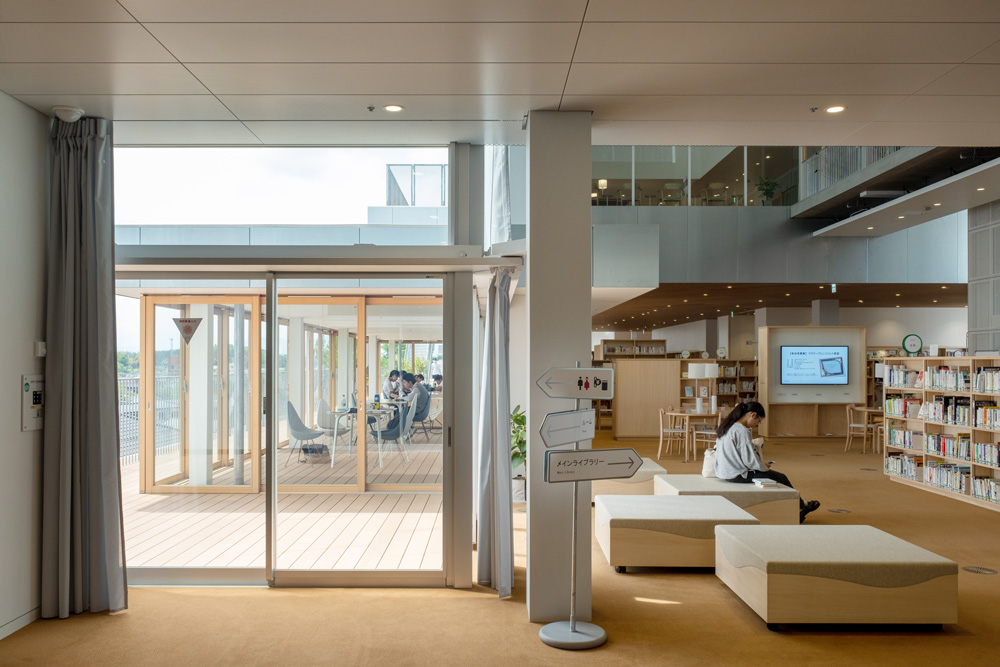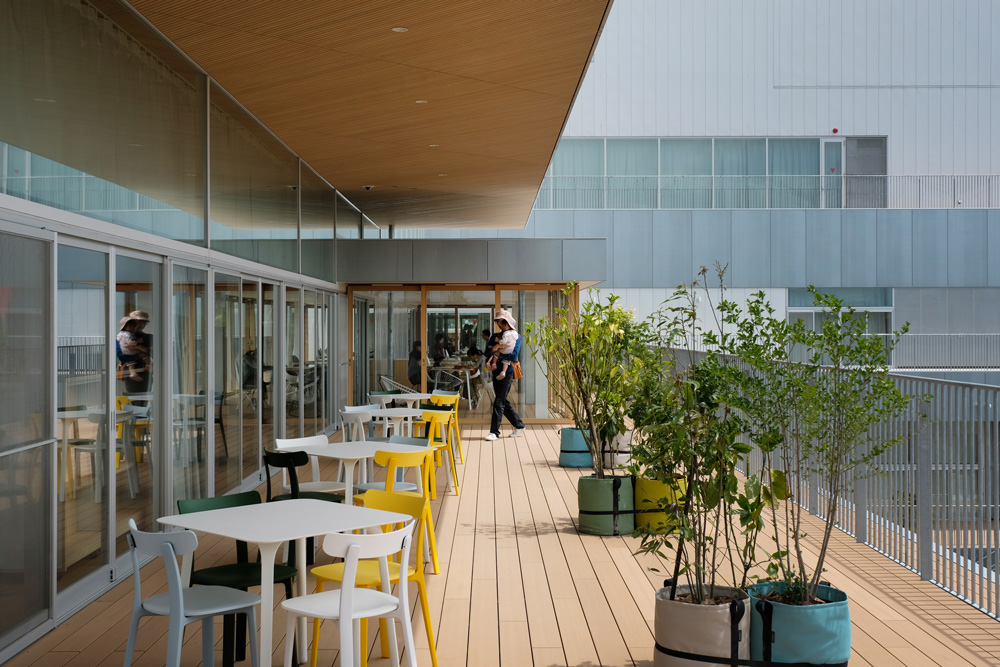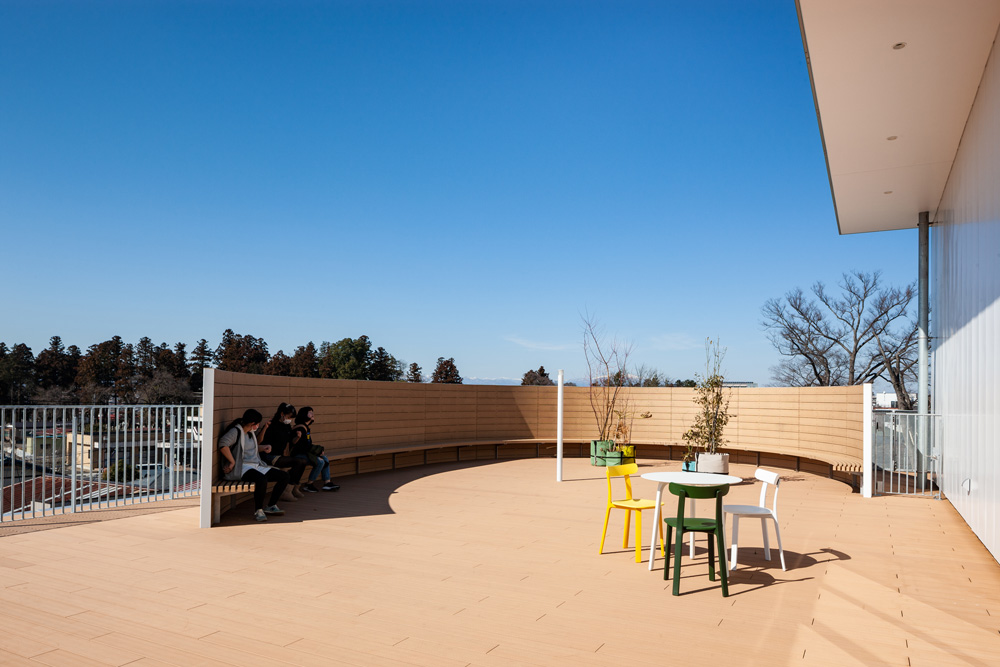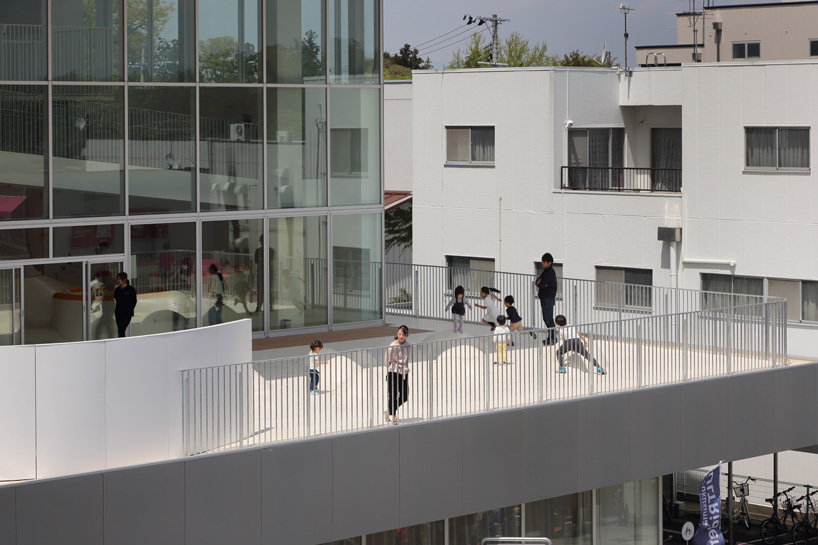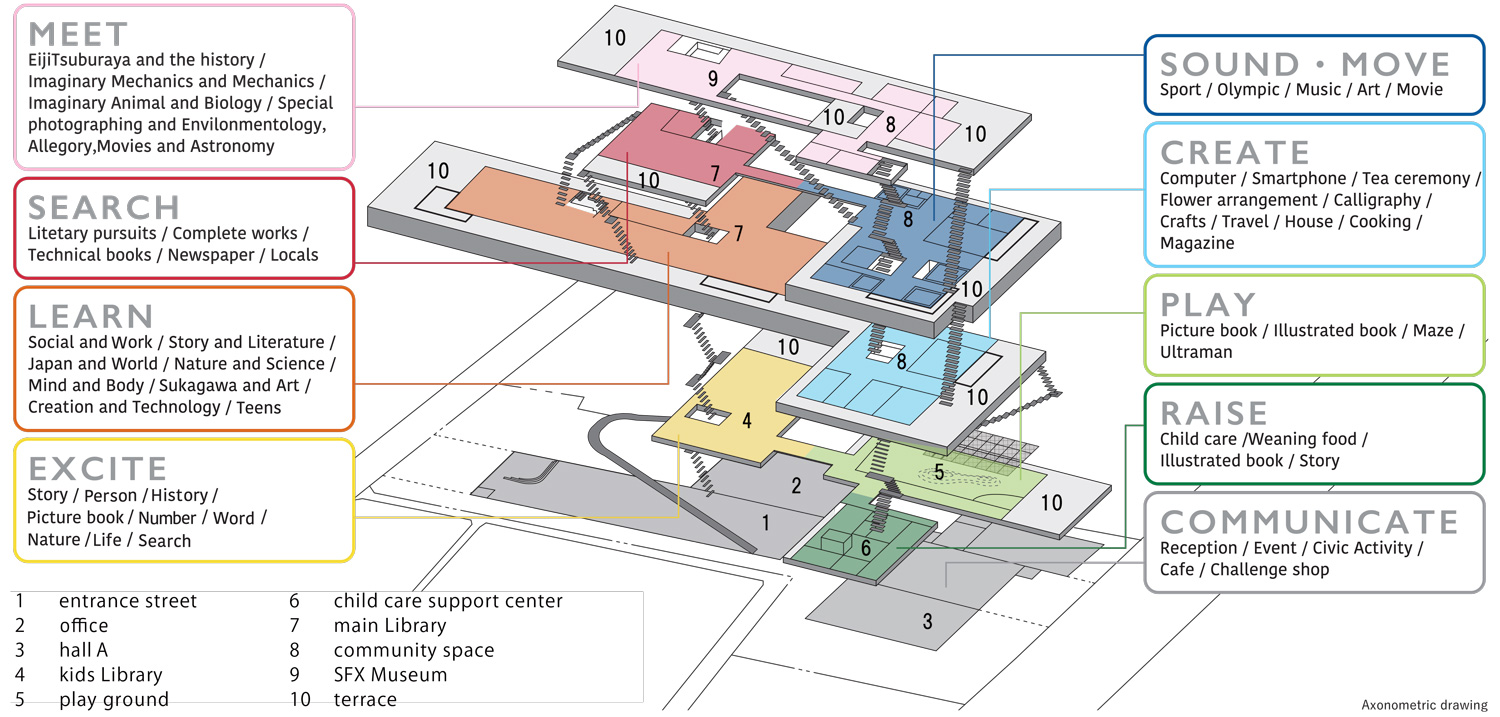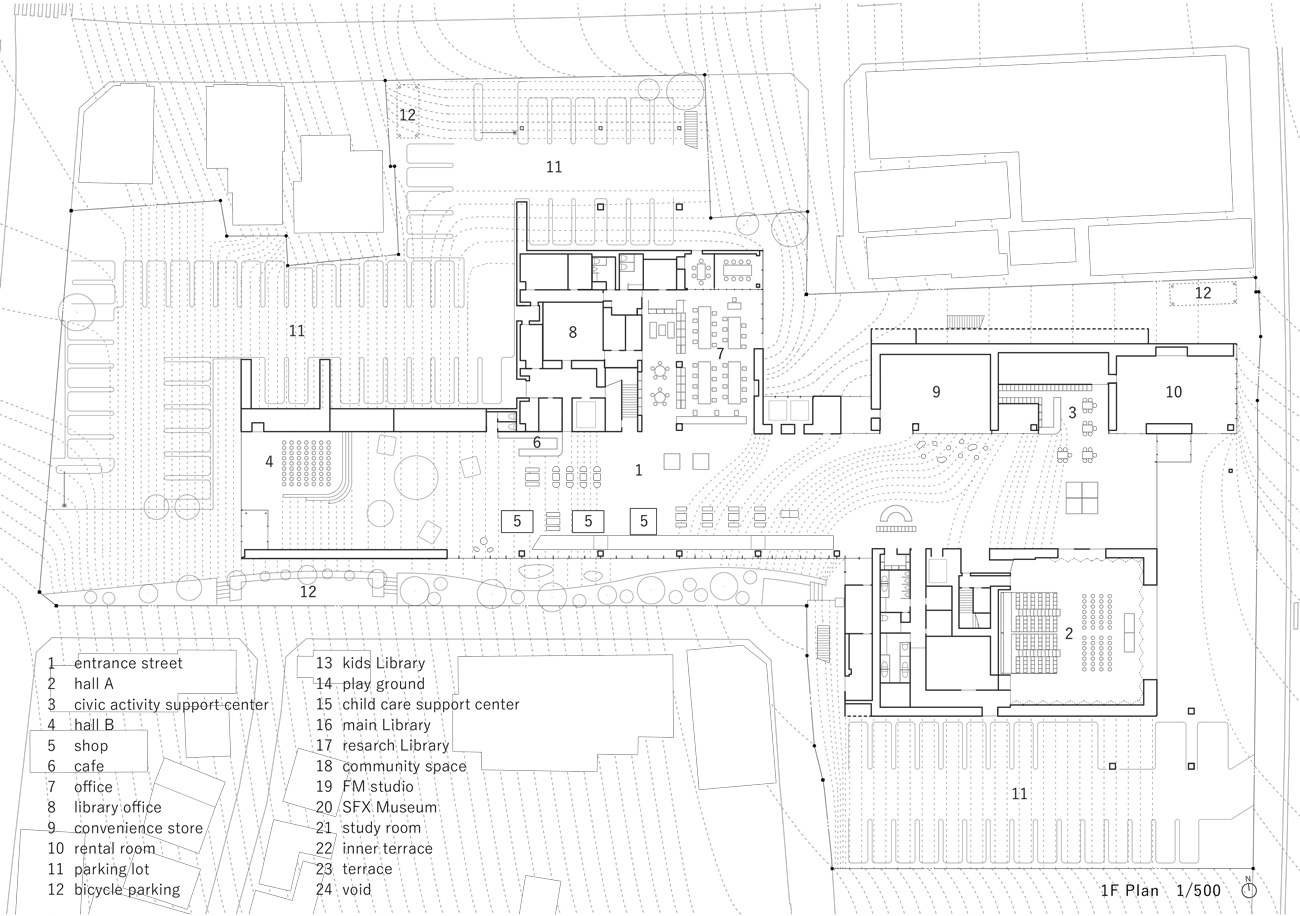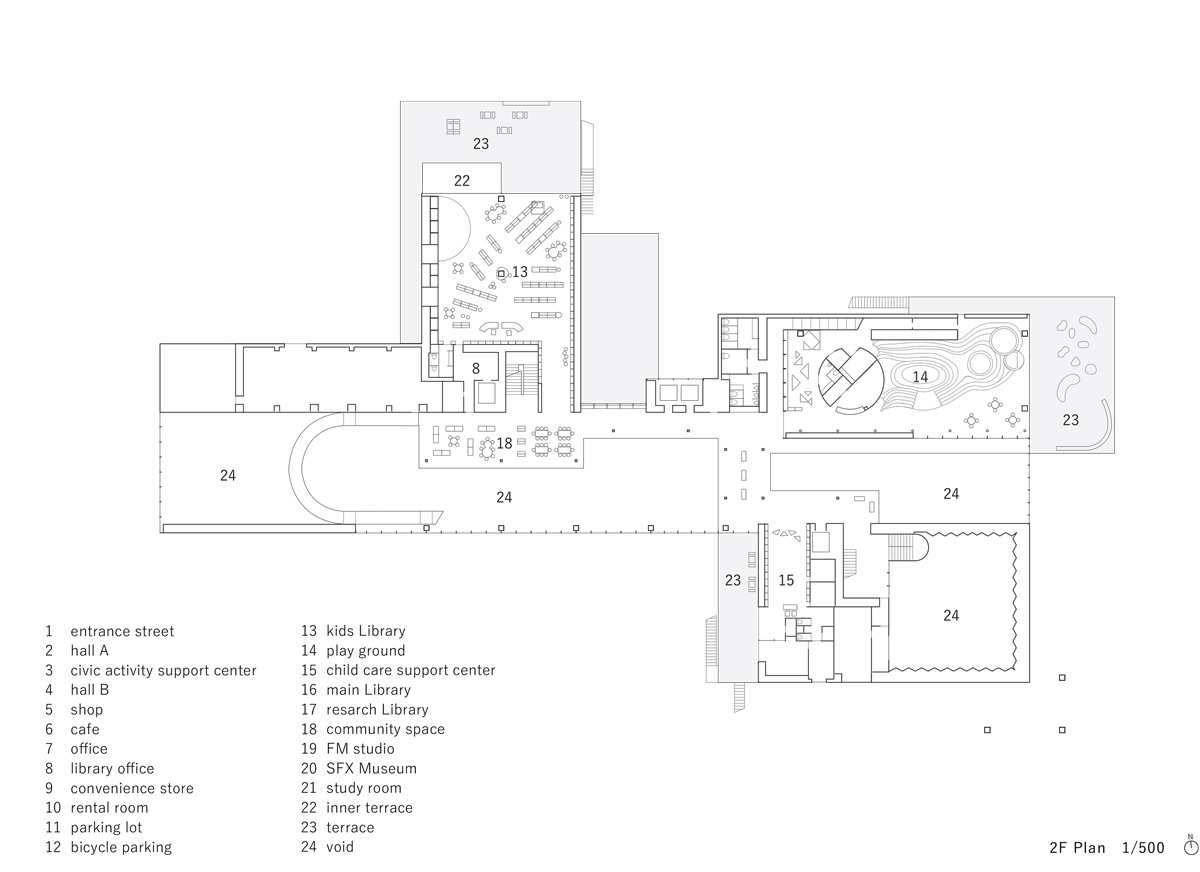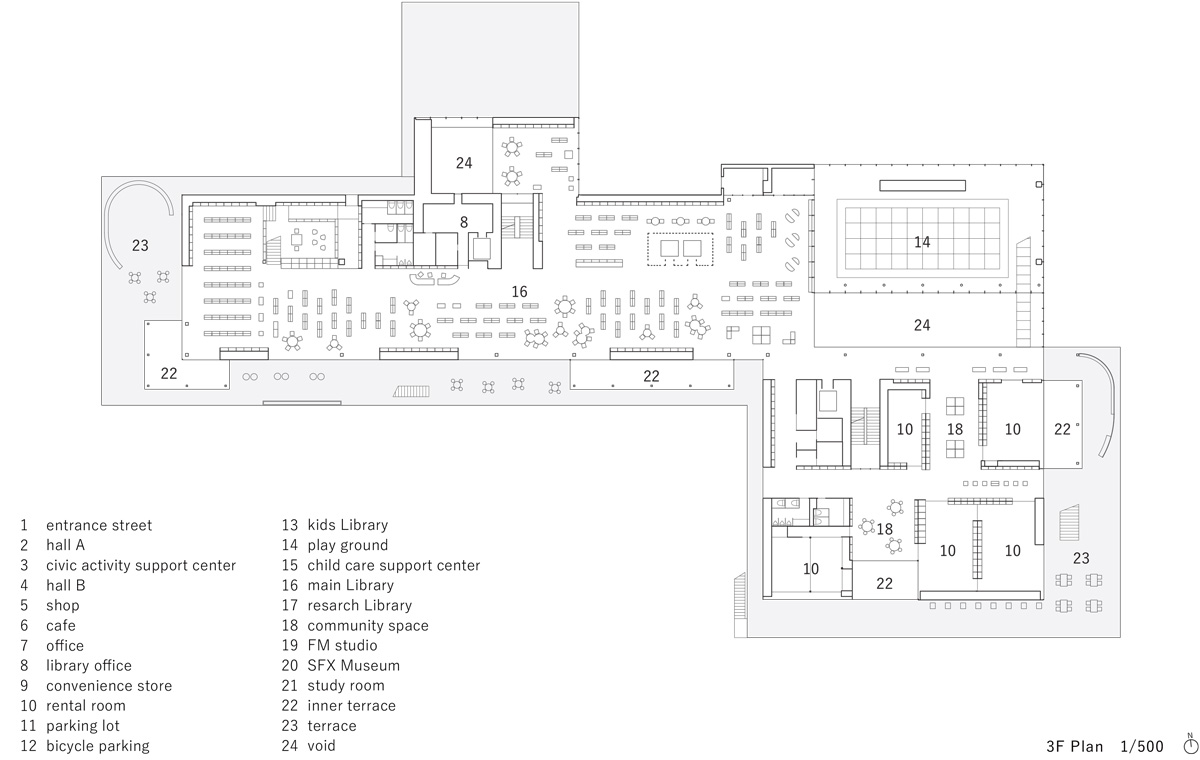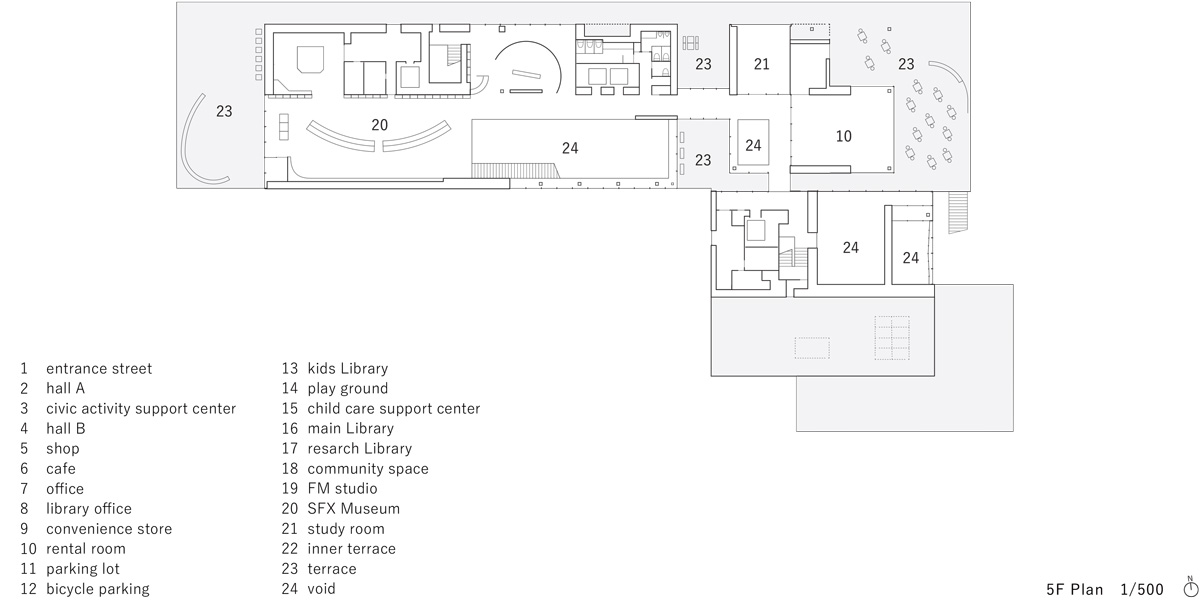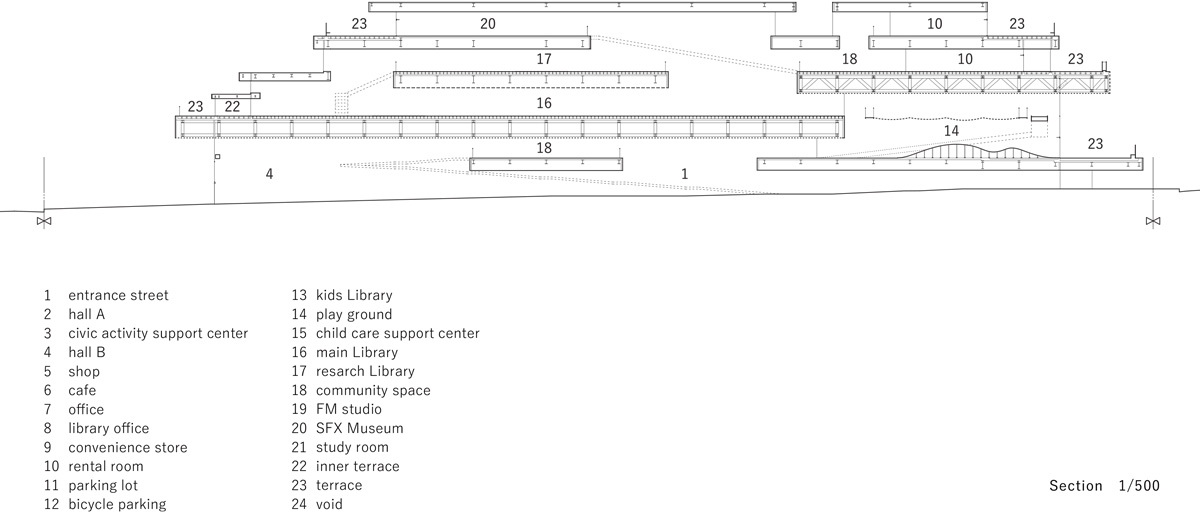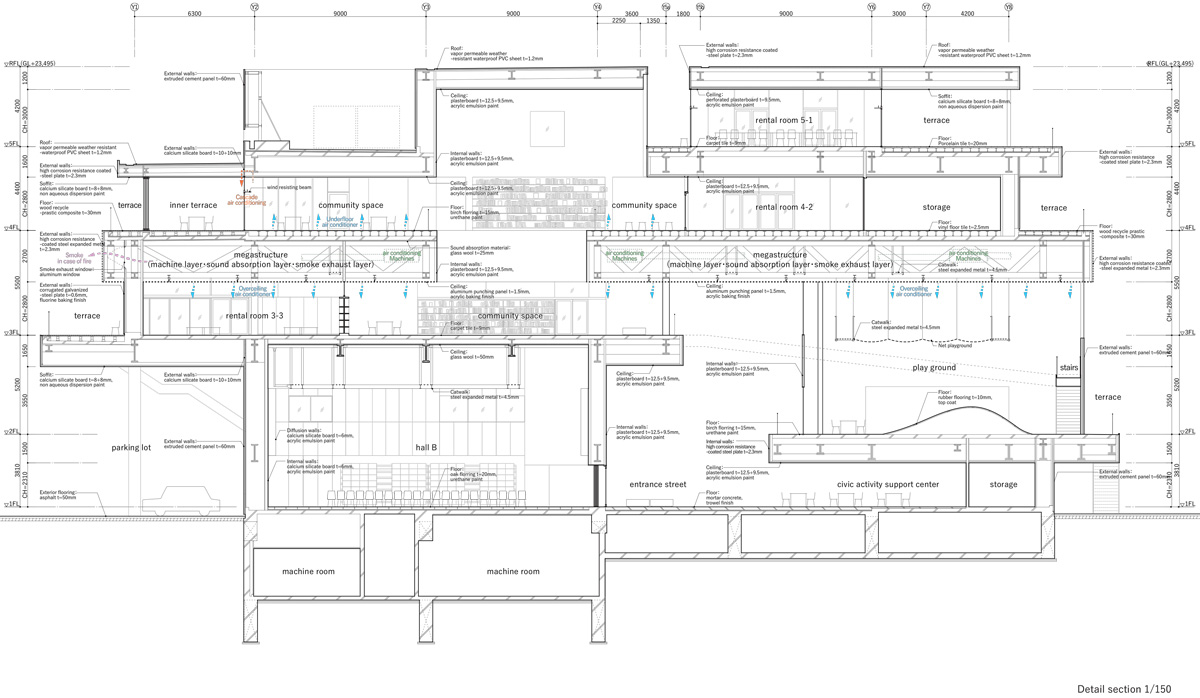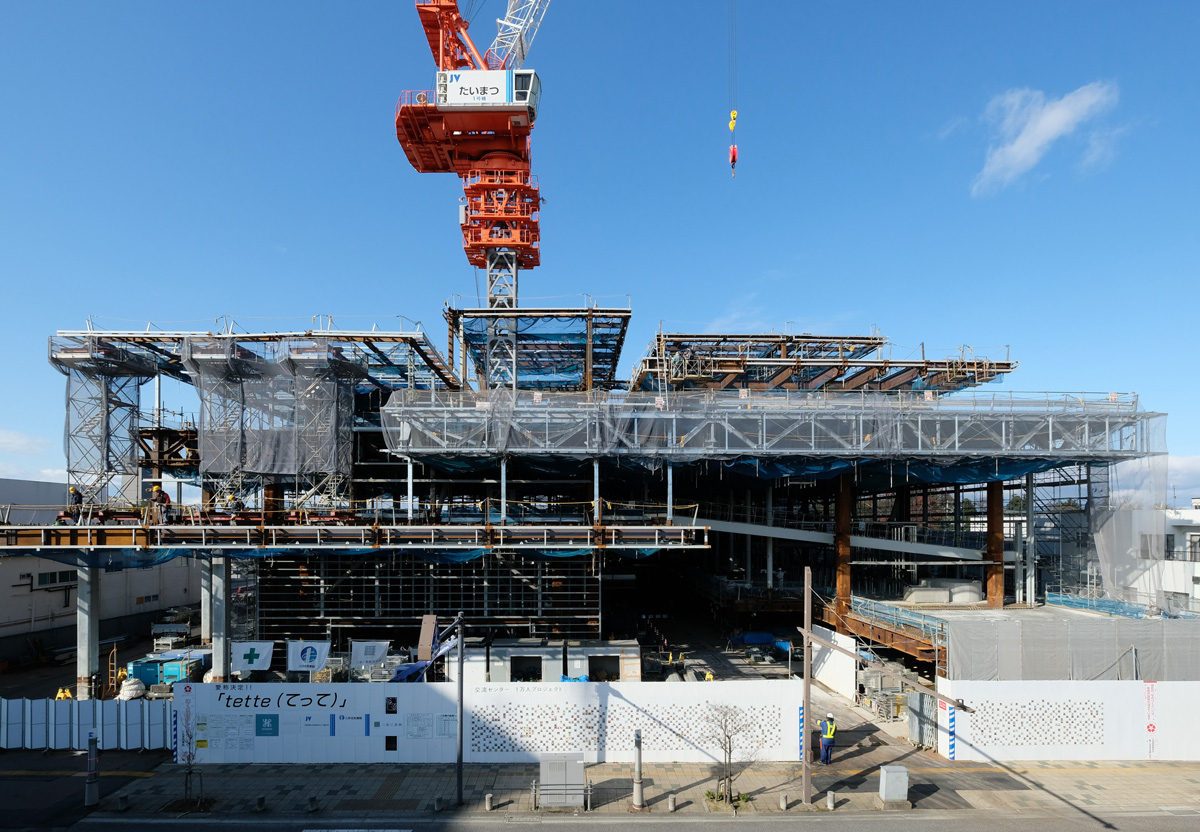 project info:
name: sukagawa community center
architect: UNEMORI ARCHITECTS
collaborator: ishimoto architectural & engineering firm
location: sukagawa city, fukushima prefecture, japan
sofia lekka angelopoulou
I designboom
may 30, 2021
a diverse digital database that acts as a valuable guide in gaining insight and information about a product directly from the manufacturer, and serves as a rich reference point in developing a project or scheme.
designboom will always be there for you
milan, new york, beijing, tokyo

,
since 1999