sep 22, 2013
urban mountain team's greenscraper wins nordic built challenge
urban mountain team's greenscraper wins nordic built challenge
all images courtesy of schmidt hammer lassen architects
featuring a large green chimney that sticks out above the city, 'urban mountain team' is the national winner of 'the nordic built challenge', which will see their vision realized as the tallest building in norway. the brief called for the refurbishment and extension of a 50,000 square-meter high-rise office tower, making it a visible and sustainable landmark for the city of oslo. the energy efficient proposal was a collaborative effort between a multidisciplinary team, which included schmidt hammer lassen architects, LOOP architects, COWI (denmark and norway), transsolar energitechnik GmbH and vugge til vugge denmark. the winning design targets a BREEAM outstanding certification and follows cradle to cradle goals in terms of its flexibility, biodiversity and recycling of water, heat and organic waste. introducing new and innovative ways of reducing energy consumption 90% of the demolished existing materials will be upgraded for reuse, while a massive 80% will be used in the new refurbishment.
divided into vertical volumes, the offices are stacked, pushed and pulled around the building's 'green lungs'. the interior living wall uses regionally found plants to provide natural ventilation throughout the spaces, which creates a healthier indoor climate – and also contributes to and enhances the local biodiversity. large solar tunnels run from the bottom to the top of the high-rise with a greenhouse on the roof to capture and reuse the building's excess heat and the solar gain of the chimneys.

winning design for norway's tallest building targets a BREEAM outstanding certification and follows cradle to cradle goals
the landmark is integrated into its surroundings with the project's environmental principles made clearly visible to the public. connected directly to the metro station, a large window allows people in transit to see an ice storage, containing more than 1000 cubic meters of ice that is used to generate energy for both heating and cooling of the offices. the main pedestrian access into the building is located through the urban green mall at street level, further enhancing the overarching aims for this city's green beacon.

a large green chimney sticks out above the series of stacked office towers in central oslo

the building's 'green lungs' help to make the project's sustainability principles visible to the public

the large green wall uses regionally found plants to provide natural ventilation into the building

interior view showing the integrated green wall that helps to contribute to the local biodiversity

divided into vertical volumes, the offices are stacked, pushed and pulled around the building's 'green lungs'

urban mountain team's winning proposal is a visible and sustainable landmark for the city of oslo
project info:
design team: schmidt hammer lassen architects, LOOP architects, COWI denmark, COWI norway, transsolar energitechnik GmbH, vugge til vugge denmark
client: entra eiendom AS
built area existing: 50,875 m2
built area extension: 28,375 m2
mar 27, 2017
mar 27, 2017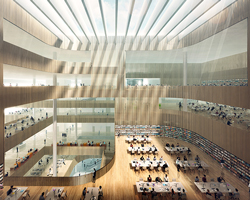 dec 16, 2016
dec 16, 2016
nov 16, 2016
nov 16, 2016