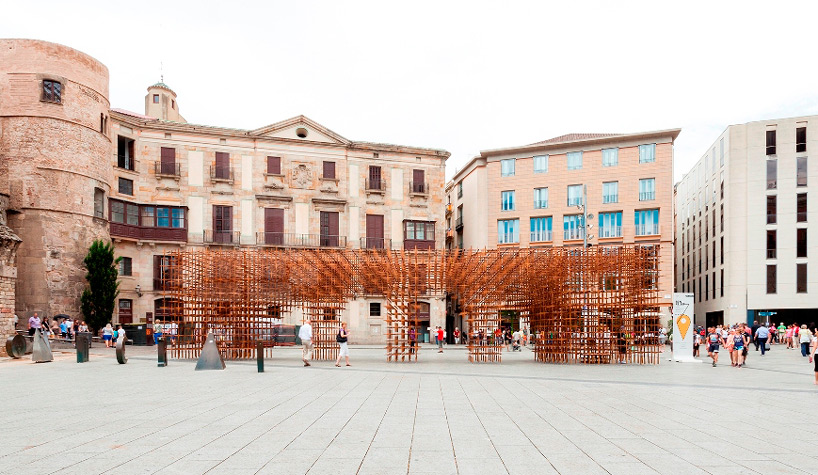 jul 23, 2014
urbanus extends ancient wall with bamboo for BCN re.set in barcelona
urbanus extends ancient wall with bamboo for BCN re.set in barcelona
photo by marcela grassi
all images courtesy of miralles / tagliabue EMBT
a series of pavilions have been built around barcelona for an event titled BCN re.set, organized by architect benedetta tagliabue (EMBT) with fundació enric miralles. for one of these installations, with a theme of 'identity,' chinese-based design studio urbanus have created a porous bamboo structure which reinterprets ancient roman and catalan vaults. the practice worked with the architecture school at la salle (URL) to conceive and realize the undertaking, utilizing their local understanding to enrich the project.
the pavilion's placement divides plaça nova, extending from a section of ancient wall. it serves to distinguish a gathering point in the city, which is able to host activities expressive of the region's identity.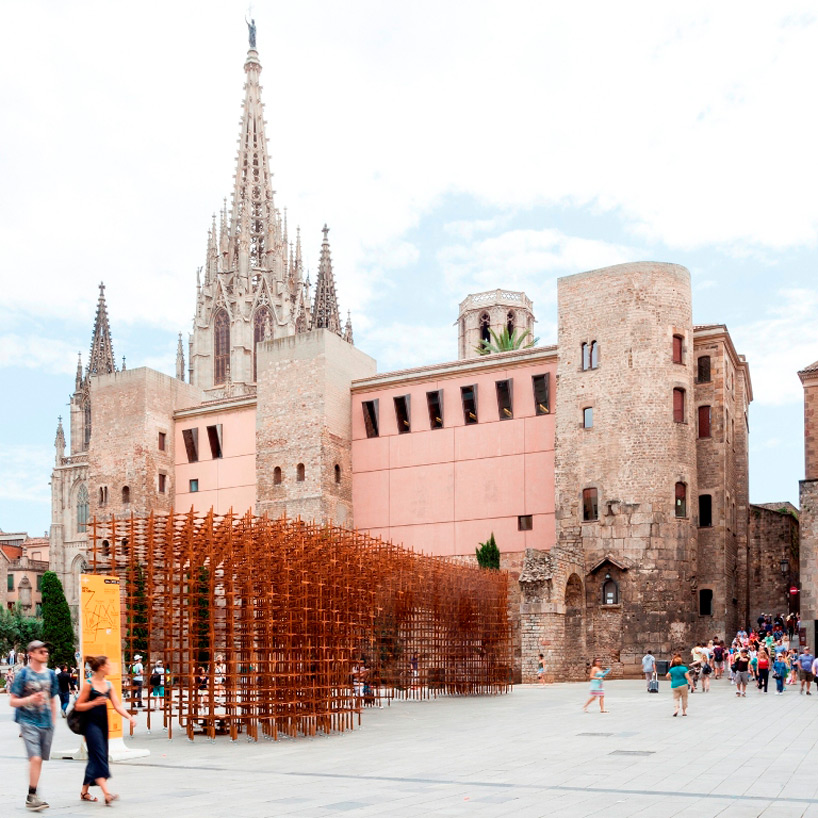 the pavilion separates barcelona's plaça nova, and extends from a section of ancient wall
photo by marcela grassi
a series of roman arched openings are organized on one of the pavilion's long elevations, while opening into a larger catalan vault on the other side. the resulting form attempts to display the evolution between the two historical architectural elements. the installation is built of 10 mm thick bamboo pieces, which interlock to create a lattice structure with arches arranged throughout. the cohesive nature of the system eliminated the need for buttressing and temporary supports.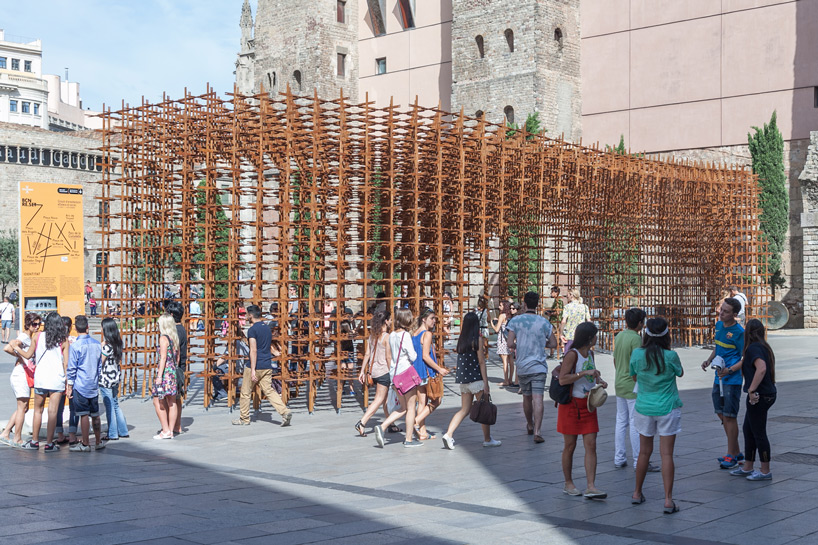 the lattice arrangement produces a visually porous structure
photo by jaime rojas
BCN re.set includes six discrete urban interventions, and is part of the larger civic festival tricentenari BCN, which commemorates the 300th anniversary of the events of 11 september 1714. the occasion seeks to rediscover the city of the 18th century and to contemplate on the present and future urban conditions, through various exhibitions, debates, seminars, publications, routes, celebrations, and art works.
check out designboom's coverage of the 'xarranca pavilion,' designed by urban-think tank, which was also built for BCN re.set.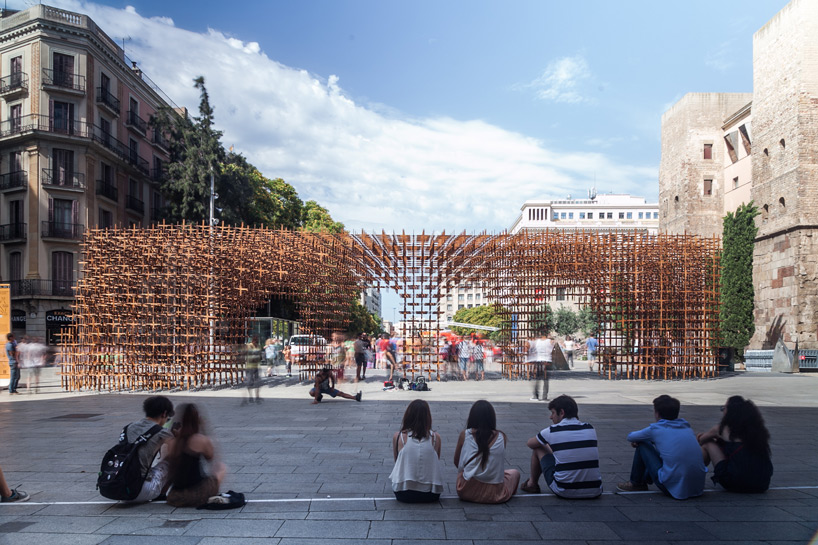 the form blends multiple roman arches on one face with a larger catalan vault on the other side
photo by jaime rojas
the pavilion's construction method allows for simple disassembly once the festival is over. the designers have planned to use some of the pieces in other installations, while others will be mashed and converted into biofuels to be used by different communities for heating in the coming winter.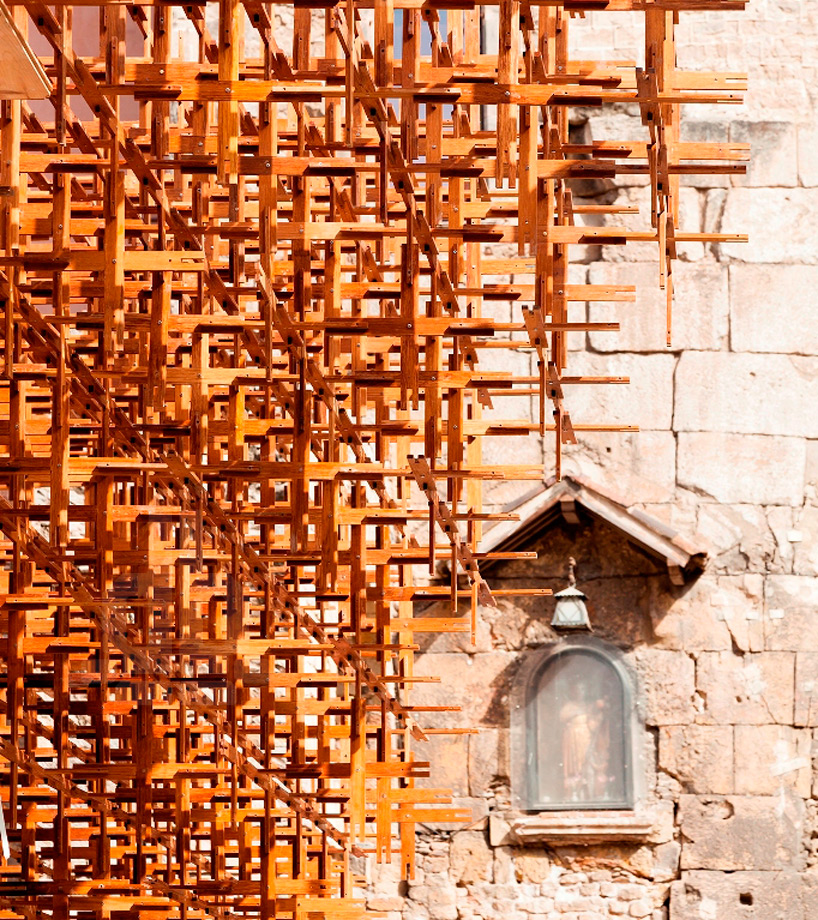 10 mm thick pieces interlock with finger joints and bolted connections
photo by marcela grassi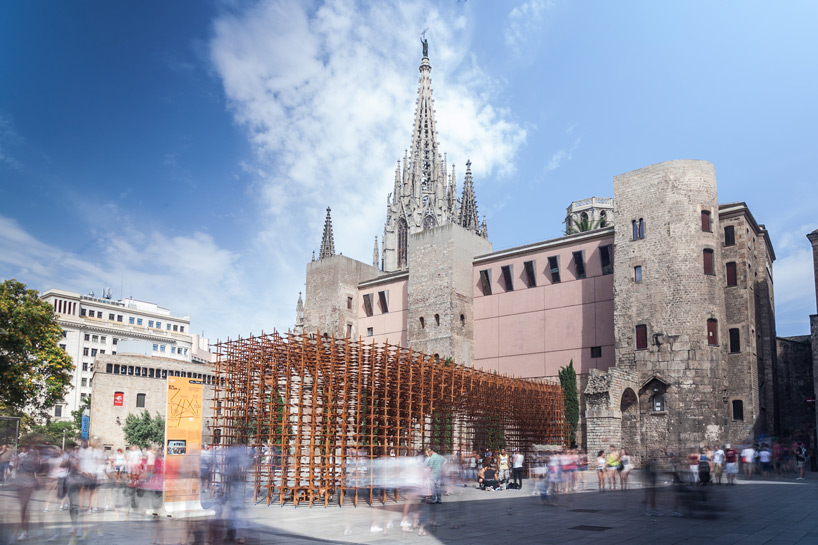 photo by jaime rojas
aug 29, 2017
aug 29, 2017
aug 24, 2017
aug 24, 2017
aug 09, 2017
aug 09, 2017
jul 31, 2017
jul 31, 2017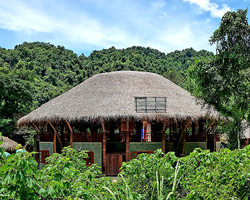 jul 12, 2017
jul 12, 2017
jun 21, 2017
jun 21, 2017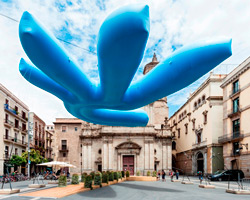 jul 24, 2014
jul 24, 2014
jun 05, 2014
jun 05, 2014
may 10, 2017
may 10, 2017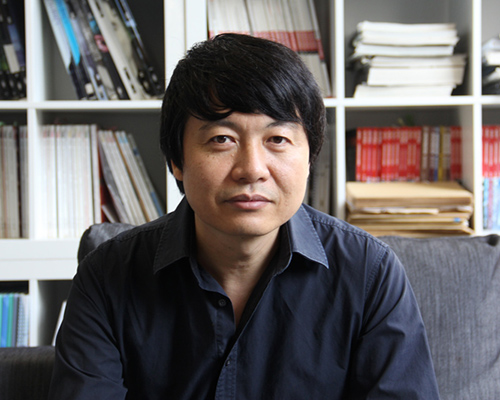 oct 18, 2015
oct 18, 2015
jan 02, 2013
jan 02, 2013