urko sanchez architects has designed the 'tudor apartments' — an intimate development of 14 residences in mombasa, kenya. the project is characterized by an environmentally-conscious design that is closely integrated to the tropical setting on mombasa island. the architects describe the project as 'showing its attachment to mombasa's history by borrowing inspiration from the rich traditions of swahili design'.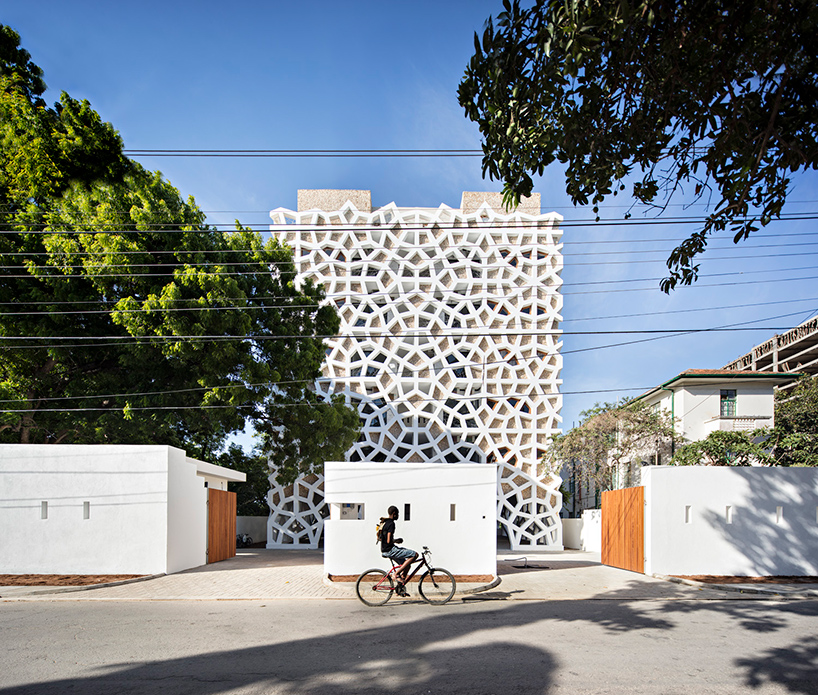 all images by javier callejas
the architects sought to design a project with minimal environmental impact through careful adaptation to the land's natural slope. mangroves and other trees on the site were left intact and vegetation is integrated into the project, offering freshness and greenery. the use of locally available materials and natural ventilation also lends itself to the building's eco-friendly design. the project uses mtomo finish — a coral stone cladding technique original to lamu — that contributes to ventilation due to the porosity of the material. 

the north façade is free of the exterior shell, allowing clear views towards the sea
the iconic mucharabiah skin, which wraps around the apartments, was developed following a study of different traditional patterns. in addition to its ornamental qualities, it provides privacy and allows for filtered, natural light to enter the apartments. the north façade of the building is left open with clear views of the surrounding waters. the skin is entirely structural: a feat achieved through a collaboration between local and international engineers.

the project is characterized by a moucharabiah structural shell for optimized natural ventilation and light

in the distinct bottom houses, the patios allow double ventilation while greenery creates a cool atmosphere

the open design ensures clear views of the surrounding landscape

wood lattices allow air to circulate from the seaside through the interiors and to the patios

the distinctive skin filters light while maximizing natural daylighting

cross ventilation is possible from the sea, through the shaded terraces

the setting is characterized by a savanna tropical climate and a land crossed by creeks

the development is situated on the creek´s waterfront, which is a privileged location north of mombasa island

the scenery outside the apartments is maximized through terraces and balconies leading towards an infinity pool
Save
Save
Save
Save
oct 19, 2017
oct 19, 2017
feb 18, 2017
feb 18, 2017
nov 21, 2016
nov 21, 2016
sep 28, 2015
sep 28, 2015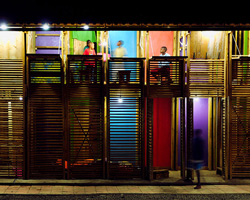 dec 24, 2014
dec 24, 2014
sep 14, 2014
sep 14, 2014
dec 06, 2015
dec 06, 2015
sep 14, 2014
sep 14, 2014
jul 14, 2014
jul 14, 2014