venice architecture biennale 2016. museums have a long history of producing copies. as early as the 19th century, the victoria & albert museum in london began to display plaster casts of significant works of art, primarily to make them accessible to those unable to travel, and to educate visitors on their origins. towards the end of the 20th century, this method of duplicating began to diminish as copies were negatively associated with values such as fakery and vulgarity. as a result, a number of cast collections in europe were discarded from their respective institutions. however more recently, copies have taken on a perceived value as transmitters of knowledge and culture.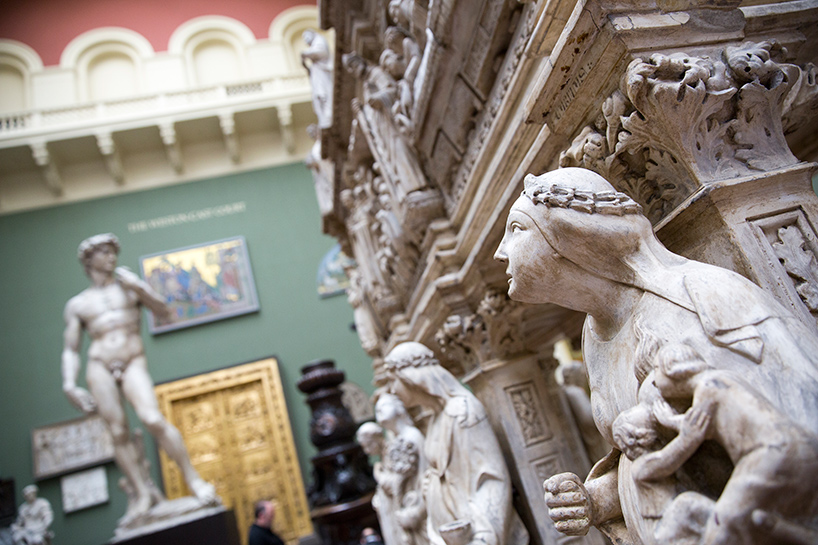 weston cast court | image © victoria and albert museum, london (also main image)
at the 15th international architecture exhibition, london's victoria and albert museum (V&A) presents 'a world of fragile parts' — an exhibition that examines the threats faced by global heritage sites. the display, the first-ever collaboration between the V&A and la biennale di venezia, also considers how the production of copies can aid in the preservation of cultural artefacts. see designboom's previous coverage of the exhibition here.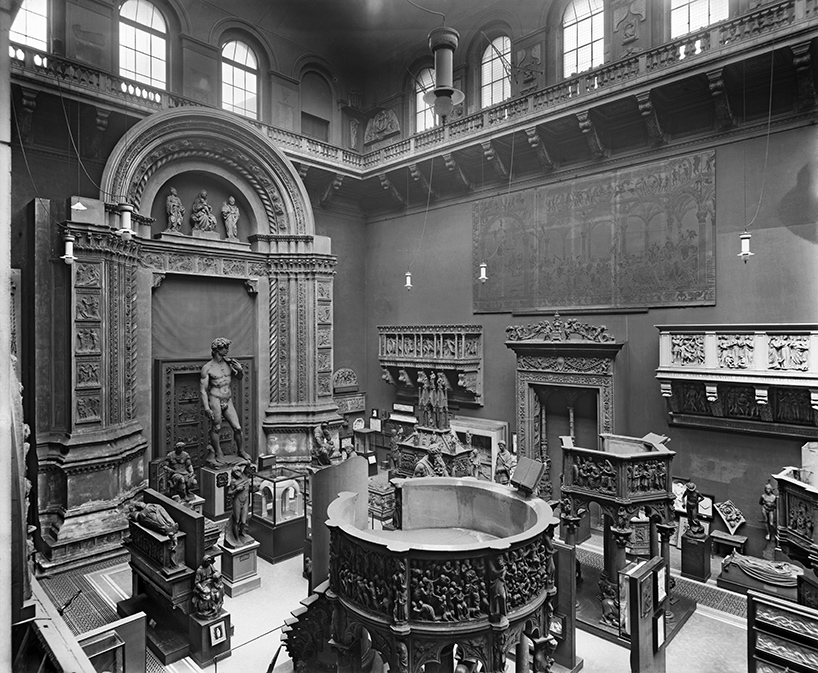 V&A italian cast court, gallery 46B, december 1920
image © victoria and albert museum, london
a range of factors, including climate change, natural disasters, urbanization, mass tourism and neglect, have shed light on the risks faced by many heritage sites. consequently, artists, activists, and educational institutions are beginning to respond to the urgent need to preserve by embracing opportunities provided by cutting-edge digital scanning and fabrication technologies. the exhibition questions what should be copied, and the relationship between the duplicate and the original, in terms of authenticity.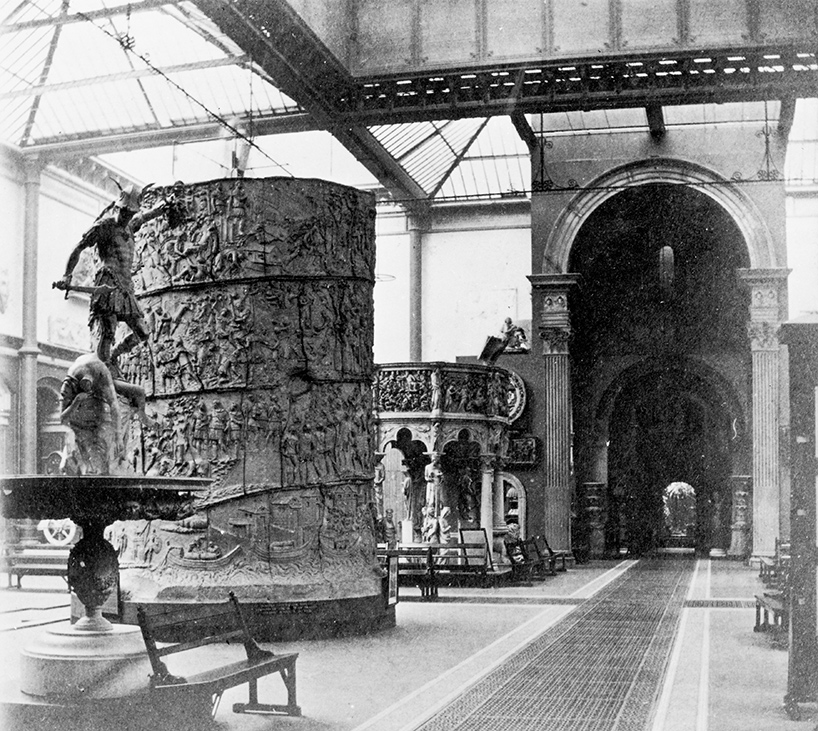 V&A cast courts, late 19th century
image © victoria and albert museum, london
curated by brendan cormier, 'a world of fragile parts' investigates 200 years of copying cultural artefacts. the display includes items such as a facsimile of 'the convention for promoting universally reproductions of works of art' (1867) — an arrangement drawn up by the V&A's first director henry cole to pursue the international exchange of copies. also presented are 19th-century plaster casts; photographs and electrotypes, alongside some of the most significant contemporary projects that have engaged with or deployed copying as a strategy for preservation.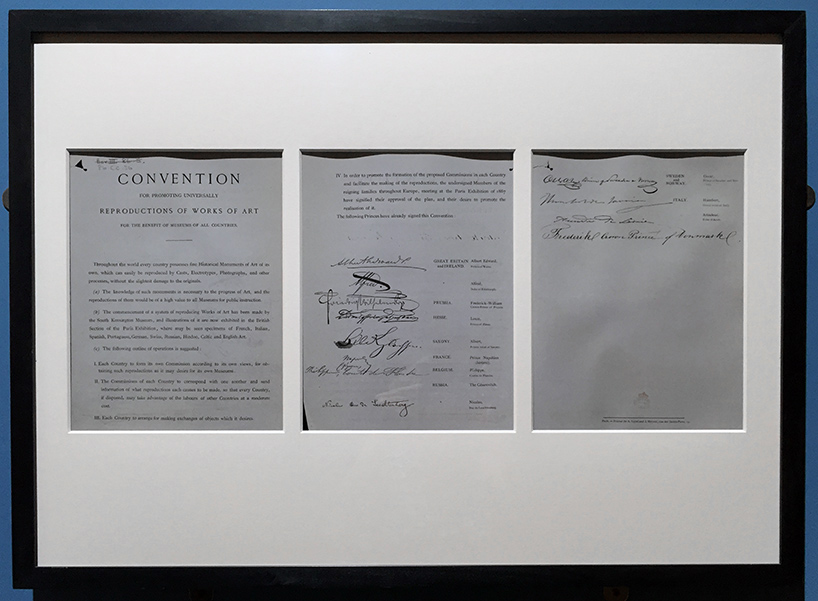 'the convention for promoting universally reproductions of works of art' (1867)
image © designboom
one of the main projects emphasizing the exhibition's inherent urgency is a 1:1 scanned replica of a shelter from the calais 'jungle' refugee camp by sam jacob studio. named 'dar abu said', the plastic and wood construction is rendered in CNC milled synthetic stone, transforming its value and meaning by elevating it to the status of a sculptural monument. in this case, the fragility in question is not only one of material objects and structures, but also of human lives and experiences.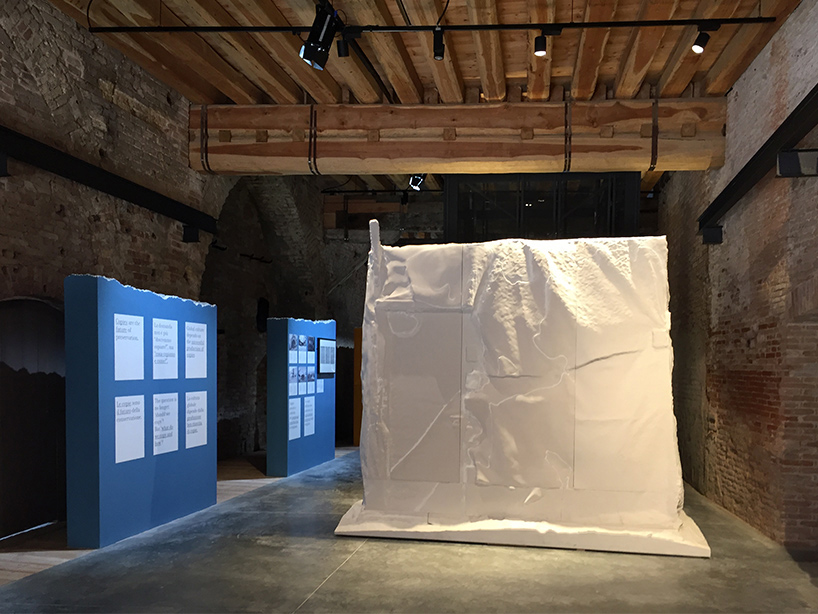 'dar abu said' by sam jacob studio, 2016
image © designboom
the project involved the 3D scanning of a shelter constructed in the migrant camp at calais. the dwelling is the home of abu said, who, at the time of scanning, had lived in it for four months. said is from sudan, and occupied the shelter with four other people from egypt. they all shared the aim of eventually reaching london.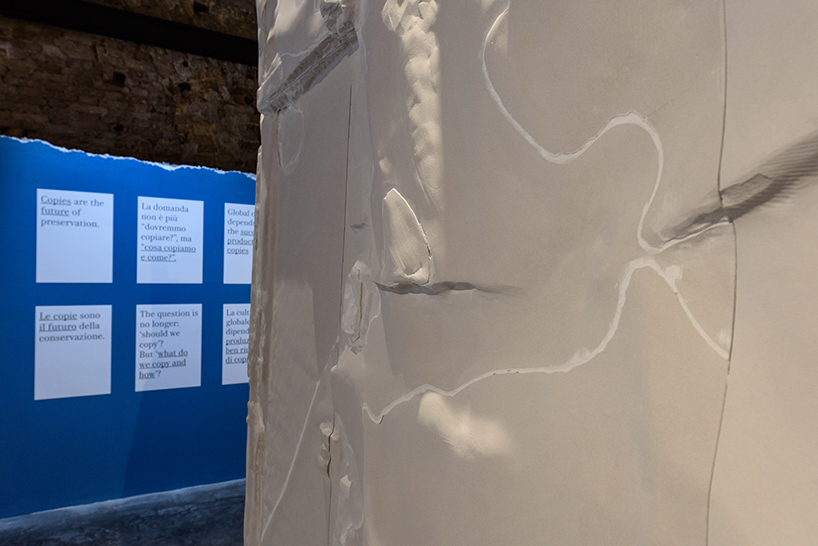 the plastic and wood construction is rendered in CNC milled synthetic stone
image by andrea avezzú / courtesy of la biennale di venezia
jacob's installation brings part of the humanitarian and political crisis affecting the middle east and europe to venice. the data held within the structure attests to the situation at the 'jungle' in calais, where at one point, 5,000 people were living in temporary shelters of this type.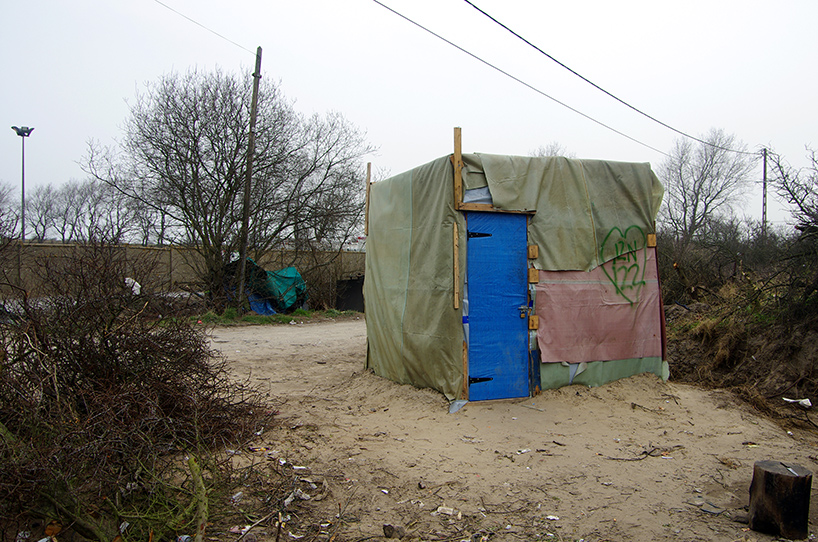 dar abu said, shelter 12M 122
image © sam jacob studio
'by recording and documenting the temporary architectural conditions of migration, the act of 'conservation' is able to 'preserve' a moment in the rapid, ephemeral flux where vast movements of people across continents, the collapse of civic society, and the redoubling of borders across europe are a constant shifting ground,' — sam jacob studio.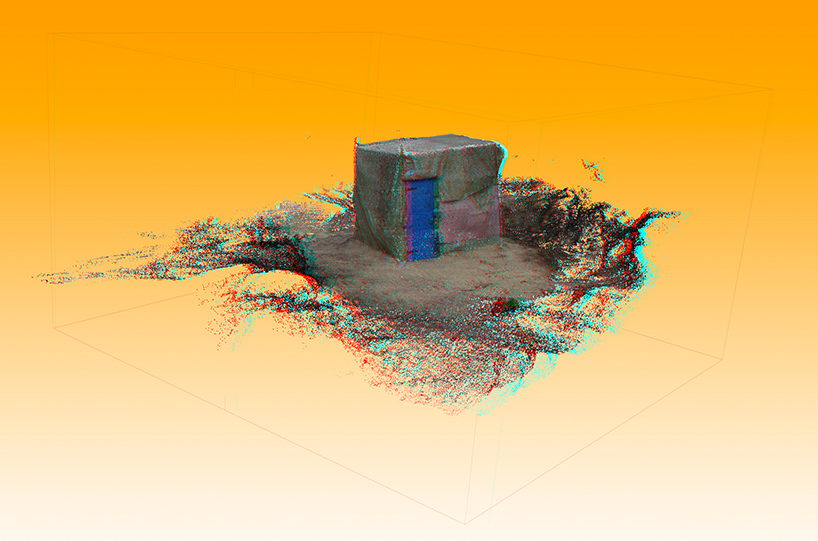 dar abu said, shelter 12N 122, scan
image © sam jacob studio
a 3D print by artists nora al-badri and jan nikolai nelles of the nefertiti bust is also on display. the bust of the egyptian queen, excavated in 1912, has been on show at the neues museum since its unveiling in berlin in 1924 — despite the requests of the egyptian authorities to return the artefact.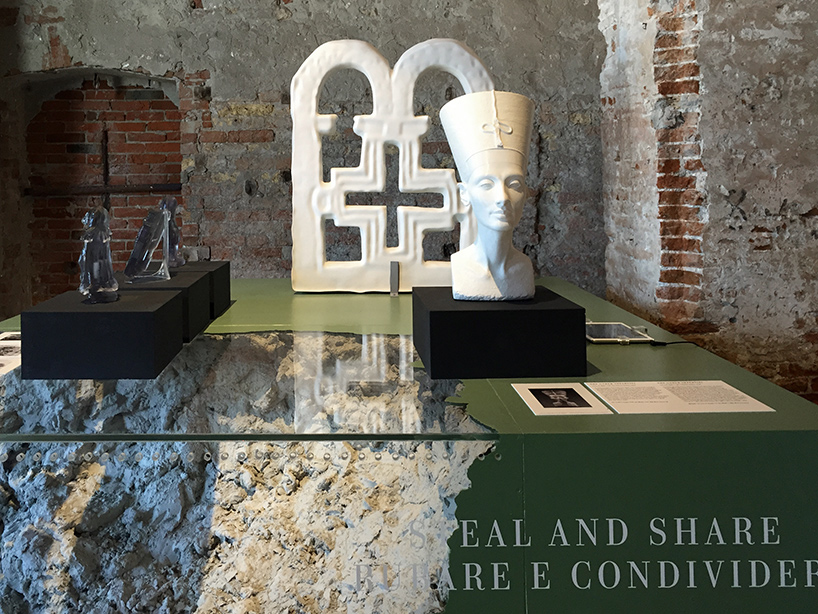 a 3D print of the nefertiti bust by nora al-badri and jan nikolai nelles
image © designboom
furthermore, a detailed digital scan had been created but not made publicly available. in reaction, artists nora al-badri and jan nikolai nelles secretly scanned the bust using a staged kinect xbox controller. the ethical art heist, known as #nefertitihack, resulted in the three-dimensional model on display.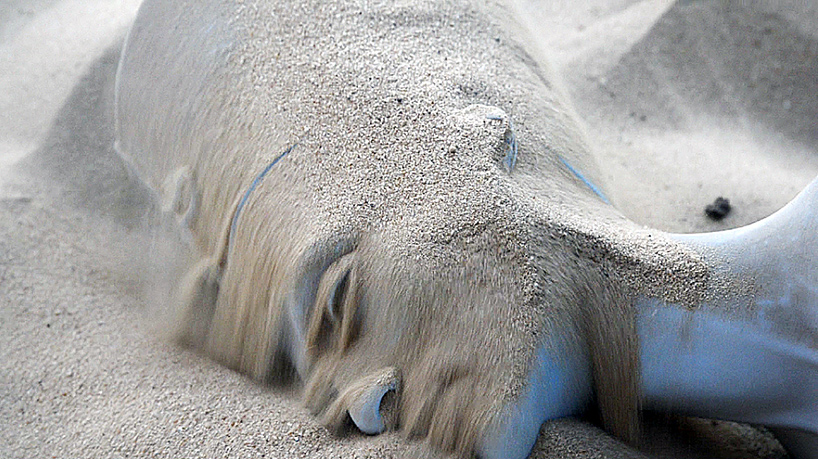 'the other nefertiti', video still
image © nora al-badri, jan nikolai nelles
another cast, this time of an unknown woman, represents one of nine female portrait busts attributed to sculptor francesco laurana on the basis of their resemblance to a series of documented figures. two of these busts — in the frick collection, new york, and in the national gallery of art, washington DC — are closely related to the portrait in this cast as they appear to represent the same person, and have similar bases decorated with classicizing figures.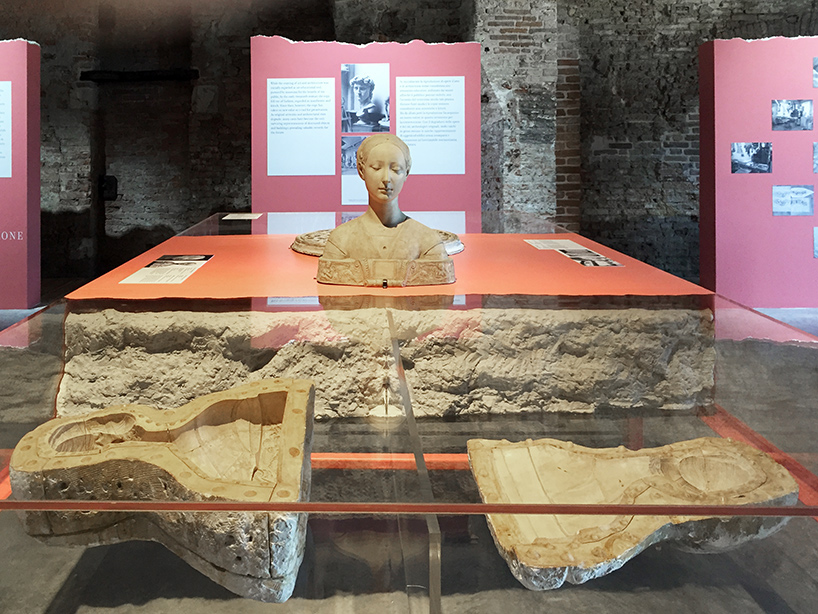 the original painted and gilded marble bust was destroyed in 1945
image © designboom
the sitter has been tentatively identified as ippolita maria sforza, the wife of king alfonso II of naples, but this theory is not based on any secure evidence. the original painted and gilded marble bust was formerly in berlin, germany, but was destroyed in 1945.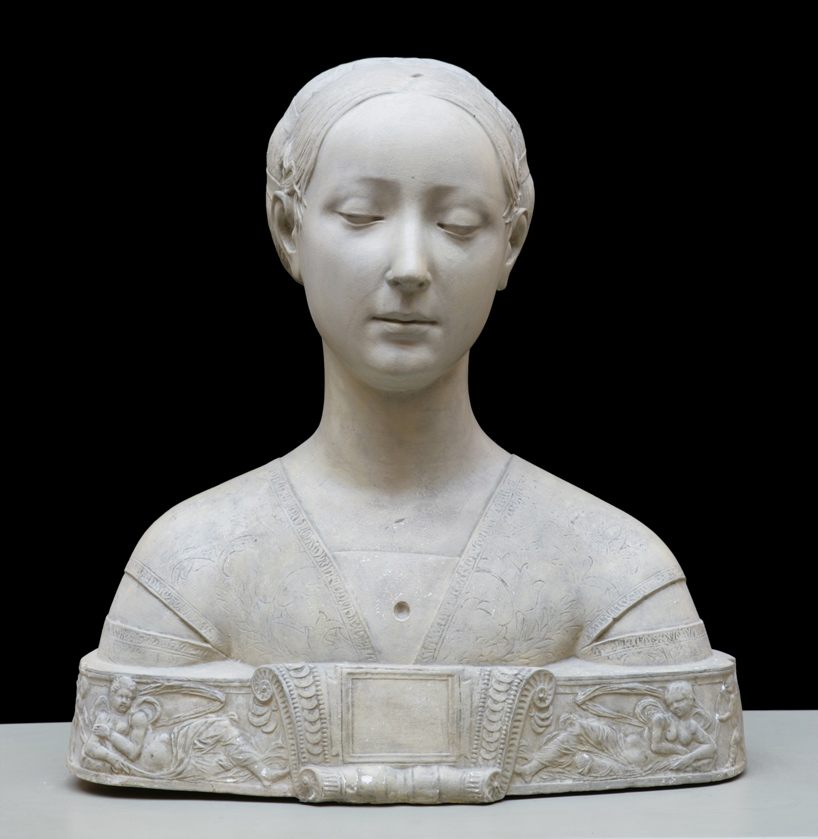 plaster bust of an unknown woman, 1889
image © victoria and albert museum, london
scan the world — a community-built initiative launched in 2014 that digitally archives cultural artefacts from across the globe — presents a 3D model of the famous 'sleeping muse', a bronze sculpture created by constantin brâncuși in 1910. each 3D printable object created by 'scan the world' is sourced from data and available to download for free online. the platform aims to deliver culture to a universal audience, making a meaningful contribution to education, preservation and accessibility.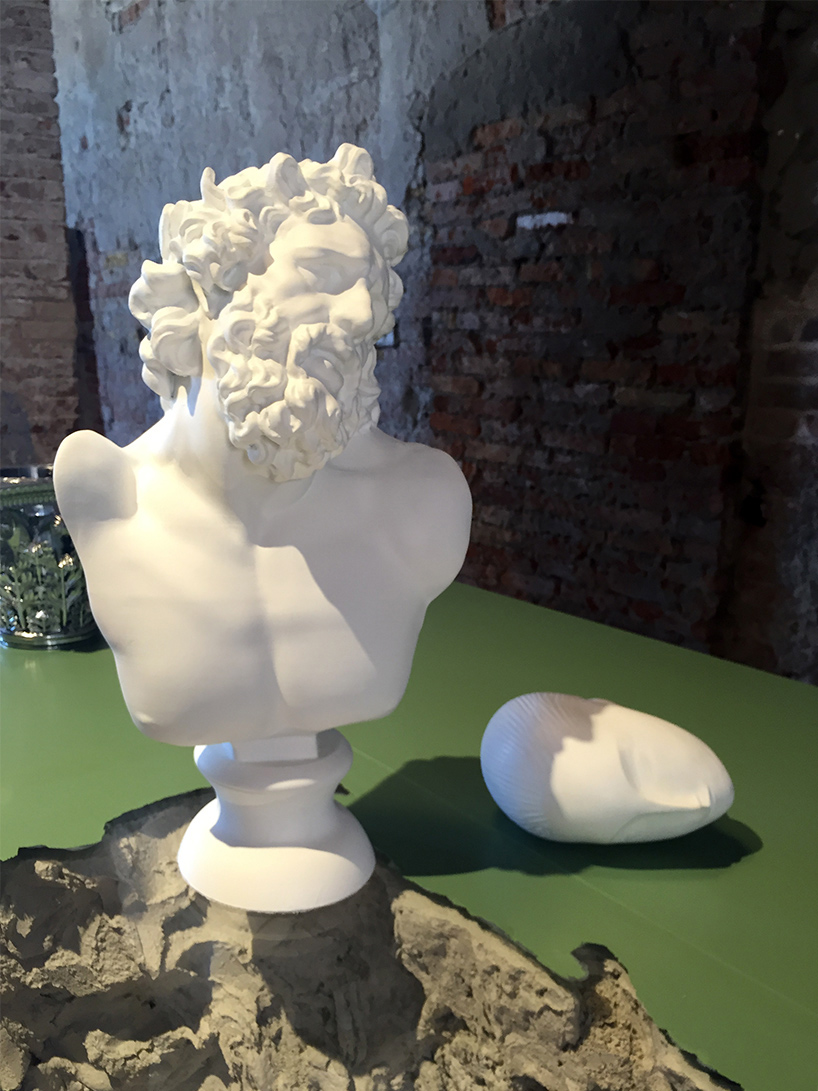 head of laocoön (left) and sleeping muse (right), scan the world, 2016
image © designboom
'material speculation: ISIS' by morehshin allahyari is a 3D modeling and printing project focused on the reconstruction of 12 selected (original) artifacts (statues from the roman period city of hatra and assyrian artifacts from nineveh) that were destroyed by ISIS in 2015. 'material speculation: ISIS' creates a practical and political possibility for artifact archival, while also proposing 3D printing technology as a tool both for resistance and documentation.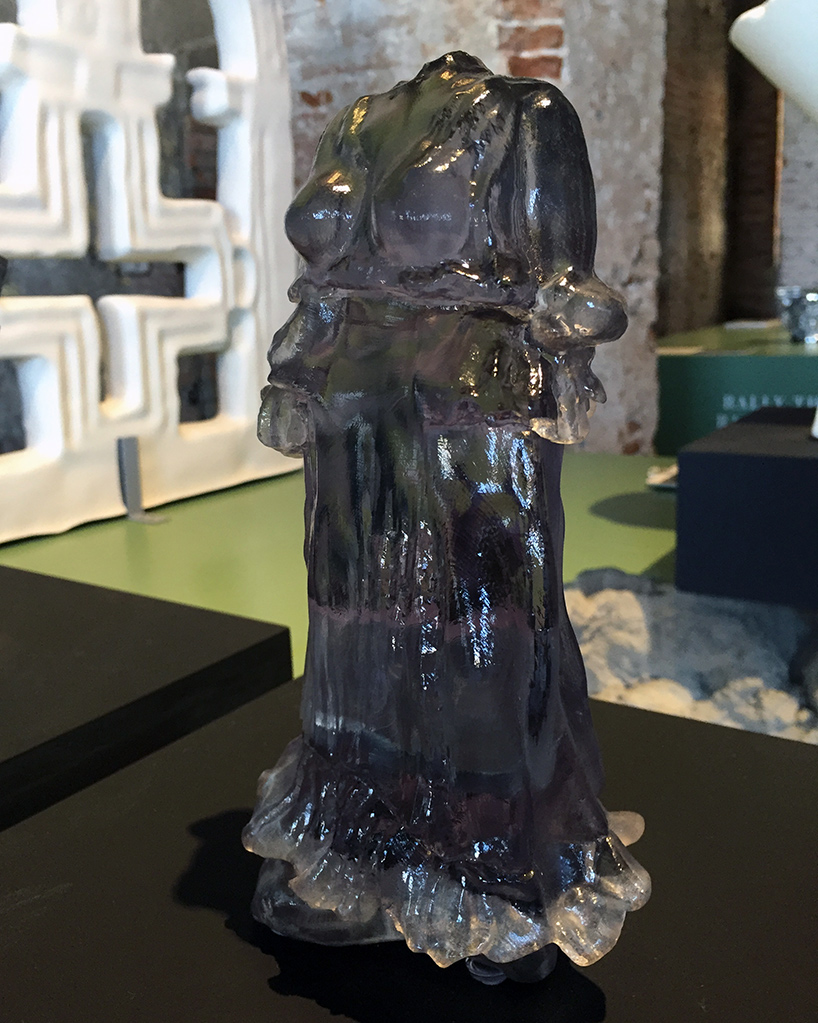 'material speculation: ISIS', by morehshin allahyari, 2016
image © designboom
this is one of around 200 plaster casts which once decorated the 'maison arabe' of the comté de st maurice, a french aristocrat and diplomat. st maurice commissioned casts to be taken from examples of islamic architecture — much of which has since been destroyed — and used them to adorn the interior and exterior of his cairo home. his house was thus transformed into a condensed reimagining of the local vernacular.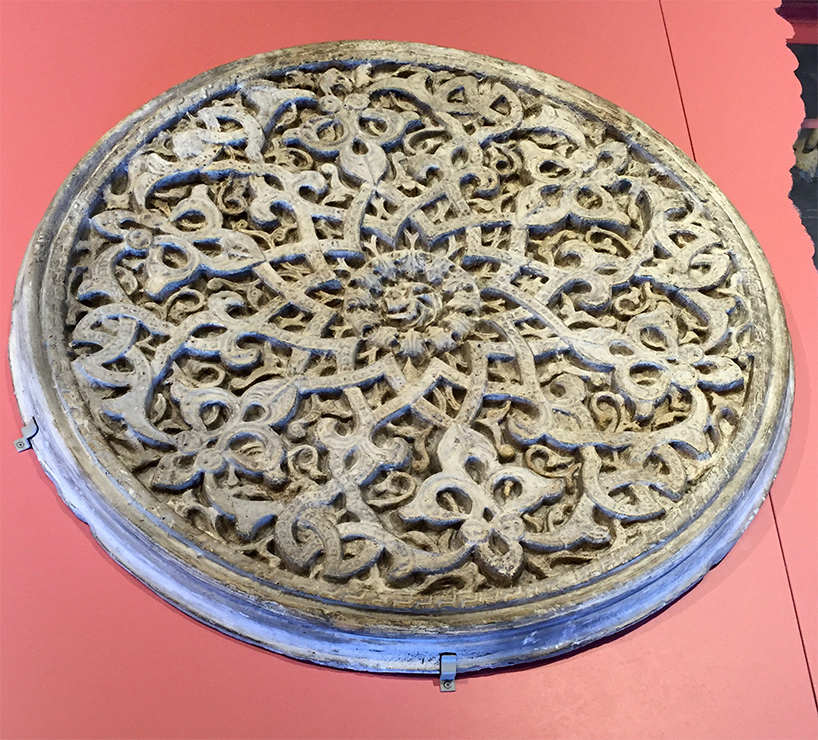 'arabesque medallion', anonymous, c. 1872-79
image © designboom
the increasing accessibility of 3D scanning and printing couldn't be timelier in the context of cultural preservation, as the threat of destruction and damage of our global material heritage rises,' explains curator brendan cormier. 'a world of fragile parts' poses questions related to the legitimacy, ownership and significance of copies while highlighting their preservation value as they allow for physical, but also for cultural, emotional and political survival.'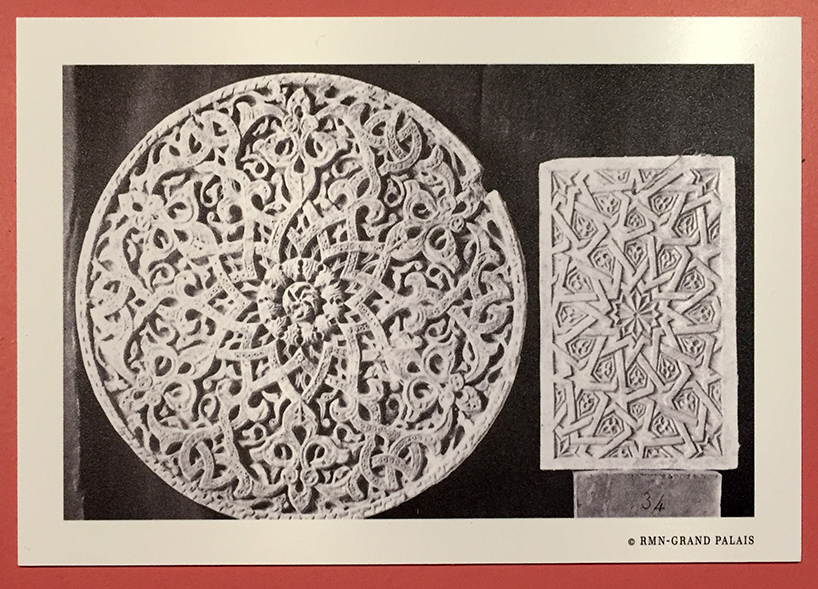 the medallion is one of around 200 casts which once decorated the home of a french aristocrat
image © designboom
the V&A acquired an incomplete version of a table fountain in 1870. the missing parts were recently fabricated using a mixture of traditional and modern techniques, allowing for a complete version to be displayed for the first time last year. original molds, kept in the meissen factory archives, were 3D scanned from which new models were printed. replacement molds were made from these and used to recreate the missing porcelain pieces. the process demonstrates how new fabrication technologies can complement and augment traditional methods of reproduction.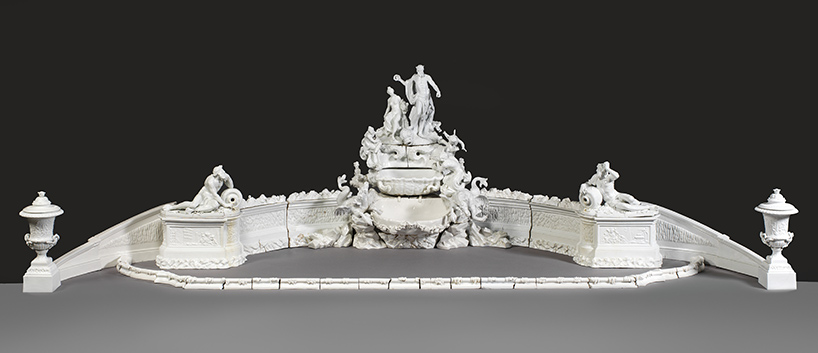 the triumph of amphitrite fountain, meissen, germany (made), 1745-46 (modeled)
image © victoria and albert museum, london
'replicas are a phenomenon of our age, and are rapidly transforming attitudes towards authenticity,' says martin roth, director of the V&A. 'as a complement to 'traditional' conservation, the value to culture of being able to create, store and protect accurate records of objects that might one day no longer exist or become inaccessible is clear. however, the abilities we have also pose challenging questions. which has a greater authenticity; an arch recreated in precise and perfect detail by a robotic arm, or an arch reconstructed using the same artisanal techniques as the original?'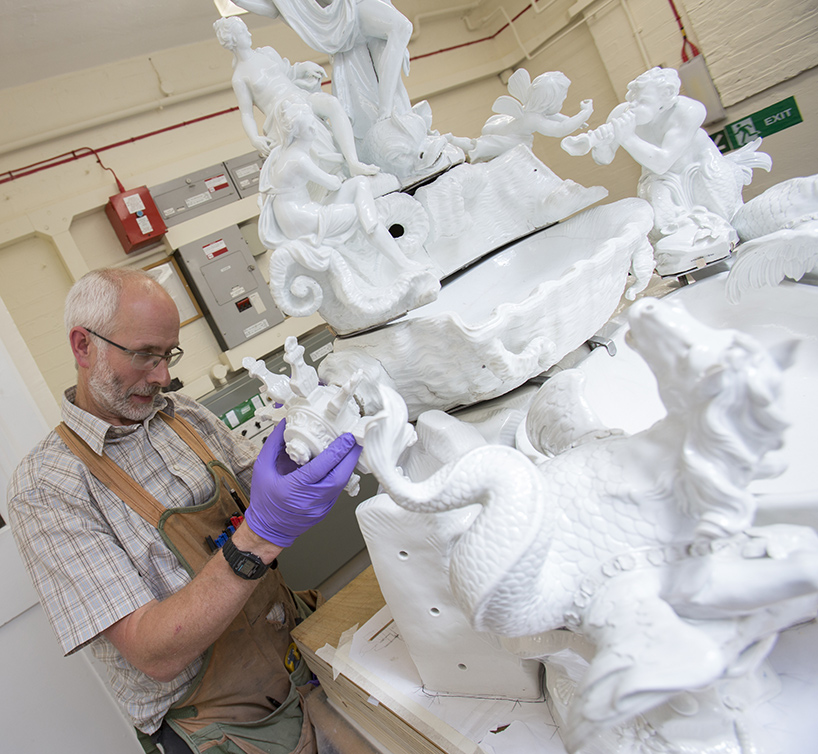 conservation of meissen table fountain at the V&A
image © victoria and albert museum, london
a bomb cloud is made from everything a building once was — concrete, plaster, soil, glass, bodies — and is thus architecture in gaseous form, an event as monument that exists for seven to ten minutes. if modeled correctly, it can also provide valuable evidence in legal cases. forensic architecture is able to use mainstream and social media images of these clouds to create 3D models, which help to approximate the date and size of bomb strikes, aiding human rights agencies to compile valuable reports about conflict zones.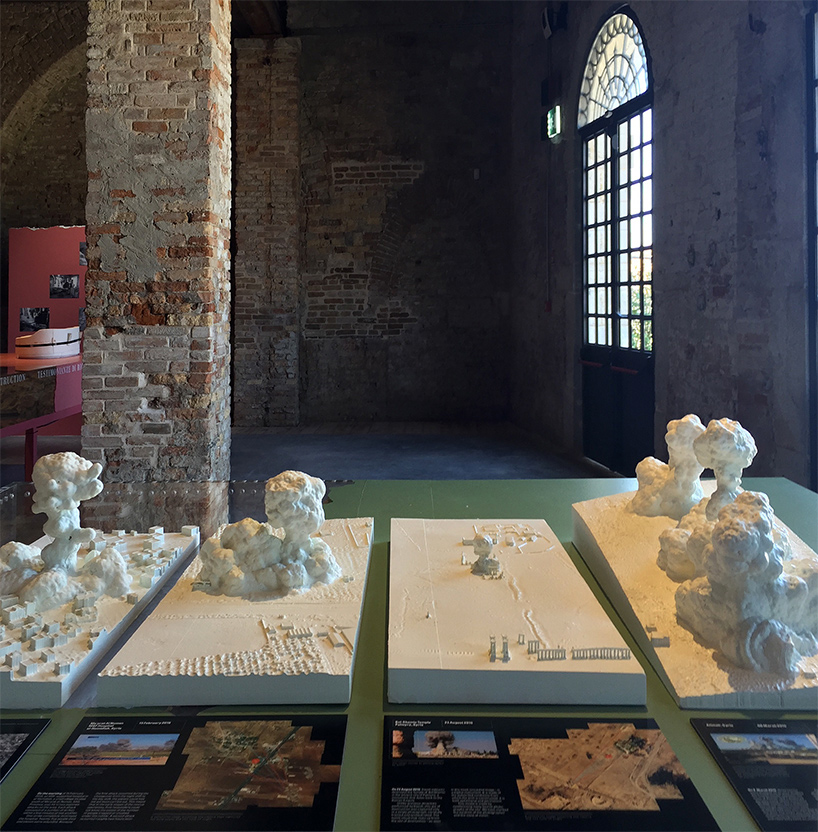 bomb cloud atlas, forensic architecture, 2016
image © designboom
the exhibition has been designed by london-based practice ordinary architecture, whose work relates to both the curatorial narrative and to the context of the arsenale and venice as a whole. at the entrance, a six meter support arch holds a series of decorative plaster panels, re-enacting the grand san petronio arch that currently resides inside the V&A's cast courts — itself a plaster copy of the original doorway to the basilica di san petronio in bologna. the layout of the exhibition is organized as a grid, offset from the structural grid of the room, to create a deliberate tension between old and new.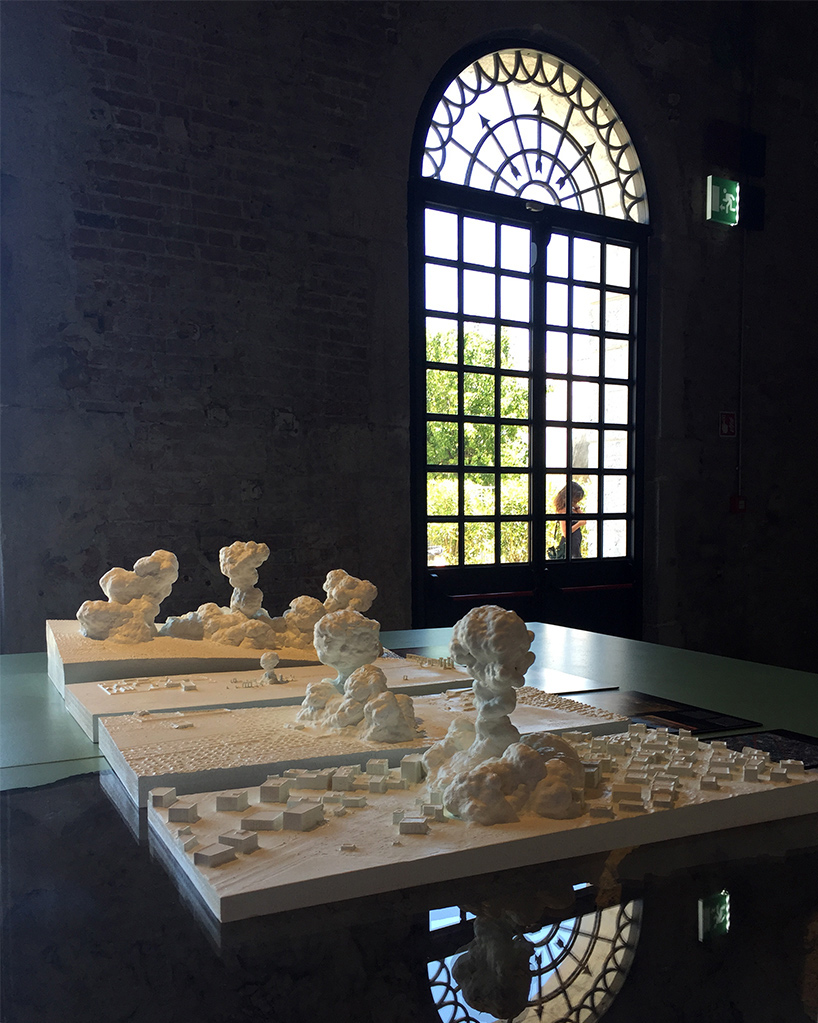 'bomb cloud atlas' on display at the 2016 venice architecture biennale
image © designboom
appearing as architectural fragments, the curated objects are presented on plinths, tables and walls. the display elements combine plexi-glass and plastered surfaces to reveal solid plaster interiors, which suggest they have been broken and repaired, or completed from fragments. the plexi-glass also sets up a series of reflections that multiply the objects, making a sequence of copies of copies. the color palette directly references the strikingly colored walls of the V&A cast courts, past and present, and marks out the exhibition's various sections. the palette also differentiates the display objects from their context, articulating them as clearly contemporary elements within a historic setting.
for more images, follow designboom on our dedicated instagram account @venice.architecture.biennale.
philip stevens
I designboom
jun 07, 2016
a diverse digital database that acts as a valuable guide in gaining insight and information about a product directly from the manufacturer, and serves as a rich reference point in developing a project or scheme.
designboom will always be there for you
milan, new york, beijing, tokyo

,
since 1999