aug 30, 2010
vacant NL dutch pavilion at venice architecture biennale 2010
view of the installation 'vacant NL' image © designboom
the installation 'vacant NL' calls upon the dutch government to make use of the enormous potential of inspiring, temporarily unoccupied buildings from the 17th, 18th, 19th, 20th and 21st centuries for innovation within the creative knowledge economy. is there so much unused architecture in the netherlands? few people think that a lot is left empty in the netherlands. on the contrary, many in the netherlands and abroad regard the country as densely populated and heavily occupied. some even regard the netherlands as full: there is hardly any room left for anything or anyone. it might therefore come as a surprise for them to know that a large part of the netherlands is indeed vacant and is growing more vacant by the day. millions of square meters to which no one pays any heed are at stake…. and they are often beautiful buildings.
view of the installation 'vacant NL' image © designboom
RAAAF (ronald rietveld and erik rietveld) has been invited by the netherlands architecture institute (NAI) to make a statement in the form of an installation about the potential of landscape architecture to contribute to resolving the major challenges facing society today.
the curators have put together a multidisciplinary team to design the installation, consisting of people with an interest in the innovative potential of vacant property and international experience in the creative industry:  jurgen bey (designer), joost grootens (graphic designer), ronald rietveld (landscape architect), erik rietveld  (philosopher/ economist), saskia van stein (curator NAI), and barbara visser (artist). landstra & de vries and claus wiersma (designer) are responsible for the construction of the exhibition.
close-up on the installation 'vacant NL' image © designboom
the availability of affordable, inspiring places of work is very important for young talent precisely now. as a result of the current economic crisis, many of our colleagues have lost their job, students of design and architecture graduate without any prospects of employment, many freelances have started to use up their savings, and the government is preparing unprecedented spending cuts.
how can we invest in innovation at a time of scarce resources? the large number of vacant public buildings means that the government is failing to make use of an enormous potential.
view of the installation 'vacant NL' image © designboom
these vacant buildings are costing society a lot of money at the moment, while they can also be used to accommodate the next generation of innovators. the large variety of empty heritage offers all kinds of possibilities for use. especially in combination with related more flexible regulations, interim use can challenge creative entrepreneurs who  are starting out to come up with innovative experiments. temporary locations are excellent laboratories for a government  that wants to try out non-regulated zones in which there is maximal scope for innovation. also for specific spatial conditions. partly due to a one-sided focus on traditional economic parameters, so far little attention has been paid to the spatial conditions for innovation.
view of the installation 'vacant NL' image © designboom
it sounds so obvious that it almost passes unnoticed, but the theme of this architecture biennale marks a turning point in its history. after more than thirty years of mainly asking the public to look at architecture, this time the focus is on something that the rest of the world has known about for a long time: that architecture is in the first place intended as a place to meet. this biennale tones down the importance of the architectural expression in order to give increased prominence to the architectural performance. the dutch contribution to this biennale brings this forgotten treasure back in circulation.
view of the installation 'vacant NL', ground level to upper level image © designboom
view of the installation 'vacant NL' image © designboom
building up of the installation 'vacant NL' image © designboom
a landscape of vacant properties, spaces that are not monotonous, but are very diverse because the buildings were once designed for a specific purpose : lighthouses, hospitals, water towers, factory buildings, airports, hangars, offices, forts, bunkers, schools, swimming pools and many more.
view from the entrance on ground level, the foam models are placed on iron wires image © designboom
temporary use as strategy thousands of vacant buildings that are not privately owned but are state property. in the principle they belong to all people in the netherlands. the 'dutch atlas of vacancies' examines buildings, properties that become vacant for a period between one week and ten years.
dutch atlas of vacancy image © designboom
view of the installation 'vacant NL' image © designboom
image © designboom
image © designboom
the making of foam models image © designboom
some of the models were finished on site image © designboom
vacant NL, drawing produced by rietveld landscape
detail
the rietveld pavilion is the ideal location for the dutch submission. the building itself has stood vacant for more than 39 years. built in 1954, it stands on dutch territory and is vacant for around 8.5 months a year.
view of the installation 'vacant NL' image © designboom
the curators focused on the specific conditions for what the government calls the 'key sector creative industry': architecture, design, digital media, games, fashion, graphic design, etc. because the creative sector can make a relevant contribution to the complex challenges facing society. the cooperation between creative industry and scientists is crucial in this respect. this is visualized by a web-diagram-wall-display.
image © designboom
image © designboom
if the right people are in the right place, even a project that lasts only a week can make a difference.
visualization of fundamental values and people who can transmit them image © designboom
image © designboom
curators rietveld landscape (ronald and erik rietveld), saskia van stein (curator at NAI) and designer juergen bey (left to right) image © designboom
vacant NL banner at the entrance of the dutch pavilion in the giardini (venice gardens) image © designboom
see 180 degrees video of the exhibition
credits:
commissioner: ole bouman (NAI) supervision: ole bouman (NAI), linda vlassenrood (NAI) curator: rietveld landscape (ronald rietveld & erik rietveld) project leader: saskia van stein (NAI) project team: jurgen bey, joost grootens, ronald rietveld, erik rietveld, saskia van stein, barbara visser production: marcel kollen (NAI) graphic design: studio joost grootens / joost grootens with christiaan drost, margriet hogenbirk, arthur roeloffzen, tine van wel collaborators: RAAAF: chantal bax, kasper jacobs, peer frantzen, arna mackic international coordination: fanny smelik (NAI) communications: rinske brand, brand! communicatie technical realisation (exhibition): landstra & de vries i.c.w. claus wiersma hans jansen, mark jooren, jochem klarenbeek, frits ham, carlo van driel, jeannine van erk
NAi _ architecture of consequence the netherlands architecture institute (NAi) is the platform for architecture, where challenges and designs can meet in the most inspiring way. central to the NAI's agenda for the future is architecture of consequence which shows that architecture can play a part in formulating solutions to widespread global problems, and help to build a more sustainable future. the NAI calls on designers, principals and policymakers to seize this opportunity and become a force for positive change.
mar 24, 2017
mar 24, 2017
mar 18, 2017
mar 18, 2017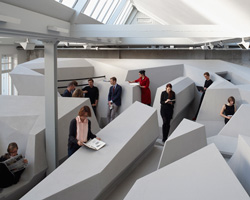 dec 02, 2014
dec 02, 2014
mar 20, 2013
mar 20, 2013
nov 22, 2010
nov 22, 2010
oct 02, 2010
oct 02, 2010