aug 12, 2012
van bo le mentzel: one sqm house
berlin-based architect van bo le-mentzel of hartz IV möbel has conceived of the 'one sqm house'- a do-it-yourself structure which offers one square meter of floor area to be used as a dwelling, mobile kiosk or an extra room inside an apartment. made with everyday materials, the wooden frame can be put together with a cordless screwdriver and saw. the waterproof exterior features a slide window and lockable door. weighing in at 40 kilograms, the gabled home can be easily moved to the location of the inhabitant's desire, determining the views and surrounding context. standing at 2 meters tall, the unit may be turned on its side to double as a perfectly sized bed for impromptu sleeping, with the angled roof forming a comfortable lounge for the back.
image © daniela kleint
one day long workshops at the BMW guggenheim lab allow visitors to construct the house for its basic cost for supplies, 250 euro. if the price is too high, individuals may partake and then resident artists, students, travelers and the homeless may stay inside the assembled house for 1 euro per night to cover the cost. reservations may be made on air bnb to stay inside the moveable unit in berlin for 1 euro per night, with included access to a kitchen and bathroom within the nearby eastseven hostel.
image © daniela kleint
the unit can be used as an office photo: luke abiol image © 2012 solomon r. guggenheim foundation
the unit can be transported within a vehicle in an assembled state image © daniela kleint
step-by-step diagram
day to night
oct 06, 2017
oct 06, 2017
oct 01, 2017
oct 01, 2017
sep 04, 2017
sep 04, 2017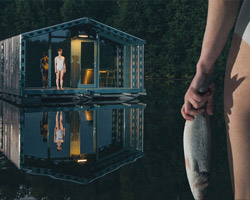 aug 07, 2017
aug 07, 2017
jul 25, 2017
jul 25, 2017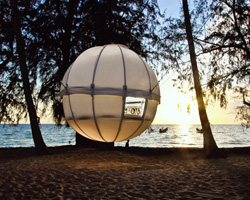 jul 18, 2017
jul 18, 2017