aug 29, 2012
venice architecture biennale: wall house by anupama kundoo
'wall house: one to one' in the arsenale at the venice biennale image © designboom
venice  2012 architecture biennale: day three – live!
continuing our coverage from the arsenale of the venice biennale, the 'wall house: one to one' is a full-scale building initiated byindia-born, australia-based architect anupama kundoo. based upon a project constructed in 2000 in auroville, india, this iteration has been constructed in situ by a team of indian craftsmen, brought from their hometowns to venice to partake in the event. in collaboration with the university of queensland and IUAV students from venice, the interaction generates an exchange of techniques across three continents.
the result is a fusion of cultures with modern design which responds to needs based upon the climate. centrally located within one of the two on-site venues, this is the largest installation within the biennale and responds to the historic columns of the former naval rope factory which encompasses the exhibit. seamlessly transitioning between the permanent building and temporal construct, the handmade masonry units were shipped from auroville to venice and visually merge with its established, historic venetian shell.
side elevation of house image © designboom
entry image © designboom
dining table images © designboom
terracotta ceiling image © designboom
brick column of the arsenal neighbors the brick house image © designboom
image © designboom
stacks of terracotta pots image © designboom
terracotta pots stacked to make barrel vaults image © designboom
photo during consytuciton image © designboom
barrel vaults with plastic cups image © designboom
stacked paper cups image © designboom
view from upper level image © designboom
railing detail image © designboom
view of the entire house image © designboom
pool image © designboom
photo of model image © designboom
delivery of materials to venice image © designboom
construciton of a house within a house image © designboom
computer secured with wood to display a video of the homes construction image © designboom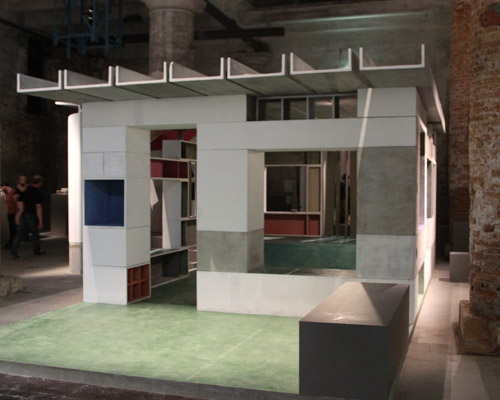 may 29, 2016
may 29, 2016
mar 12, 2016
mar 12, 2016
jan 03, 2013
jan 03, 2013
nov 13, 2012
nov 13, 2012
oct 14, 2012
oct 14, 2012