jul 09, 2012
venice biennale 2012: dutch pavilion curator ole bouman
'Re-set' curated by ole bouman ingredients of intervention; direct daylight, shadow play, orchestrated movement. all images courtesy of NAi
ole bouman, director of the netherlands architecture institute (NAi) is the curator for 'Re-set', this year's dutch pavilion at the 13th international architecture biennale in venice. below, he discusses with designboom the installation's design concept and its relationship with the contextual backdrop of issues throughout the netherlands involving the current prevalence of existing, abandoned and derelict buildings throughout the country's cities. the content is a sequel to the 2010 biennale entry, vacant NL.
1. what will be the theme of the dutch pavilion at this year's venice architecture biennale?
'this year, we want to demonstrate that architecture possesses the power to start anew. for a long time architecture's ability to excavate potential was seen as marginal to the field. architects who specialized in rehabilitation were regarded as renovators, and by definition, conservative. they were respected for their ability to postpone loss, not for their capacity to create value. we now know this judgment to be false. value can be created where it earlier seemed to vanish –  but only if you see it by the sheer power of imagination. taking advantage of existing potential and the creation of value in places where it seems to be vanishing – the 'reanimation' of desolate buildings – is increasingly becoming the architect's core task. with Re-set, we want to reveal a whole array of possibilities that an existing structure has to offer, taking the given situation as the starting point. with a mobile, tactile intervention, petra blaisse gives an impulse to a building that has stood vacant for 40 years – the dutch pavilion is in use for just three months of the year – an impulse that still awaits thousands of other dutch buildings.'
process sketches
2. who are the architects and artists involved and why have they been chosen to represent the pavilion's theme?
'we asked inside outside / petra blaisse to design an installation that lets people experience the full potential of an empty building. she designed a mobile, tactile intervention, that acts like a clock with new insights at every hour. twelve new situations crafted out of one unique piece of architecture. we are merging the imagination of half a century ago with the one of 2012 and creating hope for architecture. architecture needs new wings to fly. and that is exactly what this installation hopes to provide. it breathes new life into old foundations.'
sketch of curtain layout
3. how will the content and physical realization of the pavilion support the overarching theme selected by david chipperfield, 'common ground'?
'even as a most idiosyncratic act, great architecture always is also a common property. greatness can not do without us. even if it most daringly moves up into the air, architecture always is also an act of obedience to gravity. there can be no caprice, without a ground to build upon. taken this way, common ground is common place. so there must be more to it. I believe one of the unique qualities of architecture is its capacity to synchronize our life with our past, our surroundings and each other. every good building brings you in tune with the environment and the people you share it with. petra blaisse's design works great in this respect. it is responsive to the building, it is responsive to the events that may unfold and it is responsive to one of the biggest issues in architecture today. her design highlights all the grounds we have in common. it shows architecture has plenty legitimate grounds for celebrating it once again at this biennale.'
portrait of ole bouman image © carel van hees
throughout his career, bouman has also worked as a writer, curator, editor, event designer, teacher, and client. he has curated exhibitions for the milan triennale, manifesta 3, the boijmans van beuningen museum and the shenzhen biennale. his articles have been published in periodicals such as artforum, de gids, domus, harvard design review, el croquis, urban china and project russia. he has regularly lectured at internationally acclaimed universities and his most recent teaching position was held at the massachusetts institute of technology (MIT).
the 13th international architecture biennale is curated by london-based architect david chipperfield. the theme of the event is entitled 'common ground' and will run from 29th of august through 25th november 2012, in venice, italy.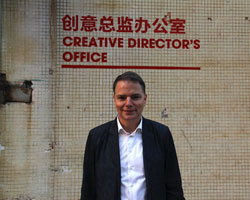 jan 23, 2014
jan 23, 2014
mar 26, 2013
mar 26, 2013
jan 03, 2013
jan 03, 2013
nov 13, 2012
nov 13, 2012
oct 14, 2012
oct 14, 2012
a diverse digital database that acts as a valuable guide in gaining insight and information about a product directly from the manufacturer, and serves as a rich reference point in developing a project or scheme.