sep 17, 2012
venice biennale 2012: german pavilion
the german pavilion at the 2012 venice architecture biennale features 16 projects that present an affirmative approach to waste hierarchy, while simultaneously exemplifying eleven different conversion strategies. project commissioner muck petzet and konstantin grcic who has designed the exhibition, have worked together to offer an installation that embodies the universal winning message of the three Rs – reduce / reuse / recycle – looking to architecture as a resource, inviting viewers to understand the value that existing built fabric represents as the basis for shaping our future.
designboom interviews konstantin grcic on the design of the german pavilion's exhibition video © designboom (main image © designboom)
transferring the 'avoidance and minimization logic' onto our dealings with existing buildings, the show examines whether this allows a new value system to emerge. the work is broken down into the three concepts that constitute 'waste hierarchy': the first principle is the most important, the reduction of waste; followed by the most direct reutilization possible with the minimal use of a mechanical system; and lastly, the transformation of material into reusable substance.
cultural center alveole 14, saint nazaire LIN architects urbanists, berlin image © designboom
the pavilion reflects these ideas through a photographic installation of images by erica overmeer, representing the specific architecture projects at hand, acting as carriers of the exhibition's content, papered directly onto the walls almost at full-scale. visitors enter the side entrance and walk freely through the otherwise ordered space, while simple platforms raised at varying levels create a dynamic space using the least amount of intervention. walkways, floors and walls are given the additional purpose of labeling, informing and displaying the large-format photographs as a direct example of reutilization.
large-scale photographs of the projects at hand are papered onto the walls image © designboom
schreber residence, aachen, amunt architekten martenson und nagel, theissen 2010-2011 photo © erica overmeer
urban renewal europarei uithoorn atelier kempe thill architects and planners, rotterdam 2004-2010 image © designboom
platforms arranged throughout the exhibition are positioned to offer viewers an alternative perspective of the work on show image © designboom
'brunnenstrasse berlin' by brandlhuber + ERA, emde, schneider, 2007-2010 (left) 'building recycling' by status quo 2012 (right) image © designboom
a visitor makes use of the walkway platforms, taking in the visuals from another level image © designboom
platforms, floors and walls act as informative objects image © designboom
exhibition designer konstantin grcic inside the german pavilion installation image © designboom
east wing of the museum of natural history, berlin diener & diener architekten, basel / berlin 2008-2010 photo © erica overmeer
captions and explanations are found on the floor and raised platforms of the exhibition the exhibition lettering is designed by thomas mayfried and swantje grundler image © designboom
platforms, floors and walls act as informative objects with image of 'antivilla' by krampnitz brandlhuber + emde, schneider' at centre image © designboom
exhibition hand-outs image © designboom
installation view of 'fichtelberg mountain hut', tellerhäuser / erzgebirge, AFF architekten, berlin, 2009-2010 image © designboom
dornbusch church, frankfurt am main meixner schlüter wendt architekten, frankfurt am main 2003-2005 photo © erica overmeer
walkways become signage image © designboom
the flower shop in oberbarmen: the wupertal studio and seminar urs füssler, berlin / jörg leeser, cologne 2008-2009 photo © erica overmeer
galerie giti nourbakhsch, berlin robertneun TM, berlin 2006 photo © erica overmeer
outside the german pavilion, the 3Rs are emblazoned on the facade, introducing visitors to the themes addressed in the exhibition image © designboom
arrow directing visitors to the side entrance image © designboom
architect and commissioner muck petzet (left), exhibition designer konstantin grcic (right) image © designboom
Save
may 14, 2017
may 14, 2017
apr 15, 2017
apr 15, 2017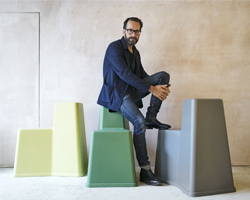 oct 31, 2016
oct 31, 2016
jan 03, 2013
jan 03, 2013
nov 13, 2012
nov 13, 2012
oct 14, 2012
oct 14, 2012